If life ever needed a massive reset button, 2020 would be the first in line for it. But even as the world moves into recovery mode, there are some things to celebrate. Here at Geek Culture, 2020 turned out to be a year of new adventures – we assembled a great team, moved into a new office and on top of all the written and video content we've created in the last seven months, we thought, why not show you what's under the hood?
And since you're privy to the awesome stuff that we've reviewed and unboxed, we figured this would be a great way to introduce you to the team behind the screens and cameras.
Treat this as a tour of our new Batcave of sorts, if you will, as we show off the geek workstations of each one of us here.
---
Role: Physical Damage (Writer)
When I'm not writing, I'm all about the games, especially RPGs. When I'm not churning out work, I like to take part in raids on Final Fantasy XIV (shoutout to my free company Midnight Carnival!) on the PC using my personal favourite ASUS ROG Strix TKL keyboard and mouse. When I'm on the go, I like to participate in Max Raid Battles on Pokémon Sword on my Nintendo Switch. And of course, keeping me going is my ever-growing Funko collection that I stare at for inspiration, as well as staying hydrated thanks to my handy-dandy Klean Kanteen insulated bottle that keeps my H2O cold for up to 48 hours!
---
Role: Tank (Videographer)
Whether it's gaming or editing videos, this battle station is everything I need to get things done. If I had to pick, my weapon of choice here is the Loupedeck+, which helps me optimize my workflow for both photos and videos, allowing me to have fuller control and finesse with the details. Speaking of control and finesse, when it's after hours I'm constantly trying to be the last man standing in Call of Duty: Modern Warfare, or striking up the sickest haikus on Ghost of Tsushima with the PS4 Pro. I'm also constantly on the prowl shopping for anything geeky to add to my collection! My latest hunt has got me these little Baby Yodas from Amazon. This is the way!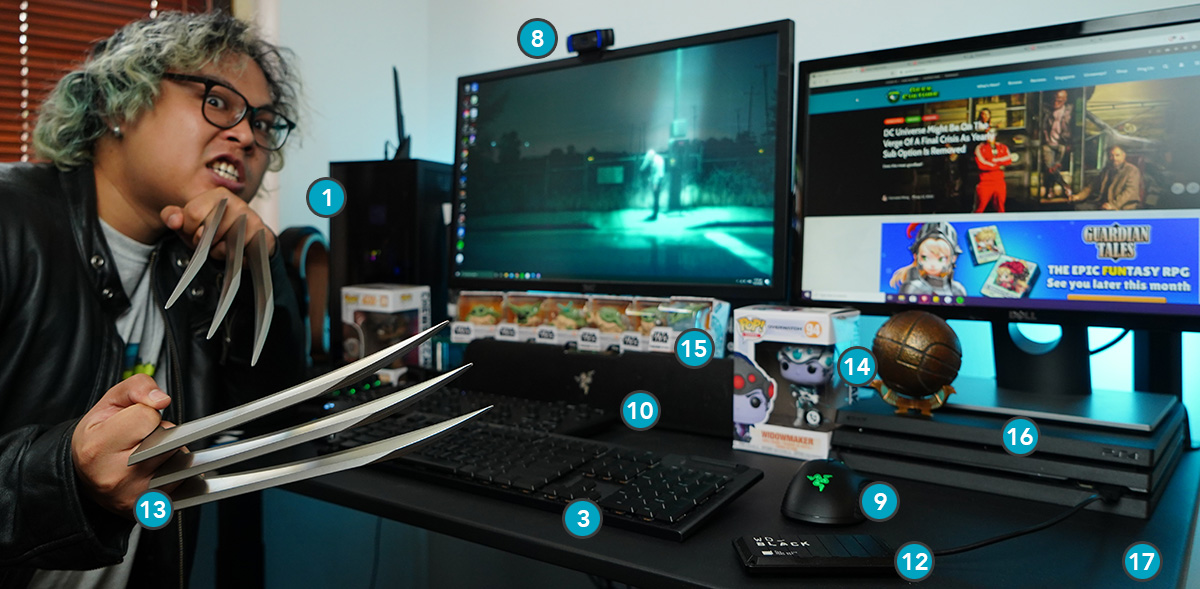 ---
Role: Magic Damage (Writer)
Comfort is the name of the game with my workstation setup, with the comfortable Kane X Chair that provides perfect support for my back to prevent muscle aches after a long day at work. When I am at my desk, my JBL Quantum 400 headset helps to keep me entertained with lo-fi beats when I'm working. Also on my desk is the Razer Cynosa Chroma keyboard which is not only great to use but injects that gamer-like RGB aesthetic to help spruce my workstation up. When I get a little too tired from work, I also sometimes stare at my adorable Tsum and Q Posket collection in front of me to recover some HP before diving back to work.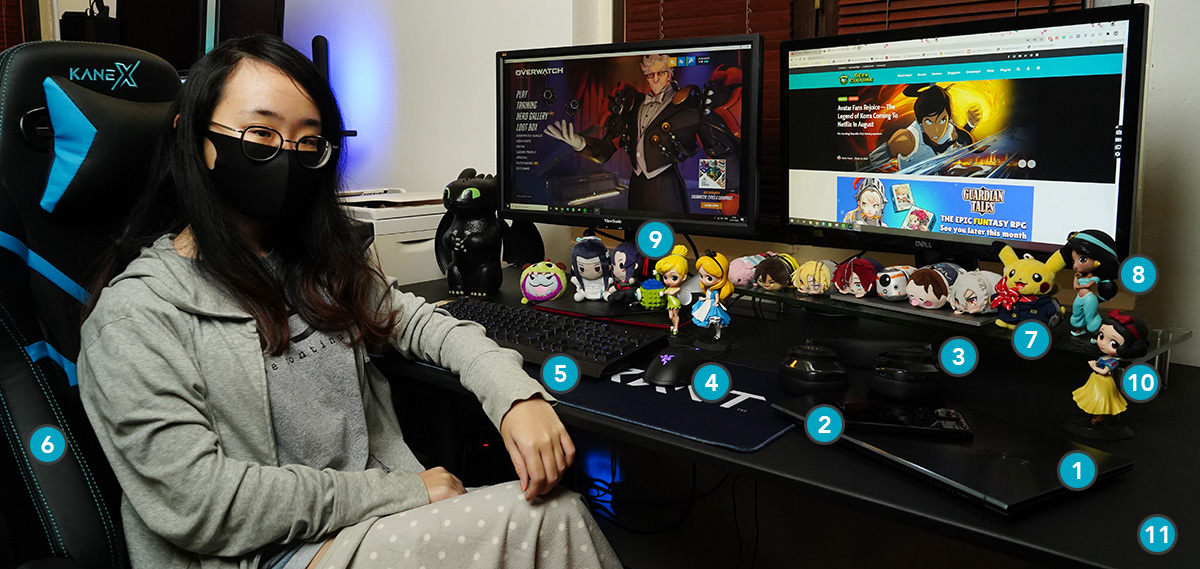 ---
Role: Healer (Writer)
Rather than appearing out into the frontlines I would rather sit-tight behind my desk and help out from behind the scenes. My Seagate 1TB HDD ensures that every bit of important information collected from behind the camera is stored and delivered properly for new articles and the light and portable Huawei MateBook X Pro comes in handy when needing to move around to help on the job. Of course sitting around all day isn't the most exciting, hence I also have my handy Dyson v11 Absolute around to train my reflexes and keep the area clean. Feeling frazzled after long hours of working? Anyone is more than welcome to come to my station and freshen up with the Dyson Hair Styler (and also sneak a snack from the pantry right next to it).
---
Role: Raid Boss
As the Supreme Leader of Geek Culture, I need to keep up to speed with everything in and around the team. My trusty Logitech C925e Webcam is a godsend, enabling me to connect with the team members on their work-from-home days and with external parties. I'm also the resident "builder" in the team, I love building things, from the D.I.Y. Arc Reactor to LEGO and Eaglemoss Back To The Future DeLorean model (still building after 2 years in). I may not always have the time to play the latest games, toys and gadgets unlike my fellow teammates, but I still make it a point to dress up my workstation with anything and everything geek-related that I am a fan of in the over 9,000 years that I've lived.
MyMoji Collectable Mini Vinyl Figures – Ghostbusters & T.M.N.T
Beskar Steel (ultra-rare commodity!)
---

Drop a Facebook comment below!