2020 has been quite an interesting year, to say the least. Long story short for you who are reading this in the future: the world was essentially put on hold for almost the whole year, rendering most folks unable to go out like they normally would, and have to work from home as part of mandatory social distancing regulations.
To combat the boredom at home, we've been treated to a host of free content to watch and play online, and even with the increased hours spent sifting through the plethora of sales happening on various e-commerce sites.
And when one is spending all that time trying to beef up their WFH workstation, such as getting a new laptop/PC, as well as peripherals, it might be worth looking into going the whole nine yards and pimping your entire desk as well.
Enter the Omnidesk Pro 2020. Manufactured by local SME Omnidesk, which many might recognise as the sister company of the more familiar and established Aftershock PC, the Omnidesk Pro 2020 is the latest iteration of the firm's boutique standing desks, with a slew of notable upgrades over the already solid 2018 model, as well as a couple of new features to boot.
As its name suggests, the Omnidesk Pro 2020's main schtick is that it can double as both a standing desk, or lowered to become a more traditional desk. And instead of manually having to lift or push down the desk itself, one can do so with the simple press of a button on a controller located on the corner of the Omnidesk. It's a relatively intuitive process that needs little to no actual reading of the instruction manual, as all you're really doing is just pressing up and down on the controller to achieve your desired table height.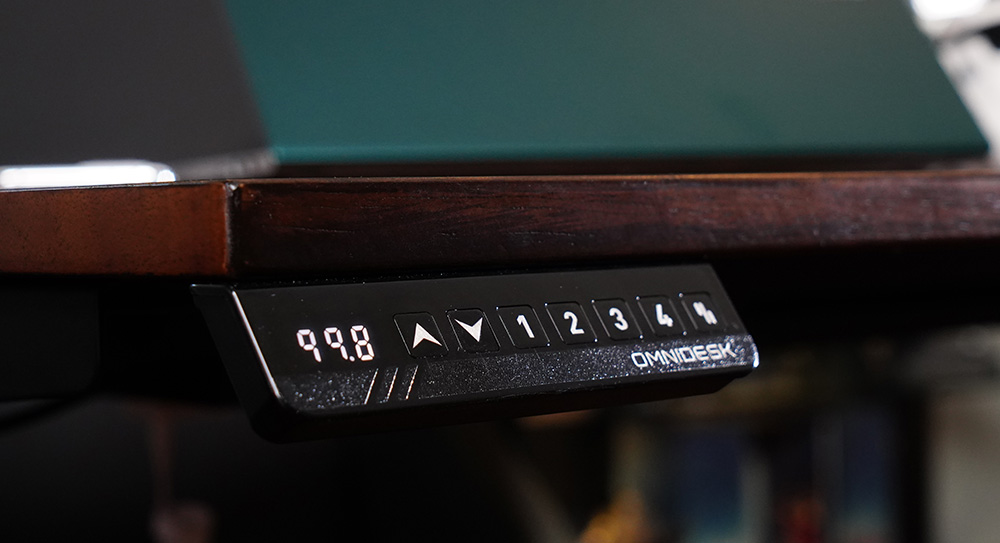 A notable improvement that the 2020 version has over the original is that the controller now comes with a child lock, which prevents children with itchy fingers from accidentally messing up the memory presets or the height, especially when you are working on it. Also, for your energy-saving needs, the controller now dims automatically when in the dark, which is always nice, considering how much power is consumed by the table itself.
What makes the Omnidesk even more of an upgrade to one's quality of life on their workstation is the fact that it can store up to four different preset heights. This can be achieved by adjusting the height to your preference, then pressing on the rightmost button on the controller to set it to one of the four numbers. We typically recommend at least one setting for when you're standing, and one for when you're sitting, so you can seamlessly transition between the two modes when doing work on them, or even using it as a makeshift bar table for when you need to accommodate some friends at a party.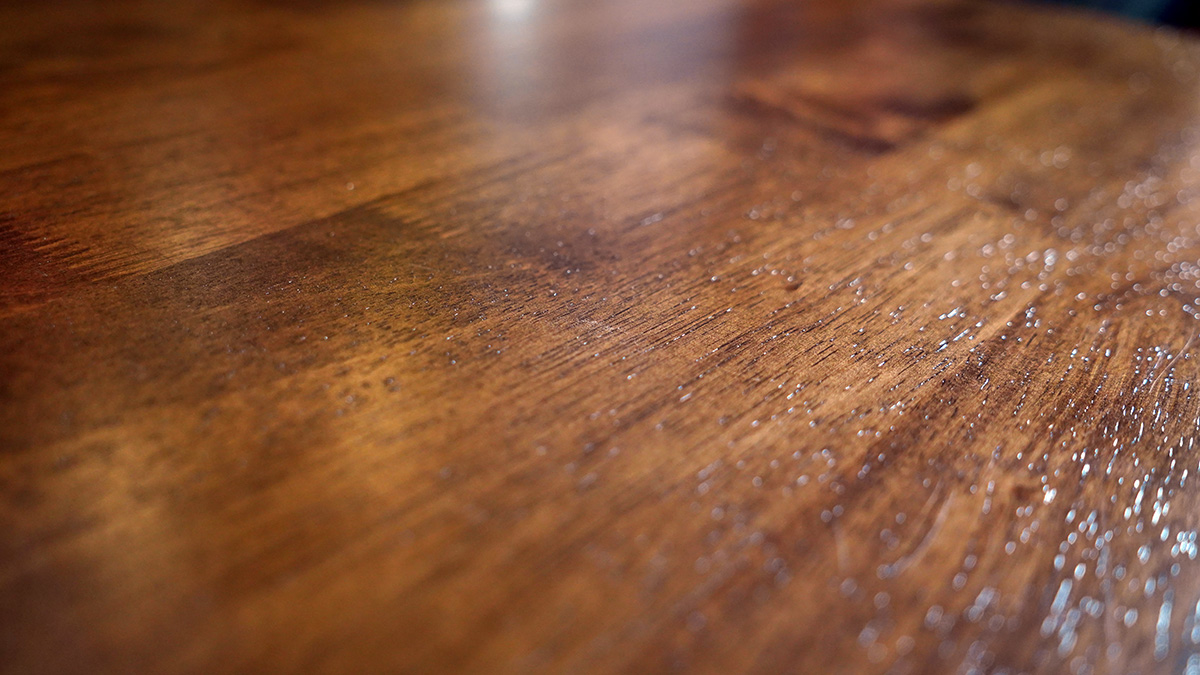 The Omnidesk Pro 2020 itself bears a slim profile and an equally subtle design. This sleek look lets it blend into almost any surrounding, and makes it a good fit for any household. Its tabletops come in high-grade MDF (medium-density fibre) wood, which is both lightweight and durable, and can withstand quite a bit of punishment. The surface of the desktop itself is cured with the company's signature micro-textured powder coating, which actually makes it great for mouse tracking, shedding the absolute necessity for a mousepad (of course, getting a mousepad is infinitely better, especially for dedicated gamers, but we're just putting it out there for the more lax buyers reading this review).
If its basic black or white colour options are a tad basic for one's tastes, there is the option to purchase the eco bamboo tabletops which is the best looking of the lot. Not only are these models sustainable in that no harmful substances were used in producing them, they also look really sleek and homely in any environment. There is also the new premium Wildwood series, which comes in beautiful hevea and acacia wood tabletops, albeit at a slightly higher price point.
Setting up the Omnidesk Pro 2020 was a surprisingly easy feat. All the parts for just one desk come in just two boxes, with one for the larger desk and inner circuitry, and another for the legs and frame. The instruction manual included was easy to follow, with clear instructions, accompanied by equally-concise images that help to streamline the building process to just about 15 to 30 minutes, rather than an hour or two of frustration and potentially lost parts. Just remember to have an electric screwdriver on hand to speed up the assembly even more.
If you're having trouble building it yourself, Omnidesk is also currently offering (at the time of writing) free assembly services along with the shipping, which saves up hours of stress and lets you get in on the critical action of using the desk itself..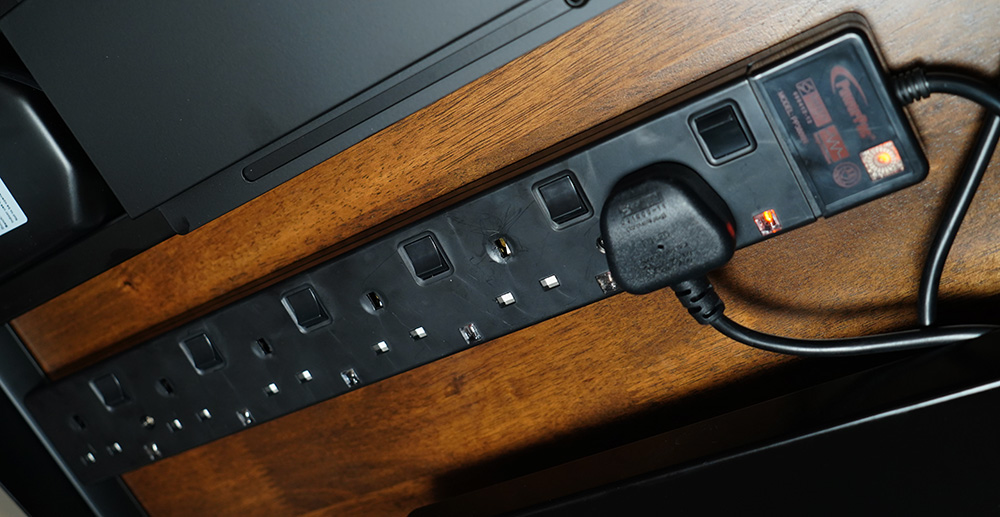 Once it's built, and when the power brick is hooked up underneath the table, the Omnidesk Pro 2020 is pretty much good to go. Assuming you're using this desk for work, the cable management system is really neat and very efficient in saving up space thanks to a cutout on the desktop itself, which saves users the hassle of seeing a tangled mess on the table. It's a surprise that these cutouts aren't actually staples in many standing desks today, so it's good to see one in the Omnidesk Pro 2020, as it does let users wrangle their cables with greater ease, and save up space on the table for other items.
Add-ons for the desk in terms of cable management mounted power bar add-on that is attached just under the table. This lets users connect up to 5 devices (or more, with the help of extension cables). If you're in need of some additional cable wrangling under the Omnidesk, a (complementary for the time being) cable management tray can be installed right beside the power bar as well.
These add-ons amount up to a total of just S$45 — a marginal amount to pay for such an awesome utility feature.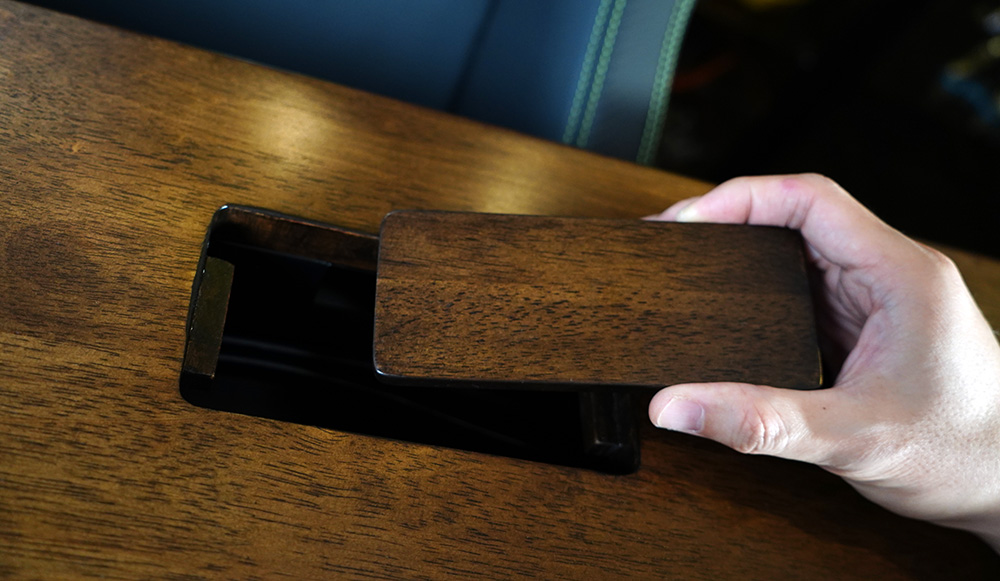 Aside from being a much more cable-efficient desk, the Omnidesk Pro 2020 is also extremely sturdy. Despite its slim form factor, it actually comes with Omnidesk's new anti-collision mechanism that absorbs impact from above and below. This means one needs not worry about any accidental leg or chair bumps on the desk, or kids playing under the table.
From our experience, it was actually really durable, having tested the anti-collision mechanics by bumping on the table ourselves or with a chair. Very little wobble was noticed even from forceful bumps, and toys such as Funko figurines didn't seem to drop as well. Even beverages didn't spill, which should be more than enough to assure you that this anti-collision system works just fine.
Additionally, it actually detects when something is in the way during height adjustment, and automatically stops and raises itself to make way of said obstacle. We've tested this quite a few times, such as blocking it with a chair arm or one of our legs, and it has never once ignored any obstacles getting in the way of its movement. This is a great foolproof feature that prevents even more accidents from happening, which will no doubt be another pull factor for parents who want to bring this into the home with kids running rampant.
And don't be fooled by its slim exterior; thanks to the support provided by the frames and legs, the desk can hold up to 130kg of weight. So in theory, one could actually sleep on the Omnidesk Pro 2020, though we don't actually recommend that.
In any case, we're not going to mince our words — the Omnidesk Pro 2020 is one of the best smart standing desks one could get their hands on (literally) today. Armed with a slew of quality utility features that reduce clutter on and around the desk, as well as various anti-accident and power-saving features, paying the price of S$980 and upwards is actually considered a steal in our eyes, considering the sheer amount of durability one gets with this beast.
GEEK REVIEW SCORE
Summary
Like its PC sister brand Aftershock, Omnidesk has been improving consistently over the years, and that has culminated in a more than overall satisfactory standing desk experience in the Omnidesk Pro 2020. If you can afford it, its superior build quality will make it a worthwhile investment for the next decade or so, and then some.
Overall
9.2/10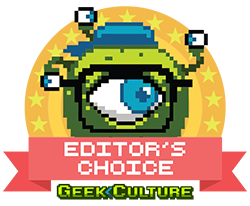 Aesthetics -

8.5/10

Build Quality -

9.5/10

Performance -

9.5/10

Value -

9/10

Geek Satisfaction -

9.5/10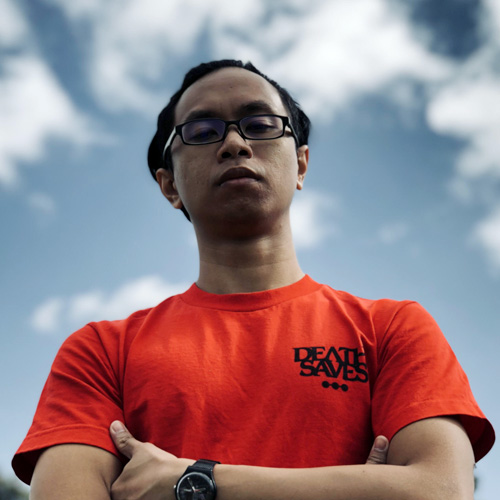 Marion has a serious RPG addiction. Sometimes it bleeds into real life; he forgets to sleep because he thinks he has a Witcher's body clock. Forgive him in advance if he suddenly blurts out terms such as "Mind Flayer" and "Magic Missile", because never once does he stop thinking about his next Dungeons & Dragons game.