In an era where gaming peripherals often run into the hundreds of dollars, it's refreshing to see Razer's new entry-level keyboard, the Cynosa Chroma, launching at just SGD$99.99.
Despite its wallet-friendly price tag, the Cynosa Chroma has all the swank and swagger of a full-featured gaming keyboard.
It comes with individually backlit keys, a step up from the zone-based lighting systems often employed in other membrane keyboards. Each of the 104 keys (as well as the Razer logo in front!) can be programmed to glow in one of 16.8 million colours, or to react in response to in-game events.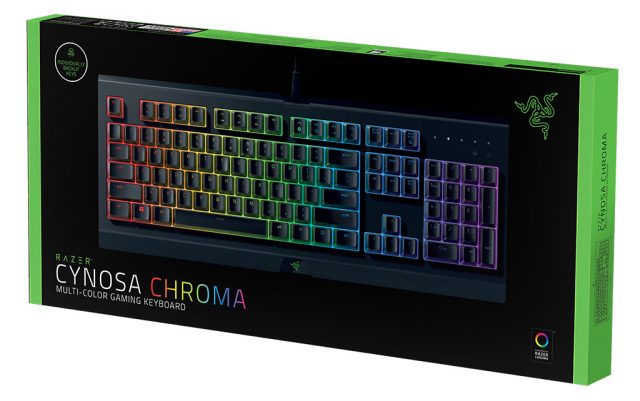 Admittedly, if you choose to light up just a few keys, there is still some colour bleed, but that's understandable for membrane keyboards, where each contact isn't housed in an individual well. The overall effect is still very striking, and if you spring for the Pro version ($129.99), you'll get underglow on three sides as well.
But the Cynosa Chroma is more than just pure kaleidoscopic good looks. It is loaded with gaming-friendly features such as hotkeys to activate on-the-fly macro recording and Gaming Mode, plus shortcuts to adjust the keyboard's lighting intensity.
It's also one of the first Razer peripherals to be compatible with the Razer Synapse 3 software, which is currently still in beta. Like the old Synapse, you can tweak your keyboard's backlight through Chroma Studio, by adding effects like Ripples, Breathing and Starlight.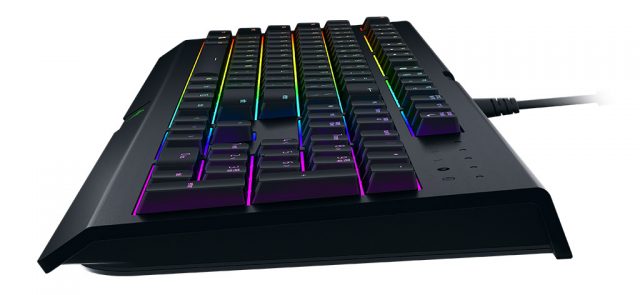 On top of the usual customizations, you can also create profiles for different games, register Razer product warranties and visit the Razer store. You can even access Razer's zVault digital wallet system from Synapse 3's dashboard.
The Cynosa Chroma's textured black plastic body comes with a spill-resistant design, which is a boon for clumsy gamers who want to munch as they game.
While the keyboard looks sleek enough, I'm not the biggest fan of its construction. The chassis is made of lightweight plastic, which starts to flex once a little bit of pressure is applied. My unit also had a backspace key that was intermittently squeaky.

Hardcore gamers will bemoan the Cynosa Chroma's lack of mechanical keys, as the membrane keyboard lacks the clarity and crispness of the switches found in its flagship Blackwidow counterparts.
But for someone who is just looking to complete a basic gaming setup, the Cynosa should definitely be on your list.
---

Drop a Facebook comment below!