Ready to join the Dark Side?
The highly anticipated Black Series Darth Vader 1: 1 scale helmet is here, and it has the top-notch quality collector's have come to expect from the Black Series products. Large, intimidating, and accurate, this helmet is definitely something worth adding to any Star Wars collection.
At first glance, Anakin Skywalker's final visage seems huge. It's way bigger than any regular helmet, and if you're a small-to-average sized person putting it on, you definitely feel more like a Chinese New Year Big Head Doll walking around than a powerful Sith Lord. But it seems to be to-scale – if you're the same height as the original man in the Darth Vader costume. Actor David Prowse (the guy who was actually in the suit) is about 1.96m (6 ft 6 inches), the helmet is just the right size for that body. We loathe to admit it, but oftentimes, normal-sized Darth Vader masks look just a tad too tiny to be truly scary. In full Vader costume, this one would make for a truly authentic, towering inhuman monster.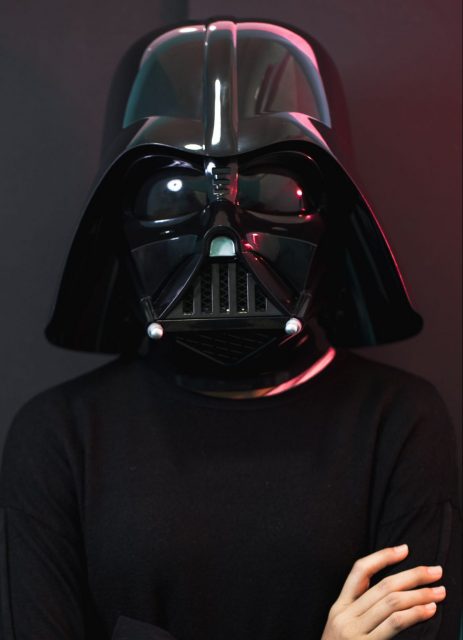 The helmet comes in three parts, true to the design that audiences saw in Star Wars Episode III. There is the collar part, which fastens around the neck, the mask and the ventilator, which covers the front of your face, and the helmet, which goes over your head. The pieces are shaped similarly to the pieces seen in the movie as well, such as the latch-on mechanism on the collar to the mask. Yes, players can perfectly re-enact the moment in Episode III when a burned-up Anakin gets sealed into the mask for the first time.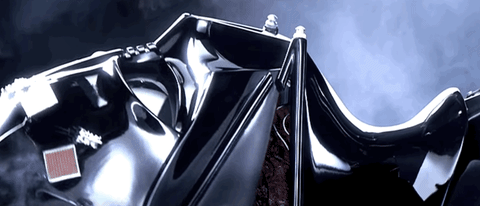 This helmet needs batteries to operate, since it's supposed to produce the intimidating sound of Vader's breathing apparatus. Make sure you have AAA batteries and a screwdriver handy.
With the batteries comes the sound effects, which are a pretty exciting feature. A button on the side makes the mask produce the iconic sound of Vader's breathing, which changes into a laboured wheeze if you remove the mask section (aka the ventilator). Unfortunately, it doesn't sync to your breathing, which would have been a totally cool, if complicated, add-on. One nitpick is that the breathing is a little too fast, which stops the sound from being as intimidating as the real Vader's.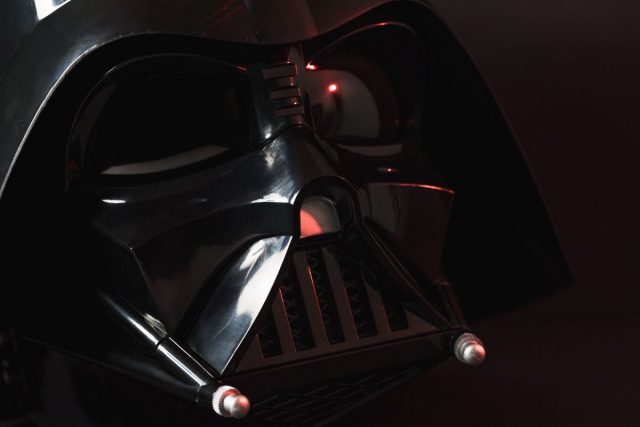 When you're wearing the mask, though, the breathing sound can be a little loud, which makes it hard to hear surrounding sounds.
Aside from the batteries, the helmet works smoothly without extra nuts and bolts. Each piece is attached with magnets, except for the collar, which requires an extra strap, but it's easy to put on by yourself. The pieces are quite secure once put on, so there's no risk of your helmet flying off, but it's still easy enough to pull off if you need to. You can also remove part of the mouth filter, which makes the mask a lot less stuffy to breathe in, but the tradeoff is that your mouth is visible – slightly less badass.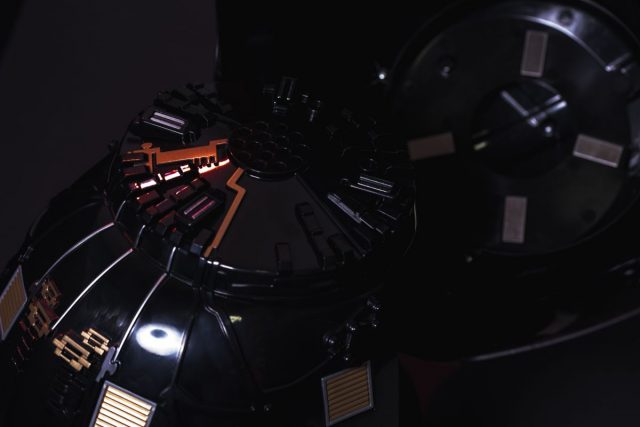 In terms of comfort, the mask is a little narrow in the front, especially if you're Vader-sized. It's made to press right against your face, so no wearing glasses under it either. The eye holes and the neck piece are lined with rubber for extra comfort, but in the long run that might get sticky, so keep that in mind before wearing this for a long time. You can adjust the mask portion with straps to keep it against your face, since without it, the mask rattles around when you move, but it's not the most pleasant experience.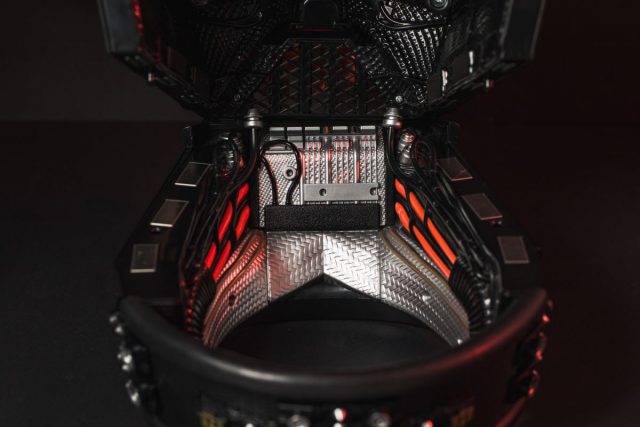 The eye holes are also sufficiently big so that wearers have a wide field of vision. A caution to long-haired folks, though – it's not too hair-friendly, and more than a few hairs got ripped out by the magnets. It's a little heavy, but that's to be expected from a helmet of such proportions. You'll just have to keep yourself upright and stiff; it's the perfect thing to force you to maintain your murder walk. The back of the helmet portion seems shorter than Vader's, but that gives you additional range of motion for your neck.
---
If you're just buying it to display though, it's still impressive. It comes with a stand, to tilt the helmet upright. Its size makes it slightly terrifying just to have beside you, and it's definitely built to look much more legitimate and helmet-like than the original Episode IV version (because face it, that one looked like cheap plastic). Truly the face of the Empire's most feared Sith monster.
The Black Series Darth Vader Electronic Helmet is available now at S$199.90.
Check out our video for a better look at the helmet and its audio effects:
GEEK REVIEW SCORE
Summary
All around, it seems like a solid option for a cosplay mask if you're 6 feet tall and properly Darth Vader-sized.
Build Quality -

9/10

Playability -

8/10

Value -

8/10

Geek Satisfaction -

10/10
You could call Jeanne a dabbler – anything she isn't yet a fan of, she will be eventually. The list of things she's into is only rivalled by the things she plans on getting into. Overanalysing makes everything fun.
---

Drop a Facebook comment below!