It's no surprise that the majority of audio brands we know today are looking to expand beyond their market segment, and looking into something more lucrative. JBL for one, has chosen to dabble into the gaming audio market with their Quantum range of headphones.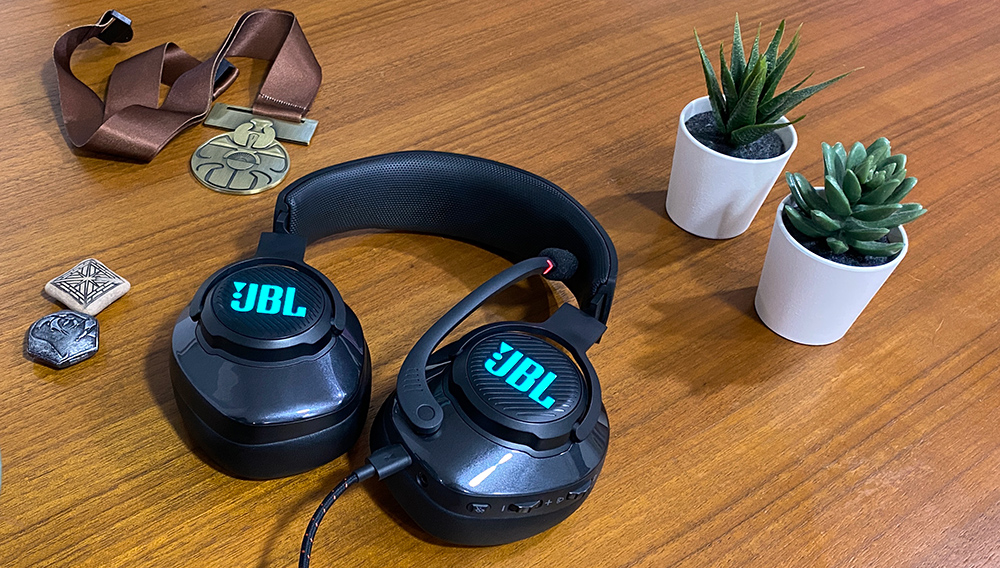 With seven headsets available, the new Quantum range includes options for both casual and competitive gamers, such as wired and wireless builds, that are suited for multi-platforms. Of the list, the JBL Quantum 300, 400, 600, and 800 all boast the newest JBL QuantumSURROUND sound technology powered by the JBL QuantumENGINE PC software. This allows for a more immersive gaming experience in virtual worlds, as the added height channels replicate a much wider, realistic spatial soundstage to facilitate next-gen cinematic game immersion.
Of course, there's also JBL's flagship, the JBL Quantum ONE, which is built with the same QuantumSphere 360 sound technology. This feature uses proprietary algorithms and integrated head tracking sensors, showing the team's commitment to develop sound to the next level. No matter the model, each of the headsets provide players with long-lasting quality and comfort for marathon sessions, and this one particular model is no exception.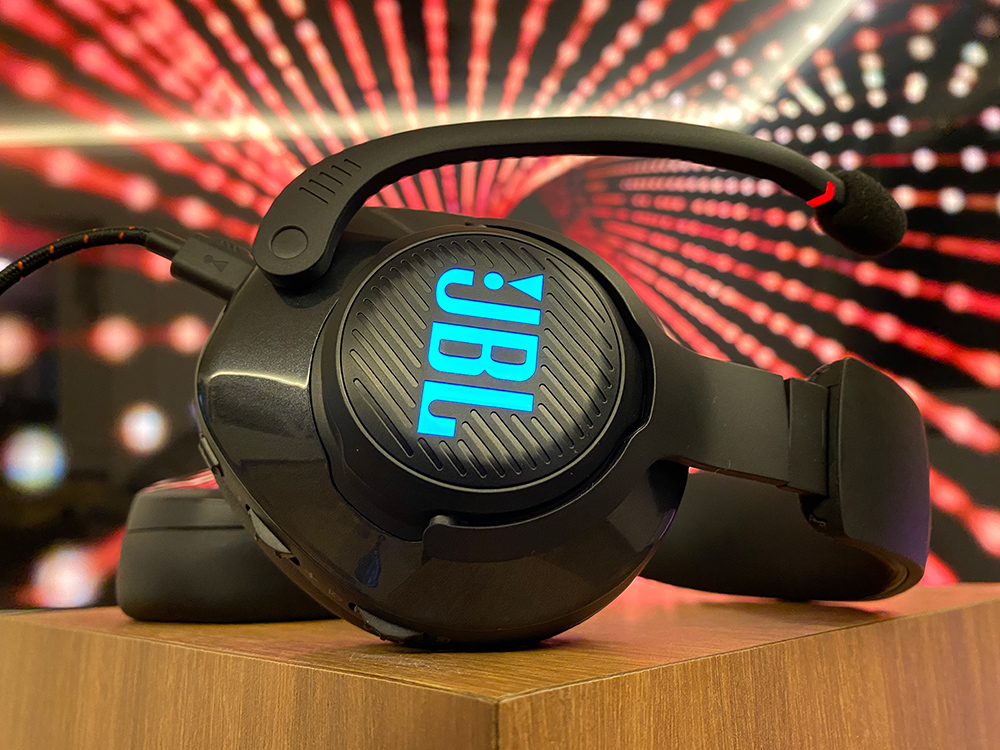 Here we have the JBL Quantum 400 (USD$99.95/S$149), one of their more affordable models that also spare no expense when it comes to quality, with well-balanced sound and a very good microphone. This versatile pair of headphones works with PCs as well as other gaming systems such as the PS4, Xbox One, and Nintendo Switch. The QuantumSound processing provides plenty of options for tweaking the audio balance, but only on PC; if you use it with a PS4 you're limited to stereo and stock EQ. Even then, the JBL Quantum 400 offers excellent value for gamers looking for an affordable gaming headset.
Freshly packed into the box of the JBL Quantum 400 are two types of cables, a three-metre Type-C to Type-A cable for PC gaming, and a 3.5mm cable for consoles or mobile that measures 1.2 metres long. If you can connect the Quantum 400 to your PC, you can use the QuantumSURROUND through the JBL Quantum Engine app to provide simulated 7.1-channel surround sound through the headset. The app also provides a user-adjustable 10-band EQ, which is useful because of how bass-light this headset sounds out of the box. The equalizer has six additional presets covering from 'bass-boost' to 'clarity' for a more detailed touch of customisation as well.
In addition, Quantum Engine offers advanced controls over the microphone, lighting and spatial sound adjustments through a very user-friendly interface, so you will have little trouble finding a perfect balance with some adjustments.
The Quantum 400 is a lightweight yet sturdy headset. The black plastic ear cups are large and ovalesque, with JBL logos etched onto the back panels. They are also RGB-illuminated when plugged in via USB into PC. The round, memory foam earpads are covered in PU Faux leather on the inner and outer sides.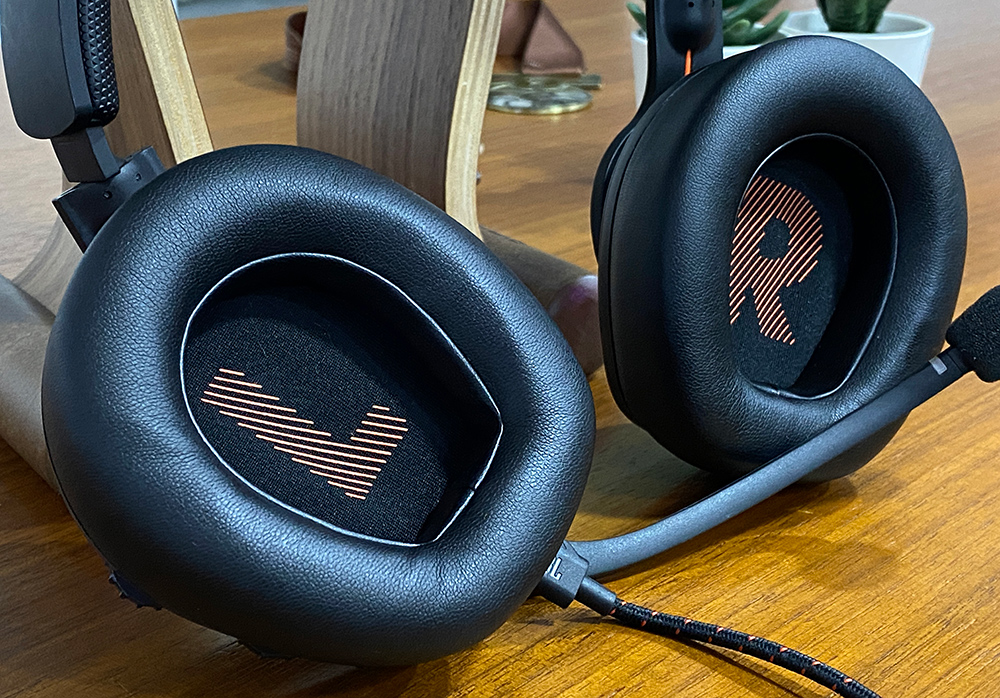 All connections and controls are on the bottom and back edge of the left earcup, which consists of the USB-C cable port, 3.5mm cable port, a mic mute button, volume wheel, and game chat mix wheel. The controls are easy to reach and gamers won't find it a hassle to fiddle with the controls while gaming.The non-detachable boom microphone sits on the left earcup as well, boasting a flexible arm that flips up to its side when not in use. There's also a red LED illuminating the capsule when the mic is on mute, where a windshield is attached to reduce ambient noise.
The earcups are mounted on swivels that let them fold in and pivot slightly up and down, while functioning separately from the flex of the headband – offering a versatile and portable fit for different head sizes. The headband, meanwhile, feels flexible when the two ear cups are pulled apart, and is durable with no signs of the components or materials giving in to pressure. The accompanying padding provides a secure, comfortable fit without hurting the crown of the skull, and the clamping pressure of the headband isn't too stiff to become overwhelming, allowing for comfort during long gaming sessions.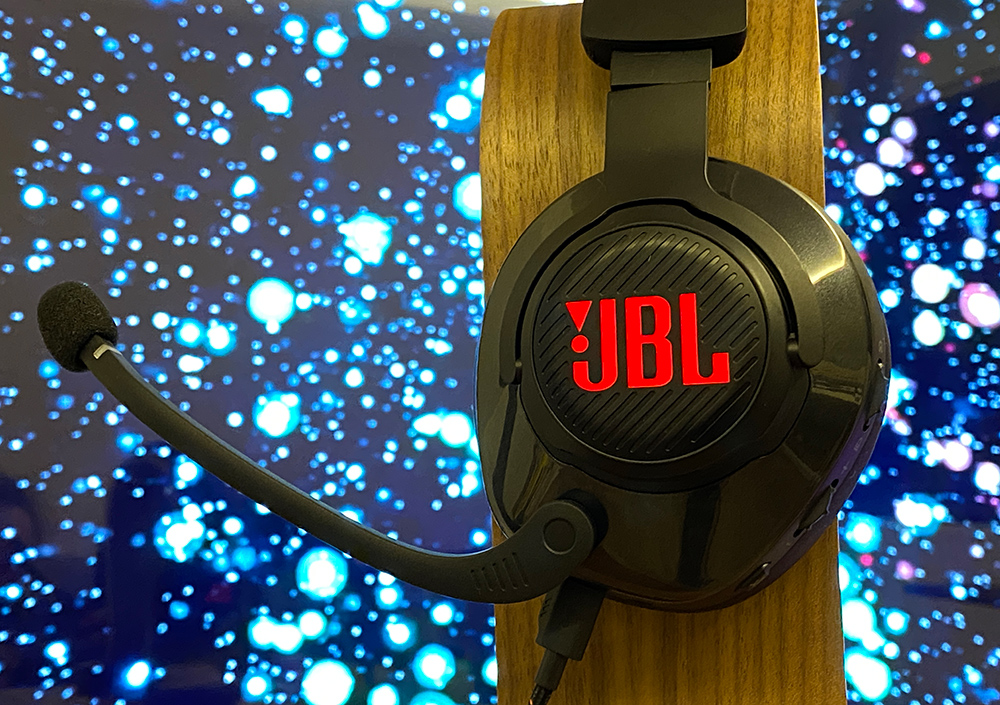 In terms of music performance, the Quantum 400 can put out some decent mid- to high frequencies with the low-end a little lacklustre for bassheads. Testing it out on Skepsis' "Rush", the headset doesn't distort even at maximum volume levels. Again, kick drums hits sound good without distortion, but bass-induced players may not feel as satisfied even with the Bass Boost Equalizer on.
Soundgarden's "Black Hole Sun" shows how neutral the sound signature is by default. The opening guitar riffs have plenty of warmth with some bass to balance it up. Other elements can be heard, but they don't have that certain crispness an audiophile would be going for.
Gaming sound is decent with the rhythmic electronic soundtrack of Final Fantasy 7 Remake on the PlayStation 4. Melodic tones are more prominent, with the bass putting up an acceptable-but-not-great performance. Impacts, booms, slashes, and whips sound great with directional imaging details being pretty good even with the audio limited to stereo. You will thus still be able to detect where enemies are coming from, and pick up sound bites from general directions.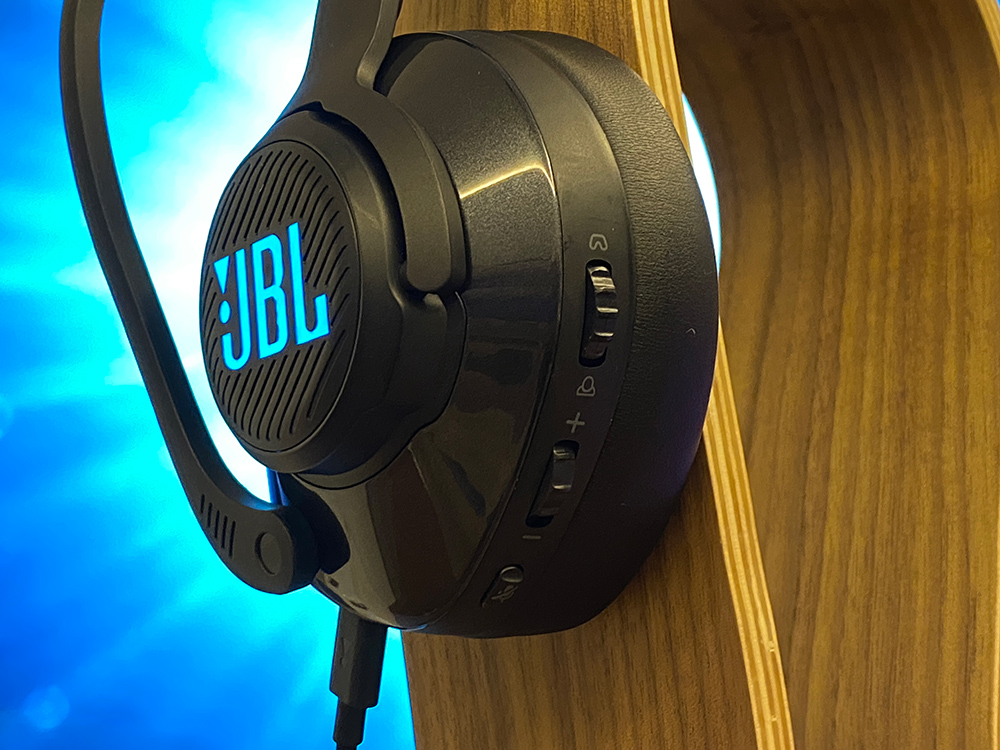 It gets better on PC. The headphones do rather well in Overwatch, as the QuantumSURROUND feature yields a solid directional imaging of explosions and gunfire all around. Picking out the source of the action sounds proved to be an accurate affair, and it was easy to get some sense of where the fighting was – even behind the direction the player is facing.
The microphone on the Quantum 400 is excellent for the price. It's definitely not the best one out there on the market, but it does pick up voice naturally with clarity and warmth without any noticeable distortion or muffled speech, so your friends on Discord will be able to better understand what you're saying.
All in all, the JBL Quantum 400 is set out to be a solid gaming headset. It offers a solid, comfortable build, a balanced sound signature with simulated surround sound capabilities, and an excellent microphone for its price. The headset is not bass-heavy but that doesn't necessarily mean it's a bad thing, or that it'll lead to poor quality audio. Users will also appreciate the enhanced audio brought on by the Quantum Engine app, where the comprehensive yet user-friendly controls allows users to adjust settings as they deem fit. The headset is a bit less appealing for the console gamers where surround sound isn't available and you can't tune its audio balance, however, but it might very well be enough for the less picky console gamers.
The JBL Quantum series is now available exclusively on Lazada.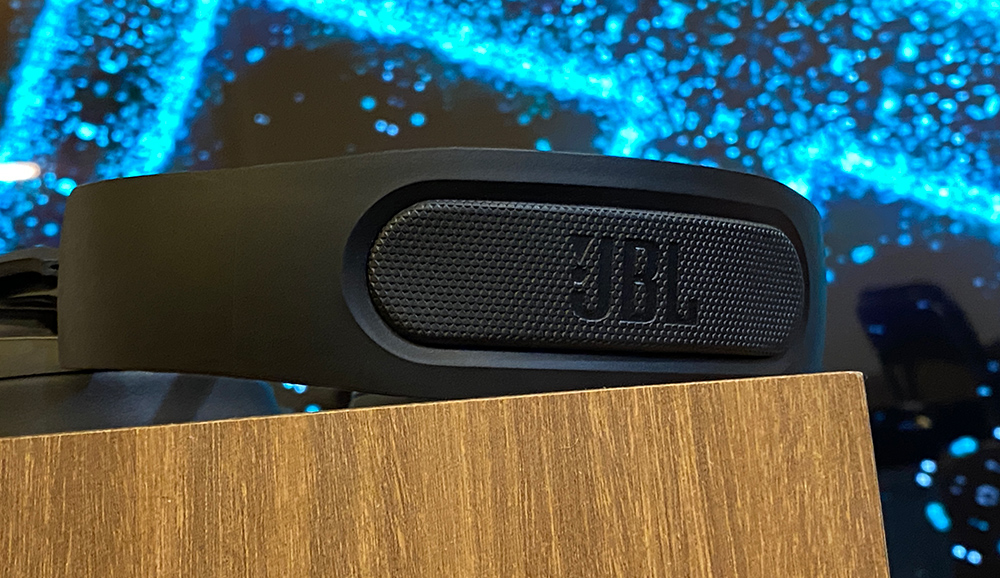 GEEK REVIEW SCORE
Summary
The JBL Quantum 400 is a budget-friendly gaming headset that offers well-balanced sound performance, an excellent microphone and great comfort that can last through long gameplay sessions.
Aesthetics -

7.5/10

Build Quality -

7/10

Performance -

6.5/10

Value -

8/10
---

Drop a Facebook comment below!