The search for an ideal replacement for your decade(s)-old PC almost always ends up in the longstanding debate of whether it should be a gaming laptop or a brand-new desktop altogether. While one can certainly offer a ton of customisation and still ultimately remains the superior option in terms of sheer performance, one can't debate the fact that gaming laptops are simply more portable.
But it is in the exact opposite of being truly portable that has left many preferring not to get a gaming laptop, despite the "convenience" it offers. Those that have been in the laptop space long enough would know just how ridiculously heavy gaming machines can get, despite many of them boasting slim profiles. As such, tech companies have stepped up their efforts to combat this disparity between form and function in recent years, by developing new ways to cram all that hardware into smaller and smaller frames.
Taiwanese PC manufacturer ASUS has certainly come a long way with its approach to slim gaming laptops. The ASUS ROG Zephyrus G14 is testament to that, boasting one of the company's smallest-ever profiles for a gaming laptop, measuring just 32.4 x 22.2 x 1.79cm. It weighs just 1.7kg, which is lighter and smaller than a 2015 MacBook Pro, instantly making it a much more portable option, with much more sheer horsepower.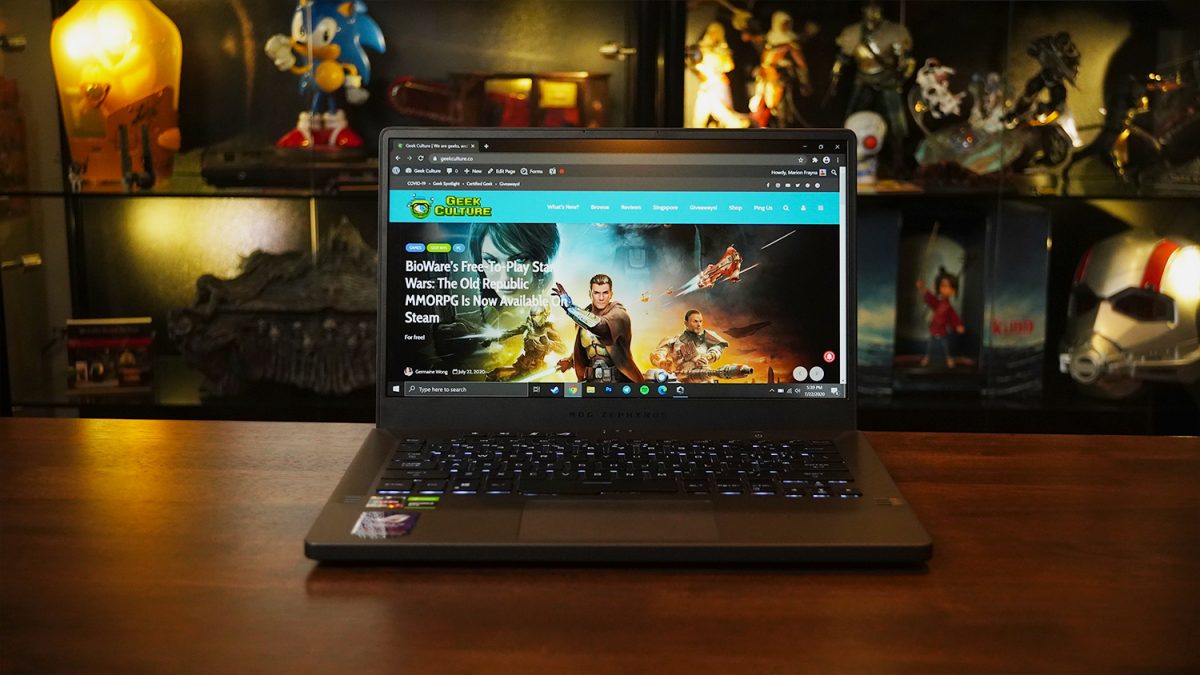 Don't let its tiny form factor fool you; it comes with AMD's new Ryzen 7 4800HS processor, which is actually comparable, if not better, than Intel's similar 9th-gen i5 processors, as owners can select top of the line graphics card, including NVIDIA GeForce RTX 2060 graphics cards for some punchy graphics, making it powerful and portable enough to be brought just about anywhere to suit your gaming and productivity needs to a T. Additionally, it comes with a battery life of a whopping 11 hours (or at least that's what ASUS says) — in paper, the most battery-efficient gaming laptop in the market to date.
And at a price ranging up to S$2,498, it might seem too good to be true for something so small. But as always, it might be better to examine this machine by what it is capable of in terms of output.
At just 14 inches, the Zephyrus G14 stands tall (er, short) with the likes of last year's Razer Blade Stealth 13 and Aftershock Lunar 14 as one of the smallest portable gaming machines to date. Sporting a stealthy matte dark grey finish and simple design, it can easily blend into just about any setting. Its magnesium alloy chassis is both stylish and sturdy, which lets it withstand some rough handling (though we strongly recommend you not to do that anyway).
The Zephyrus G14's display makes you forget that it's a 14-inch laptop for a little bit. Its 14-inch screen comes with a super-thin bezel that lets the display pop out prominently. However, ASUS somehow forgot to include a webcam, which could actually be a deal-breaker for many who don't really want the hassle of having to buy and attach (and detach) a separate webcam, which hurts its utility quite a bit given how almost everyone these days uses a webcam in their daily lives.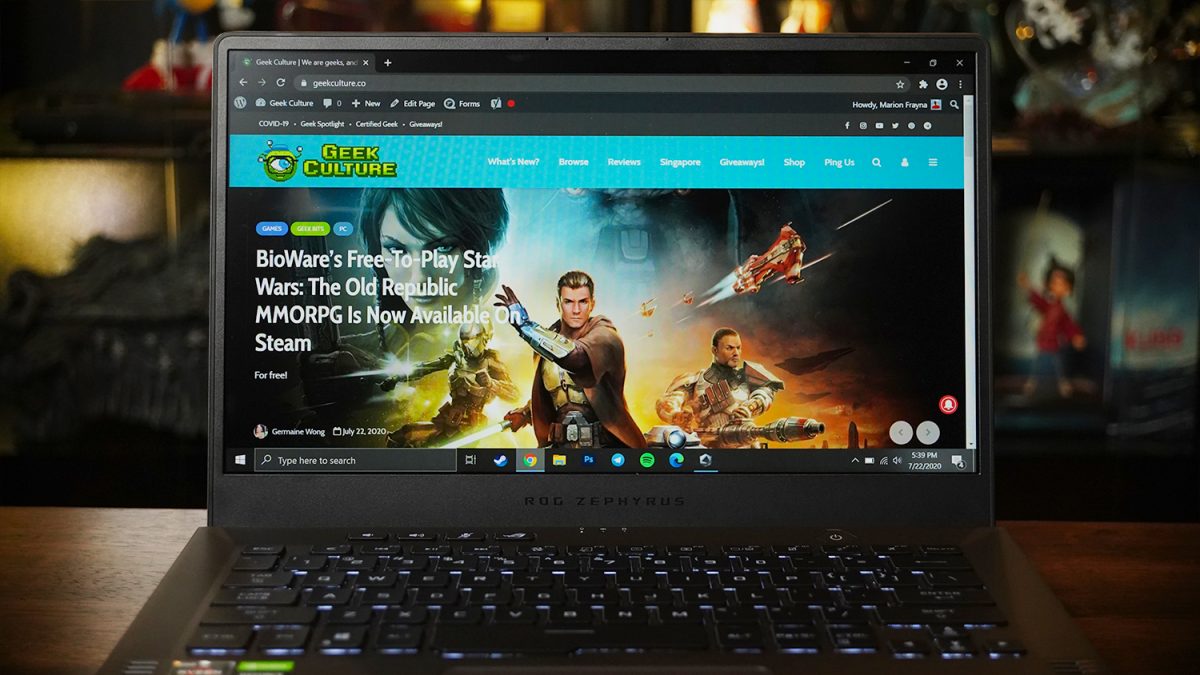 However, despite its relatively simple and understated design, flipping it open shows its true colours (in a way, literally). The hood itself lights up with some snazzy 8-bit graphics, thanks to its signature feature: the AniMe Matrix LED display. Comprising a series of micro LED lights, this RGB display essentially changes up the way you personalise your laptop.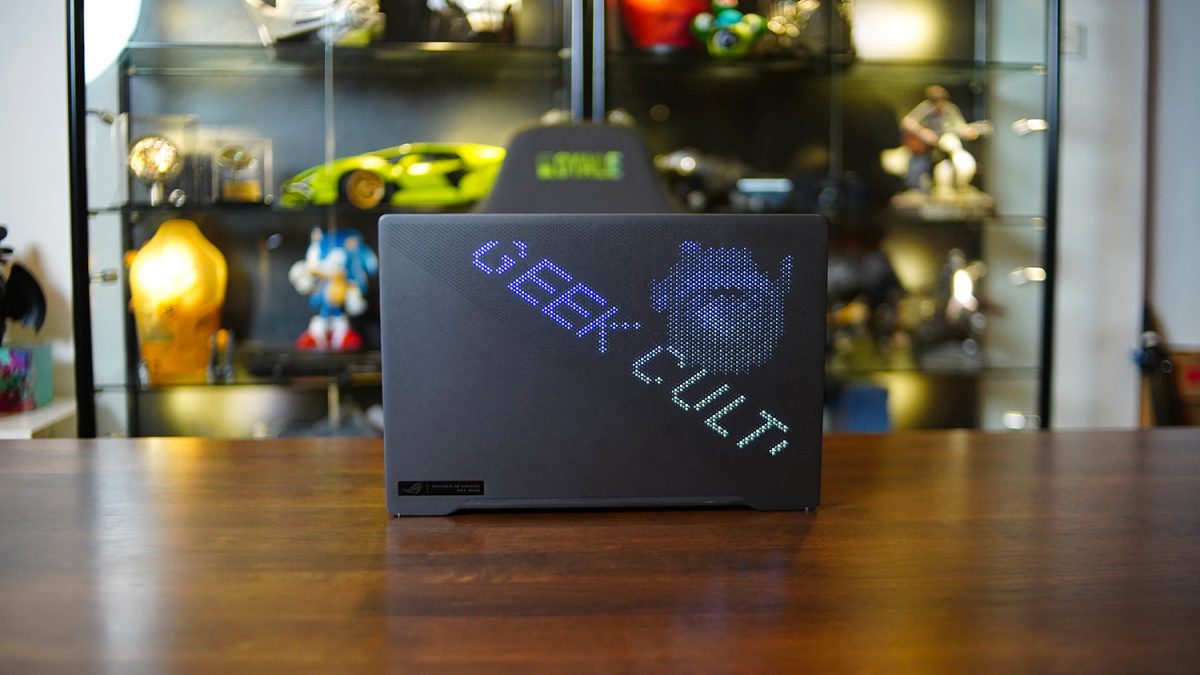 Where previously, people would just slap on laptop covers or various decals and stickers on the hood of their laptops, the AniMe Matrix display essentially removes the need for those. What you want to show on the display itself can be customised using the ROG Armoury Crate app when the Zephyrus G14 is booted up. You can include a variety of images from your gallery into the Matrix itself, which then converts it to 8-bit graphics; you can insert rolling text with various fonts for added effect, and set different images based on the app your're using (i.e. playing music on Spotify, tracking the time, or even playing games).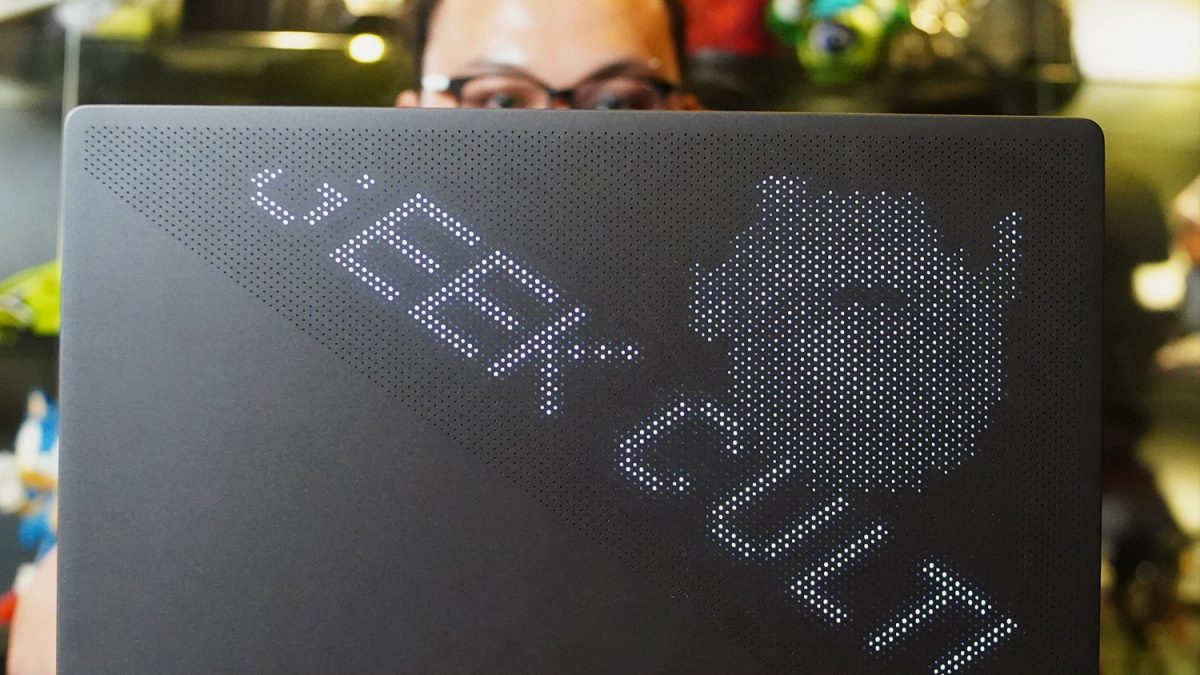 To be honest, while the AniMe Matrix display doesn't actually add anything practical to your daily use, it's just a nice fancy way of expressing yourself. But of course, if you find the display too much of an attention grabber (especially in a classroom or office setting) or battery drain, it can easily be switched off, which is a nice option that ASUS has included, just in case you don't want your laptop to scream for attention.
Where ASUS giveth in certain features, ASUS taketh away in some. The company certainly upped the flashiness factor on the Zephyrus G14 with the AniMe Matrix display, but it certainly didn't do any favours for users in terms of ports. Just for show, here's what you get on this laptop, ports-wise:
1x USB 3.2 Type-C with DisplayPort 1.4 and Power Delivery
1x USB 3.2 Type-C
2x USB 3.2 Type-A
1x 3.5mm audio jack
1x Kensington Lock
The addition of a USB-C power delivery port is certainly a welcome one, as it lets you essentially use a power bank in place of its 180W power brick for when you don't want to carry too many things with you. However, a ton of gamers rely heavily on a stable Ethernet connection to run their mostly-online titles, and unfortunately Zephyrus G14 users won't get to enjoy that, as this laptop sorely lacks an Ethernet port. Despite being equipped with the latest WiFi 6 chip, it is ultimately not be as stable as an Ethernet cable in the long run, which could potentially spell disaster for online games.
Perhaps it's a price to pay for being a 14-inch laptop, as the aforementioned Razer Blade Stealth 13 lacks one as well (though the more consumer-focused Aftershock Lunar 14 does have one, ironically). And in case we need to remind you, no webcam either.
Under the hood of the Zephyrus G14 is a clean-looking keyboard. Its keys are nicely spaced out, and the tactile bump feels generally good when both typing and playing games. Like its other ROG brethren, the keyboard comes with N-key rollover, meaning every simultaneous keypress is registered, which is essential for most games that require multi-key combinations. Dedicated media buttons at the top of the keyboard are always welcome (well, at least just for the volume and mic), as is the power button, which doubles as a fingerprint sensor for added security.
Performance is undoubtedly the key factor in deciding whether the ASUS ROG Zephyrus G14 is a viable alternative to a fully-blown PC. First of all, here are the exact specifications on the review unit we received:
Processor: AMD Ryzen 7 4800HS (8 cores, 16 threads; 2.90GHz)
Graphics: NVIDIA GeForce GTX 1650 Ti
RAM: 16GB
Storage: 1TB M.2 NVMe SSD
Also, here is how the Zephyrus G14 fared in various benchmark apps:
PCMark 10
Cinebench R15
OpenGL: 98.03 fps
CPU: 1637 cb
Unigine Heaven 4.0
FPS: 61.1
Score: 1540
Min FPS: 36.6
Max FPS: 128.2
Long story short: clearly, it never will be, not by a long mile, but it still holds up pretty well in general despite its small frame. From our time spent with it, it is evident that the Zephyrus G14 is quite a versatile machine. Let's just put it out there that AMD has done a fantastic job at catching up to Intel's processors to add really stiff competition in the market. The 4800HS held up really well when playing both AAA games and some heavy editing on the likes of Premiere Pro and DaVinci without much lag or frame rate dip.
With the former, we tested from a plethora of titles, with generally lighter titles such as Overwatch and Final Fantasy XIV performing like a breeze at max settings without so much as a sweat (but of course, the lack of an Ethernet connection hurt the latency of these two online games for sure). The true test, however, would come in the larger titles such as The Witcher 3 and Star Wars Jedi: Fallen Order, both of which saw a noticeable dip in frame rate at Ultra settings. Of course, this is the lowest specs available on the Zephyrus G14, and we can imagine it wouldn't perform as badly with an RTX 2060 Max-Q GPU.
The display on the Zephyrus G14 is none too shabby, sporting a Full HD (1920×1080) IPS panel, with a refresh rate of 120Hz. The 100% sRGB Pantone-validated colour gamut certainly boosted the visual fidelity of the images in both games and videos, with the blacks looking really deep and crisp, especially with darker games such as The Witcher 3 and shows like Stranger Things. The brightness holds up really well too, offering a good 320 nits at the brightest setting, and a decent 150 nits when off the power cable.
However, its diminutive size is once again its biggest weakness in that the 14-inch display offers very little screen real estate, especially when you consider that it is just a Full HD resolution. If you've been using 4K screens in recent years, this is an obvious downgrade and will feel especially restrictive when doing video or photo editing, both of which would certainly benefit from a larger resolution. We imagine actually including a 4K option for the Zephyrus G14 might shrink things down a bit too much to the point that it becomes uncomfortable, which essentially makes it a catch-22 at this point. As such, this is where it is clear that the Zephyrus G14 is catered more toward gaming.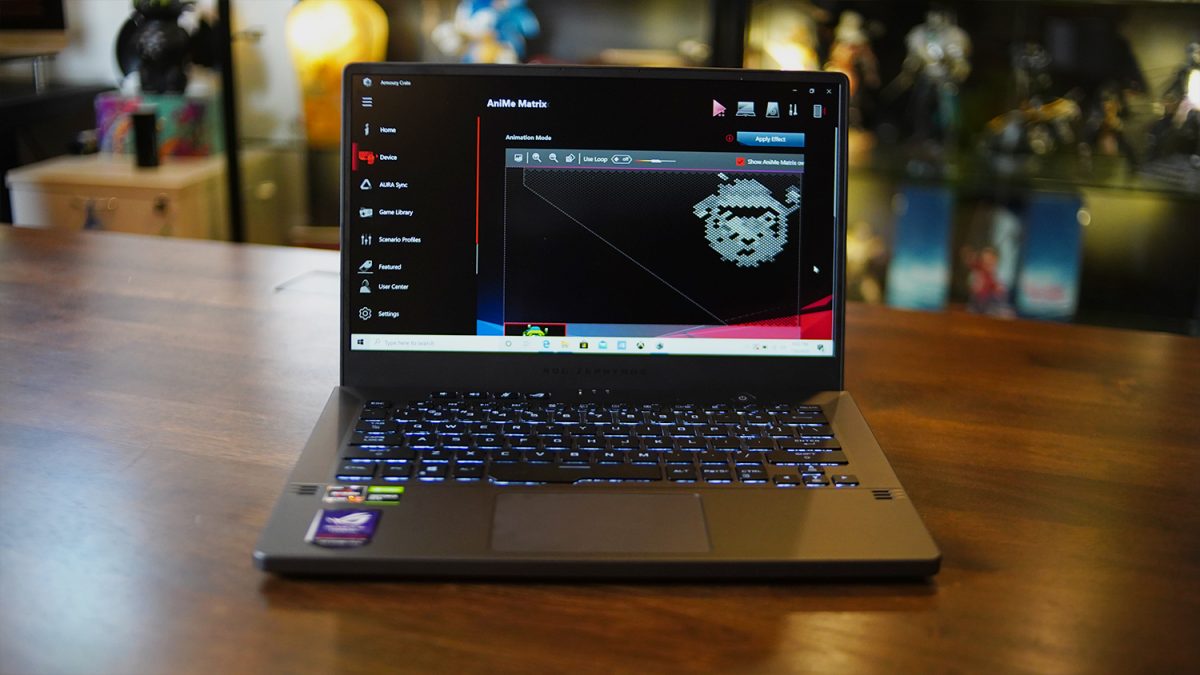 Among all this, we've been testing the battery life on the Zephyrus G14, and we must say we were thoroughly impressed. When ASUS marketed this as the gaming laptop with 11 hours of battery, we were skeptical simply due to the fact that gaming laptops generally have up to 6 hours at most. But when we put it to the test, it actually lasted for a grand total of about 9 hours, with a day's worth of work, browsing the Internet, and listening to music on Spotify. Of course, it still requires being hooked to power when playing games as battery life dips to a measly 3 hours, but it has the capacity to be your buddy for a plane ride or day out for work or study.
The ASUS ROG Zephyrus G14 has impressed us with just what it can achieve for its small form factor. Most notably, ASUS' partnership with AMD for this model can certainly make the folks at Intel start sweating. If its processors can perform this well on a 14-inch gaming laptop at the lowest possible specs, just imagine what it can do when installed at a much more heavy-hitting machine. Speaking of size, while the Zephyrus G14 still isn't the smallest gaming laptop in the world, ASUS has done a fine job at fitting all that hardware into its frame. Coupled with its superb battery life, it is a great companion for both work and play, in and out of the home. Also, its AniMe Matrix display is just nice to have if you want to turn some heads.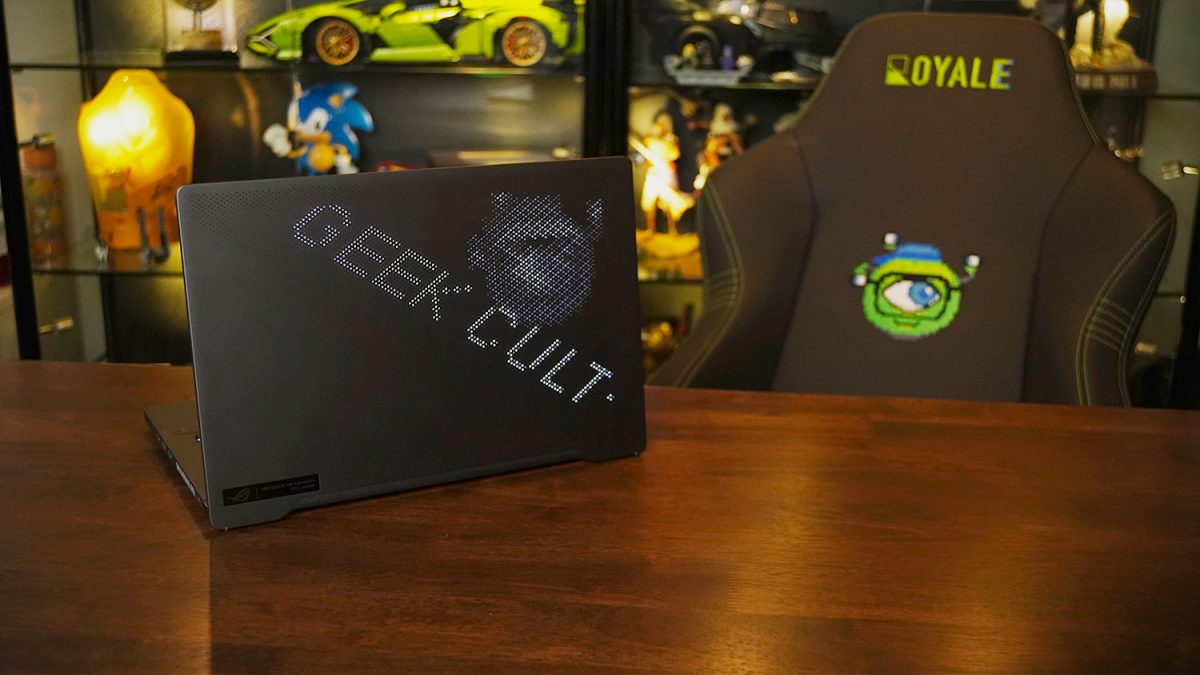 GEEK REVIEW SCORE
Summary
In an era that values minimalism and space efficiency more than anything, the ASUS ROG Zephyrus G14 is a blessing to those who seek to get the most out of those two aspects in their new gaming laptop. Though no one probably asked for the AniMe Matrix LED display on the hood, its inclusion certainly adds a hit of much-needed flair to an otherwise simplistic design.
Aesthetics -

9/10

Build Quality -

8.5/10

Performance -

8.5/10

Value -

7/10

Geek Satisfaction -

9/10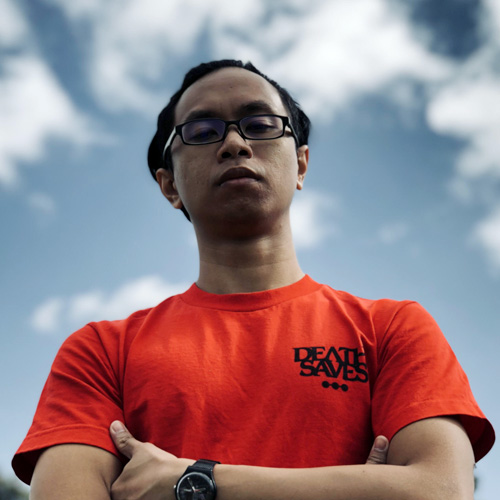 Marion has a serious RPG addiction. Sometimes it bleeds into real life; he forgets to sleep because he thinks he has a Witcher's body clock. Forgive him in advance if he suddenly blurts out terms such as "Mind Flayer" and "Magic Missile", because never once does he stop thinking about his next Dungeons & Dragons game.