When we first caught the news about Eaglemoss Collections' plans to release the 130-issue "Build The Back to the Future DeLorean" in Singapore, we knew we just had to lay our geeky time traveling-crazed hands on it the moment the first issue came out in early September.
In typical Singaporean fashion, most local BTTF (Back to the Future) fans did the math, and were appalled at what the total price the full subscription would amount to, and how it will take almost 3 years to complete. Running at 130 issues, at one issue per week (S$15.90 each), collectors are looking at completing the model sometime in 2021. That's a really long time to be building a model. Makes you wish you could jump forward in time, doesn't it? It helps a little that the first issue is discounted significantly at an introductory price of S$7.90 and second issue slightly discounted at S$12.90.
From the second month onwards, builders who decide to commit to this collection will be spending  S$63.60 per month. At the end of the day, you're looking at spending (129 x S$15.90) + S$12.90 + S$7.90 for the car. By 2021.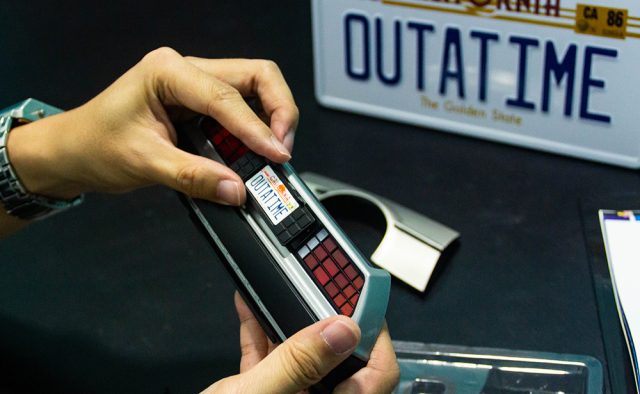 So after having studied the mechanics of this project a little, we've come up with 3 kinds of geeks who will be taking it on:
The Hardcore Perfectionist Geek – a geek who loves the process of building his/her own toys, to absolute perfection. Enjoys the gratification of eventually owning the most movie-accurate, totally-pimped out DeLorean money can buy, with a little help from custom mods (read on for more on that).
The BTTF-fan Family Guy Geek – a geek who loves the BTTF franchise, and wants to share the same love and passion with his/her child to build and read the magazine progressively.
The Instant Gratification and Impatient Geek – a geek who can't wait 33 months and doesn't have the patience or time to build a DeLorean, but instead wants to just buy one off the shelf and display immediately. In this case, he will choose to skip this entirely and settle for the Hot Toys version (this is covered further down).
Which profile fits you? And should you hit 88mph with this model-building investment? Let's take a look…
---
The First Three Issues
Take a look at our quick video and speed build of the first 3 issues.
The build process was easy, and parts for all 3 issues can be completed within 20 minutes. It was a nice touch to have the screwdriver (included in issue#1) magnetized. This came in real handy when screwing in the tiny black screws.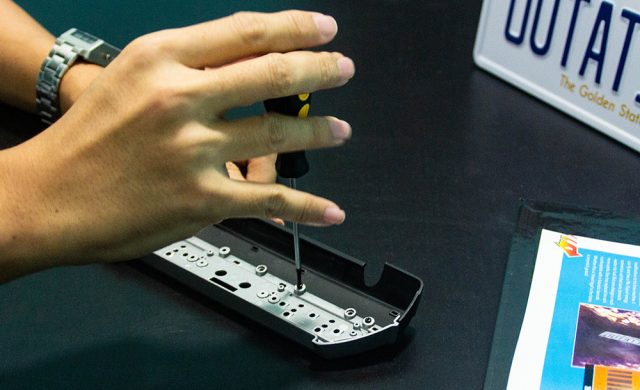 One of the trickier parts of the build, applying the tiny pair of stickers onto the OUTATIME licence plate. Tweezers would come in real handy for this. It sure was kind of Eaglemoss to include spares in case you ruin or misplace them on the first attempt.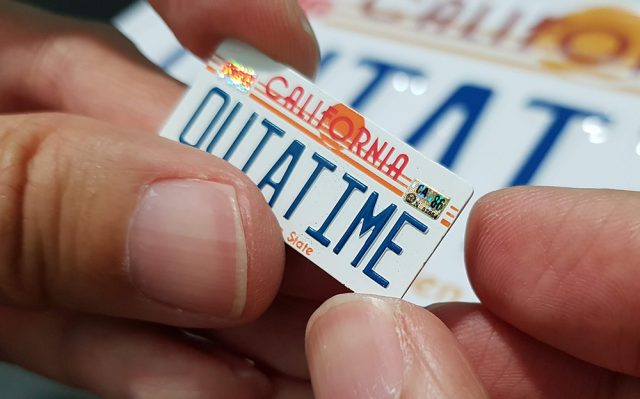 Just look at the detail and heft of the first wheel.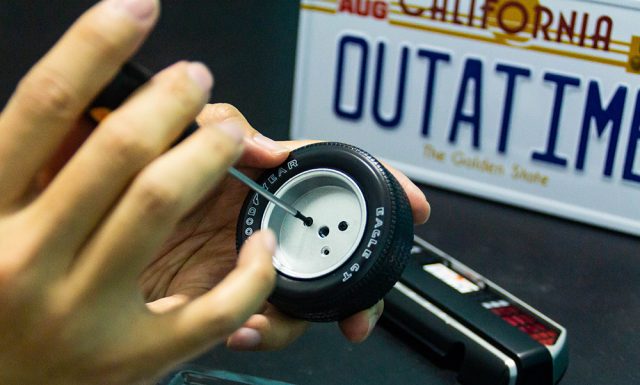 Bonus item #1: The Collector's Binder
This collector's binder comes free with the 1st delivery, and helps file the issues neatly as they come. Such binders aren't new, and have been around for decades already, as I can remember collecting a similar magazine subscription way back in the early 90s to build a Tornado aircraft. The nostalgia kick we got out off slotting in the first 3 issues felt geekily satisfying. Each binder holds up to 16 issues, so you're looking at buying at least 7 more if you plan to bind every issue in pristine condition over next couple of years.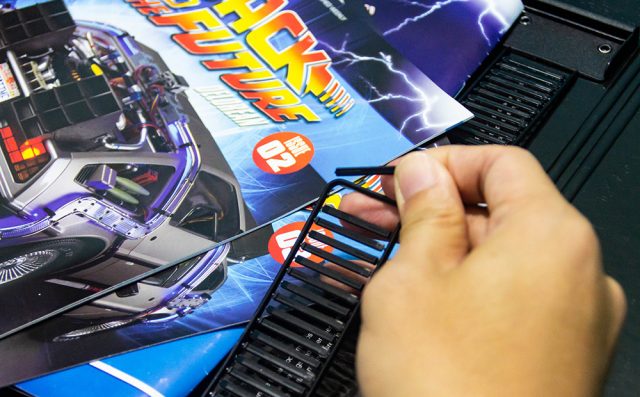 As you can see, each binder comes with 16 pairs of "spokes", which you can push out and slide into the top and bottom slots of the binder, to hold each magazine in place, down the middle page.
Bonus item #2: Embossed OUTATIME Licence Plate
This tin-plate replica of the DeLorean's licence plate comes free with the 3rd delivery. Every BTTF fan could use one of these on their workstation or wall.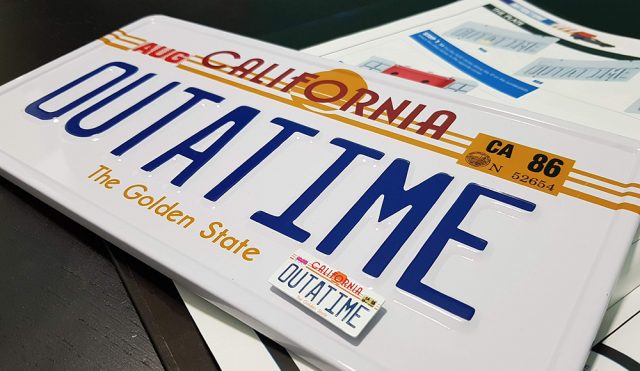 ---
Why Not Just Settle For the 1:6 Scale Hot Toys Version?
Most BTTF fans are bound to draw comparisons with the 1:6 scale Hot Toys DeLorean released back in 2016. Sure, it's bigger and it retailed for just US$689.99 (S$974.80) back then, but it has sold out since. So the only way to get hold of one is probably on eBay, which currently averages at around US$1,600 (S$2,200). That places it slightly above the total cost of Eaglemoss' 1:8 scale DeLorean, and that's before shipping costs from wherever the seller is based at. Since the model is pretty hefty in size and probably weight, the shipping costs will probably be another couple of hundred dollars.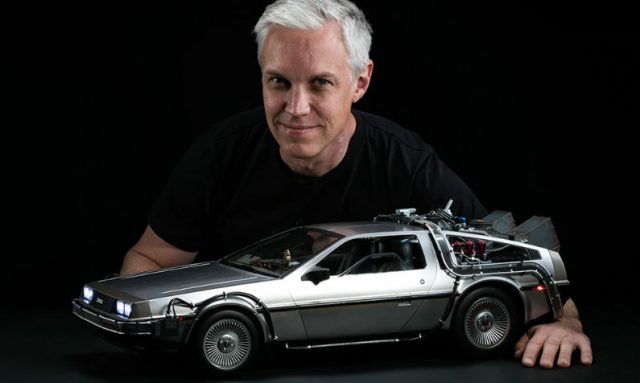 Price comparison aside, the Hot Toys DeLorean is meticulously crafted all-around, complete with LED lights on the front and rear, and interiors. However, quite a number of bits are lacking, which the Eaglemoss version addresses:
The exterior of the Eagelmoss DeLorean is all metal (The Hot Toys version is made of plastic)
The nuclear reactor on the back of the DeLorean lights up too.
The nuclear reactor from BTTF1 can even be swapped out to the futuristic Mr Fusion version as seen in BTTF2.
Beneath the nuclear reactor also reveals a fully detailed replica of the DeLorean V6 engine.
The side windows can be wound up or down.
The brake lights come on when you press down the brake pedal inside the car.
All 4 wheels can be tilted to create the BTTF2 version of the car that flies.
The flux bands all around the exterior of the car also light up in bright blue lights! (see below)
For more details on the local (Singapore) pricing and subscription model, read our previous coverage here.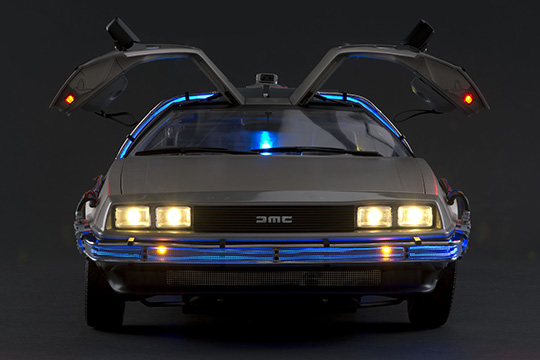 With the current resale price and features comparison laid out, is it a better buy than to build your own? If you are impatient, and want the instant gratification of owning a highly detailed DeLorean to display, sure, by all means, and you even have the option to spend a few hundred dollars more on sixth scale figure of Marty McFly to fit into the DeLorean.
So why settle for yet another built-out-of-the-box adult toy collectible? Which you'll probably spend 15 minutes tops playing with the lights, opening and closing the gull-wing doors, turning the front wheels, posing the Marty figurine with it, before you leave it static on display for the rest of its days.
Instead, you could have a package of 4 issues appear at your doorstep at the start of each month, and have a fun weekend building activity each week, either on your own, or with your kid. Due to the complexity and size of the screws, it is probably an activity best suited for kids aged 8 and above. It makes for a fun family bonding activity, for parents to reminisce about how much they loved BTTF, and bonus reading material for the kids to learn fun facts about the most flawless and brilliant time travel film franchise ever.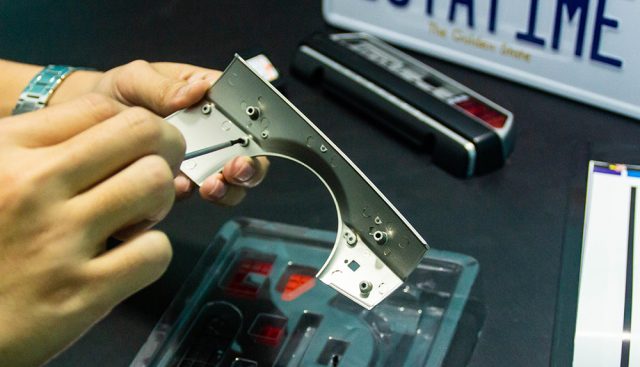 Nothing beats having the geek satisfaction of building your own model, down to all the intricate internal wiring. And we haven't even gotten down to the amazing custom mods yet, which will be discussed in the next section.
---
Custom Mods Heaven
With every highly detailed model build, there is bound to be a sheer number of custom modders who simply aren't satisfied enough with various parts of the default build. And sure enough, there is a strong, and very active custom modding community via a Facebook group called "Build the BTTF Delorean – 1:8 Custom Parts". You have been warned, once you join the group, you'll find it irresistible to spend even more money on the crazily detailed mods by the various contributors in the group.
Since UK has had a head start back in December 2016, the custom modding scene is already thriving, with builders having reached issue 89 (at the time of writing this article). There is already a whole slew of ultra-detailed mods currently available. Just look at this chart: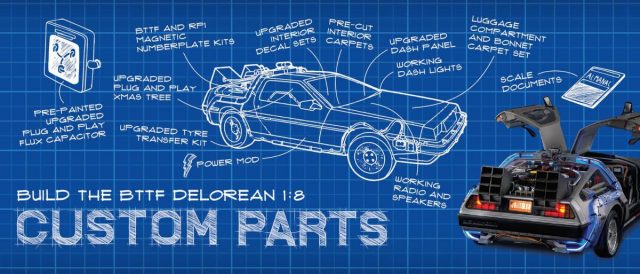 A few notable mod mentions include a pre-painted, upgraded plug-and-play flux capacitor that actually fluxes just like in the movie, and speeds up till it makes the time jump. There's even an actual working radio mod, complete with micro-cassettes to play all your favourite BTTF tunes via speakers attached under the driver's dashboard. Afraid of battery leaks or you just prefer powering all the lights via a wall plug? There's a power mod that does just that. There's even upgraded interior decals, pre-cut interior carpets, and even a bonnet carpet set with luggage compartment toolset.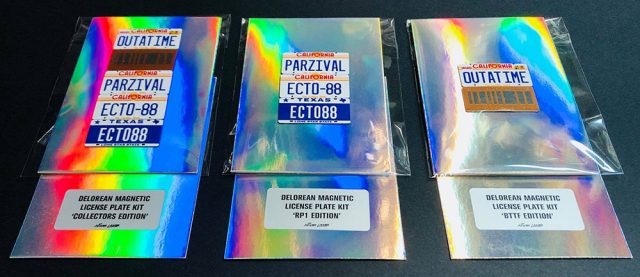 Just check out these BTTF and Ready Play One magnetic numberplate kits by modder Mike Lane. It enables builders to swap out the numberplates with ease to your favourite iterations from the original BTTF, BTTF2 (barcode design), and three variants from Ready Player One. Builders can choose from three different editions as shown above. Aren't those just absolutely gorgeous?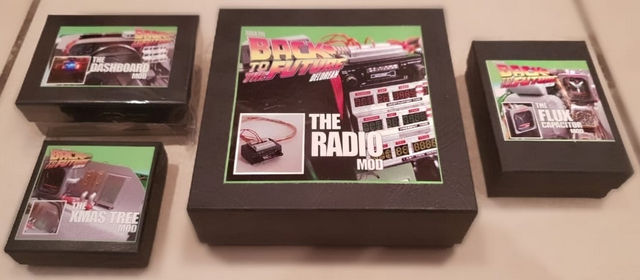 These are the four mods currently made available by Chloe Powell and Corrie Hollingsworth, complete with packaging. Details instructions are all available via the same Facebook group mentioned above. If you're wondering how the upgraded Flux Capacitor and Xmas Tree mods look, this video should help:
Pretty radical stuff huh? Wait till you see the radio mod and a new work-in-progress phone app-enabled lighting control system.
---
So Is It Worth The Time And Investment?
Having read this far, you should already have a good idea if this is an endeavour you would want to embark on or not. In our case, since we've already gone through with the first 3 issues, we're definitely signing up for the next 32 months. Should you choose to subscribe to this almost 3-year commitment to build your own DeLorean, you should definitely join this Unofficial, But Awesome Facebook Builders Group where builders from all around the world share their progress and woes on a daily basis.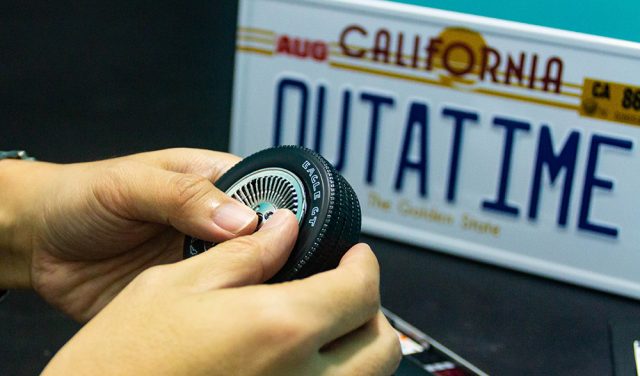 One other legit concern, which only time will tell, is that the pieces received at the start of the build, may very well end up looking slightly discoloured from the rest of the parts received at a later stage, depending on how and where you store the parts. Especially when we're talking about metal exteriors, subjected to the humid weather and sweaty palms (for some). We would strongly recommend storing everything in a dry box (for the serious collector), or simply away from direct sunlight. After all, you would want the completed DeLorean model to look as pristine as possible when you finally attach the final piece in June of 2021.
Signing up to the full subscription would probably be the best option. That way, 4 issues will be mailed to your doorstep at the start of each month for FREE. That way, you won't miss a single issue, and you don't have to physically head down to a store weekly to grab a copy. More details are available via the official site.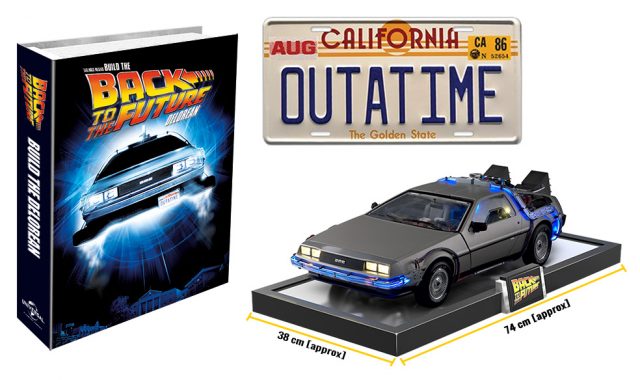 Don't forget, there are even 3 bonus items to receive on the 1st delivery (collector's ring binder – worth S$13), 3rd delivery ("OUTATIME" licence plate – S$27) and 10th delivery (display based – worth S$94).
Should you decide not to go ahead with it though, you might still want to consider grabbing the first 2 issues, which will cost a mere S$20.80 (S$7.90 + S$12.90), and you get a completed rear bumper. Perch it at your workstation like so, and you'll be reminded daily that you're OUTATIME to finish your daily grind.