The worldwide political and economy situation in 2017 is questionable at best. However, we at Geek Culture can assure you that this year is chock-filled with the good kind of pop culture offerings to shield us away from reality, if for a brief moment.
There's a ton of films and games of different genres that were released this year, so much so that there's too many to list down as favourites. But we have to, because you readers deserve to hear our thoughts on this here geek-cultured platform.
Our trusty writers and editor-type folks spill the beans on their top picks of 2017 in the realm of video gaming and movies. Let 'er rip!
---
Horizon Zero Dawn
A ton of games came out in 2017, I could arguably say it's been one of the great years in gaming, if not the greatest, and nothing captured my attention, time, and love, quite like Aloy and Horizon Zero Dawn. An action-RPG that encapsulates all that is wonderful about the genre, coupled with amazing story-telling, acting, and considering it's Guerrilla Games' first foray in the genre, this is a masterpiece and a home run. The Frozen Wilds DLC gave me more reasons to sing its praises, and I can't wait for the sequel to materialise. ROBOT DINOSAURS!
Nioh
A tough-as-nails tactical survival game, not unlike the Souls game, but with a time period I am in love with. Nioh was a surprise early hit in 2017, but its gameplay has certainly endured the test of time. Impeccable world design, gorgeous enemies, and a tried-and-tested combat system, what's not to love? The constant stream of DLC certainly made it even more of a must-play, and it definitely needs your attention.
Super Mario Odyssey
To me, this is the quintessential Nintendo game starring its instantly recognizable mascot, Mario. Forget Zelda, Super Mario Odyssey is the reason I adore my Nintendo Switch. Great gameplay, inventive level design, and a soundtrack like heavenly notes played by angels, Super Mario Odyssey sets a high bar for any new Mario games to follow, and its appeal extends beyond the seasoned gamer, and like the recent Game Awards suggests, it is a perfect family game.
---
Hollow Knight
No AAA titles for me, the best game for 2017 has to go to an indie.
Released at the start of the year, Hollow Knight is a charming title which is deceptively challenging. Given its unique and hauntingly beautiful art style it's easy to fall into that trap.
Hollow Knight is best played with an guide side by side just to get through the story at least once and then once again to see how well your memory serves you. This is Metroidvania at its best.
---
NieR Automata
Few games, if any , not only touch on the concept of humanity, but also put in a kickass combat system mixed in with some hacking and shmup action to boot. The fact that NieR Automata succeeds in mixing all of this is a testament to Platinum Games' uncompromising vision and action game knowhow, led by the zany director Yoko "Moonface" Taro. One step closer to doing his adult film gig, hopefully.
Persona 5
While not as perfect as Persona 4, the fifth game still has its charms and consistent "rebels with a cause" narrative that enthralls, backed up with an awesome combat system and social link/confidant mechanic. Once that 70 hours is done and over with, you will miss the Phantom thieves and their allies dearly.
Gravity Rush 2
I'm so glad that this series got the closure it deserved since its debut on the PS Vita in 2012. While it's admittedly unwieldy to play from the get-go, the open world bits are fun to faff about when you're controlling your own space of gravity. It's got a loveable cast led by gravity-shifting duo Kat and Raven, a grand-looking and unique aesthetic, and a memorable soundtrack from anime music legend Kohei Tanaka.
---
Horizon Zero Dawn
If there is going to be a contender for Best Game Ever on the Sony PlayStation, you can be sure Horizon Zero Dawn gets my vote. There is truly nothing like the experience here on any other game in the realms of cinematic visuals, controls against the elements and beasts, the fear of getting roughed up by intelligent realism, and most importantly – a deftly-told and well-paced story that will genuinely move you.
This is one of those games that will be spoken of for decades to come, if they don't screw up the eventual movie adaptation.
Super Mario Odyssey
There are no words to describe just how fun Super Mario Odyssey has been in my last few weeks with it. It is charming to no end, the concepts for every level are mind-boggling and interesting (UNZIPPING HIDDEN UNDERWATER WALLS WOULD YOU BELIEVE THAT), the soundtrack is thoughtful and so captivating Nintendo actually found enough reason to put it on iTunes and Spotify. Most of all it is a forgiving game despite how demanding it can legitimately be sometimes.
Just like Nintendo's ethos, Super Mario Odyssey will always challenge you, but it will never make you feel bad if you fail. Instead it challenges you again and again through charming you to death. Seems like a good way to go.
FIFA 18 for Nintendo Switch
Every year since PES and FIFA debuted on the very first PlayStation, I've always bought both games on every iteration of the Sony consoles. I would decide within a month which one I kept for the year. I never held loyalty to either franchise, only whichever one played better that year. You just have to accept that constant direct competition will breed one's advantages over the other yearly. That's how I roll with most things in life except for relationships.
This year, FIFA 18 rolled onto the Nintendo Switch and it destroyed my tradition. Razed my habitual forest to the ground. Decimated my beliefs. FIFA 18 on the Switch does not even come powered by EA's Frostbite Engine but by virtue of its stripped-down nature on the only device that could make this well-made gaming experience possible, it's become the only version of any football game I kept this year. Ridiculous.
---
Pyre
2017 has been a great year for indie titles, especially with the likes of Cuphead, What Remains of Edith Finch, and Hellblade: Senua's Sacrifice gaining critical acclaim amongst the community.
But among them lies another quiet contender that goes by the name Pyre, the brainchild of Supergiant Games, who's best known for their work on Bastion and Transistor.
With an art style reminiscent of the aforementioned titles, Pyre is a fantasy gem that strikes the perfect balance between an intriguing lore, beautiful visuals, and colourful characters. Even the gameplay is something to marvel at: when engaged, what unfolds on the battlefield is a refreshing blend of Rocket League, Transistor, and basketball that seeks to put one's strategic abilities to the test.
It's highly unusual, it's fun, and it's definitely damn good – which is saying a lot, especially from a person who's often unable to commit fully to the strategy genre. Boy, has Pyre changed that for me. Well-played, Supergiant Games.
Persona 5
Really, what's there to say? Ever since Persona 3, the series has been performing consistently well in the market, with a large, dedicated following to boot.
While Persona 5 is a tad too long in terms of playing time, the game definitely made up for its length through a remarkable combat system, likeable (or unlikeable, for some) characters, and of course, the signature Persona elements (Confidant link, anyone?).
At its core, Persona 5 is really about going against societal norms to fight for a cause and exploring the gray morality of man, which truthfully, has got me ensnared. Let's hope that the anime adaptation in 2018 will be able to keep the momentum going.
The Evil Within 2
Nothing beats the raw feeling of adrenaline coursing through your veins.
Granted, The Evil Within 2 had a messy storyline and an agonisingly slow start, but the thrill of being chased by disfigured monsters repeatedly kept me on my toes, which as a thrillseeker, was something I relished. Taking the stealth approach was no better, and always made me tense up as I try to sneak past the occasional stragglers. What's living without a little fear, anyway?
The bizarre world of travelling through mirrors to safe houses and cats giving green gel charmed my love for all things quirky, and I was particularly appreciative of the perfectly-casted lighting that successfully drew out a couple of surprised shouts from me. Overall, the scare metre of The Evil Within 2 made for a highly enjoyable, if not terrifying, experience, and indeed lives up to the survival horror genre.
---
Wonder Woman
Ah, Diana Prince, welcome to the world. The shining beacon of hope in an otherwise dark DCEU, Wonder Woman was one my highly anticipated films, and it delivered stupendously. Gal Gadot will always be my Wonder Woman, and the action, the set pieces, the humanistic looking glass into what a god could be in the world of men, all made for a tremendous ride. Well done, Patty Jenkins.
Thor: Ragnarok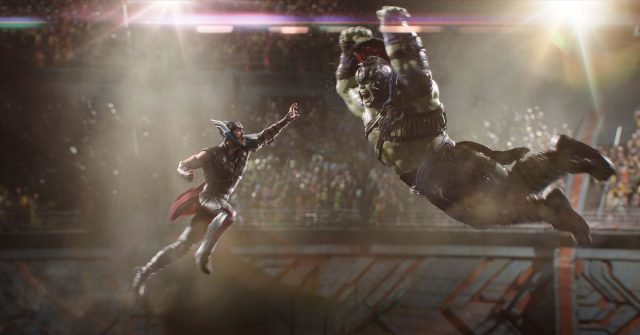 Another comic book movie, but what the heck, Thor Ragnarok simply rocked. From the music, the aesthetic, to the impeccable comedic timing of every single cast member, this was a highlight of my year. While it may be slightly less important plot wise in the whole Infinity War lead up, it certainly sheds a more positive light on one of the less well-developed Avenger, and Hulk/Bruce Banner was gold alongside the Grandmaster and Valkyrie. Kudos to Taika Waititi and Marvel for this roaring good time.
It
The return of a childhood nightmare, the original mini-series scarred my childhood, and that was on VHS. The arrival of Pennywise on a giant cinema screen? I am surprised I even made it out alive. Yes, it wasn't the scariest portrayal of the otherworldly being that chooses to beguile children as a creepy clown, but the whole package mesmerised me like the Deadlights, making me enjoy every bit of the ride down into the sewers. I really liked the performances of the child actors, and bravo Bill Skarsgård, you have reignited my fear and hatred for clowns.
---
Thor: Ragnarok
The one movie I would want to watch over and over again. It has all the elements that a movie needs for a great night out. If there's one title to recommend a friend looking to get into the Marvel Cinematic Universe, this is by far the greatest starting point.
Capturing exactly what it means to be a superhero, we see Thor forced onto the ropes only to realise that there really is to more to the Norse God that just his hammer.
Dunkirk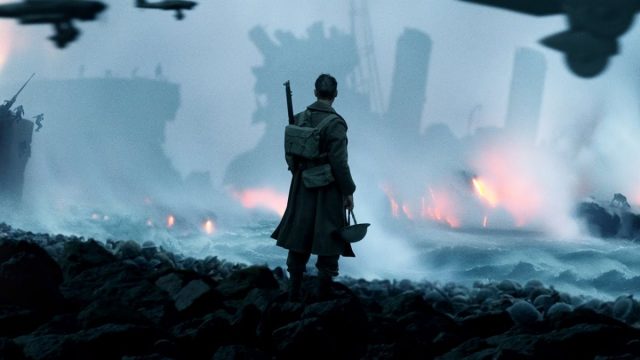 War movies are always an easy sell in my books but what Nolan does with Dunkirk is a whole different level. Is there no stopping his movie-making magic? We certainly hope not!
Given that Nolan has covered such a wide variety of topics up to this point of time, we're all waiting with anticipation how else he's able to apply the concept of time to his next big blockbuster.
---
Logan Lucky
If you want a solidly-executed caper film involving middle American "rednecks" who are smarter than they let on, this one's for you. Steven Soderbergh did a great job in going back to his caper film roots, albeit in a different setting.
Get Out
Part black comedy, part horror, all good. Jordan Peele's directorial debut had me in stitches and made me feel a deep discomfort and dread. Also there's quite a huge bit about racism and mind control slavery going on.
Mother!
This one's an effective nightmare that works and sears into your mind. How could I possibly ignore this weird entry? Some people interpret it as a Bible allegory, some as a critique to how the masses taint art. I just see it as a messed-up experience: that's enough for me.
---
Blade Runner 2049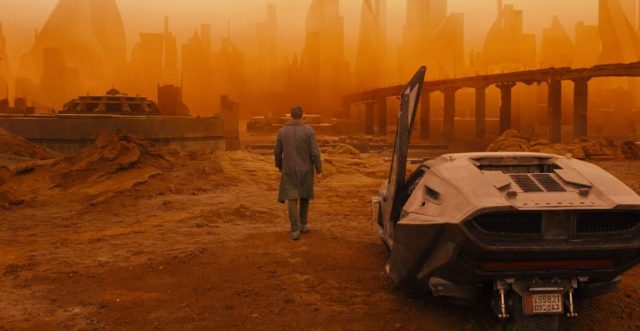 Villeneuve takes a 30-year-old cult masterpiece and turns it into a fitting, mystifying tribute to the source. We've all had sequel-wear but this is a rare one that not only merits lauding its artistic sensibilities, but also that cinema needs much more of what allows unresolved, consistent deep thought.
Like the portrayed future, the plot is clinical, dispassionate to a fault, yet you can feel between purposefully-drawn lengths of breath, an emotional shroud that richly astounds.
Call Me By Your Name
Its stunning imagery and eclectic soundtrack serve to elevate an already moving tale of self-realisation through the mirroring of another, exactly like the title suggests. This was a charming stunner that was always almost a typical romance flick if not for the proper amounts of tension, sensuality, and emotional cognitivity.
There is never enough in film to speak for love in its purest sense, not enough to go against the doctrines that are competent at telling you what your comfort zone is but are extremely bad at letting people leave that concept, Call Me By Your Name is a gem in the year's efforts in movies that should leave everyone with an open mind gasping for air and tugging at their chests full of unspoken regret.
Logan
This film is rated "X out of X" if I'm going to have any artistic license. This was the Wolverine we'd always wanted. This was the 20th Century Fox we needed. Disney wished they had this simmering rage to play with, to build a story out of, to craft an ending piece so well-done it would leave other 'superhero' films in the last decade in the dirt.
Hugh Jackman and Patrick Stewart put in the performances of their lives for a film befitting of many Oscar nominations normally set aside for period blockbusters or pictures that have actors who'd gone above and beyond in their methods.
The violence from the torment of men who'd lived through agonies just to find their own space meant also for the future, the raw realism of their struggles, they are encapsulated in a work you would hesitate twice before you'd classify this a superhero movie.
---
Wonder Woman
Having disappointed by Suicide Squad and Batman v Superman: Dawn of Justice, Wonder Woman was the title that made me restore faith in DCEU, if only a little. The movie lived up to the hype and exceeded expectations through a finely-woven narrative supported by exceptional cinematography, well-choreographed fight scenes, and a great cast.
In a world dominated by male superhero protagonists, Wonder Woman has managed to successfully set a high benchmark for future DC superhero installments. And judging by the lukewarm response of Justice League, overtaking Wonder Woman's reign proves to be difficult business.
Logan
Yes, everyone's probably heard this a dozen times now, but Logan is really, truly the Wolverine movie we needed.
From the outside, it appears to be the typical superhero film. It's violently brutal, bloody, and chock-filled with fighting scenes – no surprises there. Yet, the movie goes beyond the superficial facets to explore the inner conflict faced by men who've been through tough times, and the raw realism of their struggles.
With the poignant addition of the human touch comes a wild ride of emotions, grit, and pain. And the last scene? Beautifully heartrending.
It
When I was a child, I remember being afraid of clowns. There was just something about their grins, their thick makeup that instilled fear in me.
Years later, what'd have been a nightmare for a younger me was reimagined in the form of It. Pennywise sports the exact smile and makeup, and I could relate to the children's terror of the clown. The movie struck a fine balance between the humourous and terrifying moments, building up to jump scares and unexpected shocks, which was satisfyingly exhilarating.
The remarkable acting chops from the child actors was an added bonus, contributing to It being a well-rounded, finely-crafted narrative that transcends the usual horror story piece.
---
Here it is: the "Best of 2017" in terms of video games and movies, from fellow geeks to another. There are the repeated choices; AAA titles chock-filled with wholesome goodness, then there's the standalone selections – the lesser-known ones that are also equally impactful and deserving of credit.
At the end of the day, what matters most is the sheer fun and enjoyment of being in the geek community. As we bid farewell to 2017 and usher in a new year of games and movies, here's a celebratory toast for having made it past yet another year.
Cheers, and continue to geek on!