A new year means new sports games from EA, including the all-important footy. It's like clockwork, these games. But does FIFA 18 markedly improve on FIFA 17, or is it time for sports games to stop releasing every year and instead, supply new rosters via free or cheap DLC?
GOOOOOOOAAAAL!!!
First things first: the game plays great. Movement seems crisper than FIFA 17, the AI seems smarter (in both directions), and goals are more exciting. Running down the wings, or playing keep-away in the middle of the field by passing back and forth feels great. The one-touch passes, penetrating through passes, and even crosses into the box have been altered to feeel more authentic, although the arcade feeling does not go away when your threaded pass is swift and accurate to a teammate 60 meters away. Now, thanks to that smarter AI, teammates attack more intelligently, getting where I need them to be for an amazing goal, or an intercepted pass.
Of course, smarter AI goes both ways. While my team is moving around the field intelligently, so is the opposition. This makes for much more exciting games overall. Since I am personally not very good at defending (any player controlled by me will invariably find themselves wildly out of position), any game I play against the AI tends to be a high scoring affair, with teams trading goals every few minutes.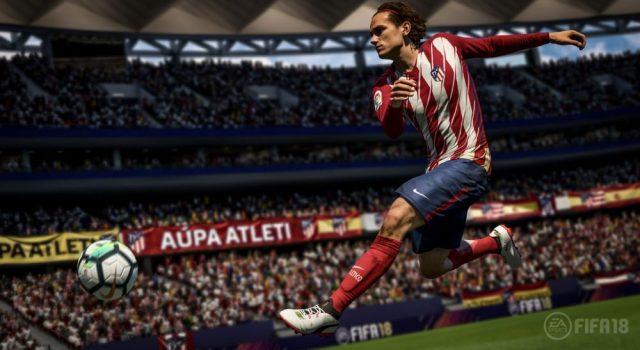 And what goals they are. Almost every goal I've scored thus far in the game's various modes have felt fantastic, even if some of them have been fairly rubbish. In only two days with the game, I scored the best-looking goal I've ever scored in a  video game: Chicharito threading the ball between two Portuguese defenders and past the keeper into the back of the net. It looked amazing, and it felt amazing, and the same is true of almost every goal I've scored, but definitely not realistic.
I discovered all of this almost immediately. As soon as I booted up the game, I was dropped in the middle of a Madrid derby between Atletico and Real. I was given the chance to relearn how to play the game in the equivalent of a digital friendly. I got the kinks worked out of my thumbs and trigger fingers, remembered what buttons did what, and then I was off. I started tooling around the various modes, but I gravitated to the Tournament mode. In this mode, you get to design a tournament to your liking, with round robins, knockout stages, and/or two-legged ties. Some formats are pre-loaded, like the UEFA Champions League (Champions Cup for you Career mode folks), but strangely not the World Cup. You can design it yourself like I did, but it's still an odd omission (or a calculated one that they might offer as DLC down the line). I was also surprised to see both Japanese and Korean domestic leagues, but not the national teams in the game.
3-5-2
EA sports games look better and better every year, and FIFA 18 is no exception. From the movement on the pitch to the facial animations in cutscenes, this game looks great. Even the fans in the stands look improved (I'm pretty sure I saw an uncle in Estadio Azteca during one of my games)! The Frostbite engine was introduced last year to great acclaim, and this year they added Real Player Motion Technology to keep the buzzwords going. Though let's be honest: we're still pretty deep in that uncanny valley when it comes to close-ups of well-known footballing faces. Cristiano Ronaldo is an especially glaring example, his digitized face is quite prominent throughout the game, from the Madrid derby a player is first dropped into, to the RPG sequel of The Journey (more on that in a bit). And why doesn't anyone show any emotion when a goal is scored? The players are neither sad nor happy; they're just there, going through the motions. But zoom out and play a match, and it's almost nearly like you're looking at the real thing. The Beautiful Game really is in FIFA 18.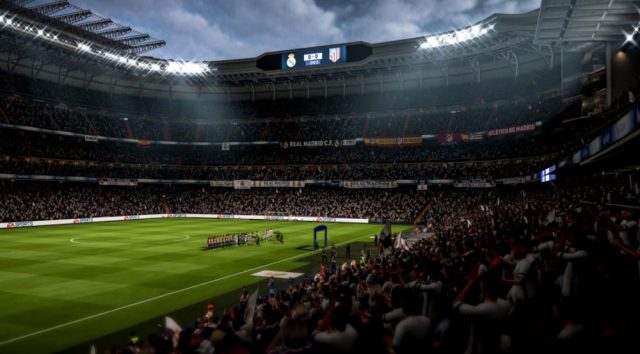 The realism doesn't stop at just the (zoomed out) visuals, however. The sound design in this game is amazing. From the roaring of the fans, to the announcements over the PA system, to the much improved English commentary from Martin Tyler and Alan Smith, this game sounds like the real thing. In fact, there were a couple of times when my wife forgot I was playing a game, heard something Alan Smith said about Chicharito, and came out to see what match I was watching. It took her a couple of seconds of watching the TV screen to realize it wasn't a real match at all.
The only thing I'm really missing is a Spanish-language option for commentary. I grew up watching Mexican football in a Spanish-speaking house, and previous FIFA iterations had the option of switching to Spanish. FIFA 18 doesn't seem to, but I'm not sure if that's because I have the Asian version of the game, or because they just didn't put it in this year.
Hunter Returns
The best part about this game, however, in which you can see and experience everything above plus more, is the sequel to last year's The Journey. In Hunter Returns, you once again take control of Alex Hunter's life as he navigates his way through world football. This is Hunter's second season as an English Premiership wunderkind, and everyone's worried that he won't be able to repeat the success of his first season.
Don't be fooled by all the football matches, however, this is a straight-up RPG disguised as a sports game. There are objectives to complete, stats to level, appearance customization, and even Mass Effect-style Renegade/Paragon conversation options (dubbed Fiery and Cool here) that can affect Hunter's life. The only things missing are gear that actually affect your stats and an open-world hub where you can complete side-quests (though that seems to have been introduced in 2K Sport's NBA 2K18 with its Neighborhood mode, so I imagine it's only a matter of time before EA swipes it for all their games as well).
Many well-known football personalities lend their voice talents for the RPG, including Rio Ferdinand, Thierry Henry, Thomas Müller, and Cristiano Ronaldo. But man, Ronaldo's voice acting is pretty weak. He should probably never do voice acting again, and just stick to football. PS. How happy am I that this dude isn't good at everything he does? So happy.
FIFA 18 also includes a Career mode with a new mechanics for transfers and contract negotiations (but gets old really quick), as well as the ever-popular FIFA Ultimate Team Mode, in which you try to create the best team you can using card packs and playing against both AI and real-life opponents (but there's a fair amount of  standard microtransactions here). I do wish FIFA would bring back the create-a-club feature, though.
Another noteworthy change is the return of Skill Games, which I feel is better this year. They do a great job of helping you practice before matches start, and doing well in them will certainly help when you are training your team in Career Mode or even in The Journey for sweet boosts to stats. Often times I find myself so engrossed in them I do not even start the matches proper!
Overall, FIFA 18 is a great addition to the series with a few flaws and missteps. This game isn't as fun as when my fellow Pink Panthers and I won our youth football league championship, but it's pretty dang close. If sports games can include improvements like these every year (especially in the RPG department), then they can continue releasing every year. Otherwise, free roster update DLC please.
GEEK REVIEW SCORE
Summary
An excellent entry into the series that smartly builds on the changes and additions of the previous iteration, FIFA 18 is a definite must-buy for fans of the Beautiful Game, thanks primarily to Alex Hunter. Though I'm pretty annoyed that there's no World Cup mode.
Gameplay -

8.5/10

Story -

9/10

Presentation -

9/10

Value -

7.5/10