Brace yourself. Jordan Peele, better known as one half of the successful comedy duo, Key & Peele, has made his feature film directorial debut. In the horror genre. And if you enjoy the pair's skits, then you're in for one hell of a ride with Get Out.
Written and directed by Peele, the comedy horror film centres around a black man's (Daniel Kaluuya) meet-the-parents weekend with his white girlfriend Rose (Allison Williams). What Chris initially interprets as Rose's family's anxiety in dealing with their interracial relationship gives way to suspicion following a series of increasingly disturbing encounters. Eventually, he uncovers a truth far beyond his reckoning.
But this movie is more than just a horror flick, as it also serves as a commentary on racism. Get Out details the centuries of oppression suffered by African-Americans in the United States, and presents it as an ever-changing but enduring conflict.
As a thriller, the film guarantees nail-biting moments and a couple of screams. Peele's incisive cinematography hones in on the minute and forces us to sit through the rollercoaster of discoveries. The cast also deserves praise for living up to the versatility demanded of them, in particular Kaluuya and supporting cast members Betty Gabriel and LaKeith Stanfield for inhabiting their roles so well. Get Out even has what is so rarely found is horror films these days: realistic, well-written dialogue. Coupled with a score that makes your skin crawl with eerie contemporaneity, Get Out instantly displays all the hallmarks of a modern filmmaking masterpiece.
As a racial parable, the film solidly outperforms its peers. Movies like The Help, Django Unchained, 12 Years A Slave and even Southside With You all spotlight a type of black narrative that ultimately remains historicised (or even laughably clichéd). But Get Out skilfully packs in the entirety of African-American history—from slavery to Confederacy to the present-day Black Lives Matter movement—with all of the references and none of the didacticism. At its heart, Get Out is about the unease that arises not only from the pursuit of elusive justice, but also from watching Chris quietly suffer the discomfort of his visible colouredness. You name it, Get Out has it. From skin-deep microaggressions to the enduring stereotype of black masculinity, there is nothing Peele's writing is afraid to raise. Through a story that is at once believably ridiculous and difficult to articulate, Peele very succinctly sums up the black experience in America.
By now Get Out's runaway success is no secret. The film has racked up more than S$168 million worldwide against its S$6.3 million budget. And clearly what has contributed to its critical acclaim is Peele's ability to combine the forces of a traditional mystery/thriller genre with his signature satirical style. Get Out's doubled narrative thus rewards the viewer who comes for the heart-stopping moments, but stays for the richly layered racial symbolism—a testament to Peele's mastery at speaking across multiple demographics.
Many have also called Get Out a product of our time, and this truly couldn't be emphasised any further. It is a response to resurgent nationalist and racist sentiments. It is a 21st-century acknowledgment that our history continues to shape us. It is even a rebuttal to the actions of well-intentioned but ignorant white middle-class liberal voters. And on a lighter note, it is a cross between new-age content creation and traditional media.
All these converge to make Peele the true star of Get Out. This film is only a glimpse into what the comedian has in store for us. After all, humour has traditionally been the refuge of the powerless. And many of Key & Peele's sketches broach difficult topics such as race, gender and sexuality with an absurdist slant; it is this humour that at once calls out societal double standards while allowing us to identify and reflect upon our inherent biases. In an age helmed by Trump's presidency and so-called alternative facts, what we need now more than ever is the kind of conversation that a film like Get Out stirs up—for the real horror is if we cease talking altogether.
GEEK REVIEW SCORE
Summary
Get Out is Jordan Peele's hilariously horrifying debut feature that captures the black experience in America. Come for the horror, but stay for the racial politics.
Overall
9/10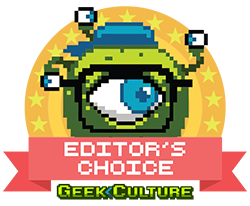 Story -

8.5/10

Direction -

9.5/10

Characterisation -

9/10

Geek Satisfaction -

9/10