Over the past few years, Netflix has quickly become the go-to place for anime fans to binge-watch their favourite series or find new interesting Netflix original anime titles to sink their teeth into. Aside from airing already existing titles, Netflix is also steadily building up its catalogue of Netflix Original series, with notable titles such as Castlevania and Devilman Crybaby.
At its latest Netflix Anime Festival, the streaming platform announced 16 new titles that will be heading to the platform. The new anime titles revealed consists of not only anime adaptations of famous mangas such as The Way of the Househusband by Kousuke Oono but also entirely original works such as the science fiction fantasy series Eden by highly acclaimed anime director Yasuhiro Irie (Cowboy Bebop, Fullmetal Alchemist: Brotherhood).
Without further ado, here are the 16 titles announced at the Netflix Anime Festival, most of which will be releasing sometime in 2021.
---
Resident Evil: Infinite Darkness
Based on the incredibly popular horror game franchise, Resident Evil: Infinite Darkness will see the return of Leon S. Kennedy and Claire Redfield as they both try their best to survive in the zombie-infested Raccoon City. From the teaser trailer, we can already see the CG animated series will carry the same strong sense of suspense that fans of the games are familiar with. Resident Evil: Infinite Darkness will be heading to Netflix sometime in 2021.
---
Godzilla: Singular Point
First announced in early October, Netflix has finally released the poster art and first trailer for Godzilla: Singular Point, which is set to release on the streaming platform in 2021. The anime will feature character designs by Blue Exorcist's Kazue Kato and a Godzilla designed by Ghibli's animator Eiji Yamamori. Bones, the anime studio behind hit series such as My Hero Academia will be working in partnership with studio Orange (Beastars) to produce the series in both hand-drawn and CG animation styles.
---
Eden
Netflix's original science fiction fantasy anime series Eden sees two robots raising a young human together in a strange, desert-like world that seems to be void of humans save our young protagonist Sara. Only things are not all fun and games with the introduction of Zero, an ominous-looking robot who seems to oppose the existence of humans in this robot-filled world. This four-episode series will drop on Netflix in May 2021.
---
Vampire in the Garden
Vampire in the Garden tells the story of two unlikely souls, Momo a human and Fine a vampire queen who once loved humans. After a chance meeting, we'll follow the pair as they embark on a journey to find a paradise where humans and vampires can live peacefully together. The series is set in a world where humans and vampires used to live together in harmony, only for reasons as of yet unknown, that is no longer the case. The anime will be our on Netflix in 2021.
---
Yasuke
An anime retelling of Yasuke, Japan's first African samurai of the legendary general Oda Nobunaga, the series is produced by Studio MAPPA and directed by LeSean Thomas who has worked on projects such as The Legend of Korra and The Boondocks. For those not in the know, Yasuke is an actual person that served as a retainer to Oda Nobunaga during the Sengoku period in Japan. The anime will drop on Netflix in 2021.
---
Pacific Rim: The Black
First announced in 2018, we are finally getting the first animated visuals and stills from Pacific Rim: The Black which will see the battle between the Kaiju and Jaegers continue in animated form. In The Black, we follow a pair of siblings as they learn to pilot their long-abandoned Jaeger in search of their parents. The series will be shown exclusively on Netflix in 2021.
---
Trese
Trese is an anime series that is not only based in Manila, but also created in the Philippines which will undoubtedly offer viewers a more authentic perspective of Manila in the series. Trese is based on the komik by Budjette Tan and Koja Baldisimo and tells the story of Alexandra Trese, a detective who specialises in dealing with crimes of a more supernatural nature. Trese is set to premiere on Netflix in 2021.
---
B The Beginning Succession
Keith and Koku's adventures continue in the second season of the hit B the Beginning anime series, B the Beginning Succession. Stills from the second season was released at the Netflix Anime Festival, giving fans of the series a sneak peek at what they can expect from the show.
---
Baki Hanma
The strongest father-son fight in anime history will finally be reaching its climax with the third instalment of the Baki Hanma series which is set to hit Netflix in 2021. We'll finally get to see protagonist Baki face off against his father Yujiro Hanma aka the Ogre to not only surpass him but to avenge the death of his mother at the hands of Yujiro himself.
---
Thermae Romae Novae
Mari Yamazaki was one of six Japanese creators to have entered a new partnership with Netflix earlier this year, and now we finally have an update on her upcoming project, an anime adaptation of the award-winning Thermae Romae series entitled Thermae Romae Novae. In it, we follow Lucius, a bath designer in the ancient Roman Empire who finds himself transported to modern-day Japan where he comes to learn more about the similarities and differences between the two cultures.
---
High-Rise Invasion
What'll you do if you one day find yourself trapped in a bizarre world surrounded by skyscrapers, with rickety bridges connecting them? This is the dilemma high-school student Yuri finds herself in. Not only does she have to find her brother who is trapped in this strange world with her, but also escape from homicidal masked killers out for her blood. High-Rise Invasion is set to release on Netflix on February 2021.
---
Rilakkuma's Theme Park Adventure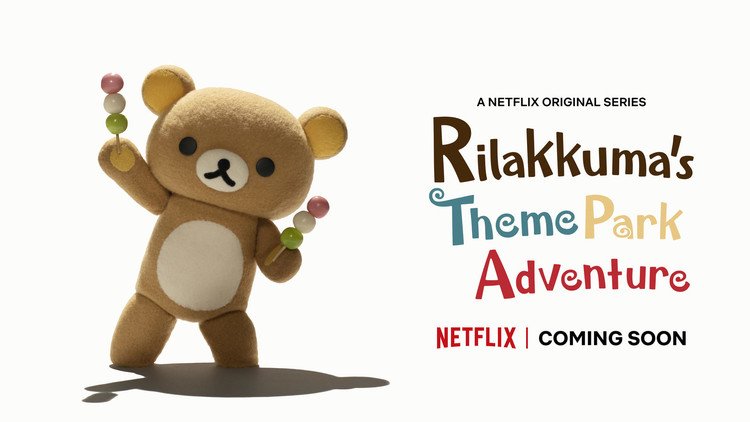 Rilakkuma and Kaoru are back for more adorable new adventures in Rilakkuma's Theme Park Adventure. According to Netflix, we'll get to follow Rilakkuma, Kaoru, Kiirotori and Korilakkuma as they explore an amusement part in its closing hours. The stop-motion anime is set to air in 2021.
---
Thus Spoke Kishibe Rohan
Hirohiko Araki's series of manga one-shots centred around manga artist Kishibe Rohan will be receiving a four-episode OVA anime adaptation on Netflix in 2021. The spin-off centres around the titular character who travels around the world to get inspiration from people's lives.
---
The Way of the Househusband
Kousuke Oono's award-winning manga series The Way of the Househusband will not only be receiving a live-action adaptation but also an anime that is set to air on Netflix in 2021. In it, we follow Tatsu who leaves the life of crime as one of the evilest yakuza to become a domestic househusband, and a pretty darn good one at that.
---
Spriggan
First announced in early October, Netflix has finally released the first trailer and visuals for its anime adaptation of the popular 90s manga series Spriggan which sees an organisation doing all it can to seal ancient relics away following battles by armies of men eager to get their hands on the relics. The anime adaptation will hit Netflix in 2021.
---
Transformers: War for Cybertron Chapter 2: Earthrise
Those eager for more Transformers action will not have to wait long as Netflix announced during the livestream that the second chapter of Transformers: War for Cybertron, titled Chapter 2: Earthrise will be coming soon to Netflix.