Apple's iOS 15 will be released on 20 September 2021, but if you installed the Public Beta, there is an option to install iOS 15 right now. With it, iPhone users will be showered with a host of new features and due to the number of features added, it can be easy to miss out on potential new conveniences afforded by Apple. After all, it is easy to stick to a less efficient way of doing things, when the quality-of-life improvements blend in with all the other upcoming great features.
As such, we have picked out five noteworthy iOS 15 features that are absolutely indispensable and impossible to give up once you get your hands on them.
Focus Mode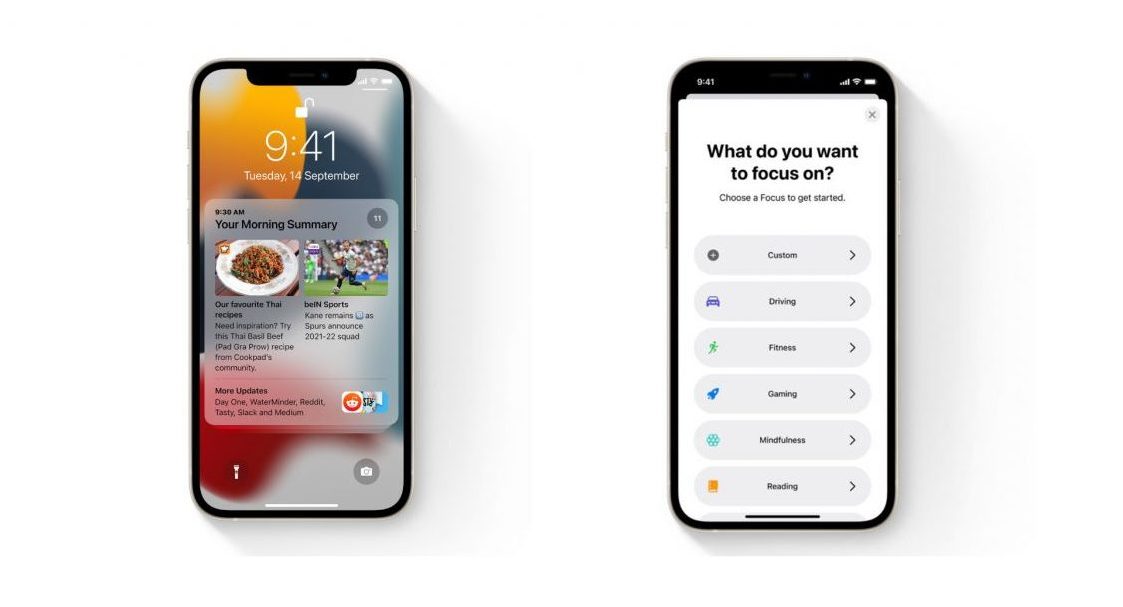 Consistent with the pattern established by previous operating system updates, iOS 15 will allow users to have greater control over their notifications, this time under the umbrella Focus Mode. With the large number of notifications we get on a normal workday, it's easy to get lost amidst all the pinging, and Focus Mode will help declutter the way notifications reach and are presented on devices.
There is Notification Summary, which will group notifications from apps that users choose to include within the summary, and then present them as a single notification at a predetermined time in the day. Naturally, users will be able to decide what that time will be. This will prevent users from being bothered by notification banner after notification banner over the course of the day. Think news feeds, or app notifications that you don't think are necessary to get to individually.
However, the feature that elevates notification management to another level is Focus mode. Think of this as an expansion of the Do Not Disturb mode, which silences all notifications and sends incoming calls to voicemail. Instead of having only one option that mutes everything, users will be able to set up profiles such as Work mode, Personal mode, and Sleep mode. Each of these modes will only allow notifications from specific apps and calls from specific contacts from coming through. Want to focus on work and only allow the phone to ring when your significant other or boss calls you? Now you can.
And all of that is customised and determined by the user. Once set up, users will only get the notifications they want or need whenever and wherever they are.
Live Text
Live Text uses optical character recognition to scan for text with the cameras, in photos, screenshots, and Safari. Yes, it can even transcribe handwriting! It then allows users to interact with the text scanned, copy and pasting onto another app, or to immediately look up what the text is all about. For avid readers who find themselves taking photos and screenshots of memorable passages or sentences they want to note down, this is an extremely useful feature.
And beyond just making it easier to interact with text, should there be a phone number or address, Live Text will allow users to dial the number, and also provide directions to the scanned address through Apple Maps.
Parents who are in group chats where other parents share homework or assessments – you can now take photos and use the text for your child in a word document, instead of printing out the document or photo.
This is a feature that adds so much convenience, it has the potential to become taken for granted once users get used to its existence.
Smart List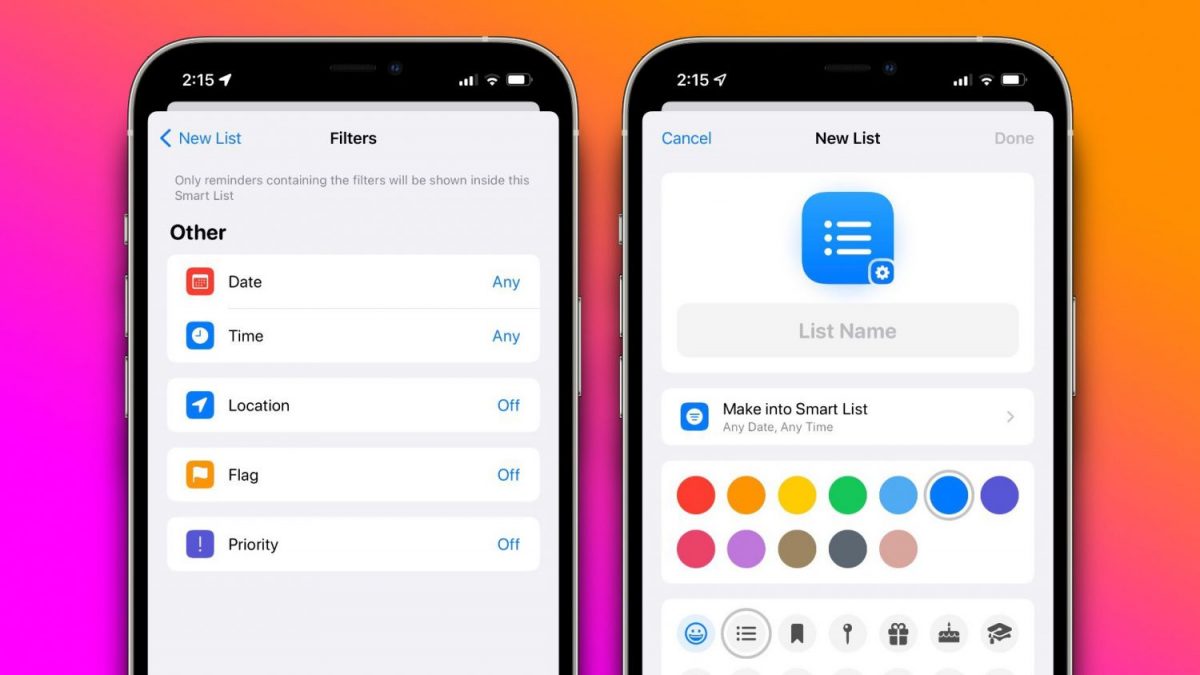 Apple makes another leap forward in upgrading the Reminders and Notes apps. Now, hashtags can be added to entries in the apps, so users can group similar entries together. This is going to make accessing both reminders and notes fuss-free. This is a godsend for users who frequently take notes, and make use of the Reminders app to keep their daily lives organised.
Not only that, the Smart List feature will group the tagged items together into lists automatically. This is also a feature that is fully customisable, where users can filter which list an entry will go under depending on the tags, date and time, location, flag, and priority level. This is a feature that will do its work invisibly once set up, its presence barely felt.
It is simple, but deals with a pain point that many have experienced but may not even be aware that it exists. That's what makes this a worthwhile feature.
Burner Email Accounts With iCloud+
Given that one accumulates more and more spam weaseling their way into one's email account, it is useful to have easy access to throwaway accounts to combat the spam wave. With iOS 15, any user who is subscribed to Apple's iCloud service (starting at S$1.28/month) will be able to create burner email accounts that reroute to their real one.
This not only hides the user's real email from any services they are signing up for, but can also be efficiently deactivated in seconds. Instead of having to open up a browser, going to a website to create disposable email accounts, they can now be made with just a few quick taps on the iPhone. Want to fill up a survey to get a free item but would prefer not to share your real email? Or to take part in a contest without exposing your personal email? Now you can.
For users who value privacy, and want to avoid ending up on some kind of marketing database, this is definitely a valuable feature.
Digital Legacy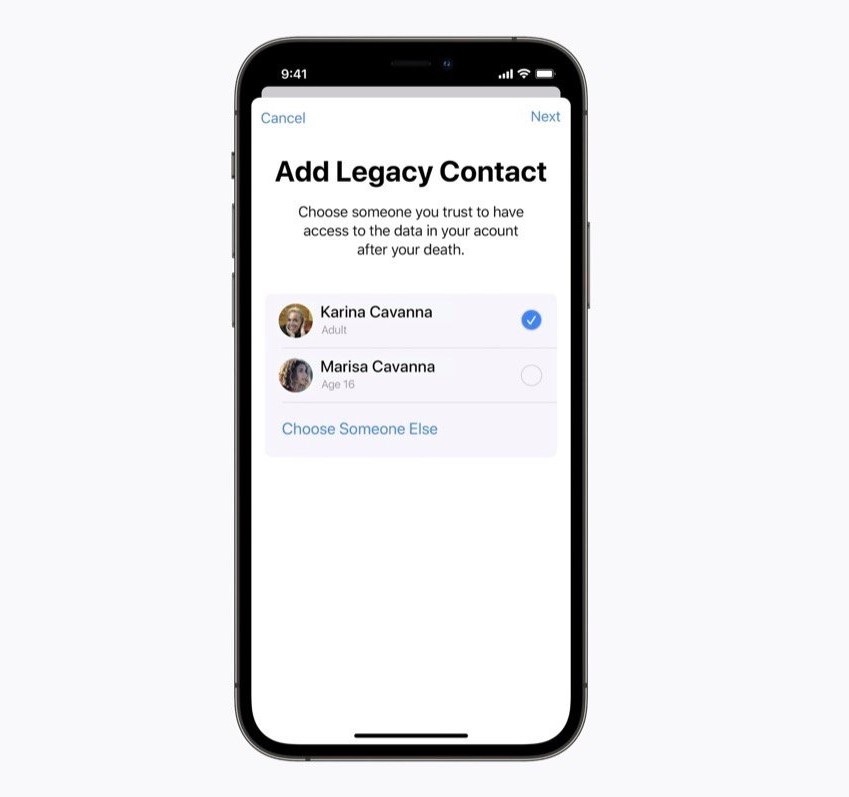 There is this rather common fear of having one's data be accessed by undesired parties after one's demise. Even if the ones accessing said data are family; especially if the ones accessing the data are family.
iOS 15 allows users to set up Legacy Contacts, only allowing these contacts to handle users' Apple ID and data after the users pass away. This is an extremely important feature, considering how sensitive and highly personal information are stored within one's devices nowadays. The Legacy Contacts will be able to request for the data by providing an Access Key and a copy of the deceased's death certificate.
This is going to give users the ability to control their data even in the event of death, and continues Apple's emphasis on protecting and advocating for users' privacy.
---
The iOS 15 update is a huge one, boasting many more features than we have listed here. The update will be released on 20 September 2021 or right now if you are on the Public Beta, which users can still sign up for to check out the new update for themselves before release.
---

Drop a Facebook comment below!