Technology and education go hand in hand, from when typewriters were used to submit papers, when laptops served as note-taking tools, and when tablets made it easy for even young children to learn.
With the ongoing pandemic, schools have chosen to adopt a mix of online and in-person learning or even go fully online to maintain the safety and health of both students and staff, so with plenty of adjustments required now and in time to come, global tech giant ASUS wants to make the transition easier with ASUS Education.
ASUS Education has is about developing technology that empowers today's modern classrooms, and from lightweight laptops, lightning-fast ChromeBooks and productivity-focused ZenPads, ASUS has something for every student regardless of their age or education level, especially for the younger ones who, for a long time, haven't had the privileges of having their own personal laptop.
As families know, laptops can be expensive, as much as kids are a handful, and no parent wants a laptop that can easily break when their child accidentally pushes it over the table or drops it. They are also unlikely to have the time to rush to have the device clean should there be liquid accidentally spilled on the keyboard, and they last thing any parent want is to curtail the learning process of their child by giving them an old hand-me-down that doesn't inspire a child to think or learn creatively.
And that folks, is where we introduce the ASUS BR1100 for students up to the age of 16.
Whilst there are plenty of ASUS laptops in the market – some of our favourites include the ASUS ZenBook 14 (UX435) for the hard at work University student, and the ASUS ROG Strix Scar 15 G533 for students who study and game on the same device – the ASUS BR1100 is the right fit for K-12 students as it also doesn't break the bank as much as these bigger, "adult" laptops do.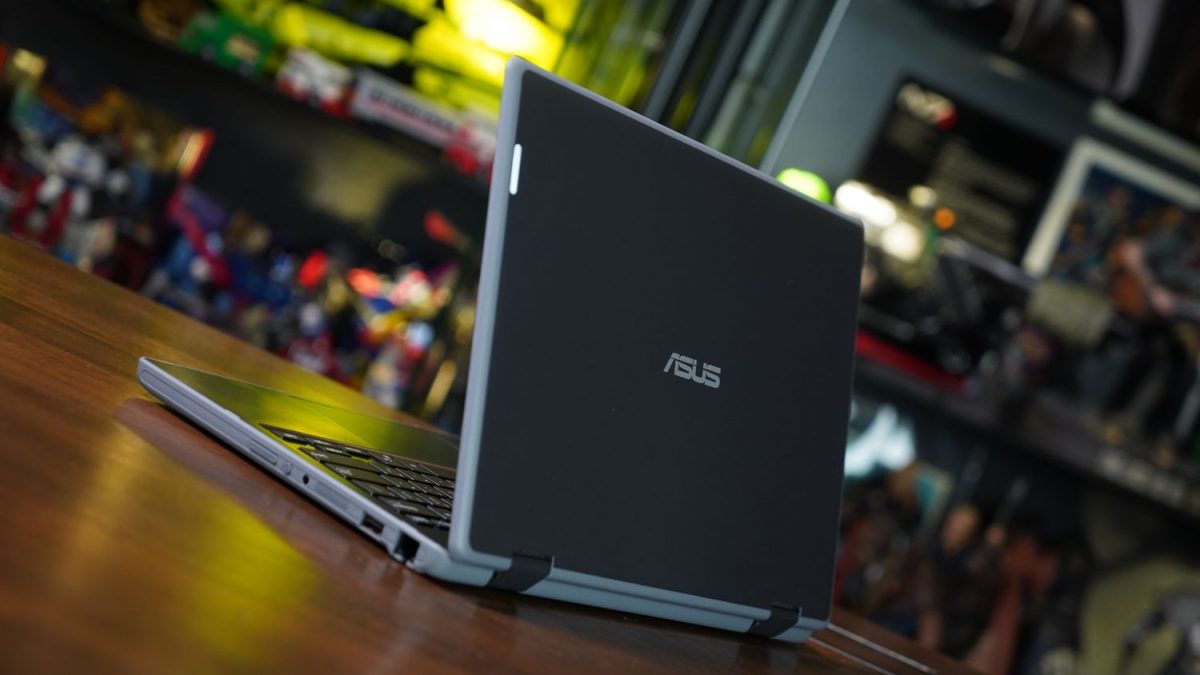 Boasting all around protection, the BR1100 has a rubber bumper around all four exteriors of the laptop and is military grade so that it can withstand occasional drops from the study table. Obviously, don't make a habit of slamming your laptop around, but if your child has butter fingers or doesn't know how to appreciate sensitive equipment, you would want something that wouldn't break easily.
Despite the BR1100 being durable, it's also suitable for little humans who have smaller arms and and hands, as it is not only smaller in size compared to a regular laptop, it is also lightweight. The BR1100 features a small, 11.6-inch screen and weighs a mere 1.26kg. It's something that your kid can manage and carry in their backpack and take out to a visit to the library without complaining about sore arms, a tired back or feel like they've been carrying a rock around for the whole day.
You can also stress less when your child is attending lessons from home with their lunch by the device because the BR1100 keyboard is gap-free and spill-resistant. Plus, if your kid touches the laptop with oily hands due to eating a dinosaur-shaped nugget or two, there's nothing a good wipe down with a clean cloth won't do.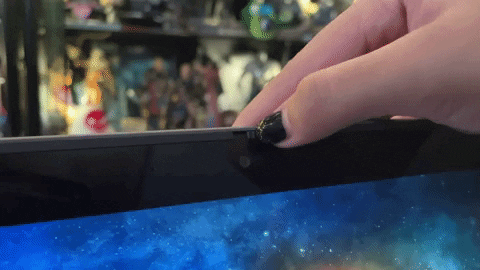 Speaking of lessons from home, privacy and safety, especially when it comes to the young ones we love and want to protect, is of high priority for parents. Given how lessons are held online via Zoom, Google Classroom and the likes, there's no telling what looms on the internet. Whilst older teens and adults alike may have a better idea or two on how to protect oneself, children often don't and when left to their own devices, there's no telling what they're exposed to.
The BR1100 attempts to protect children's safety with a few features, mainly the webcam shield and the microphone mute key. Unlike many laptops that come with exposed webcams, ASUS has introduced a webcam shield, so instead of sticking sticky notes or tape over the webcam (and risk spoiling it in the process), the BR1100 has a physical cover that can slide over the webcam to disable it without causing harm to the camera and give users instant privacy, keeping your child safe in the process.
The microphone mute key is also a visible key on the keyboard that users can click to mute or unmute themselves before, during and after their calls. ASUS has made it simple and easy for your child, so that the likelihood of them forgetting ensures that all conversations are private and not recorded by anyone listening in.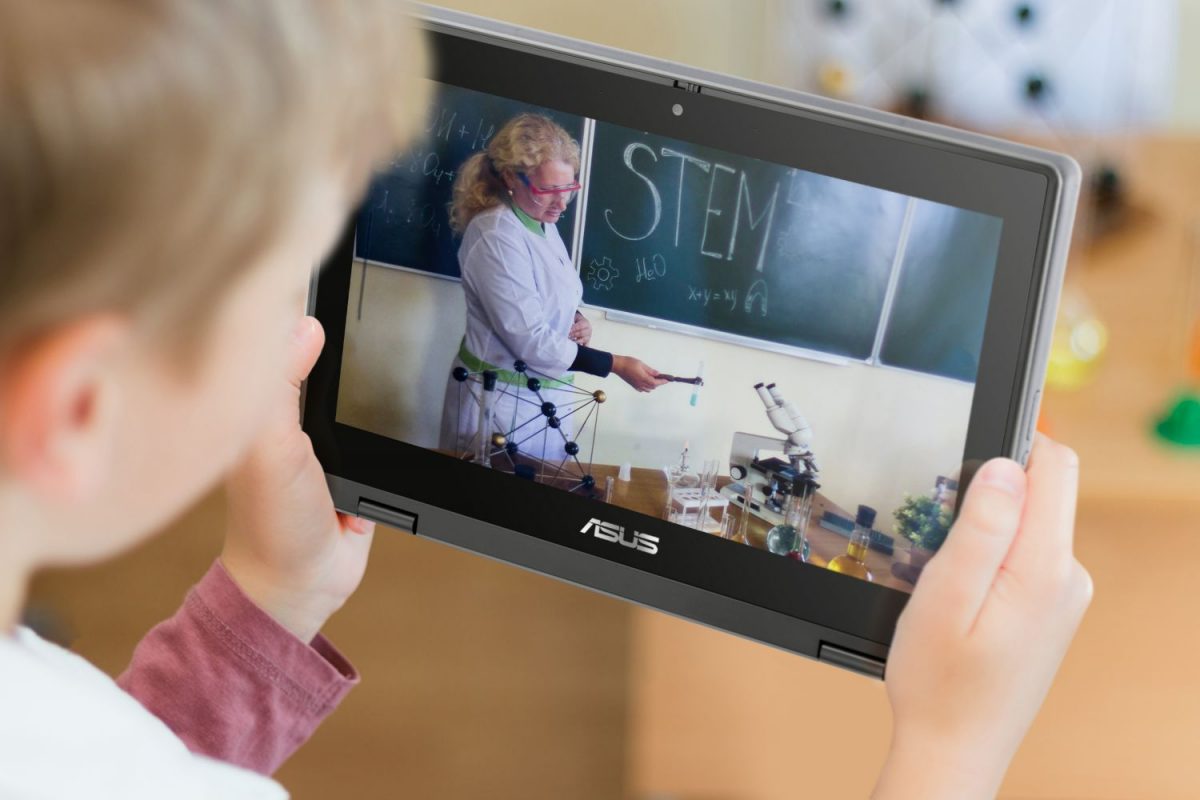 These features also double as great learning tools because the laptop's camera has innovative 3D noise-reduction technology that eliminates up to 94% of random noise that naturally affects any camera and significantly improves image quality when on video call. That way, your child's teacher can see them clearer, and vice versa.
Getting a laptop for a child can be a pretty big step for parents who don't want to risk deteriorating their child's eyesight, especially at a tender age, so ASUS has incorporate anti-glare and eye-care technology into the laptop too so that your child can comfortably view the screen even under harsh sunlight without needing to squint. Plus, the screen is certified by TÜV Rheinland for low blue-light emissions so if your child needs to wear glasses one day, we'll point that to genetics or unsupervised screen time.
Jokes aside, the most important part in one's learning journey is creativity and innovation. The BR1100 isn't just a laptop, it acts as a tablet too. With 360-degrees hinges, the screen can easily be flipped over the other way around and act as a single tablet screen. With touchscreen capabilities, your child can also draw diagrams or take down digital notes with the handy ASUS pen if that's a method that works best for their learning – especially if speed-typing in order to follow along in class causes more stress in your child.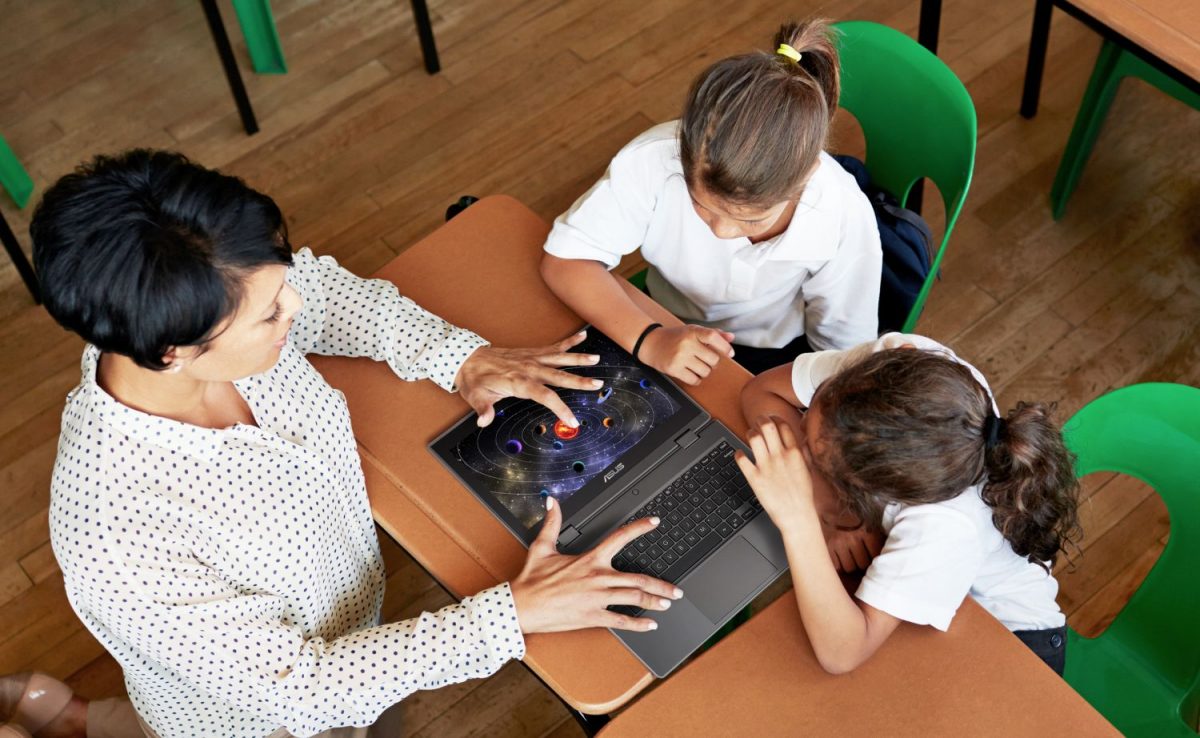 Outside of the classroom, the laptop in tablet mode can be used to interact with online resources more easily as they can scroll, zoom in, annotate and interact with content easily. Plus point if your child is gifted in drawing so you don't have to worry about buying more devices to fuel and support their creativity and hobbies.
Investing in your children is something most parents would have no qualms about. After all, most, if not every parent, wants to provide their child with the best that the world can offer even if it means tightening up your belts for a while longer or spending less on your personal desires.
As admirable as that is, ASUS understands how to bridge the gaps. The BR1100 comes at an affordable price of S$699. And if at this point, you still have your eyes on a different product, ASUS Education, can take the price of any laptop even lower.

The ASUS Education programme is available to all tertiary and university students, teachers, and staff across all levels can enjoy the discounted price when purchasing laptops. All one has to do is sign up on the ASUS Education programme website with a valid .edu.sg email address and verify the account. The Education pricing will reflect after 30 minutes. In addition, you can also select a few laptops you have in mind and compare prices easily before making your big purchase.
Whether or not you decide on the BR1100, or another ASUS laptop for your child, you already know that with ASUS focused on education, you're already making the right choice ahead.