[UPDATE] The official reveal event is confirmed for 4 June, head here for the juicy details. [END UPDATE]
Ahead of the rumoured PlayStation 5 event that is supposedly happening in early June, leaked pages from an upcoming issue of the Official PlayStation Magazine (via PlayStation Lifestyle) revealed that there are at least 38 games coming to the PS5. Some will be released later this year, some even later than that, and others have no confirmed release dates. 
Some of the games include The Sims 5 and even Battlefield 6 and Dragon Age 4. You can check out the full list of games for yourself below. The games marked with an asterisk (*) are those that should be released during the PS5's launch window.
A Rat's Quest: The Way Back Home (ETA 2021)
Assassin's Creed Valhalla (ETA 2020)*
Battlefield 6 (ETA 2021)
Chorus (ETA 2021)
Cygni All Guns Blazing (ETA TBA)
Dauntless (ETA TBA)
DiRT 5 (2020)*
Dragon Age 4 (ETA TBA)
Dying Light 2 (ETA TBA)
FIFA 21 (ETA 2020)*
Godfall (ETA TBA)*
Gods & Monsters (ETA TBA)
Gothic Remake (ETA TBA)
Madden 21 (ETA 2020)*
Moonray (ETA Summer 2021)
MicroMan (ETA TBA)
NHL 21 (ETA 2020)*
Nth'O Infinity Reborn (ETA February 2021)
Observer System Redux (ETA 2020)*
Outriders (ETA 2020)*
Path of Exile 2 (ETA 2020)
PsyHotel (ETA TBA)
Quantum Error (ETA 2020)*
Rainbow Six Quarantine (ETA TBA)
Rainbow Six Siege (ETA TBA)*
Redo! Enhanced Edition (ETA 2020)*
Scarlet Nexus (ETA TBA)
Sniper Elite 5 (ETA TBA)
Soulborn (ETA Late 2021)
Starfield (ETA TBA)
The Elder Scrolls 6 (ETA TBA)
The Lord of the Rings: Gollum (ETA 2021)
The Sims 5 (ETA TBA)
Ultimate Fishing Simulator 2 (ETA 2020)*
Vampire: The Masquerade – Bloodlines 2 (ETA TBA)
Warframe (ETA TBA)
Watch Dogs Legion (ETA TBA)
WRC 9 (ETA 2020)*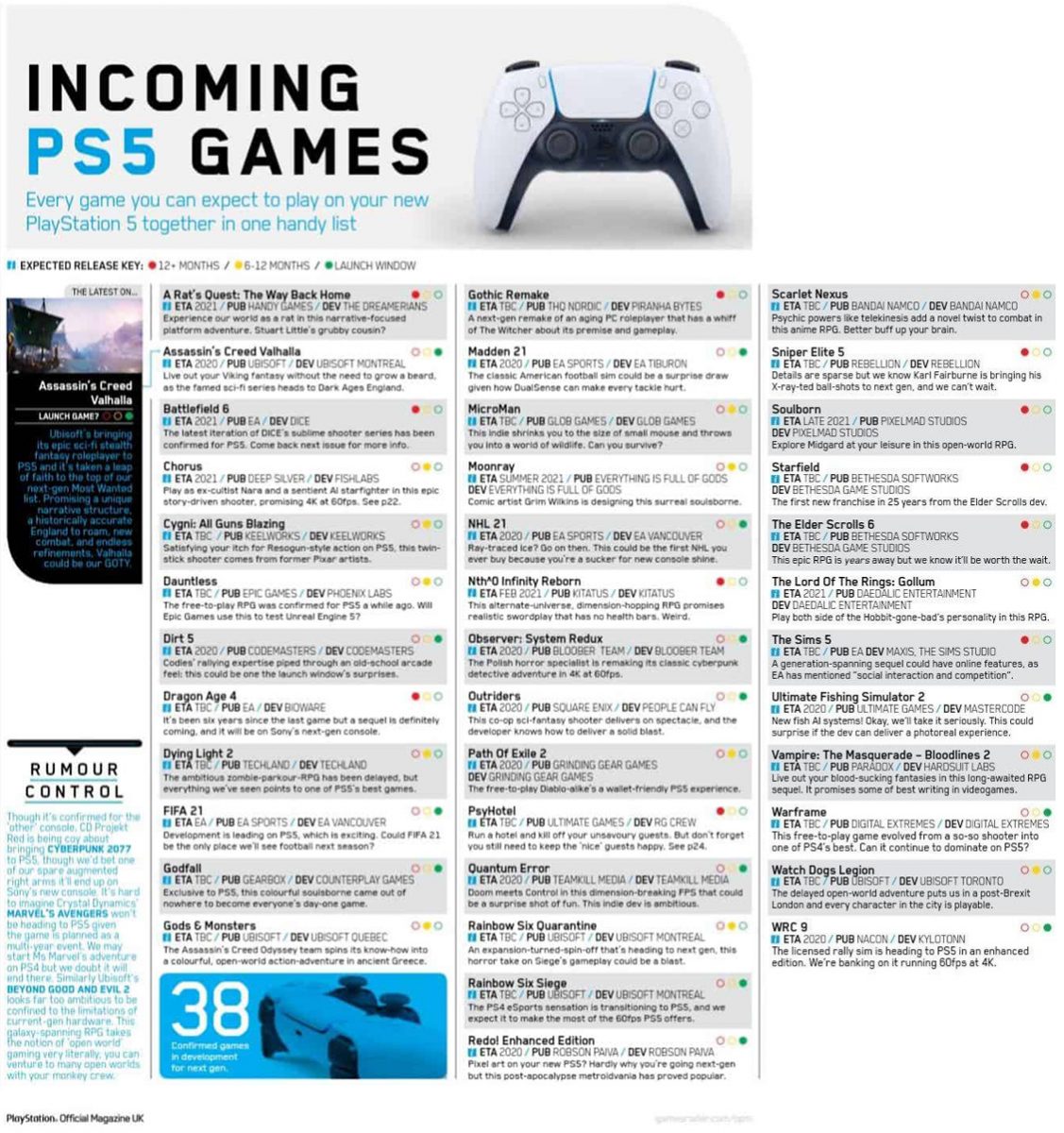 If Sony is to really hold a PS5 event in June, it is likely that a number of titles shown above will be talked about, especially big titles such as Watch Dogs Legion and The Elder Scrolls 6. Even if it doesn't happen, at the very least fans now have a better idea of what games to expect when the console finally hits shelves holiday of 2020.