Gaming laptops have long been notorious for being extremely bulky, packing all the hardware of a desktop into a chassis that could resemble miniature tanks. However, in recent years, technology has allowed manufacturers to reduce the size of gaming laptops to rival that of conventional ones.

Taiwanese computer manufacturer ASUS has long been a forerunner in the PC gaming industry, with their high-performance desktops and laptops decked out in the latest technology ensure an optimal experience for gamers. Their new ROG Zephyrus S series brings that slim profile to higher levels, with processing and graphical power aimed at matching those of desktop machines.

The ASUS ROG Zephyrus S GX531 is perhaps the thinnest laptop from ASUS, and one of the thinnest gaming laptops currently in existence. This model is actually a revisit of the original 2018 version, but comes outfitted with the latest NVIDIA RTX 20 series GPUs, meaning it packs the meanest graphical bite of its ilk so far.

This review set uses the following specifications:
Model: ASUS ROG Zephyrus S GX531GW
Processor: Intel® CoreTM i7-8750H Processor 2.2 GHz (9M Cache, up to 3.9 GHz)
GPU: NVIDIA® GeForce RTX 2070 (Max-Q)
RAM: 8GB DDR4 2666MHz SDRAM (Up to 24GB)
Storage: 512GB M.2 NVMe PCIe3.0 SSD
Price: S$3,698
The GX531 boasts a 15.35mm-thick body when closed, which comes rather close to the Razer Blade Stealth 13's 14.8mm thickness. Don't let its slimness fool you into thinking it's a light machine – the all-metallic chassis makes it a deceptively heavy offering, weighing at 2.1kg. Despite this, it still makes for a highly portable gaming laptop.

The signature ASUS ROG logo is embossed onto the lid, which glows a sleek red when it is opened up, and the bottom lifts ever so slightly, lighting up with an LED backlight.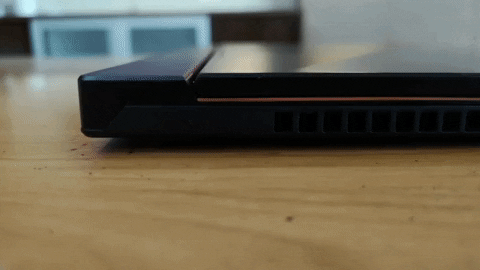 This is very much akin to the ASUS ZenBook's ErgoLift mechanics, but actually serves the purpose of allowing a smoother air intake for the multiple cooling vents situated at the sides and near the keyboard.

Upon lifting the magnetic lid, you'll first notice that the keyboard and trackpad have swapped positions, and is a pretty radical change compared to what you'd normally be used to. These elements have been arranged so as to accommodate the large cooling vent above them.

Does it actually help? Yes it does, to a great deal at that. You need not worry about your hands getting burned as the laptop heats up during use. However, this design means that it's generally better used on the desktop, as you'll find yourself struggling for space on your lap with the forward keyboard making it a little awkward for your hands to type on.

The trackpad is shoehorned to the side, aping the layout of a typical keyboard + mouse combo normally found on conventional desktops. It even has a left and right mouse button right below it, but sometimes may prove rather impractical as you'd be contorting your fingers a lot to be able to use everything with just one hand.

What's cool, however, is that the trackpad also doubles as a digital numpad (much akin to that of the latest ASUS ZenBooks) at the press of a button.

While this setup may take a while to get used to, it's actually not all that bad. The keyboards are super tactile and feel really smooth when typing, making this laptop actually a decent machine for an office or classroom environment. Trackpad/numpad getting in your way while you're gaming? There's a disable button available for that.

If you're the kind that likes to customise your keyboard, the ROG Armoury Crate app provides you with enough options to personalise your layout. However, there is a significant lack of per-key RGB customisation that many gamers do covet, which is a shame.

Furthermore, the digital numpad can be a little dim, especially in bright areas, so the lack of a brightness option for that is also a little disappointing. In that sense, it seems that the GX531 functions best in a low-light setting, which is a typical gaming setup. While this doesn't necessarily limit it to just for gaming purposes, it's clear that ASUS is catering to gamers with this model.

The GX531 sports a 15.6-inch Full HD display with a super-slim 6.5mm-thick bezel. Its 144Hz refresh rate is among one of the most powerful gaming laptop displays, allowing you to see quick movements as clear as day when you're playing FPS titles such as Apex Legends or Battlefield V.

Ports-wise, the GX531 has enough to provide you with some utility. The left side sports the DC input, two USB 2.0 ports, a 3.5mm jack, as well as a USB 3.1 Type-C input for fast charging (provided you have the adapter for it. On the other side, there is another USB 3.1 Type-C input, as well as a USB 3.0 Type-A typically for your mouse. In the rear, there is a HDMI 2.0 slot, as well as a Kensington lock (with the cable for it sold separately) to keep your GX531 safe and secure.

Our benchmarking sees the GX531 score immensely for both the CPU and GPU ends.

Cinebench R15
OpenGL Score: 101.21 fps
CPU Score: 1171CB
Unigine Heaven 4.0 (Full Screen, Ultra Presets)
FPS: 143.5
Score: 3614
Min FPS: 9.5
Max FPS: 281.5
As you can see, top scores across the board. The GX531 doesn't disappoint with its high-end hexa-core Intel 8th-Gen i7 processor, ensuring lag is at a minimum, whether you're playing games or doing work on it.

The NVIDIA RTX 2070 took the cake here, and playing games such as Shadow of the Tomb Raider or Battlefield V really flexed the GX531's graphical muscles on Ultra settings. However, the 60fps framerate still takes a noticeable dip during cutscenes or gameplay moments with explosions and such. Combined with the 15.6" FHD display, the colours are as bright and vibrant across the spectrum.

Earlier games such as Witcher 3 are boosted greatly by the RTX 2070 as well, making them much prettier than they already are, with a near-constant 60fps to boot. Even games that aren't as graphically intensive such as Apex Legends are made more breathtaking to play thanks to the GPU. This, oupled with the 144Hz refresh rate, allows you to see through the quickest of movements, improving your reaction times by a subtle but significant amount.

Now, you'd be expecting such a powerful laptop like the GX531 to require tons of power to run. Due to the focus on the cooling system, something has to give way in terms of space, and, unfortunately, the GX531's battery loses out here. Unplugged, it can only run for a total of two and a half hours with light usage, and roughly an hour when playing games or rendering video. This makes it rather unwieldy when on the go, as you'd constantly be hounding for a charging port nearby. Furthermore, the power brick that comes with it is extremely bulky, which again is counterproductive for travel purposes.

The ASUS ROG Zephyrus S GX531 is not only one of the slimmest gaming laptops out there in the market, but also one of the most powerful. ASUS has really done their homework here, packing both portability and power quite nicely into one super-slim laptop.
That said, the GX531 can almost be considered a one-trick pony due to all of its design choices leaning heavily towards gaming, which may put off those of you who are considering something more versatile. In which case, consider an Aftershock Slate 17 or Razer Blade Stealth 13 as solid alternatives.

Going back to the matter at hand, the GX531 may not be the most versatile compared to its competitors, but what it does well it excels at. If you're looking for a premium gaming laptop, look no further. The price point at S$3,698 (S$3,298 for the RTX 2060 version on LazMall) may be a little steep, but it's a proper justification for a solid portable desktop-grade gaming laptop.