RGB, RGB, RGB.
If there's a trait that we've grown to be accustomed to when it comes to all things gaming and Razer, it's with the constant association with flashy LED lights which can come across as garish to some users.
However, there is also a younger, emerging aesthetic to Razer which exudes nothing but class, and these designs manifest themselves in their professional line of products, such as with the Razer Atheris and BlackWidow Lite.
The next step is to tie them all together is an extremely sleek package, which can be seen in the form of 2019's brand new Razer Blade Stealth 13.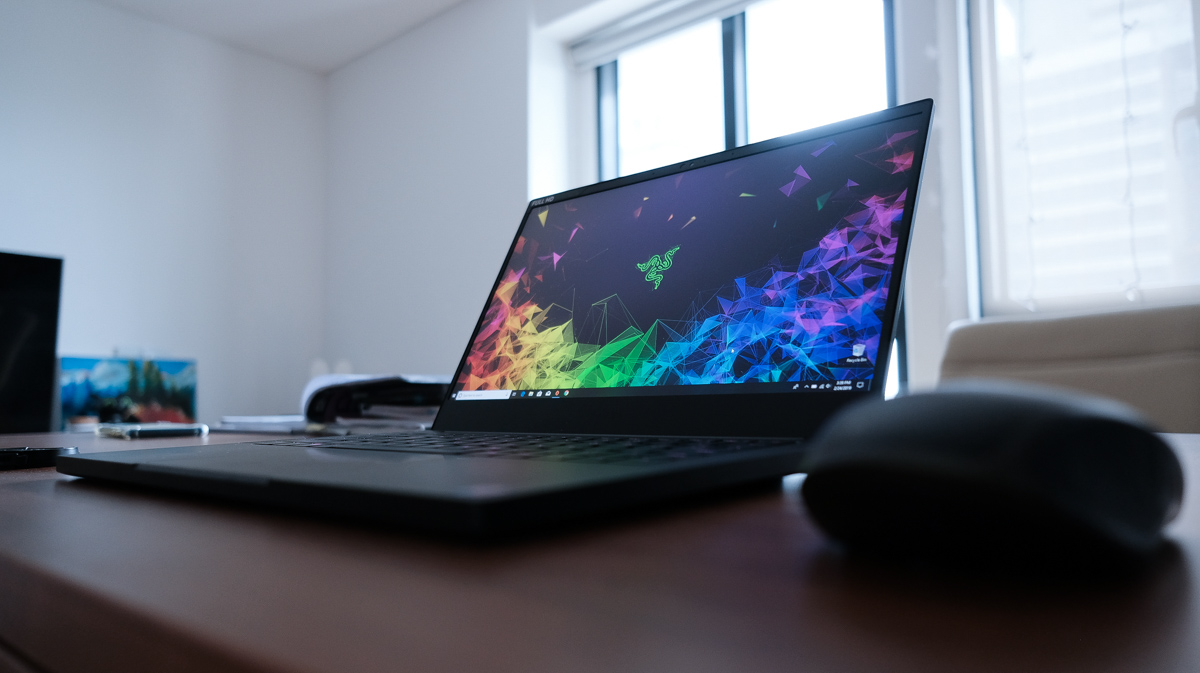 Unique to the Razer Blade Stealth 13's 305x210x14.8mm frame, is an Nvidia GeForce MX150 graphics card. While some might question why an ultrabook needs a gaming worthy graphics card, it's no surprise that many professionals would love to do a bit of gaming on the side when they're done with work.
Yet, just because you can, does not mean you should. While the MX150 graphics card is more than equipped to play games on paper, its real-world performance is a little baffling.
To start things off, here's how it looks like on benchmark tests. Be reminded, we are testing an ultrabook here so less than stellar scores are expected.
Cinebench R20 – 756CB
Unigine Heaven 4.0 (1080p Full Screen, Ultra Presets)
FPS: 13.1
Score: 331
Min FPS: 6
Max FPS: 34
In day-to-day tests, not all games perform adequately. In our tests, you're better off playing titles such as Apex Legends, and the device has no issues taking on games such as Dota 2 and Overwatch, so you're pretty much covered there.
In terms of frame rates, there was no noticeable framerate loss when the action heats up for Apex Legends and Overwatch. The Razer Blade Stealth 13 was able to maintain at least 55 fps with the graphical settings tuned down to ensure no performance dips. We must remember that this is an ultrabook range laptop after all.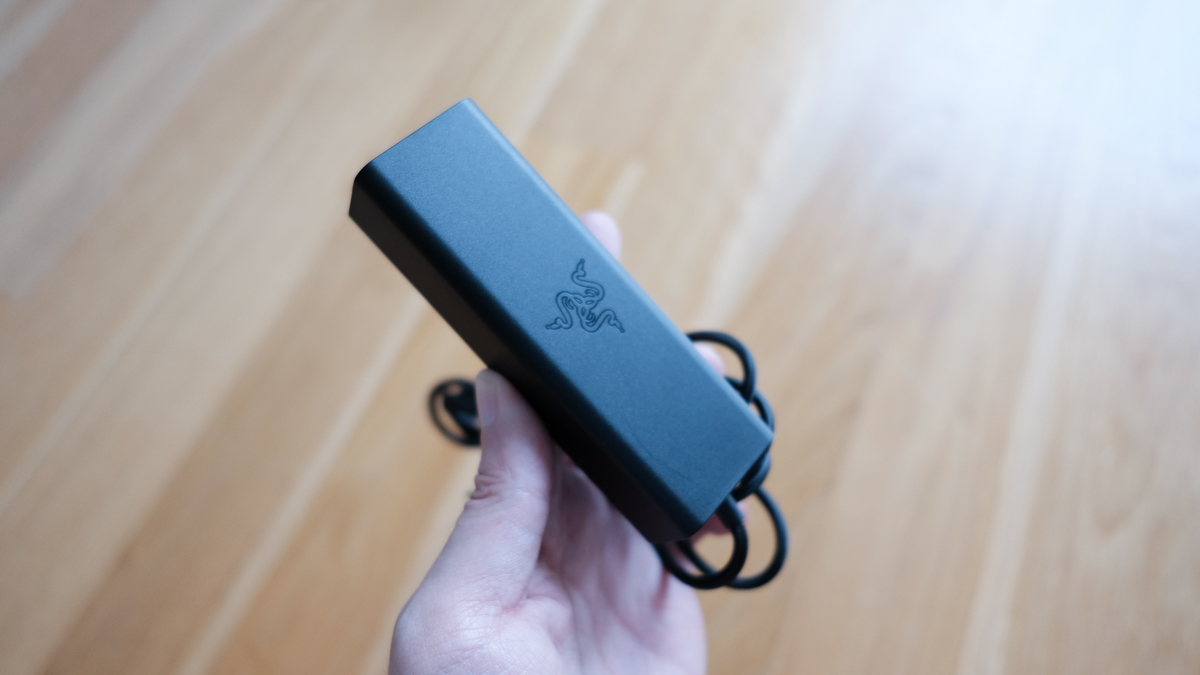 Having it weigh in at 1.31kg makes it a welcome addition to most backpacks. Plus, the power brick is equally small enough to be lugged around. This weight is where the Razer Blade Stealth 13 really shines. Compared to rivals such as Dell's new XPS 13 (where the Blade is heavier) and the 13-inch MacBook Pro (where the Blade is lighter), the feature which swings in Razer's favour is in the MX150 graphics card.
In an attempt to push the ultrabook to its limits, firing up Battlefield V on the MX150 made it struggle. The ultrabook was choking to reach 35 fps at the lowest settings. Thus, while the MX150 is decent enough for some titles, you're not going to get the same level of enjoyment if playing higher end games on this ultrabook is what you are aiming for.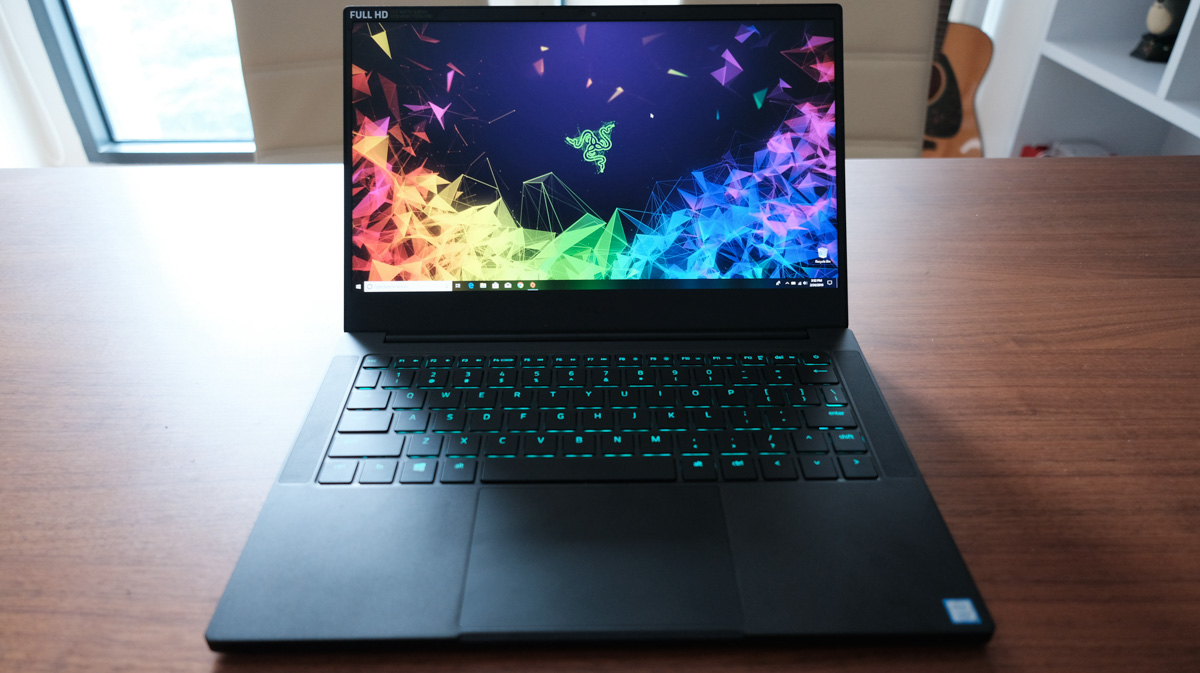 The Razer Blade Stealth 13's 13.3″ FHD Matte screen we had for review came with a 1080p non-touch display. If you're looking for a 4K model, that exists as well with a touchscreen. For the 1080p display, the screen has vibrant colours, text that looks razor sharp, and a moderately bright panel which remains readable under bright light in general but falters under direct sunlight. The screen looks especially great for gaming but we don't really encourage it for design work.
This review set uses the following specifications –
Processor: Intel Core i7-8565U at 1.8GHz / 4.6GHz (Base / Turbo)
GPU: Nvidia GeForce MX150
RAM: 16GB LPDDR3 dual-channel RAM
Storage: 256GB PCIe.M.2 SSD
Price: S$2,339.90
Rounding up the Razer Blade Stealth 13, is a generous range of ports usually not found in even more ultrabooks. On the left, there's an audio jack, USB 3.0, and a Thunderbolt 3 USB-C port. While on the right, there's one USB-C 3.1 and a second USB 3.0 port. The only thing missing here is a SD-card reader and this ultrabook is almost complete.
Now that we've established that gaming looks good and performs well for a specific set of games, the next surprise is the ultrabook's four Dolby Atmos-enabled speakers. For such a small frame, the ultrabook can get really loud and has sufficient power to fill a small room. The quality of the audio is punchy as well. If you're playing Apex Legends, you'll be able to easily here the direction of fire and enemy footsteps for that added edge. By far, this is the most surprising feature of 2019's Razer Blade Stealth 13.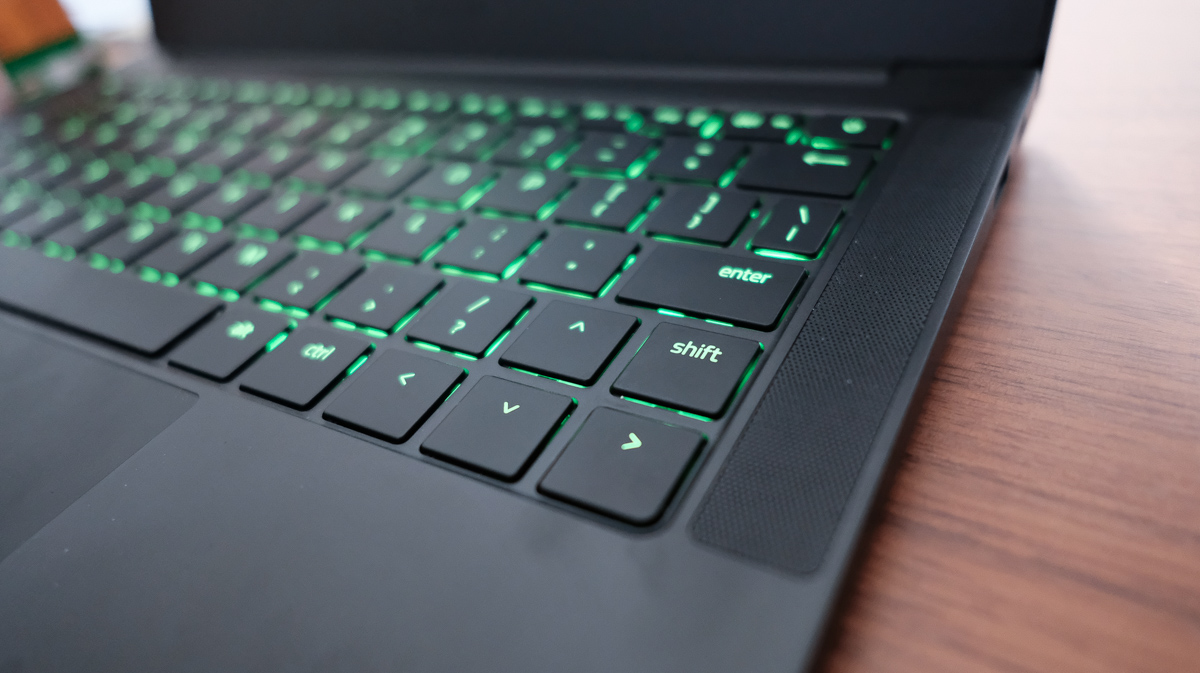 While it has pretty much come together in creating the almost-perfect ultrabook-sized gaming laptop, the keyboard is great for typing but not so much for gaming especially when it comes to FPS titles. For general typing, the keyboard has good travel and feedback but it feels too squashed together especially for intense gaming moments. Another small quirk is the irregular right shift button. It's sized like a normal key and placed right above the right direction key. For some reason, this leads to many accidental unwanted key presses.
Now that we've gone through to determine if the Razer Blade Stealth 13 is really up to snuff, it does work as promised but with a good amount of drawbacks.
The first dealbreaker is how the ultrabook handles heat distribution, especially while gaming. The wrist pad becomes extremely warm and one should also forget about gaming on your lap. After a quick 20 minutes of playing Slay the Spire (which is hardly graphically intense), I could feel my thighs slowly burning under the heat of the ultrabook. And you'd be perspiring due to the amount of heat this laptop emanates. Forget about a discrete graphics card, this ultrabook needs a fan accessory as well.
Considering the model we are using is one step above the base design (which comes with an Intel UHD Graphics 620), the Razer Blade Stealth 13 is packed with limited 256GB of storage. Considering that most games these days take up quite a fair bit of space, a gaming-centric ultrabook such as this could do more with more hard-disk space.
Battery life is where the Razer Blade falters. Considering that I was only able to eke out only 3 hours of gameplay with Slay the Spire, the ultrabook was able to push out 2 hours of game time when playing Apex Legends, unplugged.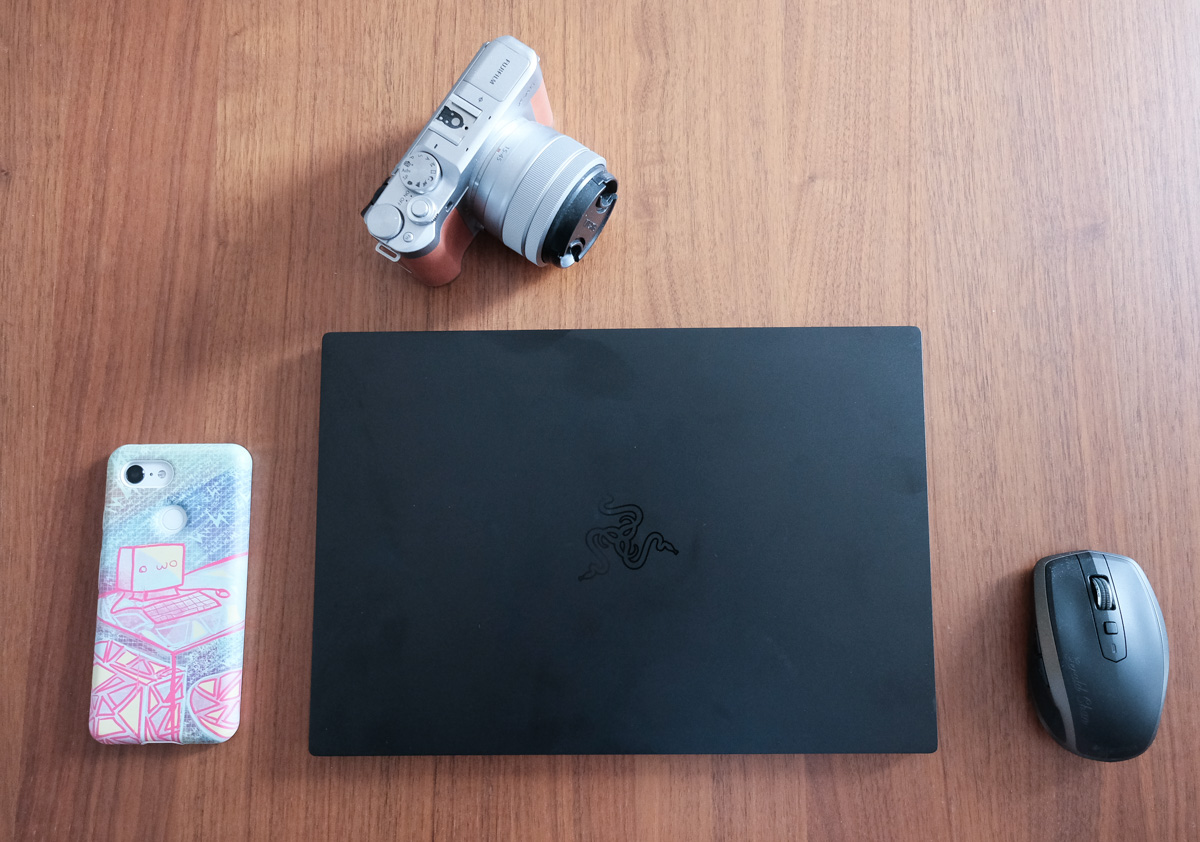 In terms of web browsing, one can expect about 4.5 hours of battery life with the screen dimmed and audio off. So while you might have the MX150 for gaming, you're better off doing actual work on the Razer Blade Stealth 13. Perhaps that's why the real consolation is the ultrabook's small power brick. More often than not, you'll find yourself tethered to the wall if gaming is why you bought this computer in the first place.
In comparison to other ultrabooks in the market, the Razer Blade Stealth 13 does check off all the boxes required for any road warrior. It's small footprint and even more, thoughtful power brick design is a win in anyone's books. However, in its effort to further stand out from the crowd, the choice of going with the Nvidia GeForce MX150 graphics card to make more of a "gaming" ultrabook might have worked against its favour, as the final product is unable to provide comfort for extended use before the battery drains to zero.
GEEK REVIEW SCORE
Summary
The Razer Blade Stealth 13 (2019) is certainly the ultrabook that would turn heads with it's sleek design, however, it suffers largely due to poor battery life and ventilation. While it remains a good pick for the road warrior, you might find yourself tethered to the wall more often than not.
Aesthetics -

9/10

Build Quality -

5.5/10

Performance -

6.5/10

Value -

7/10

Geek Satisfaction -

7/10
Gerald currently straddles between his love of video games and board gaming. There's nothing that interests him more than trying out the newest and fanciest gadget in town as well. He dreams of publishing a board game sometime in the future!
---

Drop a Facebook comment below!