As the modern workforce becomes increasingly mobile, a light and portable computer with good processing speed is always in demand. Some companies are pushing tablets and mobility as one, but the need for a keyboard, speakers and software means tablets cannot perform as well.
ASUS is trying to answer that demand with its latest ZenBook, a series of ultralight notebook for on-the-go professionals. Its all new ZenBook 13 (UX333), 14 (UX433), and 15 (UX533), will be its most compact design yet.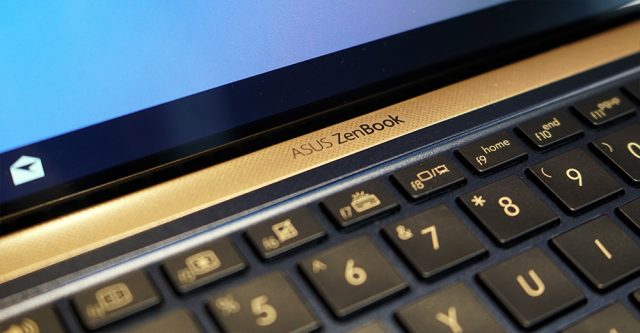 Design
These new ZenBook series has what ASUS calls a NanoEdge display. What this means is that the bezels on these laptops are extremely thin, measuring 4mm from the outside edge of the casing, to the non-active part of the display. It has a 95% screen to body ratio, and claims to be the smallest footprint in its class, without sacrificing any of the screen size.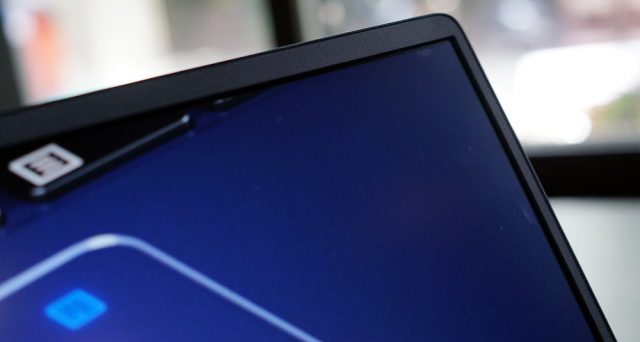 The ZenBook all measure below 1.8cm in thickness, certainly thin enough to fit into any briefcase. It weighs 1.69kg at its heaviest for the ZenBook 15, and 1.09kg at its lightest for the ZenBook 13. On the outside, the ZenBook features their iconic spun-metal finish on the lid. For a little bit of personalisation, there are two colour options to choose from, the Royal Blue or the Icicle Silver, both with a Rose Gold trim bar above the keyboard to add that classy look.
Productivity
The ZenBook has made a few additions to squeeze even more productivity out of the short hours of the day. One way ASUS wants to help the consumers' productivity is by adding the numeric pad back into the laptop. Having a smaller, more portable machine means some things must be sacrificed and more often than not, the numeric keypad is usually the first to go. ASUS has managed to add this feature back, by inserting the numeric keypad into the touchpad.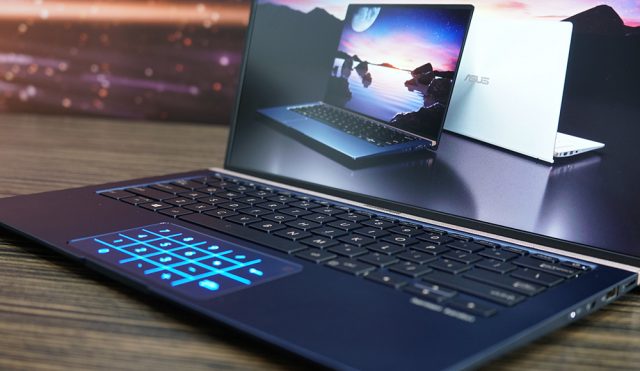 Called the NumberPad, this numeric pad is activated by touching the numeric pad icon at the top right corner of the touchpad. The touchpad will then light up in the typical layout of a numeric pad. The introduction of the NumberPad makes data entry so much faster, speeding up the process significantly. It might not be the exact same feel as a physical numeric pad, but it's certainly better than searching for the numbers on a single line on top of the keyboard. The Zenbook 15 will not have the NumberPad, as it will have a physical numeric keypad instead.
If you have been wondering how the touchpad will function while the NumberPad is activated, this will give you a pretty good idea of how amazingly well it is able to detect the intent to type numbers, as opposed to normal touchpad movements and clicks.
To increase productivity even further, these ZenBook models will have an advanced 3D infrared camera. Instead of spending time typing in a password, a face login can be used along with Windows Hello.  The camera has a see-in-the-dark capability, assuring that the laptop will still be able to detect the face even in a dimly lit environment, which is perfect for use on board planes.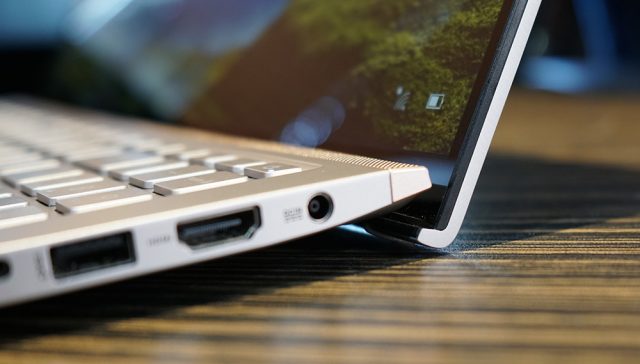 ASUS is adding its new ErgoLift hinge on the new ZenBook, . The engineered hinge tilts the keyboard to a more comfortable angle when the laptop is opened. Other than a more comfortable typing experience, the tilting of the keyboard will also help with cooling and audio performance.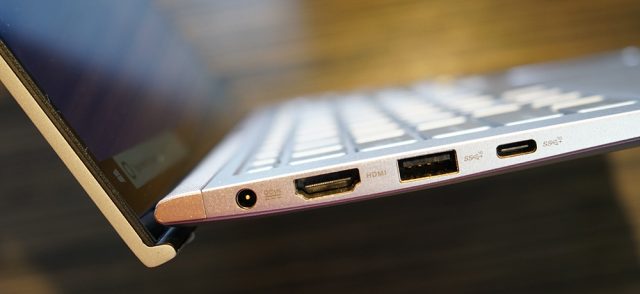 Connectivity-wise, the new ZenBooks feature the USB Type-C port for any-way-up connections and superfast USB 3.1 Gen 2 (up to 10Gbps) data transfers, as well as the USB Type-A (up to 5Gbps or 10Gbps) port. They've even managed to squeeze in an HDMI port and a microSD/SD card reader.
Performance
To support the busy professionals, a mobile workstation must have a powerful core. The ZenBook series uses 8th Generation Intel Core i7 processor and fast graphics options, up to NVIDIA GeForce MX150 on the ZenBook 13 and 14, and NVIDIA GeForce GTX 1050 Max-Q GPU on the ZenBook 15. The ZenBook models are also equipped with PCIe SSDs, and up to 16GB of RAM, promising a fast, reliable computer, whether it's for creating documents, editing photos, or just browsing the web.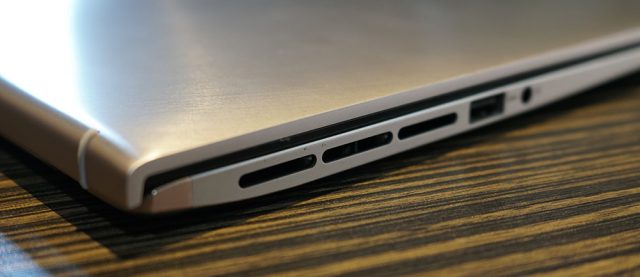 It wouldn't be useful to have a powerful mobile computer if it must be tethered to a charging cable at all time. The ZenBook 13 and 14 will last up to 14 hours on a single charge, while the ZenBook 15 will last up to 16 hours, more than enough for a full day of work.
Here's a closer look at the specifications for the new range of ZenBooks.
Zenbook 13
Zenbook 14
Zenbook 15
Processor
Intel Core i7 or i5
Memory
8GB / 16GB 2133MHz LPDDR3 onboard
8GB / 16GB 2400MHz DDR4 onboard
Storage
1TB PCIe 3.0 x4 SSD or 512GB/256GB PCIe 3.0 x2 SSD
Graphics
NVIDIA GeForce MX150, 2GB GDDR5 VRAM
Integrated Intel UHD Graphics 620
NVIDIA GeForce GTX 1050 Max-Q, 2GB/4GB GDDR5 VRAM
Integrated Intel UHD Graphics 620
Display
13.3″ FHD (1920 x 1080) NanoEdge display
14″ FHD (1920 x 1080) NanoEdge display
15.6″ 4K UHD (3820 x 2160) NanoEdge display
15.6" FHD (1920 x 1080) NanoEdge display
178° wide-view technology
72% NTSC
Four-sided frameless design, up to 95% S/B ratio
Four-sided frameless design, up to 92% S/B ratio
Four-sided frameless design, up to 92% S/B ratio
Battery
50Wh 3-cell lithium-polymer battery
Up to 14 hours battery life
73Wh 4-cell lithium-polymer battery
Up to 116 hours battery life
Dimensions
30.2cm x 18.9cm x 1.69 cm
31.9cm x 19.9cm x 1.59 cm
35.4cm x 22cm x 1.79 cm
Weight
With anti-glare display: 1.09kg
With standard display: 1.19kg
With anti-glare display: 1.09kg
With standard display: 1.19kg
With anti-glare display: 1.59kg
With standard display: 1.69kg
---
ZenBook Flip 13 & 15
Along with the ZenBook 13, 14, and 15, ASUS is also releasing the new ZenBook Flip 13 (UX362) and 15 (UX562). The new range will have a footprint that is 10 per cent smaller than its predecessors. Like the ZenBook 13, 14, the ZenBook Flip 13 will have ASUS' new NumberPad. The ZenBook Flip will also have many of the same features as the ZenBook, such as the small bezels and NanoEdge display.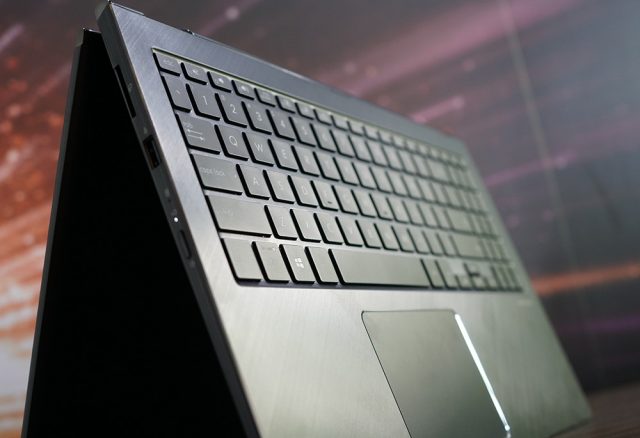 One of the main features that set it apart from the ZenBook would be the 360° ErgoLift hinge design which holds the display securely at any angle, enabling it to be used in tablet mode, or standing up like a tent for presentations for the ultimate versatility.
Pricing and availability for these models will be released at a later date.