Almost eight years after Aftershock entered the DIY laptop and PC market, and transformed consumer expectations on mixing affordability, durability and performance in gaming hardware, Singapore premiere boutique PC maker has pumped all of its expertise and hopes into its latest high-end Slate series of machine.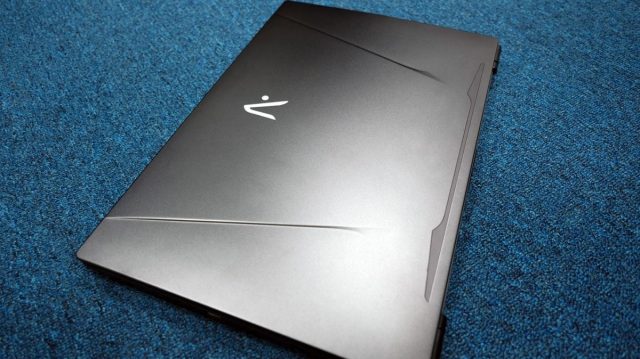 The key selling point here is the use of Nvidia's new mobile RTX GPU, which offers promises of advanced features, such as real-time ray tracing, for more realistic scenes with light bouncing off objects.
And make no mistake – the company is no longer interested in being a niche brand any longer. Hardware-wise, both the 15-inch and 17-inch Slate models use NVIDIA RTX GPUs, tout 144HZ Full High Definition screens, and your choice to configure it how you want it, from offering two M.2 PCIe SSD bays, along with a 2.5-inch HDD bay, to choice of RAM, custom paint and wrap options and so on.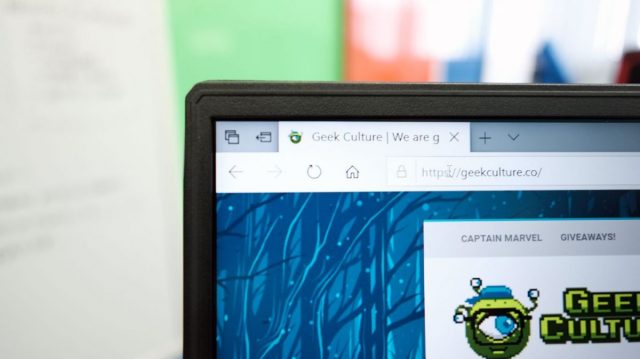 The fact that there is a 17-inch machine is also an interesting one, as there are about 40-plus RTX laptops in the market right now, but only a small handful, by brands such as MSI and Asus ROG, offer the 17-inch gaming laptop experience.
And price-wise, Aftershock's implementation makes it both its priciest, but also more affordable model in the market. Because of use of the RTX GPUs, the Slate 15 starts from S$2,216 tag for the base option, and S$2,391 for the base Slate 17 model. It's clearly the priciest Aftershock has ever gone with, but when you consider that similarly spec models from its key competitors start from at least $2,500, the models here are definitely worth a second look.
This review set uses the following specifications:
Processor: Intel Core i7-8750H Processor (6 Core 8th Generation Processor)
GPU: NVIDIA RTX 2060 6GB GDDR6
RAM: 16GB (8GB x 2) DDR4 2666MHZ (Dual Channel)
Storage: 512GB NVME SSD
Price: S$2,599
Using a newly designed chassis from its global partner, Clevo, the Slate series is housed in a new, ultra-thin and durable aluminium frame that shares design aesthetics with established players. Gone are the bulky frames that have been bought off the shelf, and now we have a 2.5KG laptop that measures 395.7mm x 260.8mm x 27.45mm.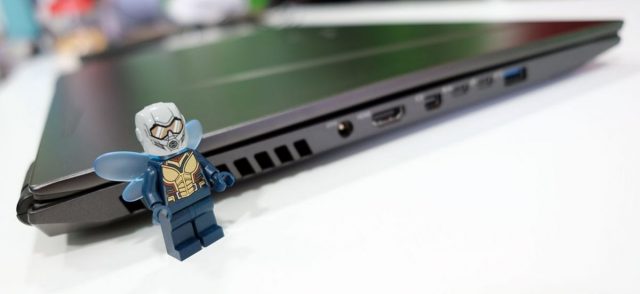 To the right of the unit sits the 3.5mm headphone and microphone jack, a USB 3.0, SD card reader and LAN port, while the right has the power connector, HDMI and Mini DisplayPort, along with two USB-C and one US 3.0 ports. Why both HDMI and Mini DisplayPort? Well, there is an option to output to a 4K 60Hz UHD monitor through the Mini DisplayPort, since there is limited 4K 60Hz support via HDMI 1.4.
Like many gaming laptops, the air vents are located at the rear of the unit, as well as on the underbelly. The bottom rear of the unit has an elevated platform, proving about a 3mm elevation for the unit, for air circulation.
The Slate 17 comes with a full-size keyboard, with number pad. Due to the close proximity to one another, there will be accidental taps on the wrong keyboard button, but that's expected of laptop keyboards.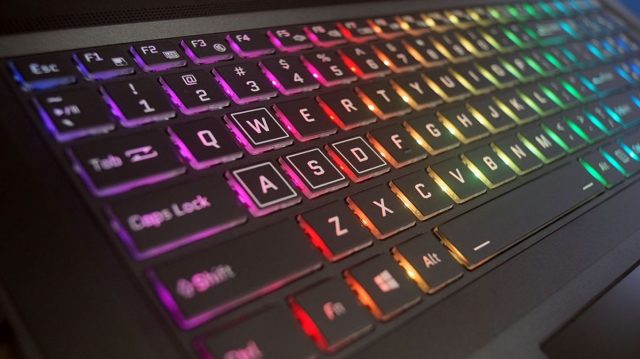 The secret sauce here is the internal thermals, which the company has focused on. Gaming laptops tend to run hot, especially when pushed the limits, which is what we did with Anthem. At maximum settings, the game ran smoothly with no lag. Fan noise dialled up considerably, but the surprising thing was how cool the keyboard surface was.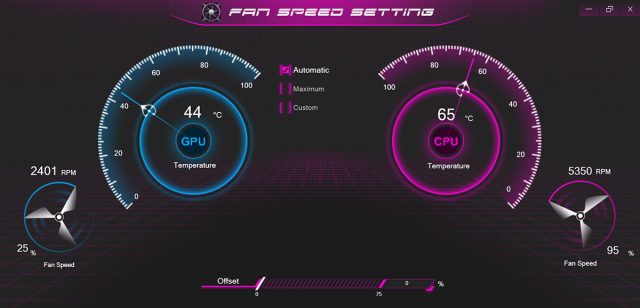 All the hot air vented through the rear. The plastic panel around the keyboard helped keep things cool through an hour of gameplay at maximum settings, though there was a slight imbalance on the heat dissipation, as the left side of the keyboard, where the QWERTY buttons are, were considerably warmer than the corresponding area on the other side of the keyboard.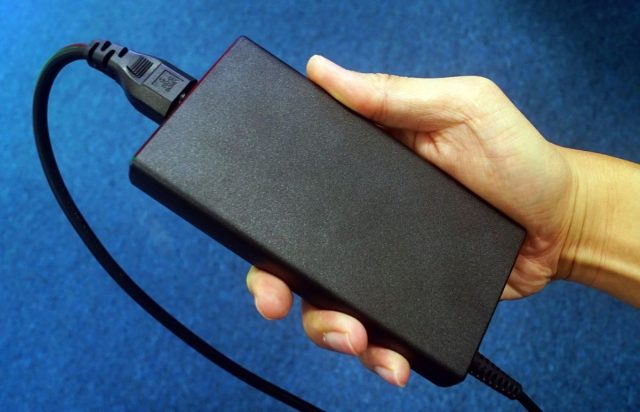 Aftershock has the software to toggle between performance, power saving and anything in between. With the unit set on high performance, and plugged in, the unit scored an impressive 5,746 on 3DMark, which placed it at a higher bracket than most gaming laptops.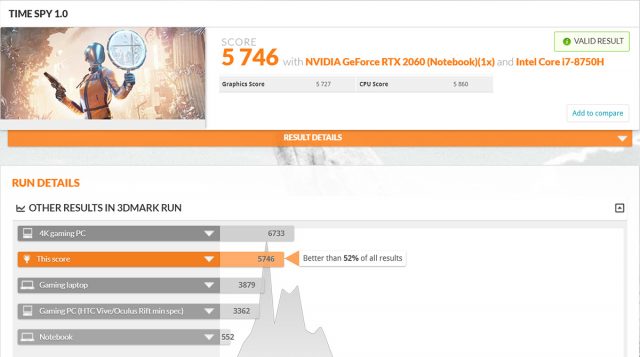 Cinebench R15
Open GL Score: 100.94fps
CPU Score: 1096CB
Unigine Heaven 4.0 (Full Screen, Ultra Presets)
FPS: 97.0
Score: 2443
Min FPS: 29.3
Max FPS: 187.9
Another neat feature, which most PC makers have not implemented, is biometrics. The Slate 17 has a fingerprint reader that allows you to unlock the machine at the literal touch of a finger. Yes, the MacBook Pro has that feature, but this one here is built into the touchpad itself. A small swirl, much like the one on the on-screen biometrics on Samsung's latest Galaxy S10+ appears on the touchpad, and all you have to do is lightly place a registered finger on it, and voila – no more passwords.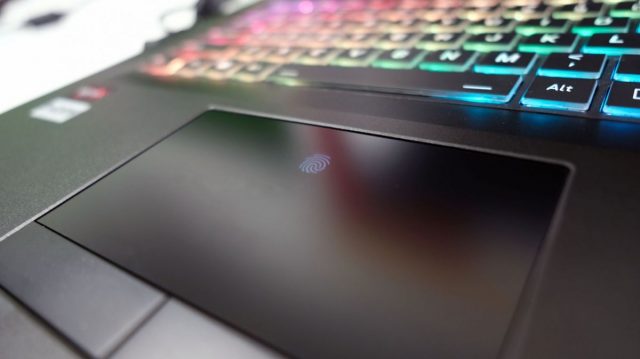 Truth be told, there is a sort of magnificence about 17-inch laptops that are missing from the small, ultrabooks of today. The great thing about the Slate 15 is that it technically holds a 16.1-inch screen. The Slate 17 comes in at the right time, at an attractive price, and if an eight-year-old company can do this, at this price point, it's time to get excited to see what else can happen with the RTX GPUs this year.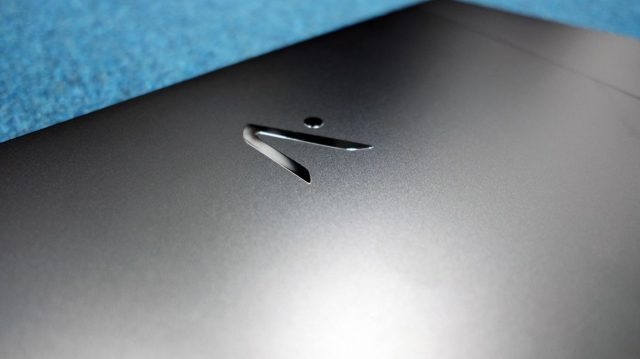 GEEK REVIEW SCORE
Summary
Aftershock has come a long way, and the Slate 17 is the latest, greatest laptop that it has designed from the ground up. It delivers on real-world performance, and if you're looking for a 17-inch machine, this gives you more, for a lot less.
Overall
9.1/10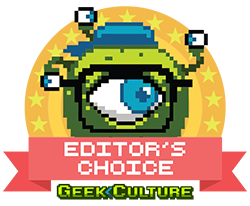 Aesthetics -

9/10

Build Quality -

9/10

Performance -

9/10

Value -

10/10

Geek Satisfaction -

8.5/10
---

Drop a Facebook comment below!