There is never an easy answer to the console versus PC debate. Both camps have their supporters, but even then, there is no definitive answer. Valve has been touting Steam as the answer to gaming on a PC, while Microsoft and Sony have doubled down on consoles, by launching consoles with incremental upgrades, hoping that the hardware catches up to the software.
Meanwhile, hardware makers such as Asus have also been hard at work, trying to bridge consoles with their traditional gaming system equivalent. Their Republic Of Gamers G20 is certainly no stranger to us, but a few questions still remain.
What exactly defines a living room gaming PC that can supplant a console? To some, it's the size. To others, it's the fact that you can proudly display it in your living room and still not have it look too out of place.
Whatever the reasons might be, the ROG G20 2017 would like to be the device you can game with, and look perfectly at home in your living room.
The Same Difference
Let's start with what has not changed. The angular matte black exterior with the Mayan inspired design is still the same, complete with the 3 RGB lighting zones, which the user is able to customize using the bundled ASUS Aegis II software. The bundled software has undergone some minor tweaks. For example, the changes in system lightings are now regarded as changes, and no longer seen as mere suggestions which the system may or may not follow.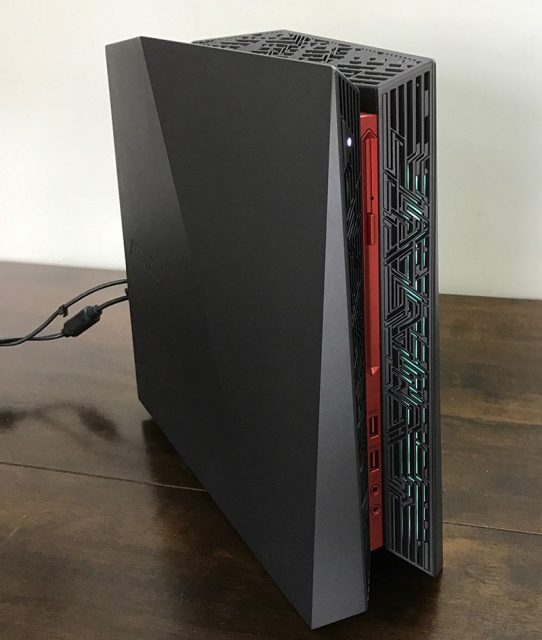 The UI (user interface) is now more streamlined, and more inclusive with items such as temperatures and system resource usage, and these can all be seen in one window, instead of via multiple tabs. Users are now allowed to add and custom other monitoring parameters such as lighting zone etc.
That same 12.5-liter small design footprint that the G20 is famous for is still unchanged, but to our surprise, it now comes packed with even more high-end goodies, like a Intel 6th Gen I7 processor, as well as the latest Nvidia GTX 10 series graphics card. This shows that a compact system like this one can house some of the most high end parts, so never judge a machine by its lack of size.
Alas, the dual external power brick from the previous G20 has remained, and we're wondering if there is a more elegant solution available, seeing that this is the second revision or refresh of this model.
What's New
The differences in 2017's ROG G20 is clearly not cosmetic, but the magic happens under the hood. This review unit comes with a Skylake LGA 1151 I7 6700 (non-K) SKU processor, which has 8M Cache and can turbo up to 4.0Ghz. Also part of the refresh kit is a 250GB Hynix SATA SSD, up from the previous version's 128GB Kingston SATA SSD. Graphics is powered by a reference GTX 1080 8GB, which is a huge bump from the 970 4GB that was previously used.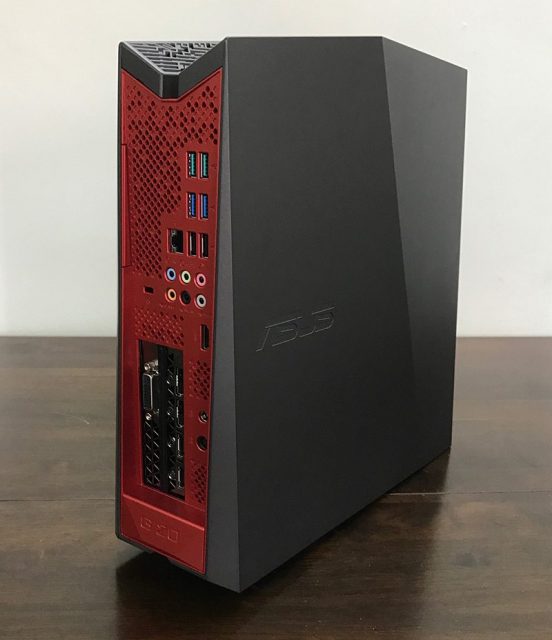 But what does this mean for the consumer? For a start, users get a better graphics card from the latest Nvidia 10 series line up, which is more power efficient, able to decently support 1440p resolution gaming or 4K, if you tweak your settings correctly. This rig also supports VR platforms such as the Oculus Rift and HTC Vive. In terms of SSD, our unit has 250GB, which is double of what we had previously, which allows us to store just slightly more games to take advantage of the SSD's speed.
For processors, the jump from an I7 4790 to the I7 6700 is quite minimal, as the upgrade is more from an architectural and power efficiency standpoint, than a performance standpoint.
Benchmarks
We placed this machine through its paces, using synthetic benchmarks such as Unigine Heaven Benchmark and CineBench, as well as real-life benchmarks using DOTA 2, Overwatch and GTA V. All games and benchmarks were carried out on at 1440p resolution.
CineBench
Open GL Score: 120.55 FPS
CPU Score: 761CB
Ungine's Heaven Benchmark (Full Screen, Ultra Presets)
FPS: 44.4
Score: 1119
Min FPS: 7.8
Max FPS: 95.9
GTA V (Maxed Settings)
Average FPS: 82
Minimum FPS: 55
Maximum FPS: 123
DOTA 2 (Patch 7.02 Maxed Settings)
Average FPS: 200
Minimum FPS: 160
Maximum FPS: 235
Overwatch (Epic Settings 100% Render)
Average FPS: 135
Minimum FPS: 120
Maximum FPS: 150
Based on the benchmark scored for both synthetic and real life examples, it is safe to say that the ASUS G20 has not problems meeting the needs of most power intensive consumers, whether it be number crunching or gaming even at high resolutions!
The Pros
Like its predecessor, the G20 occupies a very small footprint and offers great performance relative to its size, which is perfect for users with space constraints or want a small living room PC.
Users who want a gaming PC that can pull decent frames at 1440p resolution should look no further than the G20, as even the GTX 1070 variant should perform decently at 1440p resolutions. If you have a 4K TV, don't settle for anything less than the highest end variant. You'd need the GTX 1080 as 4K resolutions are more demanding than 1440P, as 4K has 2 times the amount of pixels compared to 1440P, and about 4 times the amount compared to 1080P.
The Cons
The G20 does get a little loud under heavy load, especially from certain angles. This is due to the design of the PC itself, where hot air is vented from the top of the case, as well as the rear.
Secondly, the choice of using a Hynix SSD seems a bit questionable, as based on SSD benchmarks; it scores one of the lowest performance rating, and seems like a step down from the previous Kingston V300 SSD in terms of speed.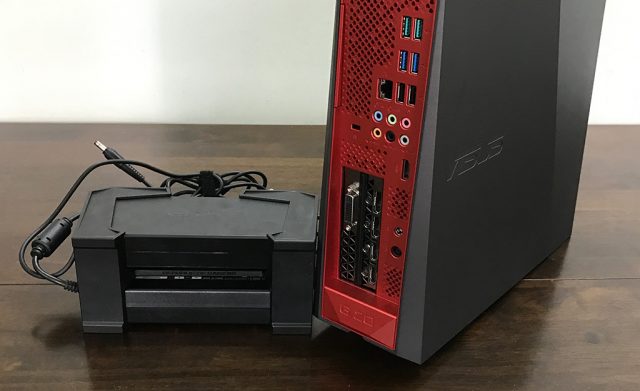 Thirdly, that dual power brick! We find that the dual power design extremely cumbersome, especially if the end-user forgets to plug in, or turn on one of the plugs. We believe a more elegant and simple solution can be implemented for this, and hope to see it in future revisions. Maybe a single larger power brick?
At S$2,698 for the entry model, the high price tag for the G20 might serve as deterrence for some consumers,
Conclusion
The refreshed G20 definitely shows ASUS being relevant in the PC market, by using newer parts. It is also to show their commitment in believing that the console style gaming PC is a growing trend these days.
We see the G20 as being a long-term main stay in their product line, as the console style PC market is still in its infancy and foresee more entrants in this market segment.
The G20 comes in 2 flavors, the G20CI-SG008T and SG007T. With prices start at S$2,698 for the entry model, G20CI-SG008T that comes packed with the latest Kaby Lake I7 7700, 16GB of DDR4 RAM and GTX 1070. The premium SG007T, which costs S$3,298 packs an I7 7700, 32GB of RAM and GTX 1080.
The G20 is available now at all ASUS authorized retailers.