Think gaming consoles and the image is of a fairly sleek box that covers up a gaming beast within. Now, if only PC gaming rigs were as beautiful and not the massive beasts that has to be hidden under your study table.
Thankfully, the appearance of Steam machines, together with a rising interest in PC gaming, has seen big companies venture into the Small Form Factor (SFF) gaming PC market. And one of them is Taiwanese company ASUS, with its ROG series. And the latest ASUS ROG G20, is a combination of having powerful internals covered by a sleek shell.
The G20 is a large jump from its smaller GR8 brother, from having a 2.5 liter chassis to a much larger 12.5 liter chassis. With this 10 liter increase in space, ASUS is now able to squeeze a desktop grade i7 4790 processor into the G20, compared to the i7 4510U mobile processor found in the GR8. In the graphics department, we also see the beefier GTX 970 4GB graphics card powering this beast.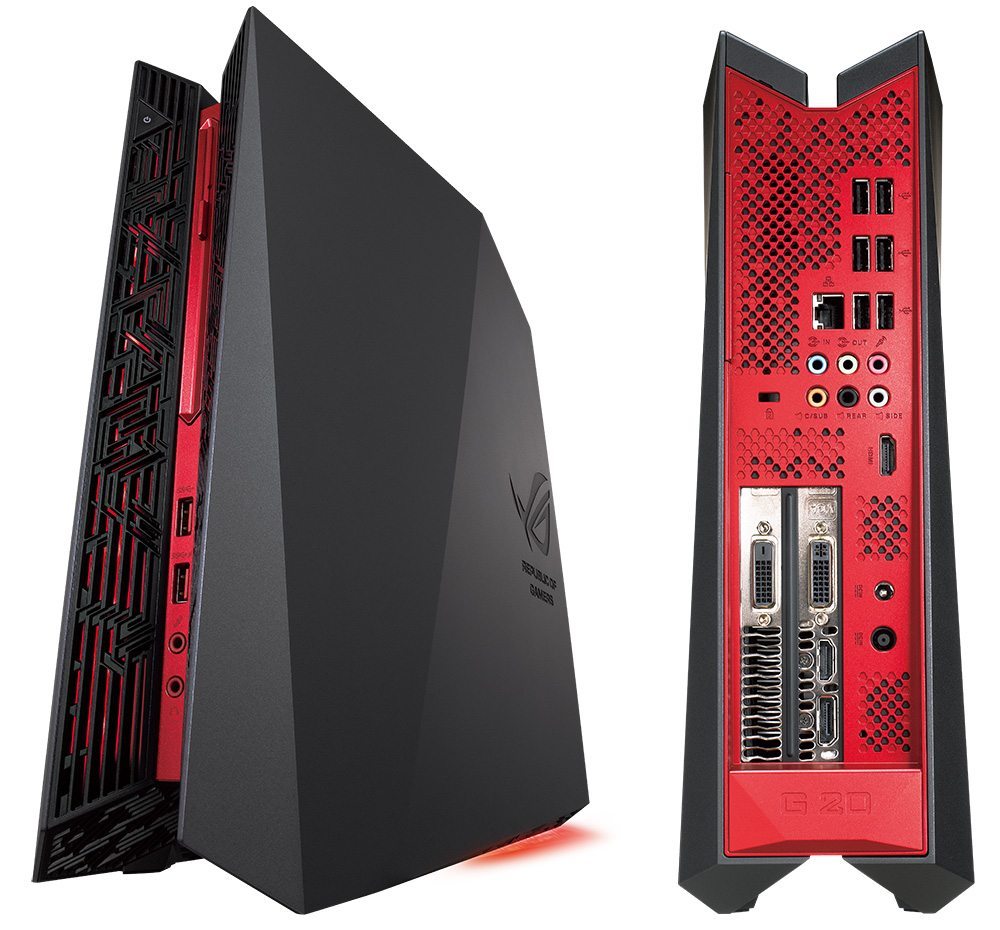 Our Initial Thoughts
We were surprised at how large the packaging box was. Inside, we are greeted with the G20 PC, an ASUS membrane keyboard, an ASUS optical mouse, an external power brick which requires 2 plugs, Ubisoft's latest Asssasin's Creed Unity game, as well as the usual literature. Despite the massive package, the G20 is rather small compared to a regular desktop, though it is significantly larger than other SFF type gaming PC machines, such as the GR8 or the Gigabyte Brix.
The G20 sports an angular matte black plastic shell, adorned with some Mayan-inspired designs. There are 3 RGB lighting zones which can be customized, and there is even a breathing effect that makes the lights hum or pulsate. This RGB lighting feature has been getting popular in DIY PC circles, and we are glad to see companies like ASUS adopt it as well.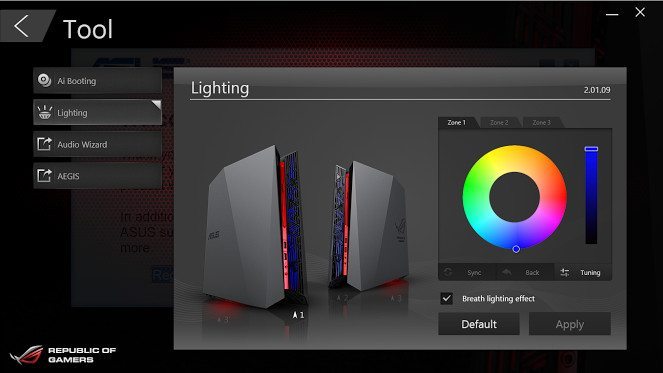 And while we know that this desktop is not a device that users will constantly touch, we cannot help but notice that the matte black finish is a fingerprint magnet, which our inner OCD nature could not help but wipe clean every time we see it.
At the front of this tower is a microphone jack, an audio jack, and 2 USB 3.0 ports. In the rear, there are 2 USB 3.0 and  4 USB 2.0 ports, one LAN port, one HDMI port and one for 7.1 channel audio. On the graphics card, there are 3 full size display ports and one each for HDMI and DVI.
Under the hood though, be prepared for a ridiculous amount of hardware crammed inside into a very tiny space. We spotted a reference Nvidia GTX 970 card in there  accompanied by a blower style cooler, which helps to vent heat out of the case quickly. There is also a custom CPU cooler, almost similar to those that you find in laptops. In the memory department, we spotted 2 pieces of Samsung SODIMM (laptop type rams) RAMS chips.  For storage, ASUS has chosen to use a 128GB Kingston V300 SSD drive, as well as a 1TB 3.5" 7200RPM desktop hard drive.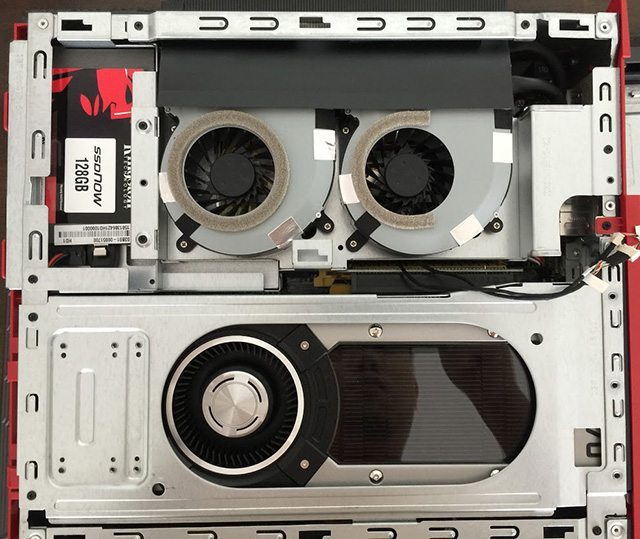 Our Test Drive Experience
Having an SSD on board as a primary drive allowed us to boot up instantly into Windows. This trend of then having a mechanical drive as a secondary drive, for content storage, helps gamers to not only boot up rapidly, but can also reduce game loading times. We did however find that space on our 128GB SSD fill up really quickly, as modern games these days are growing larger and larger in size. Case in point? The included copy of Assassin's Creed Unity takes up a whopping 50GB of space.
This left us feeling like we needed to choose which games we would like to "prioritize", and it is something most gamers would too, unless we add another SSD to load games, or replace the 128GB one with a larger capacity SSD drive. With prices of SSDs becoming more affordable, it would have been a great touch if ASUS had included a 250GB SSD drive as a default SSD instead.
Gaming on the G20 is was very smooth, thanks to the included desktop grade GTX 970 card, which easily churns out games at high definition 1080 resolution. Performance suffers when the resolution increases above 1080 though, which is understandable as higher resolutions such as 1440, or even 4K, requires a single high-end graphics card, such as the Titan X, or even multiple graphics card. This isn't to say that the user is stuck with the included GTX 970, as there is an option to upgrade the card on your own.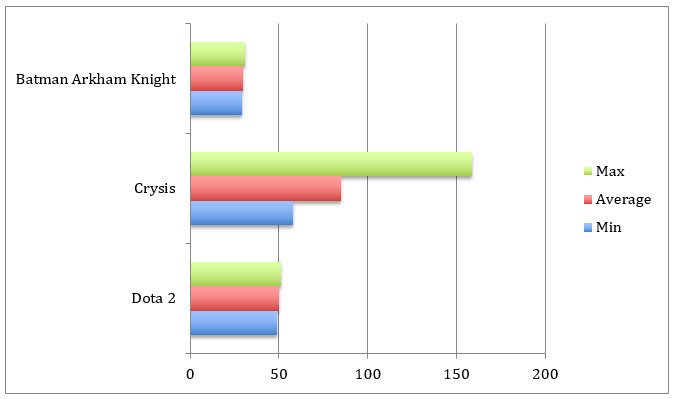 Our review unit ran at 40 °C at idle, and went up to above 81 °C during intensive gaming mode. Most of the heat is vented from the top, and at the back where the graphics card is located.
The included ASUS Aegis Utility is a nice touch as it allowed us to monitor and tweak with the system performance at a glance. This serves its purpose well and eliminates the need for other more complicated performance monitoring software.
Conclusion
Who is the ASUS ROG G20 meant for? In our opinion, it is for gamers who want that extra performance above what the GR8 can provide, but do not necessarily have the space for a larger tower style case. This machines fits nicely and neatly in the living room as well.
But if you are looking for 4K resolution, the packaged graphics card struggles with it.
The ASUS ROG G20 is available in Singapore at S$2,699 with the following specifications, together with a keyboard and mouse bundle, as well as a copy of Assassin's Creed Unity Game worth S$74.90. The SSD drive is optional, but it is something we highly recommend.
Specifications
Operating System
Windows 8.1
CPU
Intel Core i7-4790 (HD Graphics 4600)
Chipset
Intel H97
Graphics
NVIDIA GeForce GTX 970 4GB GDDR5
Memory
16GB, 2 x 8GB DDR3
Storage
2TB SATA HDD (7200rpm)
Optical Drive
Blu-ray disc combo drive
Audio
SonicMaster HD 7.1 channel audio
Front I/O
2 x USB 3.0, 1 x mic port, 1 x earphone port
Rear I/O
1 x RJ-45 LAN, 1 x 8-channel port, 1 x HDMI-Out, 2 x USB 3.0, 4 x USB 2.0, 2 x Power jack
Power Supply
230W and 180W adapter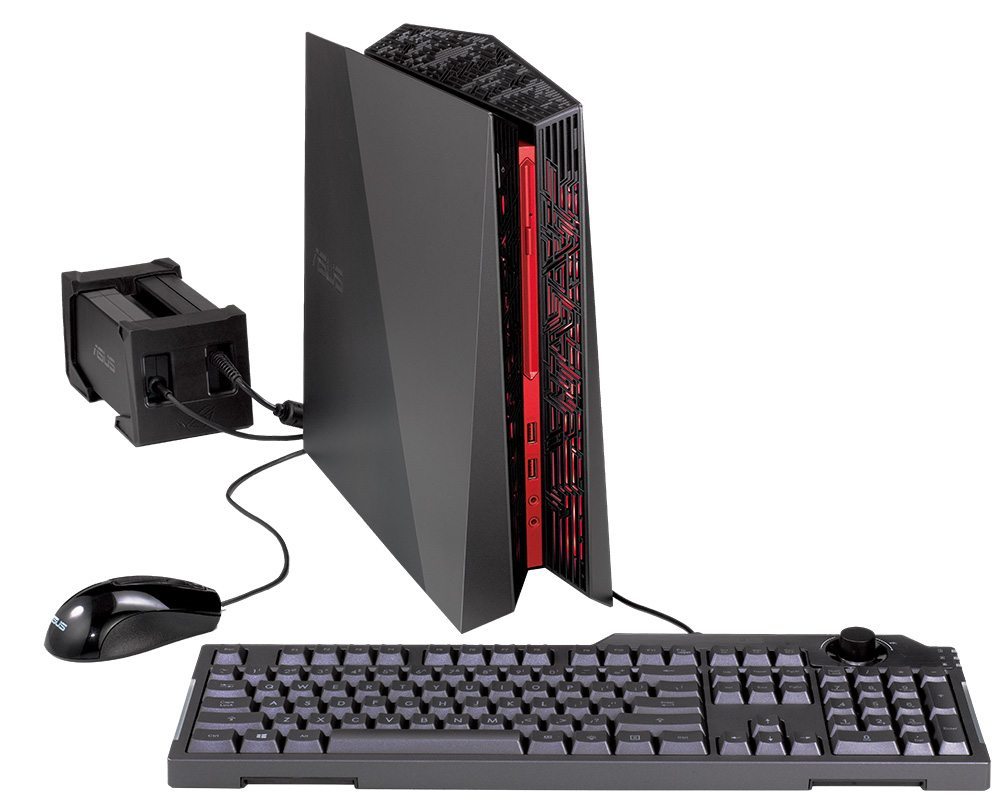 ---

Drop a Facebook comment below!