It's that time of the year again for shoppers on Lazada. The e-commerce platform turns 8 this week, and it is wasting no time getting celebrations ready. And by celebrations, we mean a massive 8th Birthday Sale happening on the entire day of 27 March.
The sale will feature a wide variety of products from over 200 brands on discount. To kickstart the festivities, there will be a Storewide Flash Sale happening from 12am – 2am, followed by deals from the flagship stores. Vouchers from the Lazada's affiliated banks such as Standard Chartered, HSBC, Citibank, UOB and DBS will also be up for grabs for anyone who wants even juicier discounts at checkout.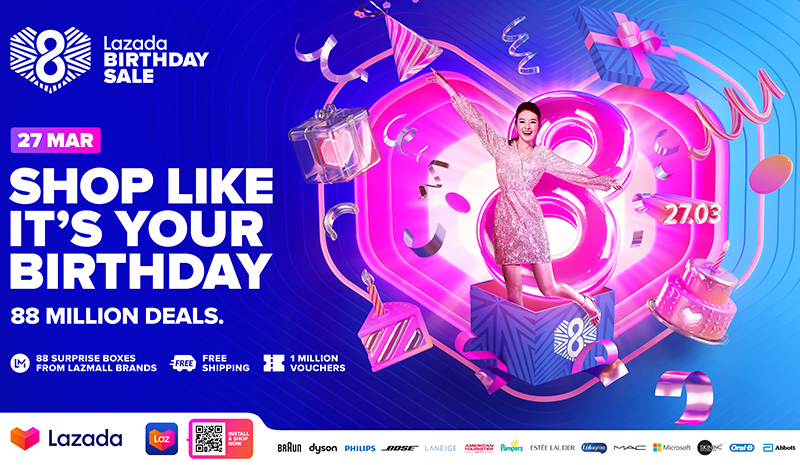 And while there is a lengthy list of products we'd like to recommend during the Lazada 8th Birthday Sale, we'll hone in on the tech that you can look out for (check out our list of toys and collectibles too!).
Additionally, we'll go the extra mile to guess the sale price for each item. Just take note that our guess is only speculative, and may not reflect in the final sale price on the day itself.
---
LAPTOPS
Original Price: $1,898
Predicted Sale Price: $1,649
The ASUS Zenbook 14 was one of our top picks for commercial laptops in 2019, and coming into the new decade, it still holds up pretty well. Lightweight and powerful, this is definitely a great all-around laptop for just about any task.
---
Original Price: $1,788
Predicted Sale Price: $1,582
If you're in need of a tablet and laptop, but can't decide between the other due to budget constraints, perhaps consider the Surface Pro 7. This tablet-laptop hybrid is not only sleek and lightweight, it's also really powerful with the latest 10th-gen Intel processor to get your day by.
---
Original Price: $2,799
Predicted Sale Price: $2,493
Of all the laptops on this list, the Razer Blade 15 comes out on top in terms of specs. This 15-inch gaming laptop is a beast at what it does, complete with 16GB RAM, up to NVIDIA RTX 2080 graphics, so games can run smoothly on its stunning full HD 144Hz display.
---
MOBILE PHONES
Original Price: S$1,799
Predicted Sale Price: $1,504
Apple's latest flagship smartphone is a technical marvel in and of itself. Armed with a powerful triple camera system, its superb photography and video capabilities are second to none. At least that's what some think.
---
Original Price: S$998
Predicted Sale Price: S$598
Despite its small Google-related hiccup last year, Huawei still managed to put out some really stellar smartphones in 2019. The Huawei P30 is one of them; boasting a powerful Kirin 980 chipset, and an even more impressive triple camera system, this is definitely one of the steals in this list.
---
Original Price: S$1,898
Predicted Sale Price: S$1,712
While Apple is making waves with its photo and video capabilities, Samsung is catching up as well. The S20 Ultra, in particular, can match the iPhone 11 Pro Max and then some, boasting a 100x Space Zoom, and native 5G capabilities. Truly a beast of a smartphone.
---
MONITORS & TVs
Original Price: $538
Predicted Sale Price: $250
A solid 27-inch monitor that not only produces stunning visuals with a refresh rate of 75ms and a contrast ratio of 100 million:1, it also incorporates decent audio with a pair of in-built speakers. Perfect for blasting some games or movies in your room.
---
Original Price: $1,398
Predicted Sale Price: $948
LG's ThinQ AI smart TVs are selling like hotcakes, and for good reason. The 55-inch 4K UHD LED variant is no exception, boasting some of the most picture-perfect visuals one can ask for. Plus, it comes with Netflix and YouTube preloaded so you can begin binging the new season of Kingdom right away.
---
Original Price: $899
Predicted Sale Price: $459
Local brand PRISM+ is knocking it out of the park with its smart TVs. The E43 packs 1.07 billion colours and IPS Panel technology in its crystal-clear 4K display, which makes watching movies, TV shows and even playing games on it a visceral experience.
---
Original Price: $369
Predicted Sale Price: $249
The PRISM+ X240 was made for gamers. The 144Hz refresh rate and Adjustable Low Blue Light technology makes it perfect for playing FPS games such as Overwatch and Call of Duty: Warzone for long hours.
---
Original Price: $1,599
Predicted Sale Price: $899
Samsung's 55-inch UHD 4K LED smart TV is no doubt one of the company's more impressive models out there. Packing a PQI (Picture Quality Index) or 1900, coupled with HDR 10+, it is capable of delivering some pretty pictures. Definitely one to consider if you're in need of a new TV.
---
HEADPHONES
Original Price: $429
Predicted Sale Price: $375
Beats has constantly been putting out superb audio since its inception in 2005. The Beats Solo Pro Wireless is top-of-the-line, even by its standards. Wireless? Check. Noise Cancelling? It's got that too. 22 hours of listening time? Yes please.
---
Original Price: $218
Predicted Sale Price: $169
JBL is stepping up its true wireless game with the Tune 220 TWS. With up to 19 hours of playback (inclusive of charging) and easy on-the-go controls, one can never go wrong with a stellar pair of true wireless earbuds.
(Don't forget to collect the $10 off min. spend $120 voucher before you check out!)
---
Original Price: $299
Predicted Sale Price: $188
Sennheiser's HD range of headphones are capable of delivering some really crisp audio for quite an affordable price. The HD 4.50 BTNC comes with active noise cancellation, as well as superb call functionality and up to 19 hours of battery life.
---
Original Price: $349
Predicted Sale Price: $309
The WF-1000XM3 is indubitably one of the most sought-after truly wireless earbuds in the market. Its active noise cancellation is among one of the best out there, which is easily its best feature. Get this if you want a guaranteed uninterrupted listening experience wherever you go.
---
PERIPHERALS
Original Price: $229
Predicted Sale Price: $179
One of the best TKL (tenkeyless) keyboards out there, the ROG Strix Scope TKL beats out the competition not only with superb build quality, but also a detachable wrist rest to enable you to last long gaming sessions without breaking a sweat.
---
Original Price: $169
Predicted Sale Price: $119
The Logitech MX Master 3 is the company's love letter to creatives and productivity nuts alike. Its MagSpeed wheel can scroll 1000 lines in a second, and the mouse itself can work seamlessly on multiple computers across Windows, MacOS and Linux operating systems simultaneously. What's not to love?
---
Original Price: $199
Predicted Sale Price: $159
The Razer Huntsman TE is perfect for pro gamers, or at least consumers who like to play a ton of FPS games. Its Linear Optical Switches boasts one of the fastest response times out there, and will no doubt ensure swift victory as long as you play on it.
---
GAMES
Original Price: $79.90
Predicted Sale Price: $51.01
Cooking Mama Cookstar is the latest entry in the beloved Cooking Mama series and it's coming to the Switch. If you were planning on pre-ordering it anyway, now's the perfect time to do so.
---
Original Price: $69.90
Predicted Sale Price: $47.43
If manually stirring pots in Cooking Mama ain't your thing, then perhaps managing a restaurant in Overcooked could be. This bundle includes the two games in the franchise for the price of one. And with the birthday sale discount, it's for a lot less, and that's a good thing.
---
Original Price: $89.90
Predicted Sale Price: $79.90
The long-awaited Final Fantasy VII Remake is nearly here, and what better way than to welcome it by a pre-order on Lazada?
---
One last word of advice: put the items you wish to purchase into your cart first before the sale starts so you will be able to quickly check them out the moment the sale goes live.
And also, happy shopping!