At a time of great uncertainty in this current landscape where businesses are temporarily closing and people are staying home, it seems that an online sale is the medicine we all need but more importantly, Lazada's upcoming 8th birthday celebration on 27 March 2020 is also a lifeline for brands and sellers, as Singapore's leading online platform moves to support businesses, by providing them with an avenue to still remain in operation, even as COVID-19 looks to be a long-term condition everyone has to deal with.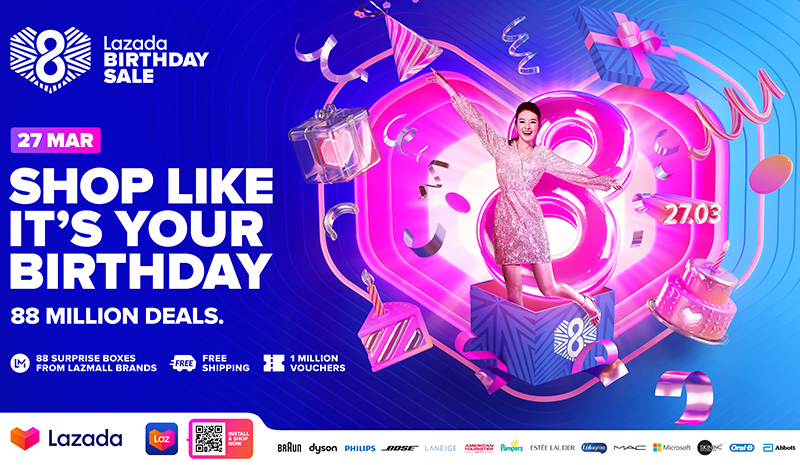 But with 88 million exciting deals for shoppers to look forward to, this could be the shot in the arm we all need, even as we stay put at home and try to make the best of things. Shoppers will get to save up to 90% on various categories such as tech, fashion, and beauty products.
Much like last year, Lazada will be holding numerous Flash Sales, Slash It deals, and even Pre-Sale deals where shoppers get to enjoy early-bird prices on selected items. By placing a non-refundable deposit on the item they wish to purchase, it will then be reserved for them and can be paid for in full during Lazada's birthday event.
---
Flash Sales (Only on 27 March, from 12am to 2am)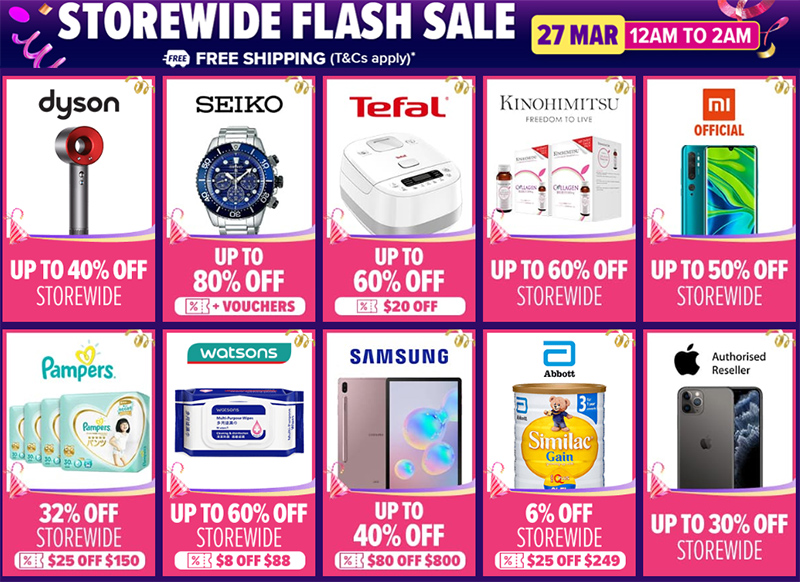 ---
Slash It Deals (20 – 27 March. New Deals daily from 9am)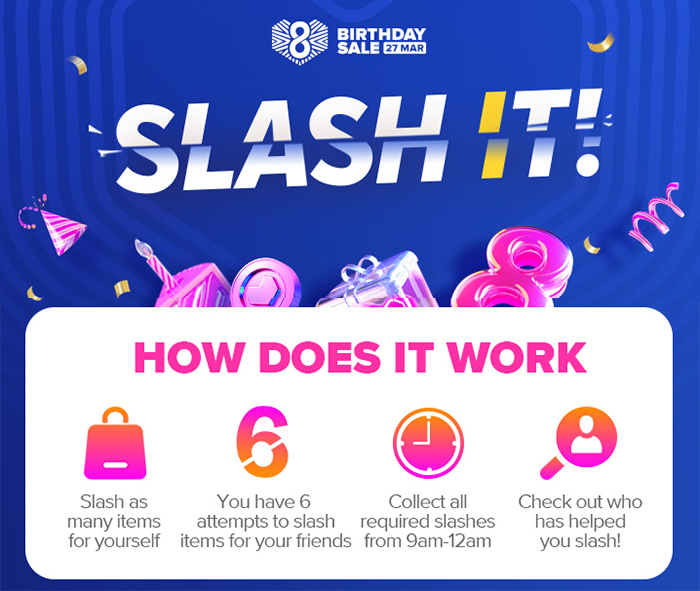 ---
Pre-Sale Deals (20 – 27 March)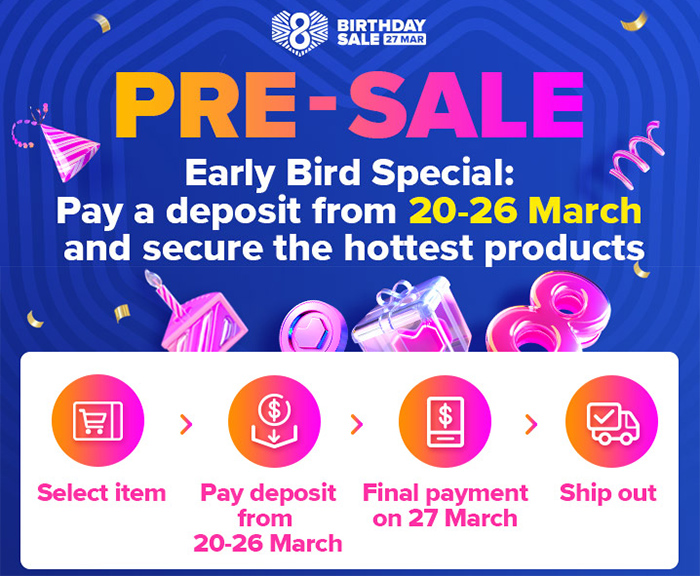 ---
88 Surprise Boxes and over 1 million Lazada vouchers will also be up for grabs.
Mechanic
Description
Period
Surprise Boxes
88 branded Surprise Boxes will be sold at $18, $28, $48, and $78. It'll contain up to $200 worth of products.
27 March
Collectible Vouchers
All Citi Credit Cards:
– $18 off $100 min spend
– $10 off $65 min spend
Collectible on: 20 – 27 Mar, every 9AM

Redeemable on: 27 Mar, 9am – 11.59PM
What's more, bubble tea lovers will have something else to look forward to during Lazada's birthday celebration: the Stamp Hunt – Boba Festival. From 17 to 27 March, get to enjoy 1-for-1 bubble tea deals from eight bubble tea shops. You can even stand to receive more vouchers when you redeem a bubble tea from the stores.
Store
Promotion
LiHO Tea
– $5/$10/$20 E-voucher for $4.50/$8.50/$16.50
– 2 CheezHO Da Hong Pao Milk Tea for $8
– 4 CheezHO TEA for $14.80
– 2 Avocado Milk Coffee for $10.90
– Brown Sugar Party (Buy 3 Get 1 Free) for $14.80
– 4 Milk tea (M/L) + Golden Pearl for $12.80/$16.60
– 2 Mango Delight for $9.90
– 2 Blueberry Green Tea for $8.80
R&B Tea
– 1-for-1 Milk Tea w Brown Sugar
– 1-for-1 Roasted Oolong w Tea Cream
CHICHA San Chen
Any drink @ $4 with free toppings
Milksha
$7.80 for M-sized Tea Latte + Topping + Ice cream
Bobertea
– 1-for-1 Roasted Oolong Milk Tea
– 1-for-1 Dong Ding Oolong Milk Tea
– 1-for-1 Brown Sugar Milk Tea
– 1-for-1 Regular Milk Tea
I Love Taimei
– 20% off of 1988 milk tea
– 1-for-1 panna cotta series
– Free large milk tea with purchase of supersized chicken
Teafolia
Any 3 drinks for $9.90 – Any 5 drinks for $14.90
Tropical Sundays
1-for-1 for all iced tea and milk tea large size (not including smoothies)
Lastly, before Lazada's 8th birthday celebration officially kicks off, we highly recommend you place the items you wish to purchase into your shopping cart first so that you can immediately check them out the moment their deal starts.
It'll be a battle of the fastest fingers so mark down your calendars, ready your shopping carts, and have fun shopping!
---

Drop a Facebook comment below!