The 2018 Razer Blade has landed, with an all-new design language – the first major design update since the original Blade in 2011. It stands out prominently in a huge crowd of impressive gaming laptops that have been released this year, and while it is not the most powerful, it is definitely the most polished gaming laptop by far.
Simplicity is key, and Razer has nailed this in all aspects. The new Blade construction is milled from a single block of aluminium, and its unibody construction makes you feel like its worth every penny you are paying. The biggest difference is the much thinner bezel around the screen, which gives the Blade 15 a design more suited for 2018 laptops. It has also changed from the traditional rounded corners, to having a more modern-looking squared-off look with sharper edges.
Apart from the design, the 2018 Blade comes with an updated 8th-gen Intel CPU, Nvidia Max-Q GPUs and a 144Hz display.
Display
The 15.6-inch IPS panel running at 144Hz is a sight to behold. With the bezels measuring only 4.9mm, they basically disappear into the background when one is gaming.
With the display colour calibrated straight out of the box, the colour reproduction is vibrant and accurate. However, the brightness level is one of the dimmer options out there, so using it outdoors or in backlit conditions could be an issue.
The base model of the Blade 15 comes with the 1080p 60Hz display, but it also can be configured in 1080p 144Hz and 4K 60Hz (not available in Singapore for now, sadly). If you are planning to use the Blade as a serious gaming device, do fork out the extra $400 or so for the 144Hz display.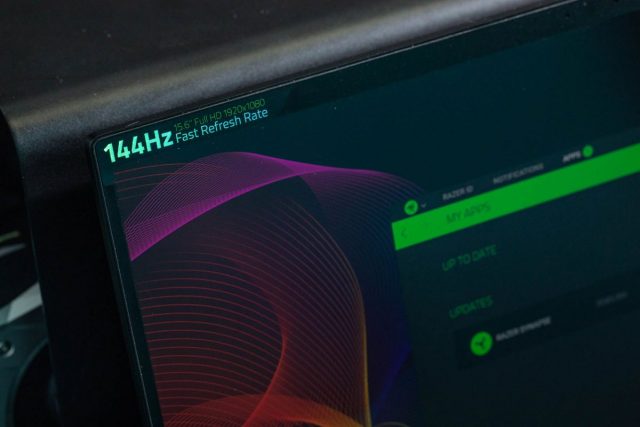 In the pursuit of a truly bezel-less displays, it is also great that Razer has managed to leave the webcam at the top of the screen, instead of on the bottom bezel, like those seen on the Dell XPS and Gigabyte Aero.
Performance
The Blade 15 is capable of handling almost anything you can throw at it. From your basic daily productivity tasks to using it as a workstation for editing, the laptop chews it all up without a hitch.
Gaming performance on the Blade 15 is undoubtedly one of the best in the market today. It does not have any issue running most modern titles, churning our frame rates at well over a 100fps on medium to high settings.
Rise of Tomb Raider 65fps on high
DOOM 100fps on high
Overwatch at 120fps on high
Playing games or just using the laptop in general with the 144Hz display is a joy, as everything runs buttery smooth, making your old 60Hz monitors look jittery in comparison.
But even with the re-engineered thermal solution in the Blade, the laptop still heats up substantially when engaging in CPU-/GPU-intensive tasks, and the fans do get noisy. The heat can be felt under your fingertips and palms, and coupled with the scorching underside, this is definitely a laptop not meant to be used on your lap, however ironic.
But while the external body heats up, the internals do a great job at running at their optimal clockspeeds. While the i7-8750H chip was unable to hit its maximum clockspeed of 4.1 GHz, it could comfortably maintain above base clockspeeds of around 2.9GHz while under heavy load. This is definitely a testament to Razer's vapour chamber cooling technology, which does very well to ensure peak performance.
The touchpad on the Blade 15 is, hands down, the best touchpad found on any Windows-based laptop. It is larger than those seen in previous Blades, obviously inspired by the large touchpad on the MacBook Pro. It still runs on Windows Precision drivers, but the combination of the glass surface and huge surface area makes it perform almost on-par with the touchpad found on MacBooks. It supports multi-finger gestures very responsively and intuitively, but falters when dealing with palm rejection, where misclicks become commonplace and some getting used to.
The keyboard is a pleasure to type on, and feels very reminiscent of the pre-butterfly keys from the 2015 MacBook Pro keyboard, with a decent amount of travel distance, and a satisfying rebound upon actuation. The only quirk about the keyboard is that the right shift key is on the right of the up arrow key, which may pose an inconvenience for some.
Of course, the keyboard comes with Razer's Chroma RGB lighting, running on the Synapse 3 app. It also comes with pre-configured lighting options, customised to certain games. This added a great touch to the gaming experience, be it with "flaming" lighting when slaying demons in Doom, or having the colours match your favourite Overwatch hero.
The speakers are located on the left and right of the keyboard, and these speakers are full sounding, without cracking up even at high volumes. Still, gamers would be recommended to get dedicated speakers, or a headset instead.
The Blade 15 comes with 3 USB-A ports, 1 USB-C Thunderbolt 3, a mini DisplayPort, HDMI, and a 3.5mm audio jack. This cover all the ports needed for most users, but the missing SD card reader is a slight disappointment, especially for those in the creative field.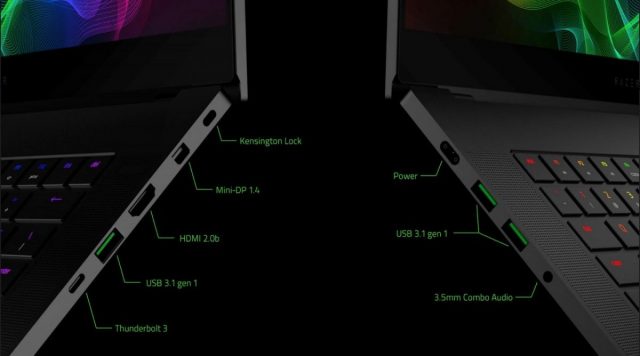 As a hybrid user who dabbles in the gaming and content creation, the exclusion of an SD card slot is the biggest gripe for me. Even though the Blade has a plethora of other I/O ports, it brings about the same issue found in the USB-C-only MacBook Pro. I would still need to carry around a dongle if I would like to transfer media from my SD card, and with accessories like the Hyper USB-C Hub, the problem about ports on the MacBook becomes a non-issue. It seems like Razer is not the only one moving away from including an SD card reader, with many 2018 gaming laptops from MSI, ASUS and Dell also doing the same. (Sigh.)
Portability & Battery Life
The Blade weighs in at 2.07 kg, just a slight 30g more than the ultraportable Gigabyte Aero 15X. It is not too heavy to be lugging around for an entire day, although when combined with the power adapter, does take a toll on your shoulders.
The 80Wh battery is decent, but not groundbreaking. You would be able to get around 6 to 7 hours of use on a full charge, while doing some web work and listening to music. However, playing games or editing videos will cut the battery life by more than half; the battery lasted around 2 hours while editing in Premiere Pro. For students and corporate professionals, the battery life is sufficient for you to get through the day without lugging the power adapter around.
The new power adapter is very well-designed,  with a braided cable, proprietary reversible connector and slightly smaller footprint from its predecessor.
The power button is located on top of the right speaker grill, and I would have loved for a fingerprint reader to be installed in it. It is surprising that a premium laptop such as the Blade did not include some sort of biometric security with Windows Hello. It is in the perfect position and size for a biometric reader, so it definitely makes you wonder if Razer actually had the intention to do it – in the future models, perhaps?
Similar to Apple products, Razer also has a "Razer tax", or premium pricing, on its products, which it justifies with the amount of design and engineering work that goes into all of its products. If you were looking for a similar performing laptop, there are plenty of options out there such as the new Dell G7, or ASUS ROG Strix series, all of which can give you more bang for your buck. Then again, if you were thinking of buying a Razer Blade, budget and value were considerations that would have been thrown out a long time ago.
| | | | | |
| --- | --- | --- | --- | --- |
| Display | Full HD / 60 Hz | Full HD / 144 Hz | Full HD / 144 Hz | Full HD / 144 Hz |
| Storage / RAM | 256GB / 16GB | 512GB / 16GB | 256GB / 16GB | 512GB / 16GB |
| Graphics | NVIDIA GTX 1060 | NVIDIA GTX 1060 | NVIDIA GTX 1070 | NVIDIA GTX 1070 |
| Processor | 8th Gen Intel Core i7 | 8th Gen Intel Core i7 | 8th Gen Intel Core i7 | 8th Gen Intel Core i7 |
| MSRP | S$2,899.90 | S$3,299.90 | S$3,599.90 | S$3,899.90 |
With the Blade 15, Razer has designed a high-performance gaming laptop, while compromising on very little. It packs a high-refresh display, high-end components with a thermal solution capable enough to handle it, a great keyboard, touchpad and speakers, all into a beautifully-designed chassis; besides, its subtle design that keeps the gaming aesthetic from going overboard is perfect for the undercover gamer as well.
Despite knowing that Razer is charging a premium, the choice is clear (I've already ordered my own unit) because it is worth every cent.
Summary
The Razer Blade 15 is one of the best gaming laptops on the market. It's expensive, but it offers the most polished laptop gaming experience, as well as being capable enough for all of your productivity work.
Overall
9.2/10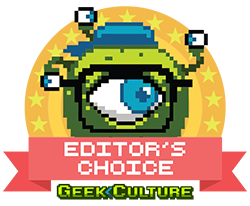 Aesthetics -

10/10

Build Quality -

9/10

Performance -

9/10

Value -

8/10

Geek Satisfaction -

10/10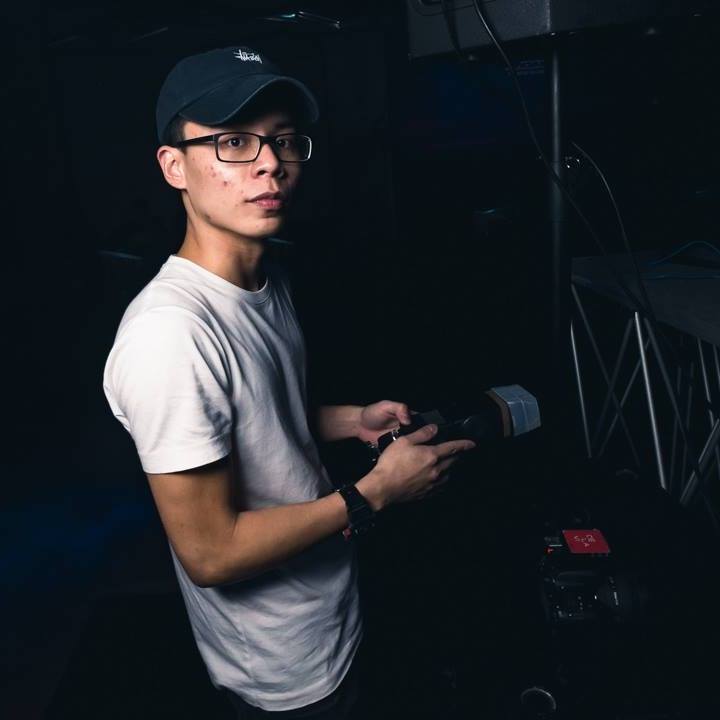 Timothy is a freelance photographer and fellow geek. His professional work spans many genres and he shoots on film for leisure.
---

Drop a Facebook comment below!

---