[UPDATE]
It looks like the organiser ReedPOP has been alerted to the low quality version of the Millennium Falcon replica, as they seemed to have made at least three changes to the display since it opened on Sept 1. Read on and let us know if you think the changes can be accepted, or if it's a shade too much like making Han Shot First.
[ORIGINAL POST]
What a piece of junk!
As a subversion of the hunk of junk vehicle, nothing comes as close as the Millennium Falcon – the perceived bucket of bolts that not only saves the day in more ways than one, but also sets the gold standard for rust buckets that outperform expectations.
Except that no one told the folks who designed this hunk of junk.
Yep. This is supposedly the Falcon, bursting through an asteroid field.
Can you see it?
Here are some more photos taken from another angle.
[UPDATE #1] Here's the most obvious addition – they have added a string of blue LED lights to the rear thruster. We know, the original has more of a blue light emanating from each grill and this is just…
We're sad. We expected to maybe see the Hot Toys 1/6 Millennium Falcon replica, especially since it matched the description, scale-wise.
[UPDATE #2] Here's the second "improvement". Remember how George Lucas changed A New Hope, to make it better? The event organisers are doing the same, this time with  with the addition of a raised platform. Those plush barricades are a regal touch.
But that's about it, as the view from the top doesn't seem to make this hunk of junk look any better. Here's the POV shot –
And this is where the third change comes in. Notice how in our original shots, the four black pedestals had asteroids on them, to make it look like the Falcon was flying through it? Well, ReedPOP seems to agree that it looks like a terrible idea, because all four pedestals are now plain black, with not even a small rock to be seen.
In fact, you'd probably have a better treat taking a selfie with this highly accurate plastic model kit of the Millennium Falcon by Bandai, which so happens to be on display right next to the wooden construct.
Or maybe something that looks as magnificent as the AT-ST that sits outside Shaw House (yes, it's the same one that was used for the May the 4th festivities at Gardens by the Bay). Now this is an impressive looking scale replica, and I bet that most people won't even know the actual name of this beast, compared to the fastest hunk of junk in the galaxy.
Instead, we are basically getting a paper mache YT-1300. 
This is the cosplay equivalent of getting Lowcost Cosplay to design your replica.
We're not saying there's anything wrong with the recreations of Anucha "Cha" Saengchart, but Singapore, you're taking things too literal.
When Luke Skywalker said it was junk, he wasn't asking you to make it like this.
Here's hoping the Force is Stronger with Kylo Ren's TIE Silencer and the interior of the fan-built Millennium Falcon at STGCC 2017 on 9 – 10 September. But we have a bad feeling about it…
Anyway, enough talk about the Millennium Falcon. What else can one expect from the Star Wars: Experience The Force Singapore festival? Read on to find out.
---
AT-ACT Walker (by Beast Kingdom)
Also on display is a 3.5m tall AT-ACT Walker by Taiwan-based Beast Kingdom. This one definitely looks far more decent, though fans might find it a little underwhelming after having been spoilt by the much larger version at VivoCity last December for the Star Wars: Rogue One festivities.
If you're a fan of Beast Kingdom's line of Star Wars products, they have a booth right next to the Walker, and we've spotted a few exclusives too, so it's definitely worth checking out.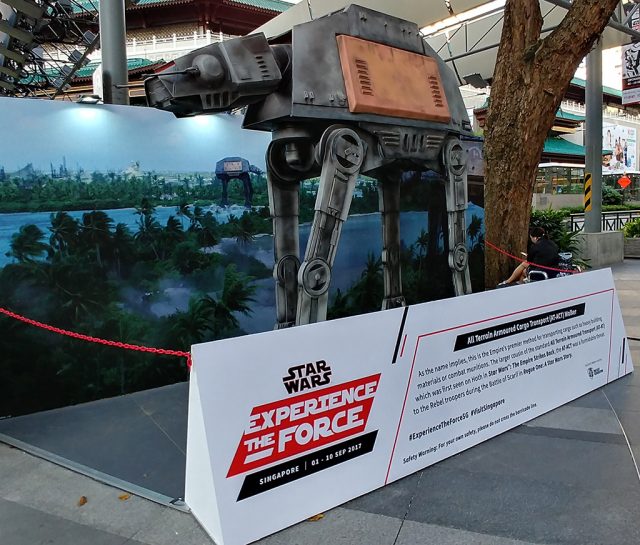 ---
Padawan Training
Next up, we have the first-ever Padawan Training, located in front of ION Orchard as well, where aspiring Padawans aged between 4 – 12 are invited to train in the ways of the Force and learn how to master a lightsaber under the guidance of a Jedi Master. This was pretty standard fare, adapted and scaled down from the Jedi Training Academy attraction at Disney Parks.
Most kids will enjoy this segment. It's just a pity that the training doesn't lead up to a visit by a Sith Lord and his Stormtroopers, where the Padawans get to take turns duelling with the Dark side like how it is conducted at Disney Parks. Instead, the training ends with a group photo with the Jedi trainers, and all Padawans graduate with a souvenir certificate.
---
Crait and Millennium Falcon Trick Eye Floor Decals
Blink and you might miss these two street-level 3D floor art decals. The first, of the Millennium Falcon, located at the front entrance of Wheelock Place, was somewhat underwhelming. The point of these floor decals to achieve their intended 3D effect is to have the printed floor tiles around the "hole" blend with the actual floor tiles.
The yellow and black striped border around the entire decal made it even worse. Is it meant to warn pedestrians of some kind of hazard?
The second one (located in front of ION Orchard), featured Finn riding a new landspeeder on the planet Crait, was suppose be have the effect of it bursting out of the ground. But it suffered from the exact same issues as the Millennium Falcon decal. Such a pity.
---
Star Wars: Jedi Challenges AR (by Lenovo)
Unveiled on Force Friday is also our first glimpse at Lenovo's smart-phone powered augmented reality experience. Not much else was shared apart from this new trailer, and the 3-piece accessory set consisting of a lightsaber controller, AR headset, and a tracking beacon.
According to Lenovo Singapore, this set will retail for S$379 when it hits local stores this November. Read more about it here.
---
Force Friday II Midnight Launch
And of course, no Force Friday is complete without the midnight launch of the first wave of Star Wars: The Last Jedi toys from LEGO, Hasbro, and Sphero. Oddly, Hotwheels and Micro Machines were missing from the mix. We've made a list of top picks from Force Friday, so be sure to check it out.
---
One last bonus "feature" before we close off, yes, for the next 10 days, even the staff at the ION Orchard Concierge counter are dressed up as Jedis to serve you… better?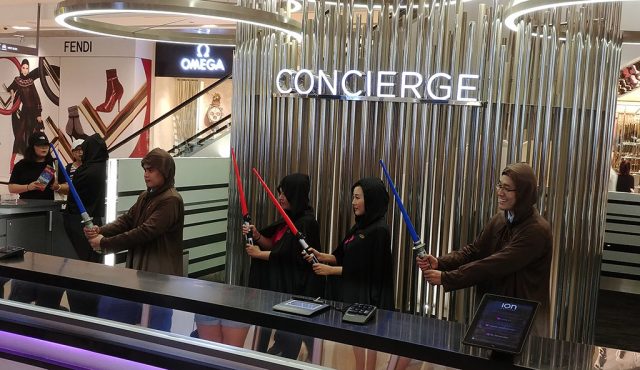 ---

Drop a Facebook comment below!