Based on Thinkgeek's best-seller Solar Orbit Necklace released in 2016, there's a Star Wars version released on Force Friday (1 September 2017). The new Star Wars Galactic Necklace is silver-plated and retails for US$39.99, with imitation rodium variants just like the original.
Every geek Princess General will need one of these. The necklace features 9 celestial bodies of Star Wars: Coruscant, Alderaan, Yavin 4, Tatooine,  Sullust, Dagobah, Hoth, Endor and Bespin.
And that's not all, there's even an X-Wing, TIE Fighter, Death Star, and an asteroid belt!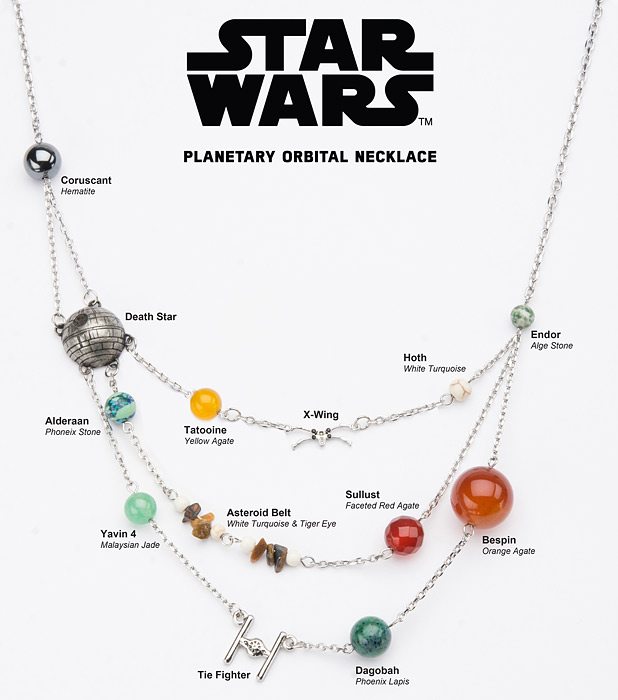 And in case you're wondering about the materials for each of the elements, here they are:
Death Star, X-Wing, TIE Fighter and chain: Silver-plated 316L surgical stainless steel
Coruscant: Hematite
Alderaan: Phoenix Stone
Yavin 4: Malaysia Jade
Tatooine: Yellow Agate
Asteroid Belt: White Turquoise & Tiger Eye
Sullust: Faceted Red Agate
Dagobah: Phoenix Lapis
Hoth: White Turquoise
Endor: Alge Stone
Bespin: Orange Agate (16mm diameter)
Each necklace comes in a collectible/gift-worthy box, and the chain measures in at 17″ long, with 3″ extender for a total of 20″ long.
Get it on Thinkgeek.com at US$39.99 while stocks last!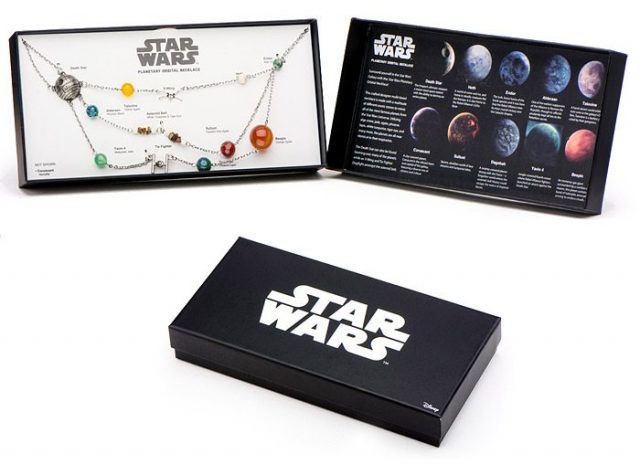 ---

Drop a Facebook comment below!