Being able to wield a lightsaber in one hand and battle the forces of evil in a first person experience is something that has eluded Star Wars fans for a long time. Many have come before it, but now, Lenovo has been able to successfully recreate a true 1:1 Lightsaber experience devoid of any joysticks, wires, motion controls, or controllers. What you have in your hand would be an actual Lightsaber to help you battle the Dark side of the Force.
The technology itself is not entirely new, but the application of it could very well be the best I've seen for anyone to easily become a Jedi.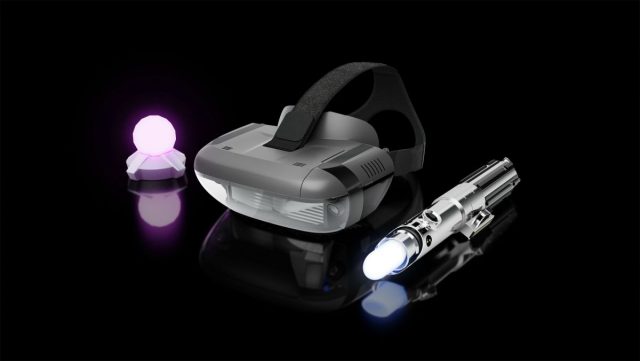 Combining a Lenovo Mirage AR headset together with a Lightsaber and tracking beacon, this setup looks like something out of PlayStation's VR playbook. And if the technology works, it would be a highly accurate device to defend yourself against the Sith.
From the trailers, you'd be able to battle against Darth Vader, Darth Maul and emo Kylo Ren with three more unannounced opponents. But straight up battling could becoming boring eventually, thus the addition of a Star Wars real time strategy game which looks very much like a simple Empire at War and Dejarik, the holochess game Chewbacca plays in A New Hope.
With no Wookies in the way, this game of Dejarik would be a safe environment to hone your skills as the game was developed with consultation from Lucasfilm to ensure the rules of the board game were indeed accurate.
We've had a chance to take a look at the hardware on display and, visually, it looks pretty robust. Hopefully, the lightsaber has a good amount of heft so that it does feel like the real deal in your hand.
The biggest question that remains would be getting hold of one and how much it would actually cost in your home country. Based on the press release, the entire set is now available for pre-order in the US for US$199 (S$379 in Singapore) and will be released in November.
Hopefully, there will be plenty of support given to the product after the initial fanfare has died down. All things aside, Lenovo's Star Wars: Jedi Challenges will only serve to remind consumers about the power of novelty and how Star Wars remains a force to be reckoned with.
Gerald currently straddles between his love of video games and board gaming. There's nothing that interests him more than trying out the newest and fanciest gadget in town as well. He dreams of publishing a board game sometime in the future!
---

Drop a Facebook comment below!