Disney lovers in Asia, your wish has come true as listeners in Singapore, Malaysia, Indonesia, Philippines, Thailand, Vietnam, Taiwan, and Hong Kong will be able to enjoy their favourite Disney hits on the dedicated Disney Hub on Spotify,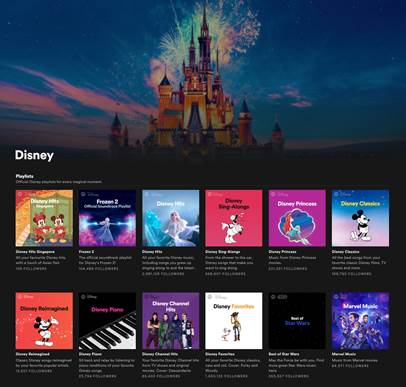 The Hub will include a number of different playlists to suit the listeners wants, which will each come with many beloved soundtracks such as Frozen's Let It Go and Aladdin's A Whole New World, and podcasts. This includes:
Disney Hits Singapore: All the favourite Disney hits including versions sung by Asian artist such as 'Into The Unknown' from Frozen 2, sung by Kpop artiste Tae Yeon.
Disney Hits: Get to hear the top songs from the biggest Disney and Pixar films globally.
Disney Favorites: Much like Disney Hits, Disney Favorites will have everyone's favourite current tunes, plus the ones you loved when you were a child.
Disney Classics: Kick back with Disney Classics, a nostalgic playlist that includes songs from the Disney Parks, live-action and animated classic soundtracks, and songs from Disney Channel originals.
Disney Sing-Alongs: From the shower to the car, here's a collection of Disney songs that you can't help but sing along to.
Disney Princess: From Snow White to Moana, Disney Princess has the love ballads as well as the coming-of-age breakaways.
Marvel Music: All the best songs and scores from all your favourite Marvel films and shows, including Alan Silvestri's "Portals" in Avengers: Endgame.
Best of Star Wars: Includes all of John Williams' classics, from "The Imperial March" to "Rey's Theme".
To access the Disney Hub, all listeners have to do is search for "Disney" on Spotify. Spotify promises the Disney Hub will be continuously updated with new content so do keep your ears peeled for more information.