It's the skirmish of the soft serve sensations, the dispute of desserts, the clash of (ice) creams.
In the last week, three brands have introduced iconic, and in one instance, much beloved soft serve flavours in Singapore, leading us at Geek Culture to wonder, which one will melt your heart, and which one will simply melt away?
In the only soft serve showdown that really matters, here are the contestants: TP Tea's Pearl Milk Tea Soft Serve Ice Cream, McDonald's Durian McFlurry, and 7-Eleven's Chendol Mr Softee.
With our taste buds all geared up and space saved in our tummies for dessert, we went ahead to give these sweet treats a try. Each had their own strengths and faults, and here's the scoop on our verdict.
---
TP Tea Pearl Milk Tea Soft Serve Ice Cream
We heard about this a while back in Taiwan, and tried it during the grand opening of renowned Taiwanese bubble tea brand TP Tea in Singapore. Like the classic beverage, the Pearl Milk Tea Soft Serve Ice Cream comes topped with a generous helping of mini tapioca pearls, alongside a well-balanced burst of flavour.
Despite boasting the same base ingredients as its bubble tea drink counterpart, the overall taste of the soft serve is slightly different – smoother and silkier on the tongue, and layered with a subtle yet distinct whiff of its milk tea aroma. It's also adjusted to the right amount of sweetness, making it the ideal choice for those with a lighter palate.
Meanwhile, the soft, clump-free pearls are chewy but not overly starchy or firm, and makes for an excellent ice cream topping.
The balanced flavour is key as the ice cream's texture is thick and creamy, closer to a gelato than your average soft serve. While this richness meant we needed a sip of water (or bubble tea?) to wash it down every now and again, it was incredibly moreish and the hearty serving was finished in no time.
For S$3.60, the TP Tea Pearl Milk Tea Soft Serve Ice Cream sure is a worthy, delightful dessert, one you can get 24/7 at TP Tea's outlet at the departure hall of Changi Airport Terminal 2. Yes, there's only one outlet, for now.
---
Durian McFlurry

What's one way to appeal to the Singaporean palate? Add a touch of durian into all things food. Soft-launched on July 3, 2018, the Durian McFlurry is touted to contain a purée of the D24 durian's real, creamy flesh, and it actually does. Drizzled with bright yellow syrup and durian bits, it does a good job at masking the notorious pungent smell emitted by the King of Fruits – though it's still present, of course – but unfortunately, it comes with an overly-sweet taste.
The first few bites yielded an overall balanced flavour, where the durian tang melds well with the texture of the vanilla ice cream, but give it some time, and the taste becomes cloying. The scattered bits of stringy durian flesh do reflect some truth in McDonalds' claims, although there definitely seems to be some additional, artificial flavouring as well.
Factor in how the durian purée isn't evenly swirled in with the ice cream, and we're left with some mouthfuls of faint flavour, while others have an intense hit of clumpy durian and sweetness that's simply way too overpowering.
The Durian McFlurry is a respectable attempt at creating a durian-flavoured dessert, but the S$4 price tag is definitely not worth it. With that money, aim for the actual fruit itself please. The only bright side? It's easily attainable at any McDonald's outlet islandwide. Throw in reduced sweetness and some accompanying toppings, and maybe it'll be around to stay for a longer time.
---
7-Eleven Chendol Mr Softee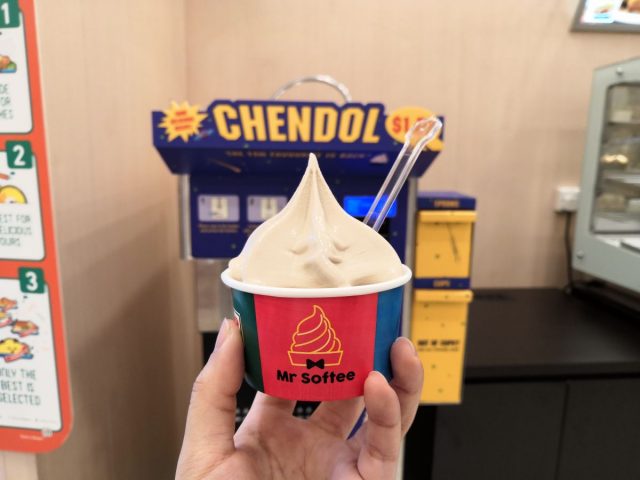 7-Eleven made waves with the return of fan-favourite Chendol Mr Softee ice cream, although it appeared mysteriously smaller than folks remember from their childhood. Instead of a heap of stunning swirls, the chendol soft serve is automatically dispensed from the machine , shaped looking like a cream-coloured poop emoji.
The machine bears quite the adorable design, looking like an old-school arcade machine with the words "Mr Softee Invaders" and playing cheery 8-bit music as it pumps our your ice cream. If only the helping was as big as the pictures on the machine.
But on to the ice cream itself – it's smooth, creamy, and delicious. The classic chendol aromas of coconut milk and gula melaka (palm sugar) come through clearly, without being too powerful. It is sweet but not overly so, and has an all-around pleasing flavour that even kids not too big on chendol would likely enjoy.
Unfortunately, I didn't grow up with Mr Softee as it was pulled from stores even before I entered primary school. I can't attest to whether it tastes anything like the original, but it definitely resonated with other keen customers in the lone 7-Eleven outlet, who sought out the ice cream just like me.
"My 10-year-old self is crying," the woman before me exclaimed, as she excitedly took pictures of her cup and tucked into her ice cream with glee.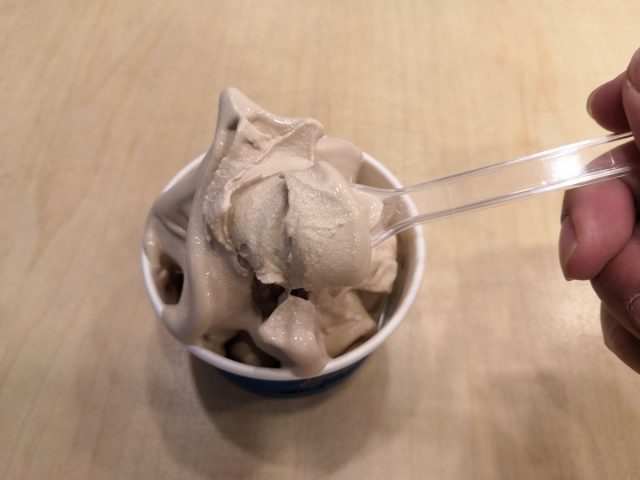 A couple of heaped spoonfuls later, my own cup was emptied out, leaving me wanting more. I had half a mind to get another cup right on the spot, especially considering how cheap it was. At the price of S$1.50, which is the same price as the original back in the day, it is a small, humble pick-me-up that's worth every cent. And for those with fond memories of getting Chendol Mr Softee after school, it has the added bonus of that sweet hit of nostalgia.
7-Eleven's Chendol Mr Softee machines can currently be found at 10 outlets across Singapore, with plans to add the sweet treat to more branches in the coming months.
---
Verdict
Which out of the three will take the trophy as the greatest soft serve? They've thrown their punches, fought hard in the ring, and we reckon the best soft serve goes to – drumroll please….
TP Tea's Pearl Milk Tea Soft Serve Ice Cream!
The combination of well-balanced milk tea flavour, creamy texture and soft, chewy pearls leave TP Tea with a winner on their hands.
Runner-up goes to 7-Eleven's Chendol Mr Softee, which holds a special place in the hearts of many and delights with its smooth, silky consistency and value-for-money price.
Alas, the last place goes to McDonald's Durian McFlurry – a disappointing durian affair. While it lives up to its claims of containing real durian, it's still obviously loaded with flavourings that result in an overwhelmingly sweet and artificial taste. On top of that, it's the most expensive out of the three, and simply not worth the money and calories.
Who else is brave enough to step up to the soft serve showdown? For now, the Pearl Milk Tea soft serve reigns supreme.
---

Drop a Facebook comment below!