After a long and tiring day of primary school, there were times when there was nothing better than to head to a nearby 7-Eleven, to get a S$1.50 cup of that creamy, soft-serve goodness that was Mr Softee ice cream. A favourite of kids of the 80s and early 90s, the dessert sadly disappeared from stores in the late 2000s.
It made a small return when the vanilla flavoured Mr Softee showed up again in two outlets in January 2018.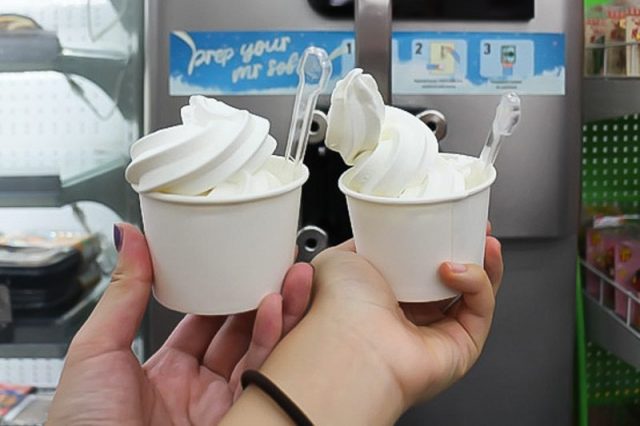 But forget vanilla, what Singaporeans really missed was that sweet, sweet chendol flavour. And guess what? It's back!
Twitter user Xavier Lur posted pictures of a Chendol-flavoured Mr Softee machine on July 1, having spotted it at a 7-Eleven outlet near the ibis hotel at Bencoolen.
Chendol-flavoured Mr. Softee soft serve is back!! Available at selected 7-Eleven outlets. Bought this near ibis hotel at Bencoolen pic.twitter.com/9TRwcF9wJt

— Xavier Lur (@xavierlur) July 1, 2018
It looks like the machine's been changed to one that automatically dispenses the serving of ice cream, and as a result, it looks somewhat… smaller.
Unlike the satisfying helpings of Mr Softee in times past, the new Chendol Mr Softee is downright teeny. It still goes at the same price of S$1.50, but you can't help but feel a little cheated when comparing it with the Mr Softee of your childhood, or even the vanilla soft-serve revived earlier this year.
At least it's back, and that's better than nothing.  There's no word from 7-Eleven yet on which other outlets may be serving up Chendol Mr Softee, so do keep a lookout for this nostalgic treat.
[UPDATE (As of 5/7/18): Apart from the 7-Eleven branch at Bencoolen, Chendol Mr Softee machines can also be found at 9 other outlets.]
Here is the full list of availability:
Blk.446 Pasir Ris Drive 6 #01-112 Singapore, 510446
Blk.423 Choa Chu Kang Avenue 4 #01-260 Singapore, 680423
Blk.445 Fajar Road #01-556 Singapore, 670445
Blk.689B Choa Chu Kang Drive #01-306 Singapore, 682689
No.271 Bukit Timah Road #01-03 Balmoral Plaza Singapore, 259708
No.11 Orchard Road B1-18 to 22 Dhoby Ghaut MRT Station Singapore, 238826
No.144 Arab Street #01-01 Singapore, 199829
Blk.185 Pasir Ris Street 11 #01-60 Singapore, 510185
No.170 Bencoolen Street #01-03 Ibis Hotel Singapore, 189657
766 North Bridge Road Singapore, 198734
7-Eleven will reportedly be adding more machines progressively to 37 stores by September 2018, but they will all only be available for an unstipulated limited time period.
In other soft-serve news, McDonald's Singapore will be introducing a new McFlurry flavour soon: Durian! The McFlurry of this controversial fruit previously made a well-received appearance in Malaysia in August 2017 and McDonald's has decided to bring it to Singapore as well.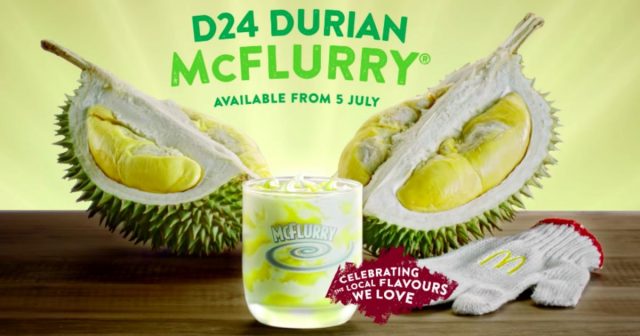 The ice cream is said to be made from real D24 durians, one of the most popular breeds of durian known for its creaminess and slightly bitter aftertaste. Many are sceptical as to whether McDonald's will really be using real durian instead of flavourings, so try them out to see for yourself when they go on sale on 5 July, 2018.