Nintendo's semi-regular online presentation event, Nintendo Direct, took place last week, and Yoshiaki Koizumi, Deputy General Manager for Nintendo, who also serves as the event's announcer, revealed several tantalising new games and updates lined up for the Nintendo Switch in 2019 and beyond.
Some of these titles and updates are already available on the Nintendo Switch eShop, while others are slated for launch later in the year. Regardless, it's a list that will keep you busy throughout 2019.
---
The Legend of Zelda: Link's Awakening (TBA Fall)
1993's The Legend of Zelda: Link's Awakening was perhaps one of the most iconic games to have come out of the 90's. Over 25 years later, you can now experience it in a full remaster later this year. Link's Awakening hearkens to a very classic age of gaming, where it's just you and your skills and knowledge of the system versus the system itself, updated with all-new models, music, animations, and so much more. It'll feel like making a new friend yet meeting an old one at the same time.
Not much has been said yet about what else we'll see in the remaster of Link's Awakening, but expect no frills, just thrills with this classic remaster, coming sometime later this year, most likely in the fall.
---
Super Mario Maker 2 (June)
The sequel to the super-popular platformer/builder hybrid Super Mario Builder finally debuts on the Switch this year. Previously on the 3DS and Wii U, the game allows you to play your standard-fare Super Mario platforming goodness but allows you to custom make your own levels, based on classic Mario titles such as Super Mario Bros., Super Mario World and more.
Apart from new tools, level components and such, what sets Super Mario Maker 2 apart from its predecessor is the ability to create slopes. Yes, the slopes that allow you to slide down like a badass and demolish anything standing in your way.
---
Fire Emblem: Three Houses (July 26)
This is one title many fans have been looking forward to. Longtime popular strategy JRPG series Fire Emblem is back this year with its new entry in Three Houses. What separates this title from its predecessors is that you'll be taking on the role of an instructor at an elite combat facility called the Officer's Academy.
In it, you'll be training students of all personalities and backgrounds, hailing from three distinct Houses, and you'll be going to battle with one of the three Houses, meaning you'll be juggling relationships with students, as well as their individual and group progress, gaining synergy skills the more time you spend with them. Despite getting delayed from its initial projected release Fire Emblem: Three Heroes is sure to be one of the most heavily-anticipated titles of this list, and this new concept alone is enough to keep our eyes peeled for when it releases later this summer.
---
Deltarune: Chapter 1 (February 28)
Toby Fox, creator of the critically-acclaimed 8-bit indie hit Undertale, is back with a new title in the form of Deltarune. We're not exactly sure what will the game consist of, but we know for sure that we'll be seeing a lot of this cute dog throughout the new title. Also, Deltarune will be released in dribs and drabs, with Chapter 1 being made free on February 28, and the subsequent chapters being put up for sale once they release.
Also, the YouTube comments on this trailer heavily feature fans clamouring for fan-favourite skeleton Sans from Undertale to be a playable character in Super Smash Bros. Ultimate. Perhaps…
---
Super Smash Bros. Ultimate Updates (from April onwards)
Everyone's favourite brawler Super Smash Bros. Ultimate has a bunch of shiny new updates lined up for later this year. The first of which includes one of its first-ever DLC characters, in the form of Joker from the critically-acclaimed Persona 5.
Like many of the characters present in SSBU's ginormous roster, Joker and the Persona IP aren't Nintendo-exclusive, and considering the popularity of the character and the game is a testament to the pulling power of this fantastic series. However, you'd have to wait till sometime in April to be able to play as Joker, as well as the other named DLC character, Super Mario's Piranha Plant. Each DLC character will come separately, complete with their own themed music and stage.
Additionally, a couple of new Amiibos have been announced, such as Snake from Metal Gear, Castlevania's Simon Belmont, as well as Pokemon Trainer, Ivysaur and Squirtle from Pokemon.
---
Astral Chain (August 30)
Astral Chain is a brand-new IP set to launch exclusively on the Switch this August, developed by Platinum Games. Helming the project is Takahisa Taura, who is known for his work in NieR: Automata. Acting as supervisor is Bayonetta series creator Hideki Kamiya. This cyberpunk action game pits you as a member of a police special forces unit, with a unique companion known as the Legion living weapon system to aid you in combat. Based on who's in charge of making Astral Chain, expect some high-octane, over-the-top action in this thrilling new game.
---
Marvel Ultimate Alliance 3: The Black Order (TBA Summer)
The ever-popular Marvel action-RPG is back, this time only exclusively on the Switch. Marvel Ultimate Alliance 3: The Black Order features your favourite heroes from all across the Marvel Universe, including the Avengers, Guardians of the Galaxy, Defenders, X-Men, Inhumans and more. The storyline revolves around the Ultimate Alliance battling it out against Thanos and The Black Order, a group of supervillains exclusive to this story, for the fate of the universe.
In anticipation of the upcoming Captain Marvel movie, the announcement trailer featured the titular Captain Marvel rather heavily, which will excite some new fans coming into the Marvel Ultimate Alliance series.
Dragon Quest XI S: Echoes of an Elusive Age – Definitive Edition (TBA Fall)
One of the most popular JRPGs of 2018 gets a definitive upgrade this year, in the form of Dragon Quest XI S: Echoes of an Exclusive Age – Definitive Edition. Previously, was this game was available only on the 3DS, PS4 and PC, so it is a huge boon for Switch fans to be able to play this modern classic.
In addition to the already stellar game, there'll be a couple of interesting new options, such as the ability to speed up combat to allow you to experience the story more, character-specific quests that help flesh out the already colourful companions accompanying the Luminary (you), enhanced field and battle music (with the option to switch between the original soundtrack), the option to change the in-game spoken language between Japanese and English, as well as the super-cool ability to experience the game in the classic 16-bit glory of yore!
Oh, and did we mention that DQXIS is a Switch-exclusive?
---
Dragon Quest Builders 2 (July 12)
And if the above title wasn't enough for you, Square Enix has got your DQ fix covered with Dragon Quest Builders 2 is another such entry that will jostle for space on your Switch console. For the uninitiated, this is actually a Minecraft-esque action RPG instead of a traditional JRPG, where you go around building camps out of materials you harvest or mine across the world map, usually with the help of builders you enlist or other players that you join up with locally or online, hunt monsters for food to stock up and eat, and so on.
New features include the ability to dash (effectively cutting your time building things by half), fly, go underwater, play in first-person, as well as fast-travel across the retro-inspired world map. Players who own the first Dragon Quest Builders get to craft the exclusive Legendary Builder's Outfit, and build the Dragon Lord's Throne.
---
Bloodstained: Ritual of the Night (TBA Summer)
Dubbed a spiritual successor to the genre-defining side-scrolling platformer series Castlevania, Bloodstained: Ritual of the Night is shaping up to be a worthy successor to the Metroidvania genre of games, with 2.5D platforming, a crafting system, aesthetic customisations and more. Originally a Kickstarter project in 2015, Bloodstained: Ritual of the Night has seen many developmental bumps and hurdles, such as cancelled versions of the game on the PlayStation Vita and Wii U, but looks set to impress upon launch sometime in summer this year.
---
Hellblade: Senua's Sacrifice (TBA Spring)
The 2017 award-winning action game Hellblade: Senua's Sacrifice will finally make its way to the Switch this spring. Ninja Theory's atmospheric storytelling takes new heights in depicting mental illness via the journey of Celtic warrior Senua as she travels across Viking Hell in attempts to save the soul of her dead lover.
Previously only exclusive to PS4, it made its way to PC shortly afterwards, and Xbox One just last year, finally removing the "exclusive" tag by making it available to players on the Switch. It's a six-to-eight-hour thriller that will certainly have you on the edge of your seat, be it at home or on the go. We played it, we loved it, and we most certainly suggest you get a copy of this one once it launches on your Switch if you haven't already.
---
Oninaki (TBA Summer)
February's Nintendo Direct is not without a slew of awesome-looking JRPGs, and Oninaki, another new IP, is among them. Actually, this one looks more like an action-RPG in the vein of Diablo and Marvel Ultimate Alliance 3, but the world it is set in is pretty unique. You'll be playing as a Watcher named Kagachi, who possesses the unique ability to move freely between the Living World and the Beyond, the realm of the dead.
As with most ARPGs, you'll be able to take on classes that suit your style of gameplay, but these are presented in the form of spirit manifestations called Daemons, each with their own unique skillset and weapon. What's cool is that you're not locked to just one Daemon upon choosing one; you'll be able to switch between them freely during combat to suit different scenarios.
---
Yoshi's Crafted World (March 29)
Your favourite green dino Yoshi is back with his latest spinoff title Yoshi's Crafted World, set to release this March. As with previous Yoshi titles, you'll be doing some platforming with Yoshi, getting him to eat enemies and other objects, turn them into eggs and shoot them at other enemies, and collect coins and other collectables. What's more is that you'll be able to get Yoshi to do a stomp, that will allow you to flip the camera around to reveal new areas in the 2.5D levels, making for more varied gameplay.
Additionally, the coins you collect can be exchanged for various boxed costumes for Yoshi to wear, such as a carton of milk, or even a Nintendo Labo. A demo of Yoshi's Crafted World is out now on the eShop for you to get a feel of the game.
---
GRID Autosport (TBA Summer)
Racing title GRID Autosport launches on the Switch sometime this summer. Originally a PC, PS3 and Xbox 360 release, the well-received title also got ports for mobile platforms such as iOS on 2017. Now, you can enjoy it alone or local split-screen with a friend, with all-new customisable controls that allow you to drive however way you like. GRID Autosport will also feature online multiplayer, but the maximum number of online opponents you can race with is yet to be announced.
---
BoxBoy! + BoxGirl! (April 26)
The minimalistic puzzle-platformer BoxBoy! is back with a new title, and this time he's bringing his friend BoxGirl! along with him. This means that you can now play this game cooperatively with a friend, allowing for more varied approaches to levels, much akin to the likes of Portal 2 and other cooperative puzzle-platformer games.
---
Dead By Daylight (TBA Fall)
The asymmetrical survival horror game Dead By Daylight is coming to Switch this fall. You can play as either one of four human Survivors, where you'll be teaming up with others, or alone as the Killer, who will go around trying to kill all the Survivors. Aside from the online and ranked multiplayer, procedurally-generated environments, multiple DLCs, customisation options and the skill tree progression system in the original versions of the game, Switch users will also enjoy touch screen support, Pro Controller support, as well as Docked and Handheld mode support. Just note that you'll need a Nintendo Switch Online subscription to be able to play Dead By Daylight.
---
Starlink: Battle For Atlas Update (TBA Spring)
Starlink: Battle For Atlas gets a new mini-expansion with the inclusion of the dreaded Space Wolf team, including his lieutenants. You'll be able to play as Space Fox's allies, including Slippy Toad, Falco Lombardi and Peppy Hare, each of them customisable and has their own skill tree and progression system. In addition to the new Space Wolf missions, there will be starship races and faction missions, which are sure to keep you busy playing Starlink: Battle For Atlas when the spring update arrives.
---
Captain Toad Treasure Tracker Update (March 13)
The other Mario spinoff title gets a new update as well later this year. Captain Toad Treasure Tracker is an isometric platformer that allows you to be the titular Captain Toad, and with this new update, you can now play it cooperatively with a friend in the form of Toadette. Additional new updates include paid DLC, which offer interesting new challenges, among others.
---
Disney Tsum Tsum Festival
Like Disney Tsum Tsum mini plushies? Great, because now you can see them in cutesy action in Disney Tsum Tsum Festival, a variety game typically enjoyed by friends or family locally, or online. In Disney Tsum Tsum Festival, you'll get to participate in various competitive games that feature the Disney Tsum Tsum characters, such as air hockey, a version of Pac-Man, as well as a matching puzzle game.
---
Rune Factory 4 Special + Rune Factory 5 (TBA)
Rune Factory 4 was originally launched in 2012 for the 3DS (2013 internationally), and stands out from its JRPG competitors by combining Harvest Moon-esque elements such as farming, fishing, crafting and even marriage to standard dungeon-crawling and monster-slaying. Now it makes a return to the Switch with Rune Factory 4 Special, and brings along with it everything that made Rune Factory 4 good, with the addition of a "Newlywed Mode" which allows you to delve dungeons with your spouse, a new difficulty mode, as well as enhanced visuals and music.
More good news for Rune Factory fans, as the fifth instalment of the series is currently in development. More details to be announced at a later date.
---
Tetris 99 (February 13)
The classic game of Tetris gets the battle royale treatment with Tetris 99, a free competitive online game that pits you against up to 98 other players in a battle of attrition. Everyone plays the same game of Tetris, but as the classic game goes, it gets progressively harder, ensuring that the player count will taper off eventually, until the last man standing. As a battle royale should be, you can sabotage your opponents by throwing garbage cans their way. But beware — the same can happen to you as well!
As of now, Tetris 99 is available for download on the eShop.
---
Daemon X Machina
Another new IP set to launch this year, Daemon X Machina is a mecha action game through and through. You'll be piloting one of the fully-customisable mechs called Arsenals, battling against enemy Arsenals and worse, acquiring new parts from said destroyed Arsenals, and outfitting your own with them, changing up your playstyle as you go.
A demo for the game is out now on the eShop, dubbed "Prototype Missions", which allows you to play through four of the early missions in the game. Select players will also be sent emails by the team to send feedback, although you can do so directly on their Twitter. Considering how this game is directed by Armored Core veteran Kenichiro Tsukada, expect a balls-to-the-walls mech game in Daemon X Machina coming this summer.
---
Final Fantasy (Various)
Final Fantasy fans, this is for you. Nintendo Direct announced not one, but three updates for the Switch. First and foremost, Final Fantasy IX finally gets a Switch port, and is available now. A fantastic addition to the already enormous roster of JRPGs available for the switch, and an essential one at that. You'd be doing yourself a huge favour by getting FFIX on the Switch if you have never played it before.
Chocobo's Mystery Dungeon EVERY BUDDY! (yes, that's the actual title of the game) is a Chocobo-fuelled spinoff that allows you to play as one of the iconic mascots of Final Fantasy, the loveable Chocobo. Previous Mystery Dungeon titles mainly were Pokemon-flavoured, so this one will definitely be a refreshing take on that series of spinoff games. You'll be doing dungeon crawls with this critter, who can take on various jobs, much like the main characters of the Final Fantasy titles of old, but instead of slaying monsters, you can sometimes befriend them and add them to your party. Win-win for every buddy (heh). Chocobo's Mystery Dungeon EVERY BUDDY! launches March 20.
Finally, the genre-defining Final Fantasy VII will get a Switch port just six days later, on March 26. This game has been talked about many times over, so we're just going to put this out there for your consideration.
Other updates
---
Nintendo Direct February 2019 details a solid lineup of titles to release on the Switch this year. Of course, this is by no means a final lineup of what games we'll come to expect on the Switch as there will be more Nintendo Directs in the coming months, but it is a comprehensive one nonetheless.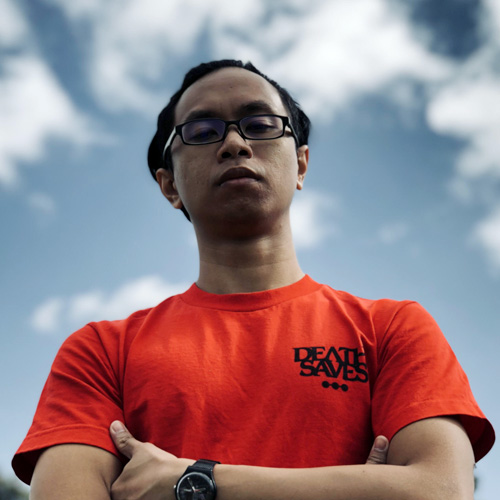 Marion has a serious RPG addiction. Sometimes it bleeds into real life; he forgets to sleep because he thinks he has a Witcher's body clock. Forgive him in advance if he suddenly blurts out terms such as "Mind Flayer" and "Magic Missile", because never once does he stop thinking about his next Dungeons & Dragons game.