Another year and it's Star Wars season all over again. With Force Friday just passed, we are just starting to shift into hyperdrive and get inundated with plenty of Star Wars merchandise and tie-ups, leading up to the release of The Last Jedi on December 13.
In case you missed out our lists from the past two years since Disney's takeover, here you go:
2015 | 2016
We'll be updating this list as we come across new additions over the next couple of months. You have been warned, some of them can be quite damaging to your geeky wallets.
---
Kettlebells by Onnit
You will never find a more wretched group of scum and villainy in any gym. Kettlebells by Onnit has whipped up custom sculpted chip-resistent iron bells of Darth Vader (70LBS), Stormtrooper (60LBS) and Boba Fett (50LBS). Prices start at US$149.95 and pre-orders are already available via the official site.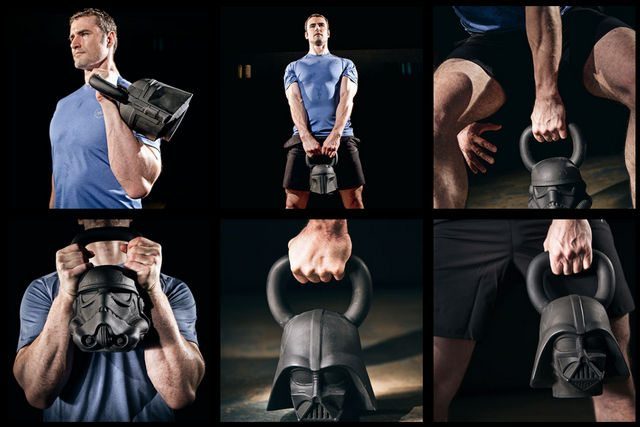 ---
Philips Electric Shavers
Last year for Rogue One: A Star Wars Story, we've had razors from Gillette. Looks like this year, shaving duties have been handed over to Philips. The Philips Norelco R2-D2 and Stormtrooper Electric Shavers are going at US$49.99 on Amazon each. If you're serious about your shaving, there is the Dark Side Wet & Dry Shaver at US$259.99 on Amazon, and the Poe Dameron Wet & Dry Shaver at US$129.99 on Amazon. As a nice bonus, they all qualify for FREE SHIPPING to Singapore.
---
Samsung POWERbot
Yup, the robot vacuum cleaners have arrived to clean our empire.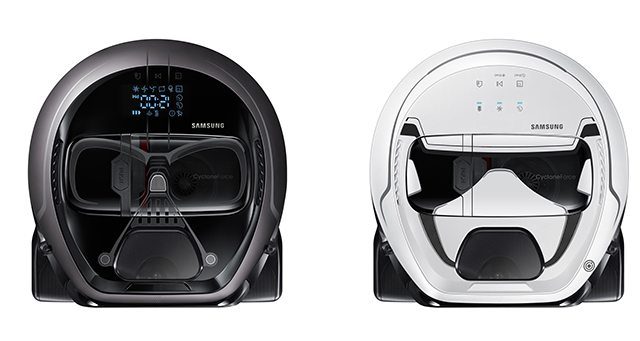 ---
Lenovo Yoga 920 Notebooks
In 2015, HP did the Star Wars tie-up with The Force Awakens. Looks like this year, it's Lenovo's turn with their latest high-end Yoga 920 convertible notebook. Fans will get to choose from two designs, the Galactic Empire or Rebel Alliance. To make it all the most sweet, the designs are printed directly on the glass substrate to ensure they are long lasting.
Spec-wise, these laptops will come with a 13.9 inch 4K IPS touchscreen, the latest Intel Core i processors, Dolby Atmos sound, and measuring in at a mere 13.9mm thick.
---
Toshiba Star Wars TV
Announced at the IFA 2017, it seems Toshiba is also getting in on the Star Wars hype with a 24-inch HD Ready TV. Looking at the X-Wing and Star Wars logo placements along the bezel, it sure looks to be something targeted at the kids. There's even a "May the Force be with you" lettering on the stand. And to complete the whole experience, the TV displays a Star Wars logo when turned on, and a First Order Stormtooper when turned off, accompanied by the sound of a lightsaber powering off.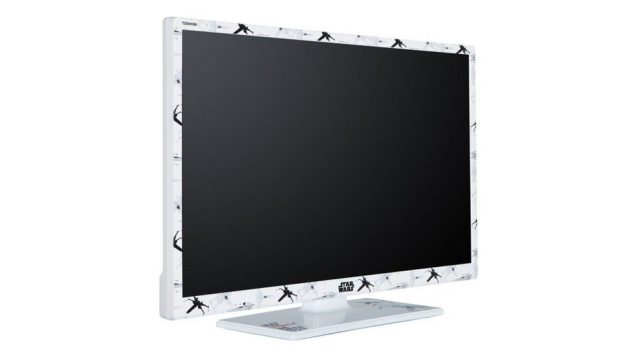 ---
Bounty Paper Towels
Paper towels for your kitchen, perfect for Bounty Hunters.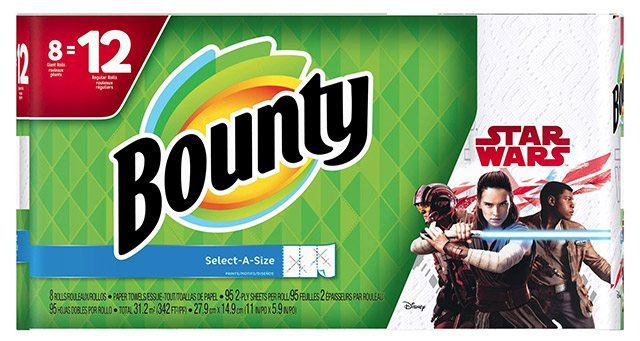 ---
Snacks, snacks, and more snacks!
These Popchips Galaxy Puffs are quite the decent effort. The actual chips are shaped with the likes of the Millennium Falcon, TIE Fighter, Stormtrooper (should have been the First Order version no?), and BB-8.
---
Fidget Spinners
It just HAD to happen, and the Boba Fett iteration even features "long fast spin"!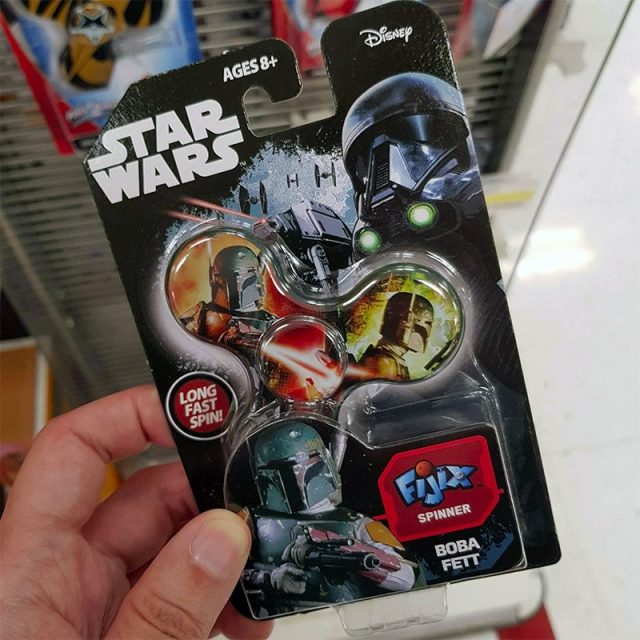 ---
Royal Mail Stamps
These are the droids, aliens and creatures you are looking for. In conjunction with the release of The Last Jedi, Royal Mail is releasing 8 new Star Wars stamps, limited-edition collectibles and gifts. Beautifully illustrated by UK digital artist, Malcolm Tween, some of the stamps feature secret details, revealed only by UV light! Check out the collection here.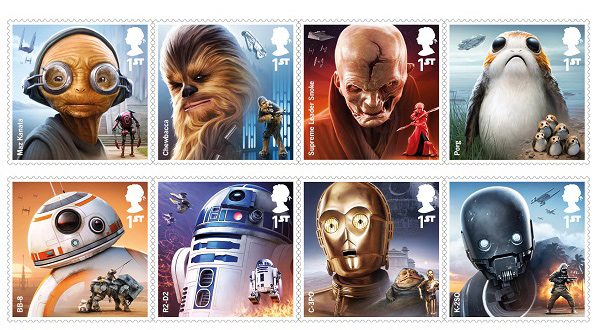 ---
Swarovski BB-8
Everyone's new favourite droid has been expertly crafted in crystal with 226 sparkling facets and detailed prints, and costs a cool US$129.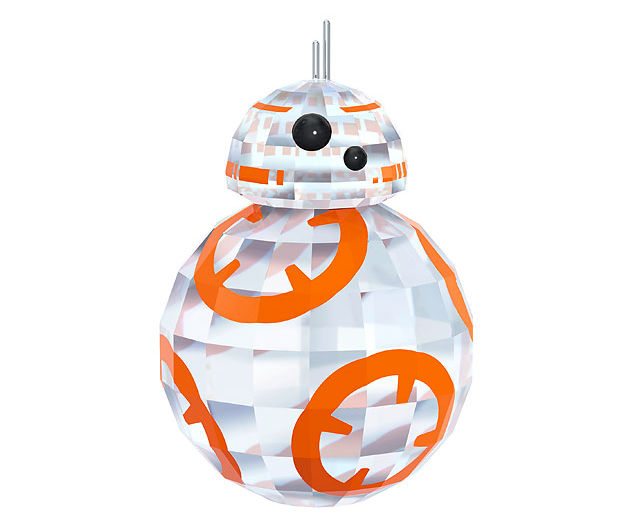 ---
Welch's Sparkling Grape Juice
100% red grape juice never tasted better, when infused with some First Order goodness!
---
More to come as we spot them!
---

Drop a Facebook comment below!