Darren Tan, a local artist who has a penchant in creating official Star Wars products, has a solo art exhibition at Ink Ink, an art gallery at Bras Basah Complex. The art exhibition opens on 5th January and runs until 19th January. The art gallery is open to the public, and is free to enter.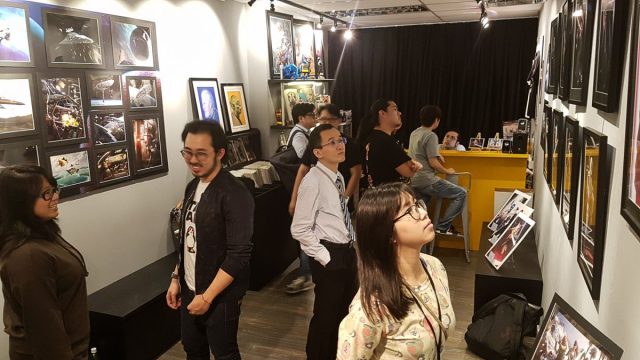 The art exhibition features many of Darren's official Star Wars art from the Destiny, X-wing and Armada tabletop games. Even Darth Vader would be impressed, as these artworks, normally found printed on small game cards, are now available for viewing as high-resolution art prints framed for your viewing pleasure. One of the highlights of the exhibition are the character portraits Darren created for the Star Wars dice/card game, Star Wars Destiny. Unfortunately, these gorgeous art prints were for viewing purposes only and not for sale.

Also on display is the exclusive The Last Jedi art print Darren created especially for this art exhibition. Legend says that Darren watched The Last Jedi movie three times before he started working on this art piece. Unfortunately, he fell ill while creating this piece of art. Like Luke Skywalker astro-projecting his illusion onto the planet Crait, Darren mustered all his strength to finish this art piece just in time for it to be printed for the exhibition. The art print is available as an art print printed on an A2 sized giclée art paper, and is purchasable at the gallery itself, or through Ink Ink's etsy store.

Lucky visitors who visited the opening night of the art exhibition were presented with  game character card as souvenirs. These cards has two designs, and the cards form a nice portrait of Rey and Kylo Ren when combined together. Thought it looks like a way huge Lightsaber Rey is holding there.
The art exhibition also showcases art prints of even more Star Wars fan art which Darren creates in his spare time. On display was art featuring Iden Versio and her Inferno Squadron from Star Wars Battlefront 2. The print was presented to Janina Gavankar, the actual voice actress/character model for Iden Versio. From the reaction video of her receiving the print, it was obvious she really loved the artwork.
Making full use all all the additional fan art enables the Star Wars game community to enjoy a vibrant tournament scene. In major tournaments for Star Wars Destiny and X-Wing Miniatures Game, dice trays, game mats and alternate art cards with Darren's art printed on it were awarded as prizes to the winners of the tournament. As very few of these are made, it is a good opportunity to see these items being displayed.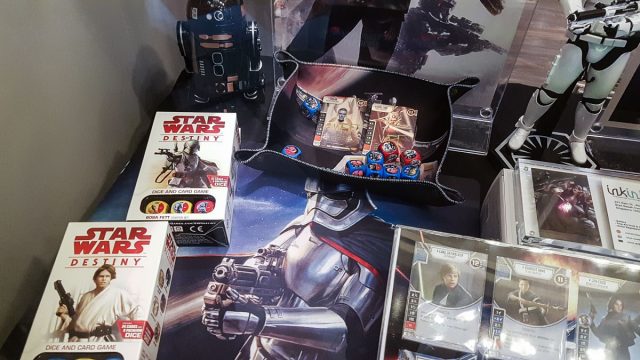 All in all, it was an enjoyable evening for me to view mind-blowing Star Wars art pieces, and to discuss Star Wars lore with fellow Star Wars fans there. Be sure to drop by Darren Tan's Star Wars art exhibition before it ends on 19th Jan 2018.
SnapSniper is an avid geek who is both a huge fan of games and an even bigger Star Wars fan.