Apple does creativity best. It's a claim which is rather bold to state, but Apple truly deserves the crown, and it's for this reason that the iPad mini was selected as the device of choice for my 14-year-old daughter.
Before accusations of being an Apple fanboy are thrown, do note that my household is a PC one, and both my wife and I are Android advocates (Google Pixel 3 and Samsung Galaxy for us) more than anything.
But the search for the best tools to help my daughter, who wishes to pursue visual art as a career, has led me to the streets of Cupertino.
So locked into the PC and Android ecosystem were we that as we explored dozens of options, including drawing tablets, PC slates and the short list of Android tablets, we subconsciously avoided Apple. Looking back, the amount of regret is palpable as it could have saved a lot more time and effort if Apple was the pick right from the start.
Sure, buying into the Apple ecosystem is by no way affordable compared to the other alternatives out there but it is the least painful. It's this same ecosystem which has done well to nurture apps such as Procreate which my daughter took like a fish to water after a few YouTube tutorials.
Having started off with a Wacom tablet and PC combo, the comparison to the iPad Mini is stark. First of all would be the learning curve when it came to learning Wacom's software. It's good but not as robust as Procreate. Next, the nature of a drawing tablet is having to be tethered down to one spot. You would need to have both PC and drawing tablet on hand for it all to work. When it comes to the iPad mini, all one needs is the tablet and Apple Pencil. Lastly, the gestures afforded by a multitouch device with the iPad mini just makes for greater productivity with shortcuts. 
In comparison to other creative tools out there, the entire creative workflow afforded by Apple and all the available tools is far easier and faster. Apps such as Adobe Rush, Photoshop Fix, to the iOS-exclusive Procreate, all work better with the Apple Pencil in tow. With the software nailed down well on the platform, Apple completes the other half of the equation by delivering superior hardware to complete the equation.
The first obstacle was which iPad to choose. Creatively, the latest iPad Pro made the most sense, but size and cost wise, it is rather impractical for a teenager. The integration with Apple Pencil is a must of course, so the preferred pick is iPad mini 2019, which is armed with Apple's latest A12 Bionic chip, and like all new devices, the performance has been buttery smooth.
And it's this same performance you'd want to tap on when it comes to running a whole suite of productivity tools. From the moment the first pencil stroke is drawn across the 7.9-inch screen, you know all 326 pixels per inch are being put to good use at 2048×1536 resolution. The level of precision is immediately noticeable.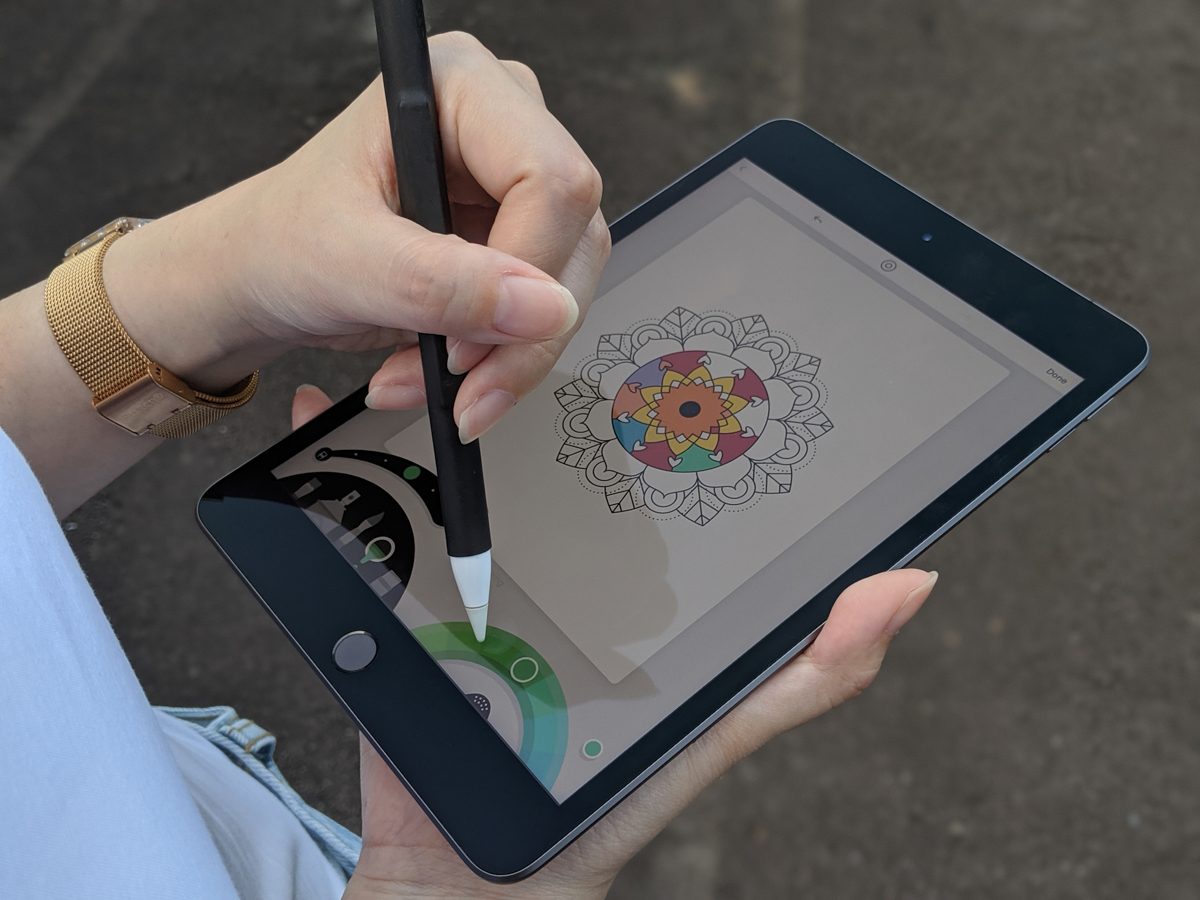 Having used Procreate on an older iPad 9.7, the noticeable draw is how much more sensitive the iPad mini's screen is. Thinner and more refined lines can be easily achieved with literally minimal effort, even though both devices use the same first-generation Apple Pencil. While the Apple Pencil is pressure-sensitive, having a greater degree of sensitivity with the 2019's iPad mini opens up even more options compared to its affordable alternative.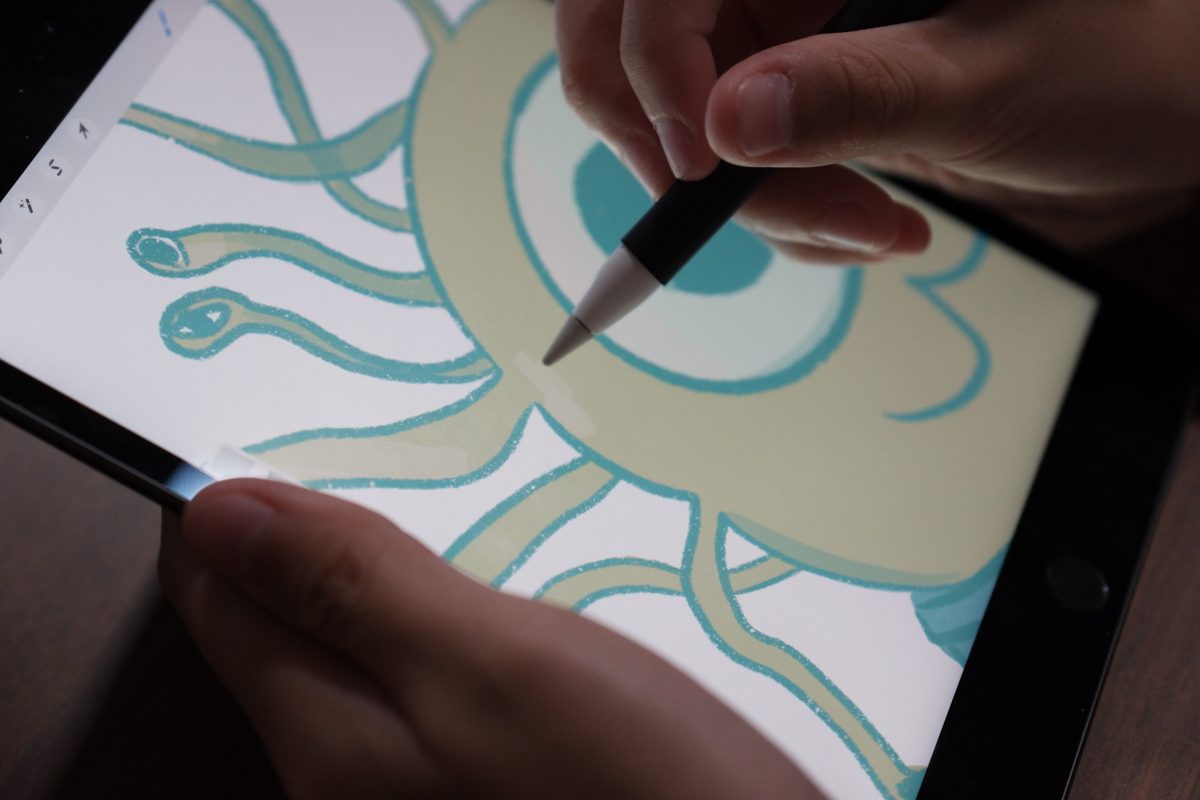 It all comes down to price and how much size matters to the end-user. With so many iPad models available, the iPad mini does not lose out because of its size. In fact, its dimensions make it one of the best tools to bring around across productivity, entertainment, and creativity.
When it comes to carrying around the iPad mini for random sketches while on the go, the size really works into the tablet's favour. While the larger iPad's are not that much bigger, if you're mobile for the post part of the day, that weight will slowly become apparent.
In fact, once getting the iPad mini, the existing iPad 9.7-inch model has been left pretty much at home to be used only at long stretches of time. The only issue right now is the inability for Procreate to have cloud saves. While the iPad mini is more portable, the size limitations makes it hard to make the most of multitasking. While drawing might be more precise, having a larger canvas is a more ergonomic experience.
It really goes down to getting used to the screen size while pinching in and out even more on iPad mini. Software-wise, she is also looking forward to the upcoming Adobe Fresco software that also sims to give artists more tools and freedom on a tablet. If it works out, this gives iOS tablet users even more exclusive creative options on the platform.
At times, it does feel like the iPad mini was engineered out of Apple's leftover tablet parts stockpile. It still has extremely large bezels compared to other premium mobile devices and still uses the Lightning port which also serves to charge the existing Apple Pencil. Given that Apple has done a fantastic job by integrating the latest iPad Pro with the second generation Pencil, having to use the older together with the iPad Mini does little to alleviate fears of losing the Pencil cap or the Pencil entirely. If anything, this is definitely something accessory manufacturers have noticed and luckily, there's no shortage of Pencil holders to keep it close to the iPad.
Regardless, when it comes to creativity and productivity, there really isn't a good alternative out there outside of Apple's ecosystem. Throw in apps like Notability, and you have yourself a powerhouse productivity tool perfect for professional meetings or taking down lecture notes quickly as well. The iPad mini is a good complement to an existing laptop with its quick ease to pull out of the bag without weighing a ton compared to the Pro alternatives.
The biggest thing that we must not forget is how much more comfortable it is to consume media with the iPad mini as well. While bigger might be always better, having the right sized tablet is great especially if you're the type which commutes quite a fair bit. The screen is right-sized to reduce any side glances on your screen while on public transport and it also holds up great while lying down on the bed. Thanks to the True Tone display, reading ebooks in any lighting condition looks great even under bright sunshine.
If video content isn't quite your thing, the iPad Mini holds up great when playing the latest games and does especially well when streaming content from Steam as well. When it comes more heavy-duty processes such as gaming, there's little worry how the tablet holds up overall, though it does get a tad warm for extended sessions.
To top it all off, the iPad mini still has an earphone jack which is always nice to have to tie everything together.
Being totally right-sized, the iPad mini 2019 sits nicely in a space between a phone and a laptop. At a price tag starting from S$599 (sans the Pencil), it's a good way to get the latest Apple hardware without breaking the bank. Of course, adding on a cellular version together with an Apple Pencil and the costs start to rise steadily but if you've been on the hunt for an ideal combination of tools which combines portability, a robust creative suite, and some entertainment on the go by the side, save yourself the hassle and start off with the iPad mini. 
At its current state, it really sits quite nicely in the cross-section in supporting many endeavours at an extremely reasonable price point.
Now, if I only find someone to offload her cumbersome and underused Wacom tablet.
Gerald currently straddles between his love of video games and board gaming. There's nothing that interests him more than trying out the newest and fanciest gadget in town as well. He dreams of publishing a board game sometime in the future!
---

Drop a Facebook comment below!