The start of 2020 has been pretty trying – we can't go out, folks are made to stay home and to be honest, there's only so much legal streaming we can watch because… well, let's face it – we aren't exactly swimming in options.
Unlike the US, we don't have Hulu, CBS All Access, Disney+. Yes, we do have Netflix and Amazon Prime, but geographic restrictions mean we don't have the same library of content as the folks on the other side of the planet.
But if there's a silver lining to all the gloom and COVID-19, it's how several companies have stepped up to keep the human population indoors. With services such as Amazon's Audible and Amazon Prime Video, or CBS with its month-long free trial for its streaming service CBS All Access, all available free it gives us plenty of reason to make full use of it.
So how do we access the content from this corner of the world? The most common way around and accessing such content would be using a Virtual Private Network, or VPN.
A VPN works by allowing you to create secure connections to other networks on the internet via servers, allowing you to browse the internet using that server's internet connection. This means that if the server you choose is in a different country, it will appear as if you are browsing from within that country, allowing you to access sites that you normally couldn't.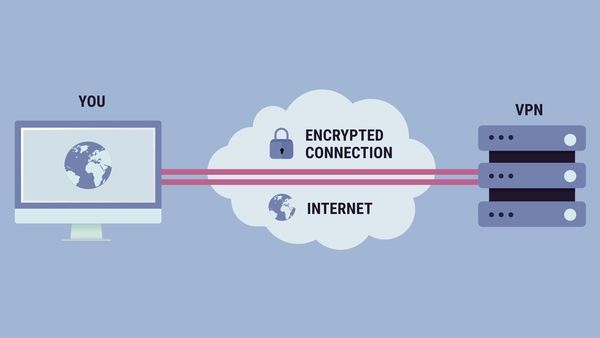 By using a VPN, both you and your family will be also able to safely and anonymously browse the internet by hiding your true network location, as well as prevent you from being snooped on when using untrustworthy Wi-Fi hotspots. This is due to the encryption technology a VPN uses to create the secure connection between your device and a VPN server.
Actually, it also applies to our recommendations here: Here are some things you can do thanks to a VPN while stuck at home.
---
Stream Disney+ & Get Access To Other Netflix and Amazon Prime Video Libraries
Streaming services like Disney+ and Netflix has given many across the world access to shows previously only available on Blu-Rays, DVDs, or cable TVs. However, not every streaming service is available worldwide, including popular streaming stalwart Hulu, as well as rising new player, Disney+ which is currently only available in certain countries such as America and Canada.
Netflix and Amazon Prime Video's catalogue of shows also vary with the region you are in. With a VPN, however, you will easily be able to access any of these services, by simply selecting the region you'd like to use the streaming service in.
Watch YouTube and Netflix Without Your ISP Slowing You Down
If you have ever experienced slow internet when watching videos on YouTube and Netflix, it could be due to your internet service provider (ISP) throttling your internet to cut back on usage, which inevitably leads to slow connection speeds. If you wish to enjoy your videos without incessant buffering or other impediments, then a VPN is the way to go.
Shop Till You Drop Safely and Securely
One of the many perks of the internet is the ability to shop online. Many of us have also made purchases on shops overseas as well. That's where a VPN can come in to help you find the best deals and discounts, as well as to make sure you don't fall prey to fraud and theft while shopping online. For example, you can potentially save money on flights by booking your tickets from lower-income countries.
Read Foreign Newspapers
You might have remembered coming across an article you'd like to read online, only to be stopped by a paywall informing you to sign up to the newspaper company's subscription service in order to gain unlimited access to their articles. As most paywall-based news sites use your IP address to keep track of how many times you have read an article on their site, using a VPN will ensure that your IP address is changed every time, allowing you to bypass the newspaper site's paywall and giving you unlimited access to news articles.
Get Access To Carnal Premium Websites (cough)
Once you're done watching Netflix or HBO, there's another video streaming service which might be the final stop for some. Having helped out the Italians in their time of need, PornHub has opened up access for the premium service. Unfortunately, the site is not accessible in certain countries but you should know that by now. Naturally, the solution for that would be a VPN. So just sit back, relax, and make full use of those rolls of toilet paper which you should not have stocked up on.

Fair warning, your traffic is visible to a certain extent at the telco level so all such browsing should be done at your own risk.
---
To help get you started, here is a quick look at some VPNs you can sign up for and how much their monthly subscription costs.

VPN
Subscription Rates
Features
ExpressVPN
1 year: US$99.95 (US$8.32 per month)

6 months: US$59.95 (US$9.99 per month)

1 month: US$12.95 per month
– Has servers in 160 locations across 94 countries, with unlimited internet speeds.

– Comes with a VPN kill switch to keep your data safe even if your VPN connection drops. It blocks all internet traffic until protection is restored.

– Has split tunnelling capabilities to let you route some of your device or app traffic through the encrypted VPN tunnel while other devices or apps access the internet directly.
NordVPN
3 years: US$125.64(US$3.49 per month)

1 year: US$83.88 (US$6.99 per month)

1 month: US$11.95 per month
– Has over 5,000 servers in 59 countries.

– Comes with numerous features including DNS leak protection, killswitch, a dedicated IP address, and a 'No Logs Policy' for added privacy.

– Able to use VPN service on six devices simultaneously.
Surfshark
2 years: US$47.76 (US$1.99 per month)

1 year: US$71.88 (US$5.99 per month)

1 month: US$11.95 per month
– Has over 1,040 servers in over 61 countries.

– Only one subscription is needed to cover every gadget in your house.

– Surfshark doesn't monitor or log anything you do when you connect to its VPN.

– Also comes with a kill switch to keep you protected when your VPN connection drops.
Private Internet Access
1 year: US$39.95 (US$2.85 per month)

6 months: US$35.95 (US$5.99 per month)

1 month: US$11.95 per month
– Has over 3,335 servers in 30 countries.

– Each PIA subscription can be used on up to 10 devices at the same time.

– No records of your online activities will be recorded for your privacy.
ZenMate VPN
18 months: US$39.96 (US$2.22 per month)

6 months: US$32.34 (US$5.39 per month)

1 month: US$10.99 per month
– Get to connect to 3,600 servers in over 74 countries.

– One subscription is needed to use ZenMate on an unlimited number of devices.

– Comes with a No-Log policy so no data from any of its users will be collected.

– Also comes with a kill switch in the event of the VPN service going down.
CyberGhost VPN
3 years: US$99 (US$2.75 per month)

2 years: US$88.56 (US$3.65 per month)

1 year: US$71.88 (US$5.99 per month)

1 month: US$12.99 per month
– Has access to over 5,818 servers worldwide.

– Comes with an automatic kill switch for when the VPN connection goes down.

– Comes with a strict no-log policy.

– You can simultaneously connect on up to seven devices with one subscription.
Now all you've got to do is figure out which VPN you'd like to sign up with and you're all set. While you are at it, you can check out our list of shows to binge-watch, as well as find a game you can play for free while you are stuck at home.
---

Drop a Facebook comment below!