Even before it has been released, the general consensus is that virtual reality is best paired with horror games. After having tried out both versions of the same game, I pretty much have the same conclusion. I managed to get my hands on a new playable demo of Resident Evil 7: Biohazard,  and thanks to Sony PlayStation Asia, I was able to play through two versions of the demo, the non-VR version as well as the PlayStation VR version.
I have to admit that before coming to TGS, I had some nagging doubts about VR. After having experienced PS VR for the first time last November at GameStart Asia, where I was introduced to a very brief tech demo of "The Kitchen" (which turn out to be Resident Evil 7!), I have since tried out other tech demos on the HTC Vive, Oculus Rift and Samsung Gear VR, but the overall experience hasn't always been consistent.
Now that I've spent some quality time with the PS VR and several other upcoming titles (which I will cover in a separate article) on the showfloor, I am slowly becoming a VR convert. Even though Capcom stated that the PS VR playthrough is purely optional for Resident Evil 7, I'm going to correct that statement.
It HAS to be played with PS VR.
The playable demo is based on the "Lantern" trailer, released during last month's Gamescom. In case you missed it, you should watch this "new found-footage sequence" first, so that you could get a good idea what the setting and premise is like before continuing.
All this "found footage" trope might be old hat to horror fans, but it's great in giving the players a good backstory to the game's characters. This gives us a better look at the terrifying derelict plantation house as a whole, and also gets us acquainted with a very angry Marguerite Baker.
The PS VR Playthrough
The demo starts off with a very frightened captive (the player), who is on the run from Marguerite (the angry lady carrying a lantern) for reasons unknown.
With the PS VR, playing the demo was all about exploring the house using the Dualshock controller for movement, with the ability to turn my head and body  almost all around, in full 360° freedom. It was an intense ride throughout, as Marguerite constantly showed up through doorways, which had me hiding behind boxes, broken walls with cracks and gaps to peer through, and even from the outside of broken window sills.
With the PS VR, I was able to track her movements as though I was really there in the house, peering my head between two planks, and from the corner of a wooden crate (see screenshot below). Each time she turned to face my direction, I would instinctively shift my head back to the safety of cover, and what struck me and got me grinning incessantly, was how precise the PS VR was, at handling even the slightest tilt or jolt of my head. Once she went through the door, I could then run out towards where she came from, and turn my head and body 180° around to the back, just to look and make sure she wasn't chasing me.
Apart from all the running and hiding from my pursuer, there was one puzzle element which required me to find an object in a barrel, and place it on a pedestal with a projector shining at, it to cast a shadow on a wall. The next sequence required me to rotate the object with both analog knobs of the controller, to match the faint shape of what seemed like a black widow spider imprinted on the wall.
Upon matching up the shadow, a secret doorway opened up and I was able to proceed through to the next room, where Marguerite entered from the front. Luckily, there was a pile of crates in the middle of the room, so I was able to hide behind them before she could spot me.
Once again, VR enabled me to peer through the gaps and cracks of the crates, so that I could track her exact movements as she walked around. This distraction allowed me to sneak past her from the other side, while at the same time keeping my eyes off her. This would not have been possible on a non-VR playthrough.
Having bypassed her one last time, and subsequently dashing through the door she entered from, the next room I entered had a gaping hole in the ground that led into the basement. That can't be good. After dropping down into the basement, I could hear Marguerite stomping around above, and screaming out in rage. Then, it all went dark and a cleaning crew at TGS had to come over, to clean up the mess I made. No, really. The next thing I knew, there was a brief moment of light and Marguerite's face SUDDENLY appeared right in front of me, right smack in the face. Trust me, it was absolutely terrifying when it happened to me.
The Regular Non-PS VR Playthrough
After that delighful VR turn, it was time to play the game like any normal player playing any normal game. Do you want to stick your head out? Pull the thumbstick back, Feel like taking a peek? Do what ever gamer does – push slowly on your thumbstick and physically stick your neck out, while at the same time actually straining your neck, as you unconsciously try to move your head to peer into your TV.
Players are left with the standard first-person control restrictions. While some games let you tilt your head out when you are against a corner, there is a restriction as to how far you can peer out. This playthrough felt just like any other FPS game, and an unworthy method to experience the impact of this magnificent game.
The Concluding Dining Table Scene
After being spotted by Marguerite, the game blacks out, and the next scene presents the player tied to a chair, seated at a dining table with the rest of the Baker family. The scenario is very reminiscent of The Texas Chainsaw Massacre film, which I love. The table is filled with all sorts of grotesque innards, which they seem to be feasting on. You'll just have to see it for yourself in its entirety, via the new trailer below. The scene  start from 1:38 onwards.
And yes, I was seated at this very table, in this very scene, with the PS VR headset on, so I was able to look freely around the table, move my head away when being fed with an intestine, and having the knife pierced right through my skull right at the end. This was 15 minutes of absolute heaven (in terms of immersion), and terrifying at the same time.
In conclusion, was the whole experience nauseating or disorientating? I have to admit, I did feel a little nausea from having played Driveclub VR, but it was probably from my constant looking to the left and right just, because I could. However, upon finishing the Resident Evil 7 demo and lifting the PS VR headset off, I felt no discomfort whatsoever. It looks like Capcom has found the sweet spot for their VR endeavour.
Updated "Twilight version" Demo Out Now
Talk about being current; PlayStation has wasted no time in updating the Resident Evil 7 public demo, to the latest "Twilight Version", which gives fans even more content to whet their appetite.
Game demos are a rarity in the video game world these days, and an update to a demo is equally surprising. PlayStation and Capcom have been generous enough to extend the demo to ALL PlayStation users this time round, and not only to PS Plus members like before. It is time for you to explore more of the derelict mansion and uncover more mysteries. We're sure there will be plenty of surprises that can't wait to meet you too. The updated demo is available now via PSN, and weighs in at 3GB.
1080p, 4K or VR, The Choice is Yours
Resident Evil 7: Biohazard will be releasing on PS4, Xbox One and PC on 24 January 2017. But clearly, the PS4 version is the one to get, just so I can play it with PS VR, the way its designed and intended. Also, the game will support 4K resolution on the PlayStation 4 Pro.
So, will you choose to play the game on 4K on a PlayStation 4 Pro, or in 1080p on a standard PlayStation 4? Or on PlayStation VR at a lower resolution? I've already made my choice, and it's full 360° immersion at the expense of graphic fidelity.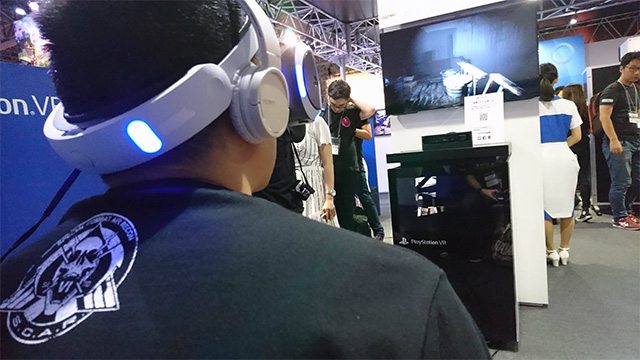 ---

Drop a Facebook comment below!