The Last Guardian is my personal favourite from the stable of upcoming PlayStation 4 exclusive game  titles. And there's a reason for that. If you owned a PlayStation 2, you would remember cult classics such as ICO (2001) and Shadow of the Colossus (2005).
These two games remain as my all-time most memorable and favourite games from the PS2-era. If you missed out on both games (afterall, they are 10 – 15 years old!), they've been remastered in HD in recent years, and compiled into the ICO and Shadow of the Colossus Collection for the PS3. If you have a PS3 and don't own the collection, go get it now. You won't regret it, and it will make a nice introduction to the world created by lead designer and director Fumito Ueda and his Team Ico.
Having spent the last eight years in the making, The Last Guardian was originally intended for a 2011 release on the PS3, but the game suffered numerous delays, and was then bound for PS4 in 2012. Since then, the game's release has went into limbo, and it was until E3 2016 that Sony finally announced a confirmed released date of 25 October 2016. Along with the date came the announcement of this drool-worthy collector's edition, which I immediately pre-ordered. Alas, it was announced this week that that the game will be delayed until 6 December, but given that I had a chance to get some hands on time with the game at TGS, I'm hopeful that the game will see the light of day in 2016.
Hands-On Impressions at TGS 2016
Riddled with multiple delays over the years, I was beginning to have a bad feeling about the game. But the moment I got my hands on the game at the Tokyo Game Show, my fears disappeared almost instantly. I was greeted with gorgeous graphics, fluid character animations, and the protagonist's giant half-bird-half-mammal creature friend, Trico, felt so "alive" in my short session with the demo. Oh and the feathers fluttering on Trico's body, were strangely mesmerizing.
From the 30mins I had with the game, there was minimal narrative or hints to guide me, which makes solving the various puzzles all the more satisfying.
There was one area where I had to push a giant column up a slope, and drop it down the other side so it ended up standing like a pillar. Next, I pushed it under a gate to prop it up. The gate kept opening and closing, thanks to Trico who randomly pulled on a chain that drew open the gate.
Once that was done, I had to carry a glowing barrel (filled with Trico's favourite meal, whatever it might be) to Trico, to lure him under the opened gate, and towards the wall at the end of the room. Once he was there, I could then climb up his body to the top of his feathery head, to reach the ledge high above.
Another area in the demo took place outdoors, where I got to attempt to communicate to Trico with gestures and cries, to get him to look at me, before heading in the direction I motioned it towards. Since it was early into the game, Trico was just beginning to learn to trust and communicate with me, so it required several attempts to get him going.
According to the developers, as the game progresses, this relationship should improve and Trico will be able to take commands in an instant once the bond between the two grow stronger.
The character controls, environments, choice of colour palette, and even the audio are immediately reminiscent of ICO, which is a good thing. The gameplay is unique in the sense that you as the player, control a young boy, who throughout the game, tries to manipulate Trico by luring it with food, or calling out to it. And in doing that, he uses Trico to reach high platforms or otherwise unreachable areas, while avoiding guards who are constantly chasing them for some reason.
To get a better sense of the gameplay and visuals, make sure to watch the full video playthrough below:
By the end of the session, I was a true believer, and convinced that the game's creators have once again created a masterpiece worthy of, or even surpassed the high standards set by the earlier two games.
I simply can't rave about this game enough. There is no other game out there quite like it. If you loved ICO and Shadow of the Colossus, this is a no brainer, go pre-order it, NOW. Even if you are a newcomer to Team Ico's games, this work of art is a pleasure to just sit through.
The Wait is at an End
In case you missed it, The Last Guardian has been delayed yet again, as announced by Sony on 12 September. With the new confirmed release date set for 6 December 2016, I'm keeping my fingers crossed that I'll be able to finally play the long-awaited game this holiday season.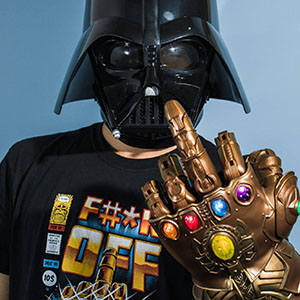 Yonk is a geek who is fortunate enough to have an equally geeky Star Wars fan for a wife, who owns a LEGO Millennium Falcon encased in a glass coffee table as their home's centre-piece.
---

Drop a Facebook comment below!

---