A few months after the passing of Steve Ditko, co-creator of Marvel's Spider-Man, the comic community has been dealt another big loss, as the legendary Stan Lee has left our world for another universe.
Damn Thanos and his snap.
A family attorney has confirmed that the comic wondermind, responsible for many of Marvel Comics' top characters, died early Monday morning (12 Nov), age 95, at Cedars-Sinai Medical Center in Los Angeles. Stan Lee is survived by his daughter, J.C. Lee who described him as "the greatest, most decent man".
Stan Lee has had a few health scares in recent years, including one earlier this year, although he did his best to stay close to fans through his recent cameos in Black Panther, Avengers: Infinity War and Ant-Man and the Wasp.
Born Stanley Martin Lieber on 28 December 1922 to Jewish immigrants from Romania, he started as an assistant at Timely Comics (which later evolved to become Marvel Comics) in 1939. Together with his collaborators, including Jack Kirby and Steve Ditko, Stan Lee redefined comic books and superheroes with his creations – Spider-Man, Hulk, Thor, X-Men, The Fantastic Four, Daredevil, Doctor Strange and Black Panther.
Since news of his death, Marvel Comics has paid tribute to Stan Lee on its website featuring one of his famous quotes on how he thought of himself as a writer: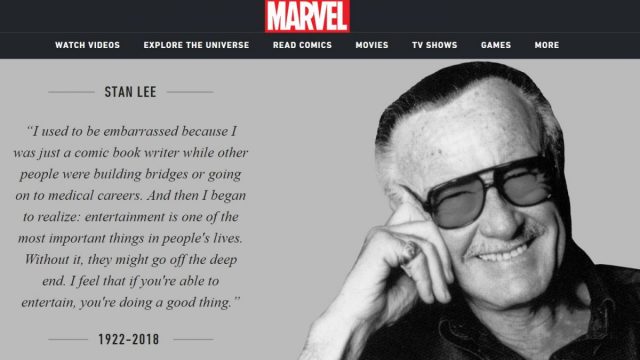 Numerous tributes from all over Hollywood have since poured in on social media:
We've lost a creative genius. Stan Lee was a pioneering force in the superhero universe. I'm proud to have been a small part of his legacy and …. to have helped bring one of his characters to life. #StanLee #Wolverine pic.twitter.com/iOdefi7iYz

— Hugh Jackman (@RealHughJackman) November 12, 2018
Damn… RIP Stan. Thanks for everything. pic.twitter.com/TMAaDJSOhh

— Ryan Reynolds (@VancityReynolds) November 12, 2018
There will never be another Stan Lee. For decades he provided both young and old with adventure, escape, comfort, confidence, inspiration, strength, friendship and joy. He exuded love and kindness and will leave an indelible mark on so, so, so many lives. Excelsior!!

— Chris Evans (@ChrisEvans) November 12, 2018
No one has had more of an impact on my career and everything we do at Marvel Studios than Stan Lee. Stan leaves an extraordinary legacy that will outlive us all. Our thoughts are with his daughter, his family, and his millions of fans. #ThankYouStan #Excelsior!

— Kevin Feige (@Kevfeige) November 12, 2018
Thanks for everything Stan Lee! What a life, so well lived. I consider myself extraordinarily lucky to have gotten to meet you and to have played in the world you created.
?♥️ pic.twitter.com/ryUjG7PL8D

— chris pratt (@prattprattpratt) November 12, 2018
Not enough kind words to post about my dear friend @TheRealStanLee
My life wouldn't be the same without his incredible talent as a creator, storyteller and friend ??

Rest In Peace Stan. You'll be missed.
.#legend #hulk #stanlee #rip pic.twitter.com/9XU45GHCnq

— Lou Ferrigno (@LouFerrigno) November 12, 2018
Today we lost one of the greats. @TheRealStanLee, you were a inspiration and superhero to us all. Thank you for contributing so much- and giving us all something to aspire to! ?
#ripstanlee pic.twitter.com/GzFhwgU0WA

— Zoe Saldana (@zoesaldana) November 12, 2018
Rest In Peace @TheRealStanLee #legend #StanLee #StanLeeRIP pic.twitter.com/acQpyBxCqk

— Alex Ross (@thealexrossart) November 12, 2018
Excelsior!
---

Drop a Facebook comment below!