It should come as no surprise that Marvel's films have become divisive, with defenders and haters alike as the MCU grows. In the case of Black Panther, we are extremely confident that it will satisfy even the most ardent of Marvel fans.
When the Black Panther first made his debut in The Avengers: Civil War, it was clear to the movie-only fans that the ruler of Wakanda deserves his own share of the limelight. As much as the narrative explored the relationships between the Avengers ensemble, and in particular, the intricacies of Bucky Barnes' and Steve Rogers' relationship, the honourable leader stole the show with a tumultuous journey of righteousness, forgiveness, and strength.
For comic book enthusiasts, however, the popularity of the Black Panther hardly comes as a surprise. There's a lot to say about the first black superhero in the realm of Marvel Comics, an inspirational figure that would later spawn a host of other African-American superheroes like Falcon and Luke Cage, and go on to show the world that being black can, and should be, its own brand of superpower.
With so much weighing down on the king's shoulders, it comes with great relief, that Black Panther, the movie, delivers with an exceptional job of conveying its message, and then some.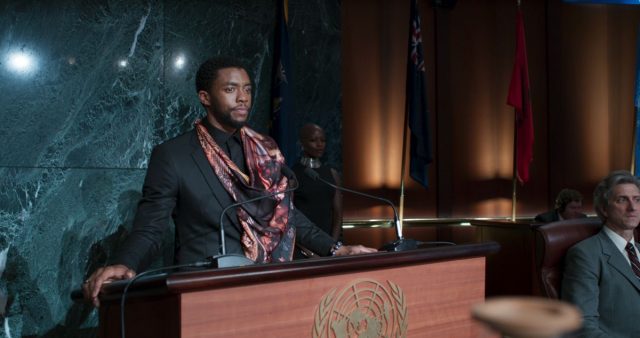 The latest title in a whole slew of Marvel films, it follows the events after Captain America: Civil War, in which former king T'Chaka, father of T'Challa (aka the present Black Panther), met his demise in a building explosion. The latter returns home as King of Wakanda, but finds his sovereignty challenged by a long-time adversary in a conflict that has global consequences. Of conflict grows strength, and of that comes a wild, fulfilling journey that eventually leaves viewers with a great sense of gratification, and a sated craving for more lore from the world of Black Panther.
A superhero, is essentially, a superhuman – in the case of Wakanda, at least. There are no special mutant powers at play like a certain mansion in Westchester, just plain old hand-to-hand combat and one's own weapon mastery to depend on. Yet, for all the superhero charm that oozes out from the movie, its emphasis is not so much on the 'super' part, but more on the 'human' aspect.
In a tribe full of strong and capable warriors all around, it's expected that T'Challa is likewise a leader of strength, unflappable in times of crises, and cool-headed at making the right decisions. But herein lies the main problem: a king is still a man, and all men will crack under intense pressure, mental strength notwithstanding. It's a fact that often goes neglected, and the film leverages upon it to bring across a poignant point.

T'Challa may be royalty, and he may be living the life that everyone yearns for, but life certainly isn't a bed of roses for the masked crusader. In fact, weighed down by the mantle of the crown, his state of vulnerability is made more obvious, especially with the repeated references to mistakes, past and present alike.
Chadwick Boseman (Get on Up, Marshall) pulls off a spectacular feat at portraying T'Challa's inner conflict and insecurities. On one hand, he's adept at carrying out his duties as the new ruler, but on the other, he's constantly reminded of his father's demise, and holds himself in low regard. Sometimes he tries, but it's not enough, and he struggles. The whole character arc is incredibly human, from the sting of failure, to the bitter disappointment of one's own performance, and the suffocating feeling of helplessness.
At its core, the narrative is one that's about the strength of the human spirit. It serves as a reminder that even the strongest of us can make mistakes, can screw things up. Yet, befitting of his status as king, T'Challa never once stopped pushing on, only to emerge from the fire as more polished, more durable steel. Or more accurately, vibranium.

The streak of complexity in characters continues with T'Challa's nemesis in Black Panther – Erik Killmonger, played to adroit proficiency by Michael B. Jordan (Creed, Fruitvale Station). A multifaceted character, the antagonist falls outside the spectrum of the typical villain, saddled with an unfortunate past, and other great losses in life. After all that's said and done, there's no helping the bout of sympathy and pity for him.
Having said that, there are a few personalities in the show whose motivations remain unclear to the audience. As such, there may be a sense of disconnection between their actions and issues at hand, resulting in slight confusion or loss of interest in their overall role in the movie. Thankfully, the MCU still has a long runway and despite the lack of character development depth for these individuals, we can write this off as worldbuilding. For now.

The inhabitants of Wakanda pride themselves on their strength, and individualistic way of life. Not only are the men strong, the women are equally powerful as well, which makes for quite the intimidating party. Standing faithfully proud alongside the king of Wakanda are his personal bodyguards the Dora Milaje, and it's here that Danai Gurira (The Walking Dead) shines in her portrayal of Dora Milaje general Okoye.
From the warrior's strong sense of loyalty, to her inner struggle with allegiance, Gurira's nailed the character down to the T, and her performance is deserving of every bit of limelight that she gets.
Another figure who stole the show was Letitica Wright's (Urban Hymn) playful and tongue-in-cheek depiction of T'Challa's younger sister Shuri. Armed with witty quips and whip smart intelligence, the spunky innovator was a delight to watch on the silver screen, making audiences laugh with her sense of humour, and growing into a warrior in her own right.
It's splattered everywhere – on Twitter, in news articles, feature articles – but here it is again: Black Panther is lauded in its celebration of the African culture, a bold move that has paid off very handsomely. The attention is in the details: from the intricate patterns of the set design, to the twangs of African string instruments for its tribal music, the entire movie is dripping with pure afrofuturism finesse. Magnificent.
Director Ryan Coogler's dedication to retaining a sense of authenticity certainly helps. The cast of Black Panther all sport an African accent, and while it may roll off rather awkwardly off their tongues at times, the effort is indeed commendable.
Most superheroes love to let their fists do the talking, and that means action galore in superhero flicks. Black Panther is no exception, jam-packed with sleek fight choreography, fluid vaulting motion, and haphazard gunfire. There's even an exhilarating car chase scene, much like those in the Fast and Furious franchise, but with an extra dose of badassery. Fights are brutally realistic, devoid of the flashy execution found in other similar titles; yet it's no less thrilling, with plenty of blood-pumping adrenaline to spare.
Against the ferocious, rhythmic beats of Kendrick Lamar's song collection, these battle thrills soar to a new high, and the resulting scene promises to have the audience tightly holding on to the edge of their seats, as the action-hardy gets their fix of adrenaline. Even the drawn-out battles are able to retain interest, though not all are perfect.
With a great build up right from the very start, it becomes increasingly challenging to make each act match up and better the previous. As we all know, all great streaks do come to an end.
At a length of 2h 15 mins, Black Panther is a well-paced narrative that touches upon the many different facets of today's society – and executes them with good flair. It's as human a story as it is about a superhero, with an exceptional all-black cast, dynamic fighting scenes, fully fleshed-out characters, and an amazing soundtrack to boot. And while the movie does have slight flaws, its ingenious film direction of drawing parallels to the world we live in easily counters them, and gives it extra brownie points for adopting such a great, bold strategy.
As T'Challa so eloquently puts it in the movie, "It never gets old", and it'd do good for fans to keep that in mind as they head on down to their local theatres to the catch the sensational phenomenon that is Black Panther.
Featured image by Christine Lau Illustration
GEEK REVIEW SCORE
Summary
Hero. Legend. King. Human. Afrofuturism at its finest, Black Panther stays true to the essence of African culture, and gets in touch with what makes us human, pushing beyond the boundaries of a typical popcorn movie to address the real issues in today's society – with a touch of subtlety and masterful storytelling.
Story -

8/10

Direction -

9/10

Characterisation -

9/10

Geek Satisfaction -

9.5/10