Announced back in February, the upcoming CG-animated undead adventure that is Capcom's Resident Evil: Death Island is shaping up to be quite a ride. In fact, for fans of the long-running survival horror franchise, the movie will bring together its band of undead-killing heroes for a climactic fight against whatever new threat lies on the horizon as shown in the new trailer.
Leon S. Kennedy, Jill Valentine, Chris Redfield, Claire Redfield, and Rebecca Chambers will share the stage at some point during the animated film, and if there is a problem that needs all our protagonists to come together, then the stakes are truly high in Resident Evil: Death Island.
The film will see both Leon and Chris on a collision course, arriving on the island of Alcatraz. As usual, a wave of infection is taking hold of the populace, and getting to the root cause of things will be the main plot driver. Expect to see plenty of undead, lickers, and monsters that await around every corner, and whatever crazy new creature that will undoubtedly be disgusting.
This reunion of sorts is also the first time the five main characters are sharing the spotlight together with a common goal. This is particularly for Jill and Leon, who have never crossed paths before in the games, but Resident Evil: Death Island will remedy that.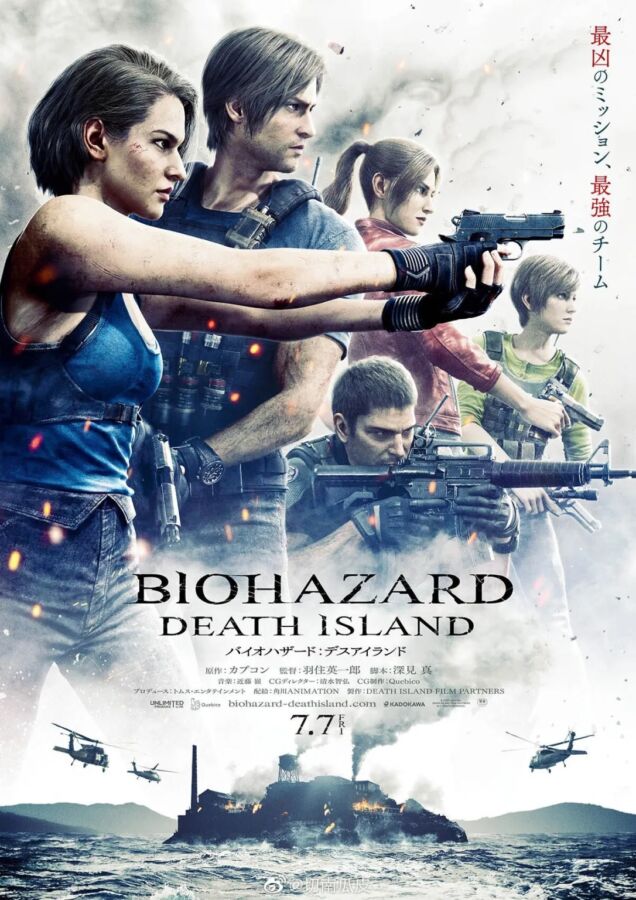 The film is being directed by Eiichirō Hasumi, best known for Assassination Classroom, with Berserk's Makoto Fukami producing. This will be the fourth animated film following in the shambling footsteps of Degeneration, Damnation, and Vendetta. With the recent Resident Evil 4 remake making waves in the gaming space, it makes for great timing for the film to arrive.
Resident Evil: Death Island will hit Japan on 7 July, with an international release date yet to be set.