If there's one thing we've all learnt about living through a pandemic, is that a conducive at-home workspace is incredibly important, and that means more than just about having the right PC or Mac set-up, accessories, power points and comfortable chairs – even the desk is as important.
Sure, working from the dining table or the comforts of your bed may seem good enough in the beginning, but it's not a long-term solution and with COVID-19 likely sticking around for some time, it's time that everyone starts investing into a proper workspace, starting from the ground up.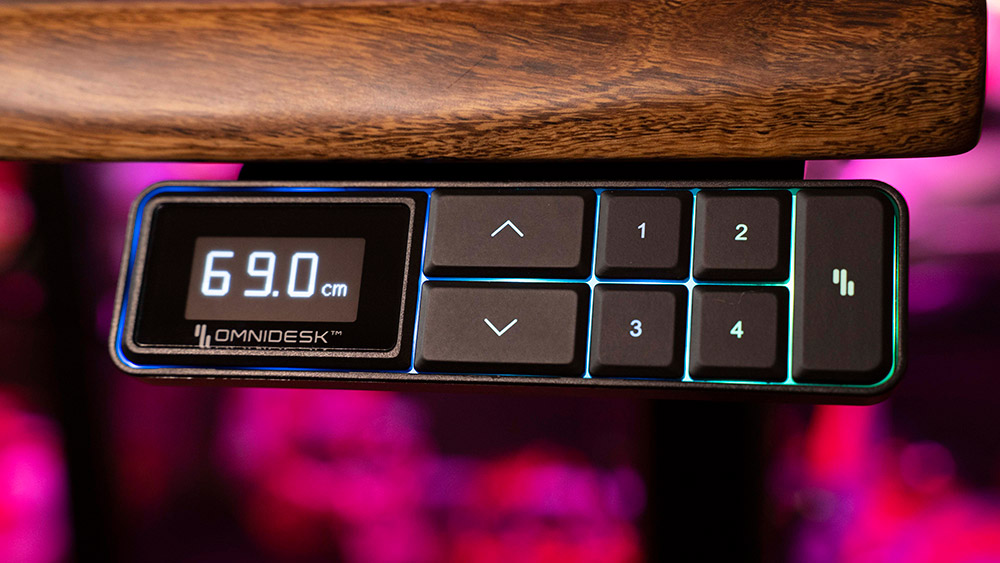 And that means having a proper desk that's not a dresser, the kitchen table or a makeshift set-up in the corner of your apartment. And if you're shopping around for a desk that is literally a, one-size-fits-all, for yourself, your child or for your peculiar sitting or standing habits, consider investing in a smart desk, and there is only one brand that should come to mind – Omnidesk.
Engineered for productivity and best known for being height adjustable, the homegrown Singapore brand, which has expanded operations overseas, has launched numerous height adjustable desks, from the beloved Omnidesk Pro 2020, L-shaped Omnidesk Verge, and even the Minidesk for kids.
And more recently, it launched the Omnidesk Ascent, a smarter, faster and a whole lot prettier piece of furniture that makes the Omnidesk Ascent the desk you need to invest in to level up your workspace.
Improved Functionality
The function of an Omnidesk smart desk is to hold your things, and make your life easier by implementing technology that leads to higher productivity. Whether you're writing a report, doing some research, playing a game, drawing or even painting (who's to say smart desks are for office folks only?), Omnidesk's height-adjustable smart desks will help you get the job done – sitting or standing.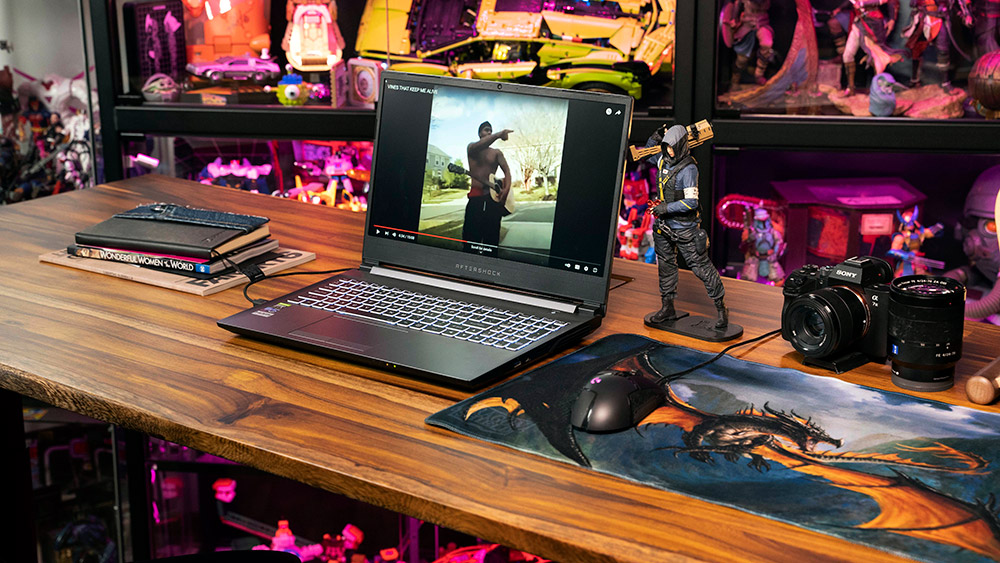 And instead of sitting or standing all day, you can choose to walk on the spot, by adding a walking treadmill under the desk, to join conference calls and exercise at the same time. Now you can make adjustments on the fly, at a greater speed with the improved mechanism of the Ascent.
Another bigger highlight of course, is the new app, Omnidesk Life, made specifically for this new launch. An app that can help you control and customise functions of your desk from a distance, the Ascent levels up your workspace and does it with convenience.
It's not just a desk, it's an Omnidesk Life(style)
The Omnidesk Life is an app that many loyal fans have been asking for, as it allows users to control their desk from the comfort of their own hands, provide basic customisation options and tracks health.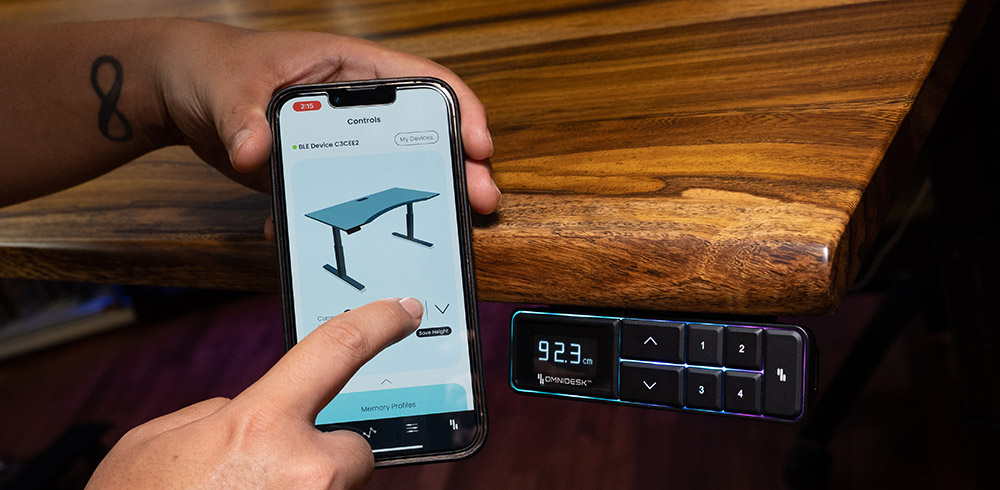 Imagine you're making a presentation with an iPad, with the new Centre Stage feature that follows you as you move say, across a whiteboard. If your audience tells you to adjust the presentation, you can do it on your phone instead of running back and forth to the desk to make changes physically.
Users have basic controls such as adjusting the height of the desk remotely as well as save up to nine memory profiles. The memory profiles allow for easy pre-programmed switching of heights without having to press on the up and down buttons as one normally would when adjusting the height of a table. It also gives you the chance to customise the aesthetics of the new control system (more on that later).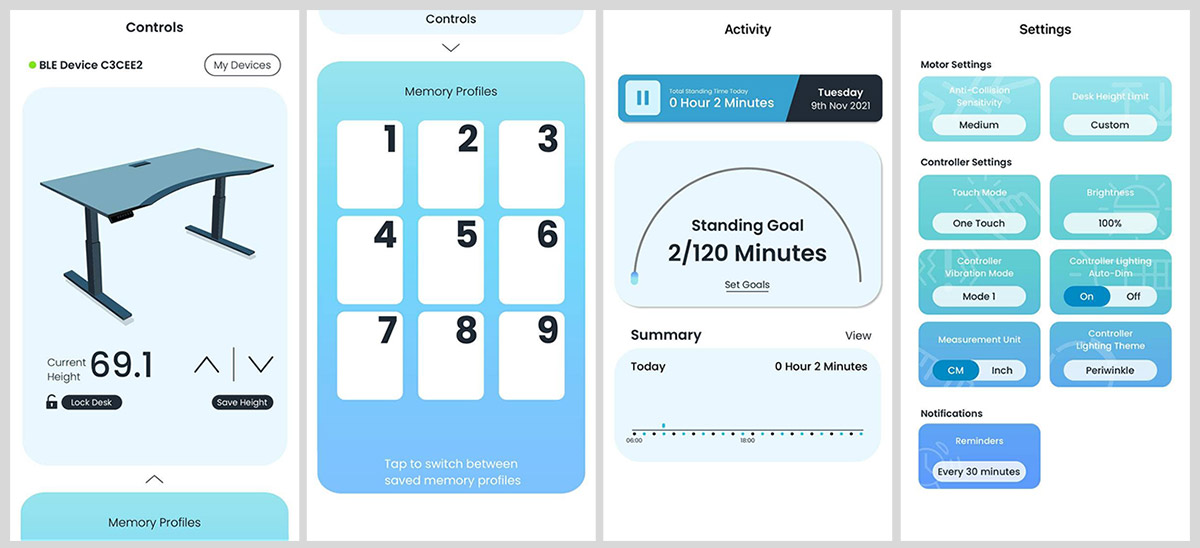 Whilst adjusting height may seem like a small act – after all, most folks spend their 9-5 sitting behind a desk – plenty of studies show that standing desks reduce the risk of shoulder and back pain. There are plenty of benefits to working on a standing desk, and if you don't believe us, the app can attest to that since Omnidesk Life helps to track the time you spend sitting or standing at the desk, and even reminds you to stand or sit throughout the day.
Premium Aesthetics
Now, where were we with the aesthetics? Ah, yes, customising the control system. If you thought a fancy app and faster height adjustments are the only new features to the Ascent – you thought wrong.
The Ascent has a brand-new proprietary controller that lights up and can be customised to reflect a colour of your choice. Users can change the colours of the lights on the proprietary controller to six different colour settings of their liking.
If your workspace has a certain look and feel to it, you'll be pleased to know that the Ascent comes in various shades and colour options. Available in black and white, both controller options fit the Ascent wood top that is now available as part of the Wildwood Collection, if you'd like something more artsy or industrialist.
In the past, white desks will come with the standard black frame and black power cables attached. This time, Omnidesk has paid special attention to details and provide white desks with white frames, white controllers, and white power cables so that the look is finished and oh-so-aesthetically pleasing.
Hello Frame-X Technology, Goodbye Wobbly Tables
The Ascent uses the new Frame-X Technology in its new round leg frames to improve the structure of the desk. In comparison to previous legs, the new leg structure is designed into columns using forged steel construction, to better support the weight of the desk and the items on it even better.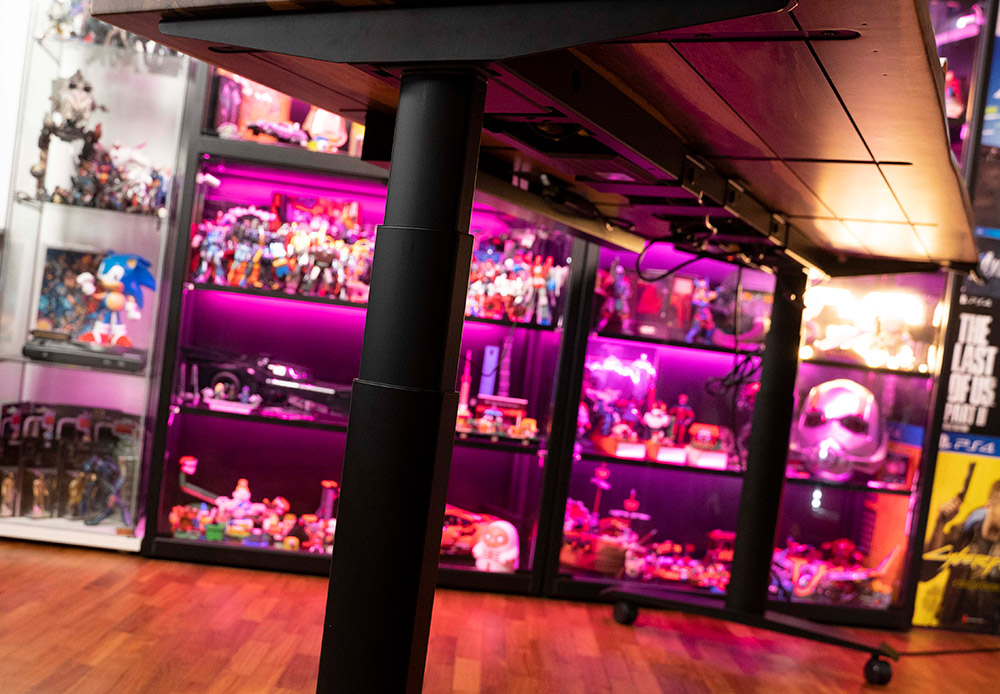 As mentioned before, the Ascent has the fastest elevation speed in the market, allowing for quicker transition between standing and sitting for the consumer. The Ascent boasts a 60mm/s speed, compared to the Omnidesk Pro 2020 which moves at 43mm/s.
Always Listening
But not in a creepy way. Omnidesk has a strong loyal following and it's no surprise given how the brand listens to customers' feedback, and actually implements them. Fans wanted a smart app, they got it with the launch of the Ascent. Fans wanted something out of the standard black and white desks, Omnidesk gives options with the Wildwood Collection and the Ichi (One) Collection.
When you're purchasing an item, especially one that is considered a big investment, it is vital that the brand is open and communicative with customers so you're not left in the dark with a faulty product and a hole in your pocket if something goes wrong.
5-Minute Assembly
Sure, shopping for furniture is fun and exciting…. up until you need to assemble it. Fret not, with the Ascent, assembling only takes you five minutes. With fewer parts to assemble and a more streamlined assembly process, the Ascent will feel less daunting to most consumers, allowing them to simply put the desk together by themselves. Omnidesk is still offering white glove on-site assembly for each Omnidesk Ascent purchase, so consider yourself settled either way.
Upgrades and Accessories Galore!
There are many other considerations that one needs to invest in for a more proper home set-up. Think a cup holder (S$29), headphone hanger (S$39), laptop mount (S$45), power strips (S$30), a comfortable standing mat (S$79), a desk drawer (S$89) and whatever else you think you require. Most recently, Omnidesk just released a new cable management bar, The Omnidesk Zen (S$109) – where you have everything you need for a clean and neat workspace thoughtfully put together in a pack. With all you need in one set, you can bet that your wires will remain secure and you'll have your workspace looking pretty and professional in no time.
Warranty
Yes, there may be alternative desks in the market, but with Omnidesk, you'll know it's stress-free guaranteed. The Ascent comes with a 10-year warranty, assuring you the peace of mind that no matter what happens to your desk, you'll be covered and attended to by the Omnidesk team. Seriously speaking though, for an investment of this scale, the best thing you can do is ensure that you're insured and not settle for a quick sale.
With all that's said and done, the Omnidesk Ascent is truly an upgrade and if you're looking to purchase a new desk this is a desk worth every investment. The Omnidesk Ascent is currently priced from S$850 for early bird purchases from now until 6 December 2021, and will retail from S$950.
For more information, visit their official website.
---

Drop a Facebook comment below!