During last year's home based learning with schools in Singapore, one common refrain from parents was with the difficulty in parking their children at an appropriate place to have them study. A study table might not have the necessary equipment for video conference, and a parent's study desk with a computer might not have the necessary space for a child to write on.
Then there was the height of the table, and having to adjust chairs to fit the child, and let's not imagine if you had more than one child to cater for.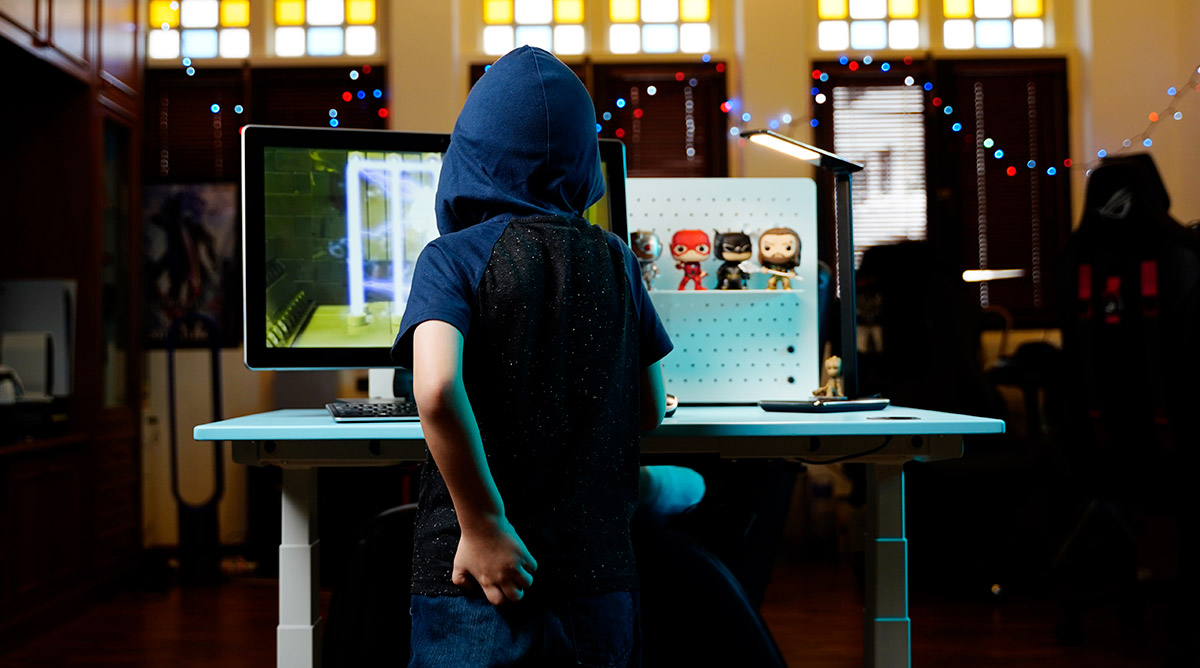 Unless you had an Omnidesk, Singapore's premier adjustable height tables. The chair stays the same and parents simply moved their height of the table to match that of their child. Of course, Omnidesk tables are massive and aren't necessarily right for kids, even if the tables work so well.
Well, the brand has heard you and have recently unveiled the Minidesk – a smaller version of their impressive tables, but this time, catered for the young.
Manufactured by Omnidesk, the Minidesk is a desk built for mini folks in mind. As its name suggests, Omnidesk's main schtick is that their desks can double as a standing desk and a traditional desk too. Instead of manually lifting or pushing down the desk itself, one can simply press a button on a controller located on the corner of the desk to bring it higher or lower.
It's a relatively intuitive process as all you're doing is just pressing up and down on the controller to achieve your desired table height. Plus, the big perk that comes with this feature is that your child will never grow out of it.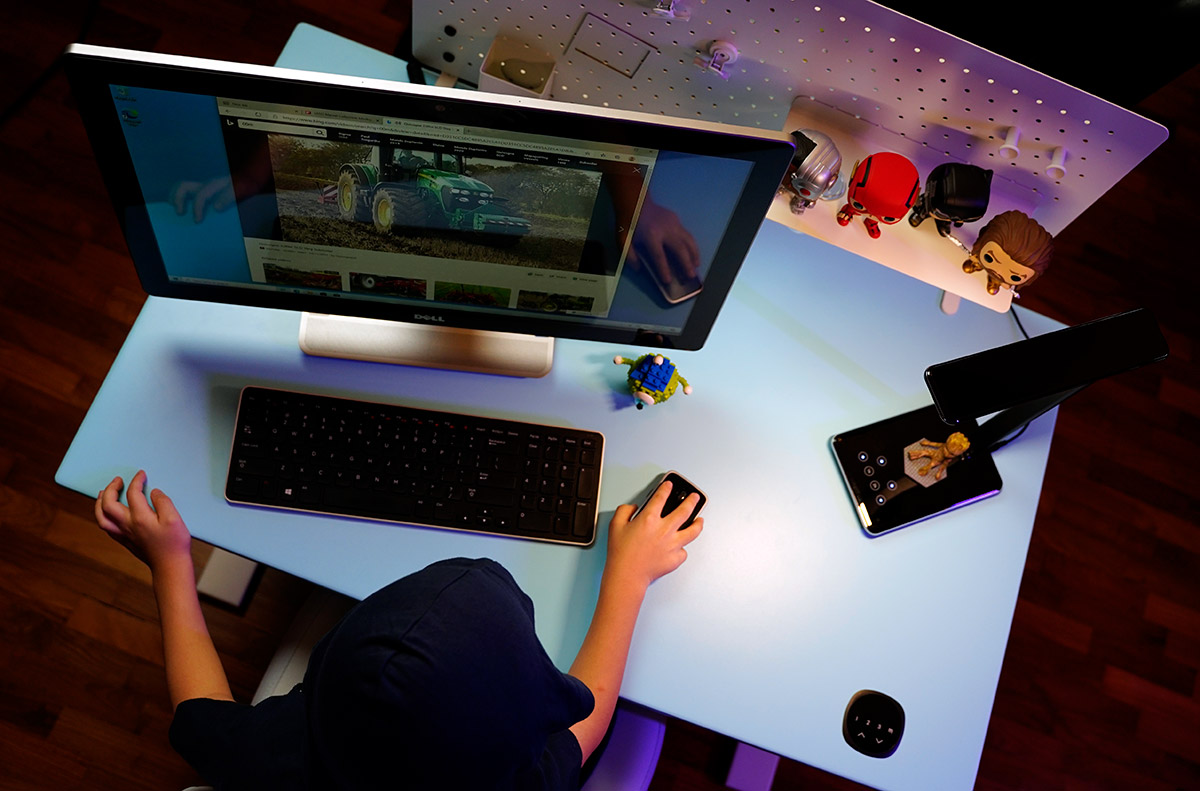 Measuring 100cm by 60cm, the Minidesk is a fraction of the large 152cm x 76cm Omnidesk Pro tables, and can be easily fitted into a bedroom, for the child. In fact, the Minidesk is wide enough for an adult to sit in, and place in the bedroom.
Coming in blue, pink and white, the Minidesk is a beautiful piece of furniture that bears a slim profile and an equally subtle and minimal design. It comes with a rather large surface area that provides ample space for your child to work and play. The Minidesk fits a monitor, a keyboard, mouse and still has more than enough space for toys and a desk lamp.
Of course, with a desk that can be moved up and down easily may cause some concerns for parents of cheeky children so the Minidesk has a revised touch screen controller and a delicate anti-collision system that reacts to direct obstruction when it is being adjusted.
In a similar vein, the MDF wood is coated with formaldehyde-free powder and is certified Volatile Organic Compound free so you or your child won't be interacting with nasty chemicals when using the desk for a long period of time, over a long period of time.
That said, the minimal design and huge space allows for some creativity to run wild. Paired together with the suite of accessories like the Omnidesk's desk organiser, your child can create and customise a play and study environment to how they like.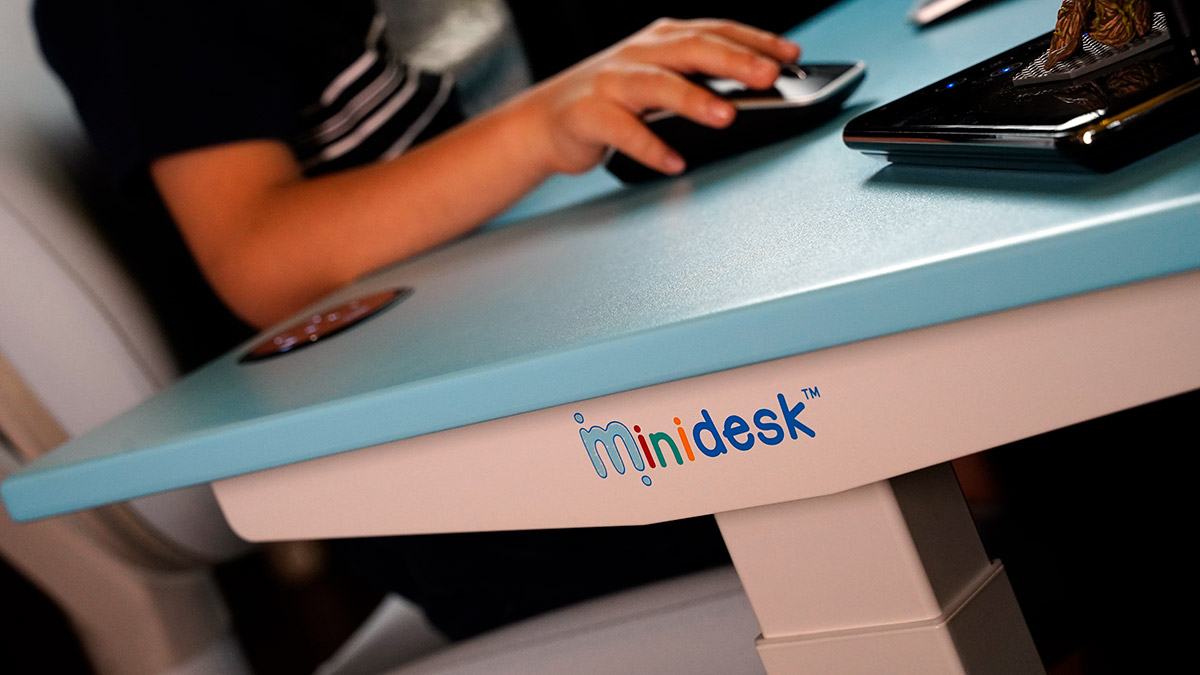 The Omnidesk modular bracket system, which fits the end of the table, is perfect to inspire creativity, curate and organise work areas and neatly store accessories, stationary and toys as you can either attach pen holders, or even photos of family and friends.
Changing the environment from work to play is also achievable with the Omnidesk Spark desk lamp (S$99) that changes up to 4 colour temperatures. Warm lights create a comfortable and relaxing ambience to relax and fix legos, whereas a whiter light allows for more focus and concentration when doing homework.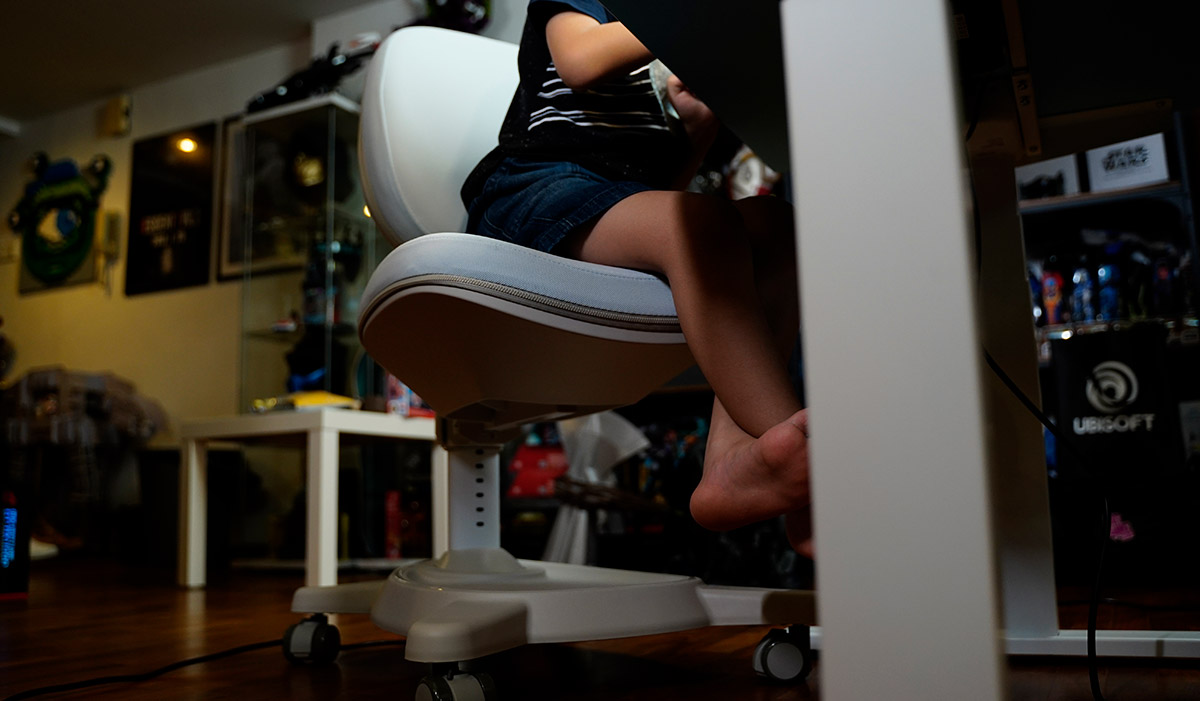 Completing the desk set-up is the Melody kids' ergonomic chair (S$150) that comes in pastel blue and pink. The chair may look like Charles Xavier of the X-Men would be wheeled around in but this ergonomic chair is engineered to provide optical posture when studying. Truth be told, it is one of the most comfiest ergonomic chairs – period – because it feels like you're sitting on marshmallow-like pillows that are neither too hard, nor too soft. And yes, it's meant for children but an adult can also safely park themselves on the chair as it can carry up to 100kg, though we would suggest getting a proper adult-sized chair as it can only be raised up to 54cm.
The Melody kids' ergonomic chair comes with a height-adjustable seat from 27 to 54cm and lumbar support and wide bearing base for optimum stability. It also comes with child-safe brakes and child-proof swivel locks the moment anyone above 25kg sits on it so that your child won't fidget or move about as they study.
While targeted at children, there's something compact and effective about the table. The Minidesk is still a nicely sized desk for adults who enjoy a smaller desk than the gigantic Omnidesk Pro 2020. Kids out of the picture, this desk is perfect for people who need a desk to work on when working from home but are living in a smaller environment that doesn't allow for obnoxiously large desks.
The Minidesk provides adequate workspace if you're working on a computer or a laptop and the ability to adjust the desk's height is yet another perk to factor in as it can be brought to a maximum height of 110cm, high enough for smaller-sized adults to sit comfortably.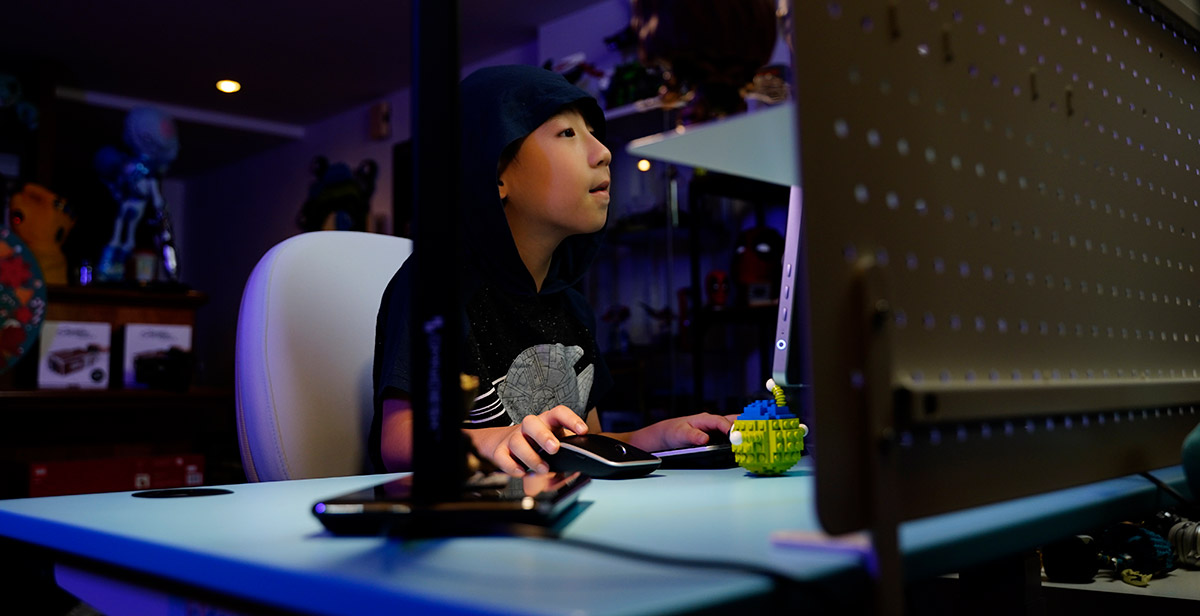 Launching at S$689, the desk can be used for multiple purposes and is much more affordable than other desks in the market. Likewise, parents who are keen to create an attractive study and play environment for their growing kids can purchase the Melody chair at a launch price of S$150, or together with the Minidesk for S$839.
In all, the versatility of the Minidesk makes it a smart purchase for parents with children who need a little bit more motivation and inspiration to study and adults who enjoy a simpler and smaller way of life. For the quality features, durability of the desk and all-around flexibility of usage when it comes to this desk, the price tag of S$689 is a good investment.
GEEK REVIEW SCORE
Summary
For kids who need inspiration, for adults who need a simple workspace – the Minidesk is built perfect for kids in mind with quality features and durability that can last through the years.
Aesthetics -

7.5/10

Build Quality -

8/10

Performance -

8/10

Value -

8.5/10

Geek Satisfaction -

8/10
---

Drop a Facebook comment below!