If you've spent the last few months pushing off buying that desk for your work from home set-up, effectively tabling that discussion so to speak, the new heightened COVID-19 measures encouraging everyone to remain at home might be the impetus you need to consider investing in a desk right now.
Work From Home (WFH) is once again the normal, or rather, a return to the previous normal and we all know what happened last April – tables, monitors and game consoles flew off the shelves as they were snapped up by parents and millennials, and everyone in between.
That caused demand, along with prices, to shoot up (how many of you shelled out S$600 or more for a Nintendo Switch, only to see prices come down in recent months to hover at S$450?) but unlike a monitor or other accessory, a desk is less than a need and more of a necessity.
Consider the need of having a permanent spot for your desktop or laptop, and multiply that by the number of people in your household. Not many of us have the luxury of space to have a spot for everyone, but like that desk you have in the office, few of us actually sit there the entire day, which is why the Omnidesk Pro 2020 (read our review) is the single perfect desk for your work and study needs, all rolled into one. Here's why.
---
An Omnidesk differs from all other desks in the market, in that these workhorses are electronically height-adjustable, which makes them perfect for many settings. Instead of sitting all day, you can choose to stand at your desk to improve circulation to your legs.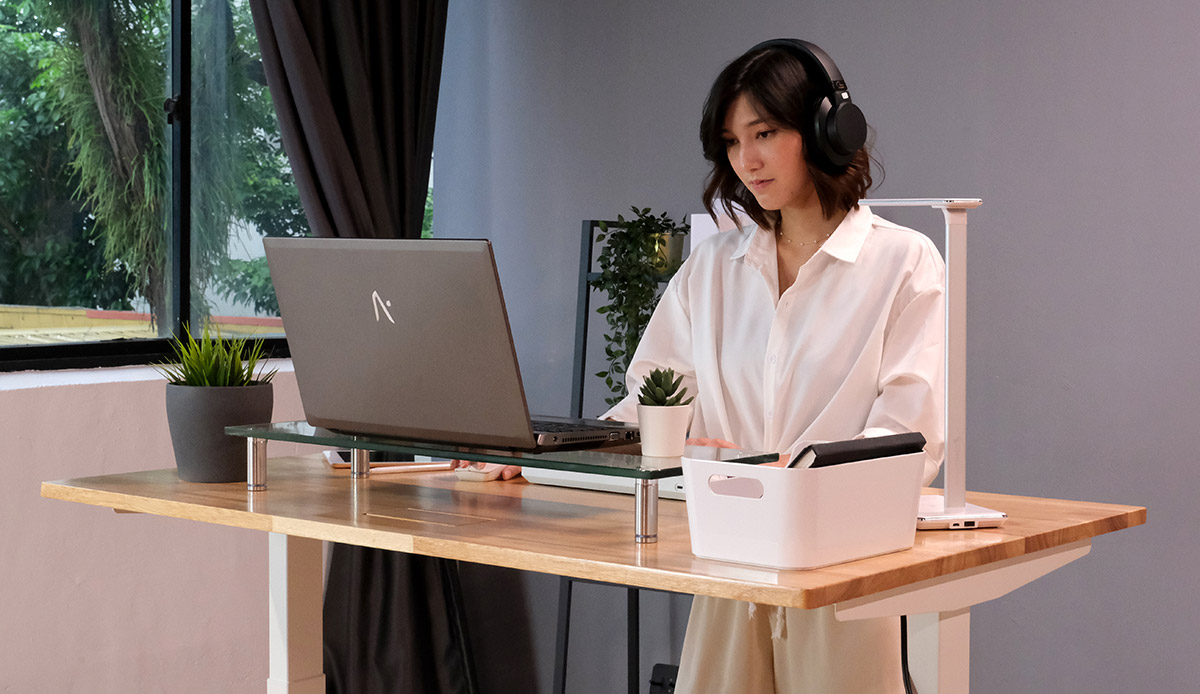 Are you the type that hates sitting still during conference calls? Why not invest in a walking pad, and you can exercise while at home, with the device placed under the desk with the desk adjusted to your standing height?
What's more, you can more freely share that desk space with someone, say a significant other or sibling who can be of a different height than you.
Oh, and if you have kids, an Omnidesk is perfect for home-based learning, as you can lower the table for your primary school kid to do their Zoom calls, and raise it when your secondary or tertiary attending child needs a desk for their school project work. There's no need to scramble for space, or adjust the chairs – simply press a button to select a preset height. Or better yet, get them a dedicated height-adjustable Minidesk.
---
A table is just part of a proper home set-up, as there are also other considerations to invest in, such as a power strip for connecting all your devices, a monitor arm for single or dual screens, a cradle for that CPU, drawers, cup holders… the list goes on. What you need is a modular table that can adapt to your needs.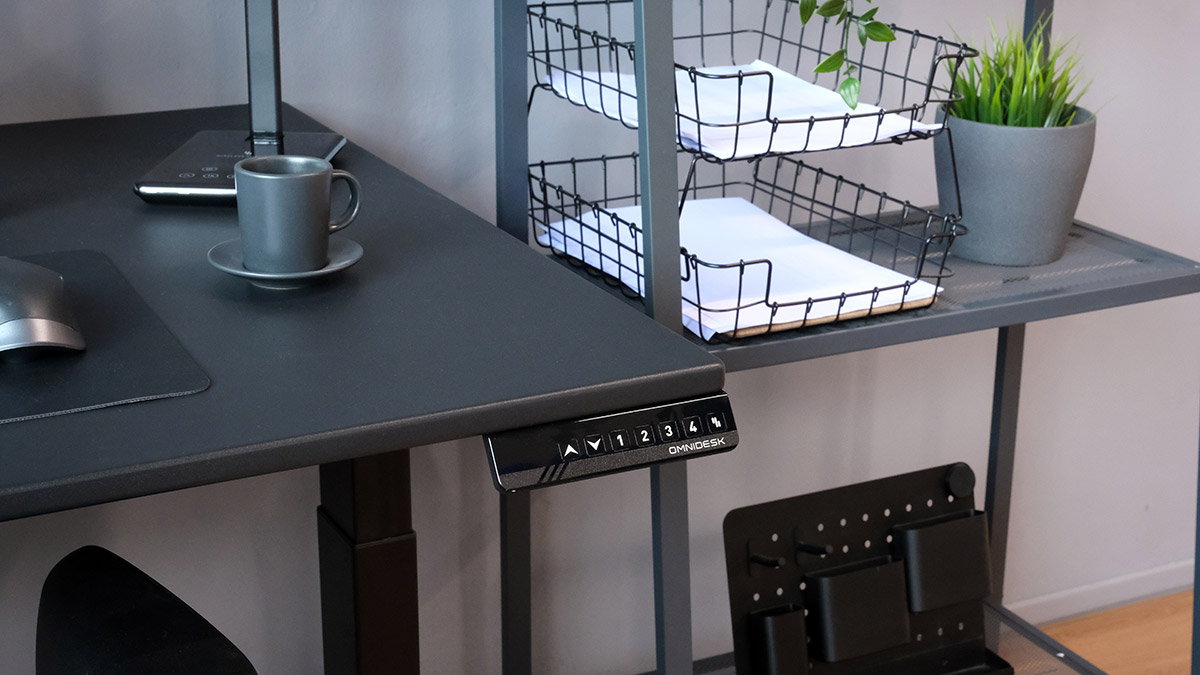 For example, there is the computer CPU cradle (S$75) that connects to the legs of the Omnidesk, allowing owners the convenience of keeping the CPU under the table, but off the floor. Need a power supply or two? Omnidesk can secure power strips (S$30) to the underbelly of the table. Should the height controller sit on the left or right side of the table? The choice is yours.
For folks who are transitioning from office to home, the ARC Stealth Dual Arm (S$139) is the perfect combo to pair along with the laptop mount (S$45). By suspending either or both above the table, you can continue to have valuable real estate on the table for other items, including speakers, keyboards or space for work documents.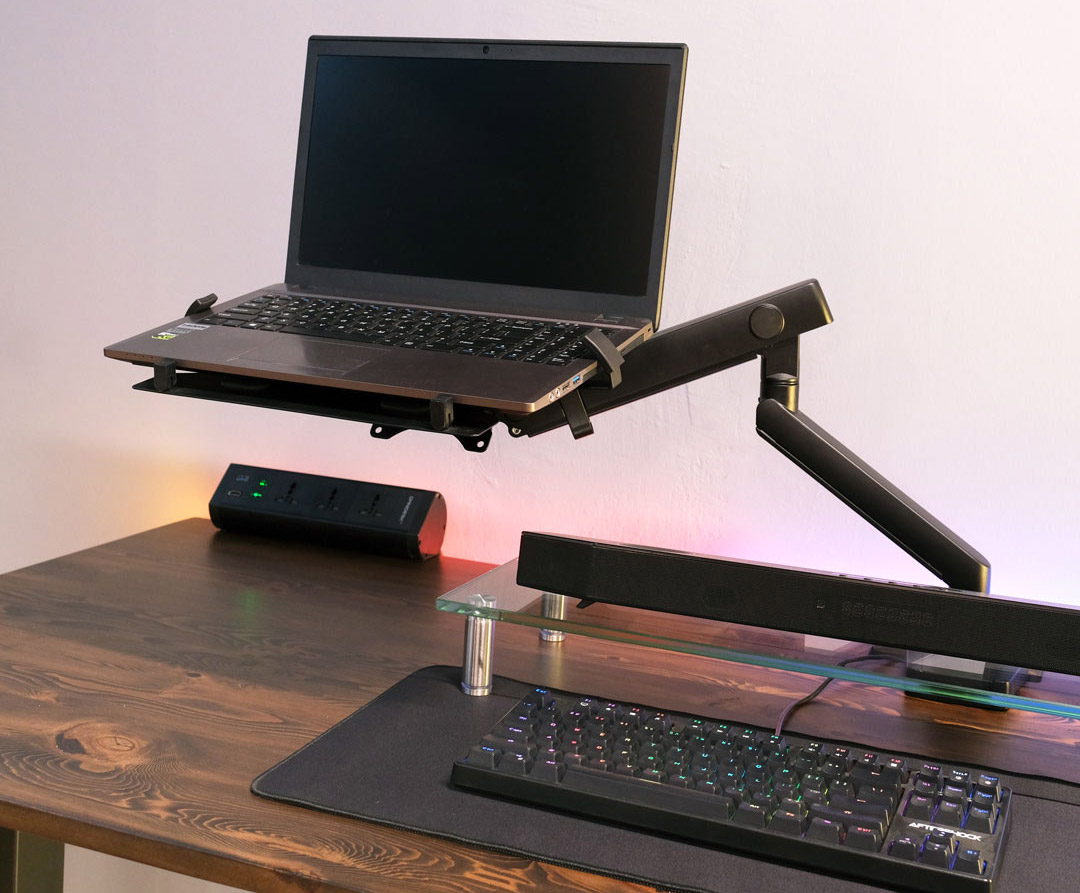 What about headphones and cups? Well, Omnidesk has you covered with headphone hanger (S$39) and a cup holder (S$29), ensuring that the headphones aren't just sitting on the table, and that water marks off the cup don't stain the table.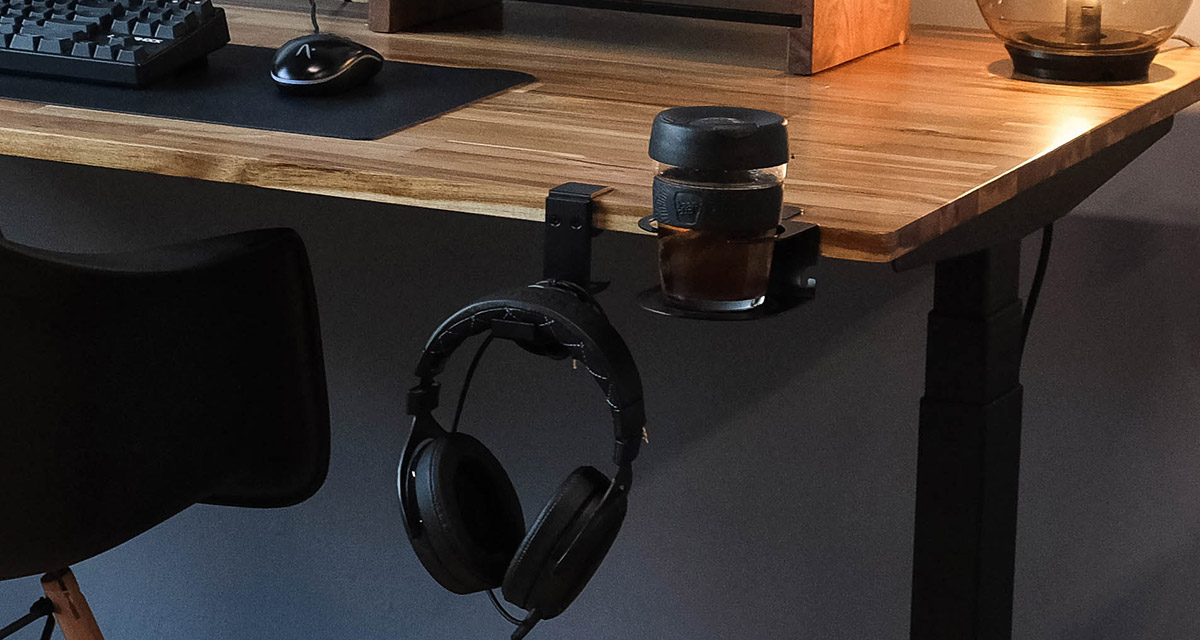 And if you opt to stand, there's also a comfortable standing mat (S$79) you can pick up, so that your feet aren't just plastered to your floor, and have some support for your feet.
The good news is that you don't have to pick these accessories when choosing a desk. The accessories are available at any time, and you can build upon these. Omnidesk is also adding new accessories based on customer feedback, with their desk drawer (S$89) as the latest one on the list.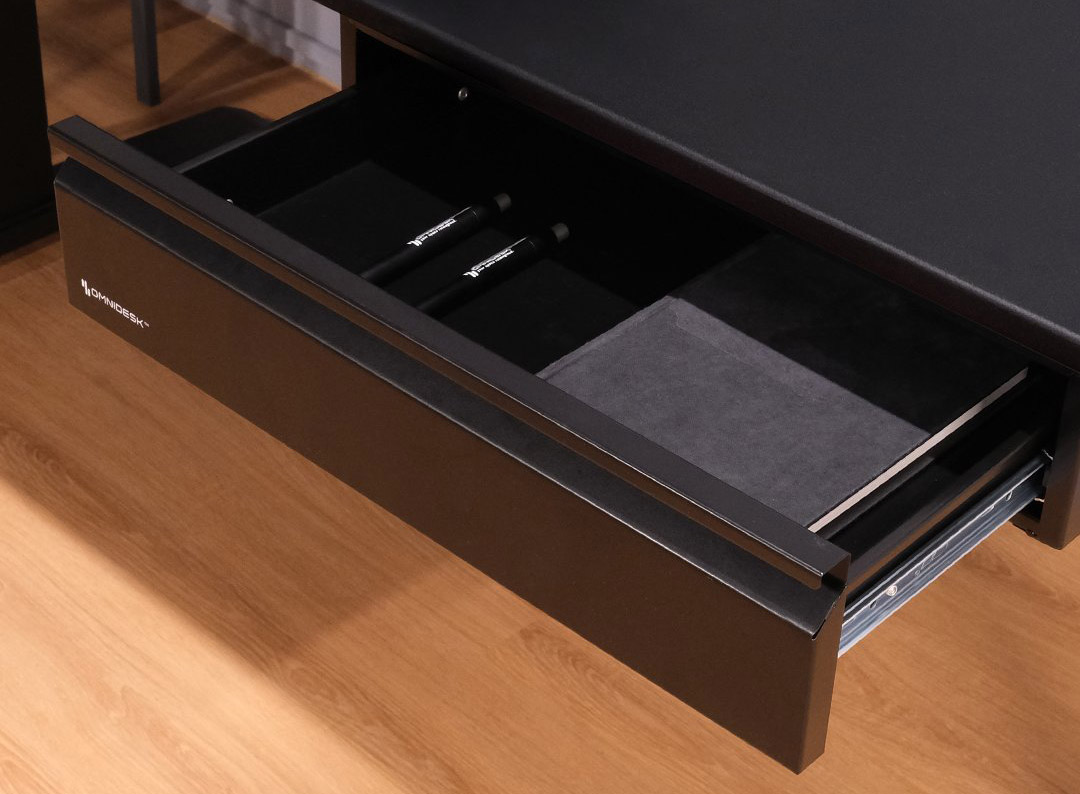 Since you're at it, the default Omnidesk Pro 2020 tabletop can also be upgraded to suit your aesthetic needs in the future. Ranging from their Wildwood collection to the brand new Ichi collection, there's a table top just for you. Not only would Omnidesks' solutions suit your sit / stand desk needs but a growing appetite for space if called upon as well.
---
It's an Omnidesk, but as the name suggests, there is more than one option. You get to choose between the types of material for the table, the dimensions, and how you want it – curved on one side, or smooth. With the recent Kawa (read our review) and Ame models from the Ichi Collection, you can pick from teak or suar wood, or one that mixes teak with epoxy resin that adds some distinguished class to a simple desk.
All these options, including one meant for children, means that you have options to consider, and the company has enough supply for those who need a desk immediately.
---
Of course, the worst thing that can happen is to order an item this week, and being told that stocks will only arrive the next month. Omnidesk is providing next day delivery and installation and should demand be overwhelming, you're looking at a week of wait, before the table is delivered and assembled.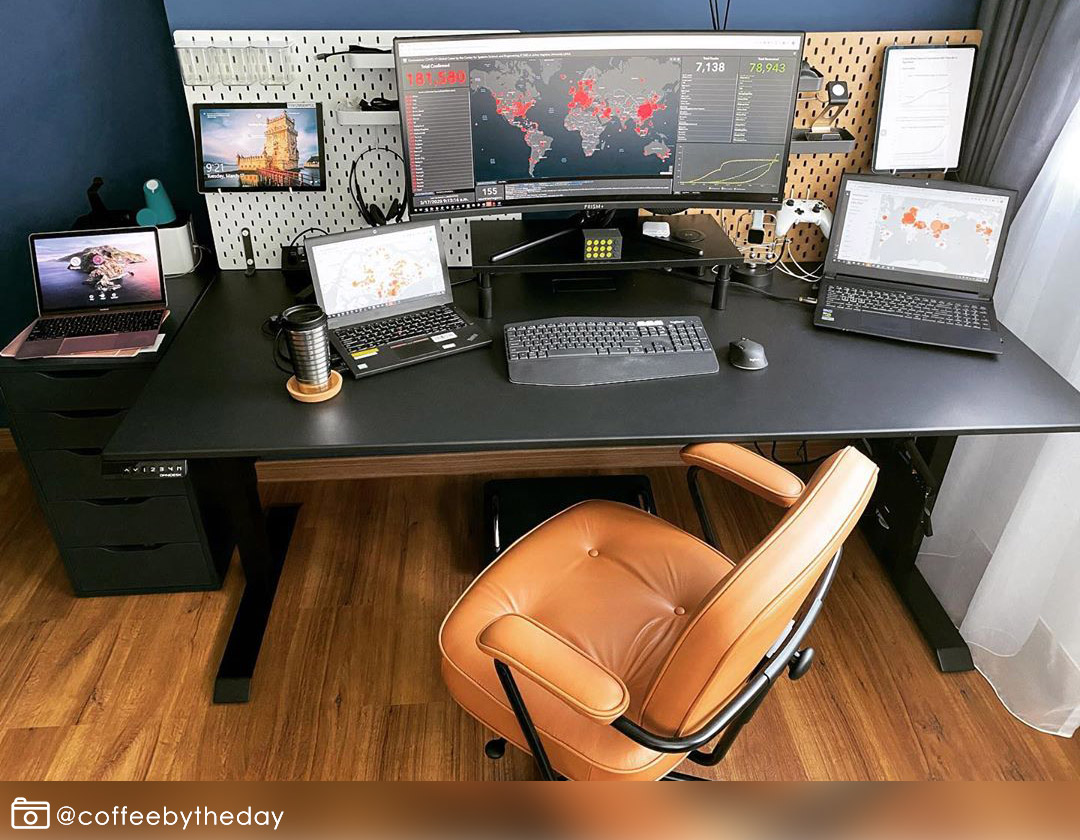 Delivery is free and if you need help to get the desk up and running in a matter of minutes, Omnidesk offers an installation service as well so you can spend that time planning the layout of the new desk.
---
While there might be alternatives to other desks in the market, sometimes it's the after sales which needs to be considered. The brand offers a 7-year warranty for their motorized product, which will help alleviate any concerns in the future.
For an investment of this scale, the best thing you can do for yourself is to avoid random online offers that tout something similar for a S$50 discount. We're all users of Omnidesks here at Geek Culture and we can attest to the quality of the desks. Tables tend to and should last a very long time (when was the last time you replaced a table), and there is now a warranty that matches as well.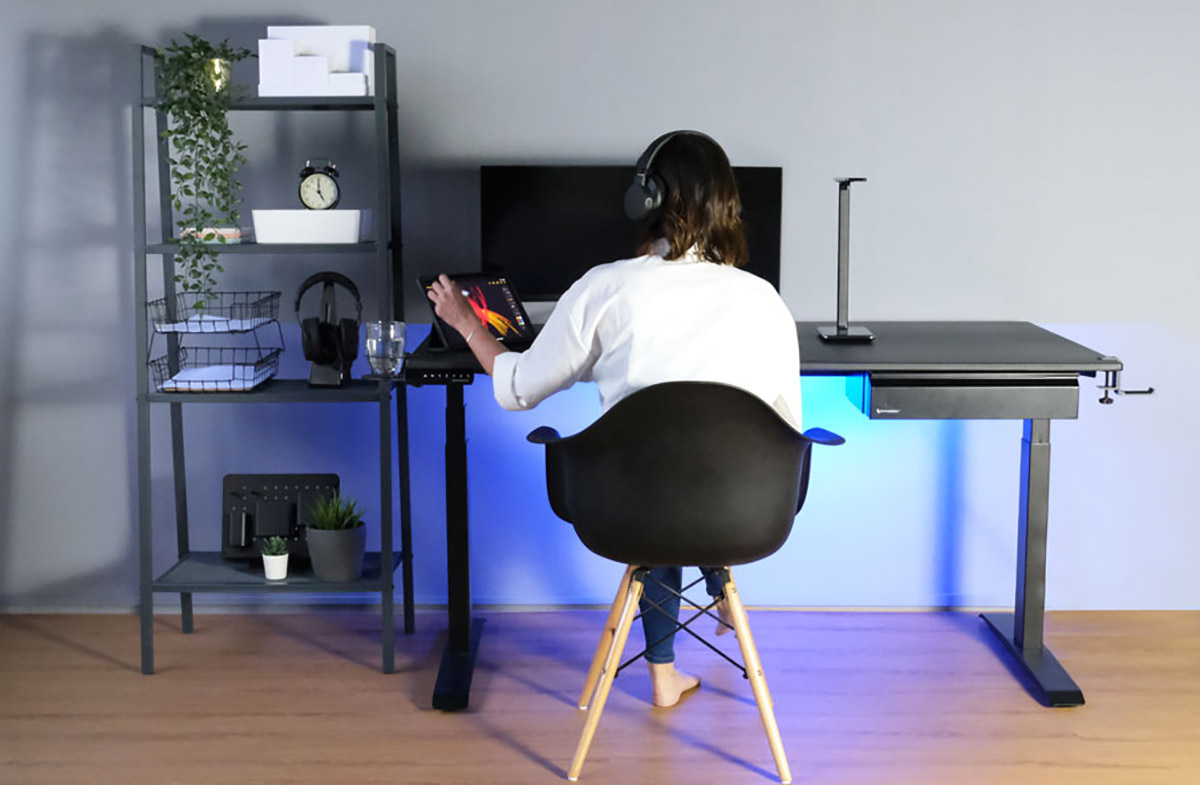 In the event of any mishaps, Omnidesk does have robust support in the backend and is well equipped to handle pretty much anything desk related. After all, if you're spending so much time on a desk and with all its related accessories, Omnidesk wants to ensure that you have the best experience possible right from the get go and after the purchase is completed.
Judging by the number of desks featured on Instagram, we're pretty certain that they've followed through on their promise.
---
With quite a few options to choose from, there are a few bundles that Omnidesk has put together to help alleviate the analysis paralysis.
For us, we'd likely start from the "Savvy" bundle at S$1,007 which is a good jumping off point for any home. It allows for plenty of room for future upgrades as well. We have the essentials like an undertable powerbar, monitor arm, and a headphone hanger which form the basis towards a neat and clean desk.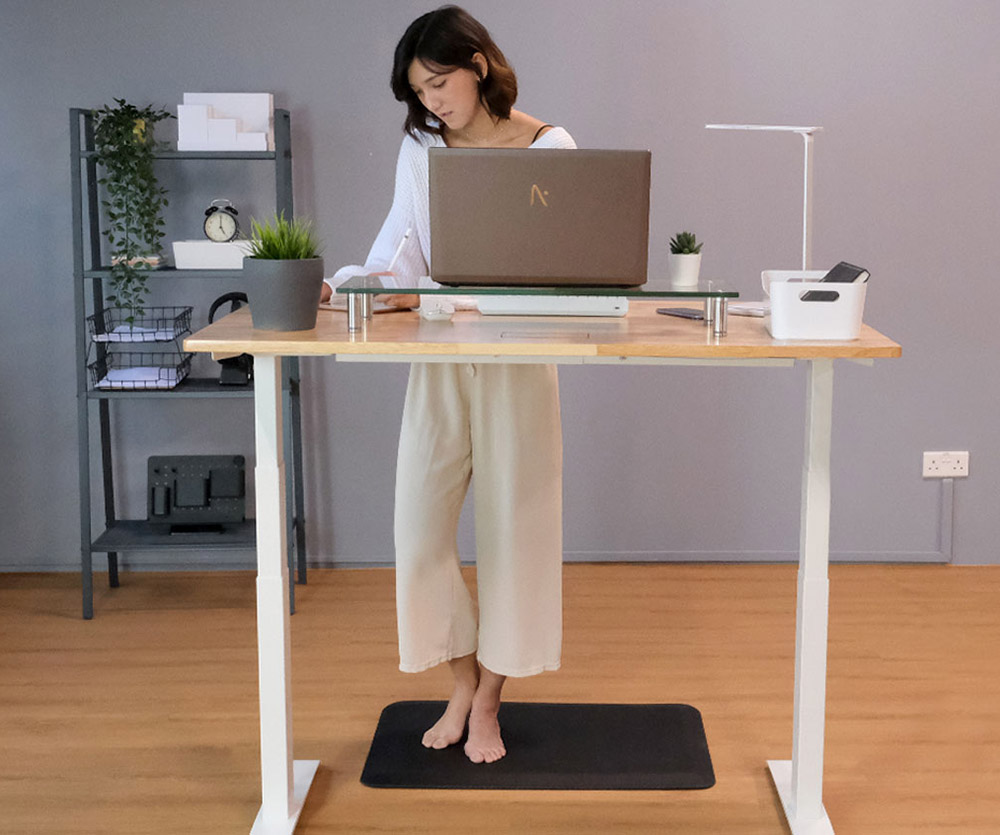 The only thing that we could possibly add would be an Atlas Anti-Fatigue Mat (S$79) which goes a long way in alleviating back pains.
The most premium config goes up as high as S$1,937 which caps off the home battlestation which not only looks good but goes the distance for those long working / gaming sessions.
---
The sign of a good organization is how well it takes care of its staff. Like a solid desk, you'd want to join a company which can go the distance.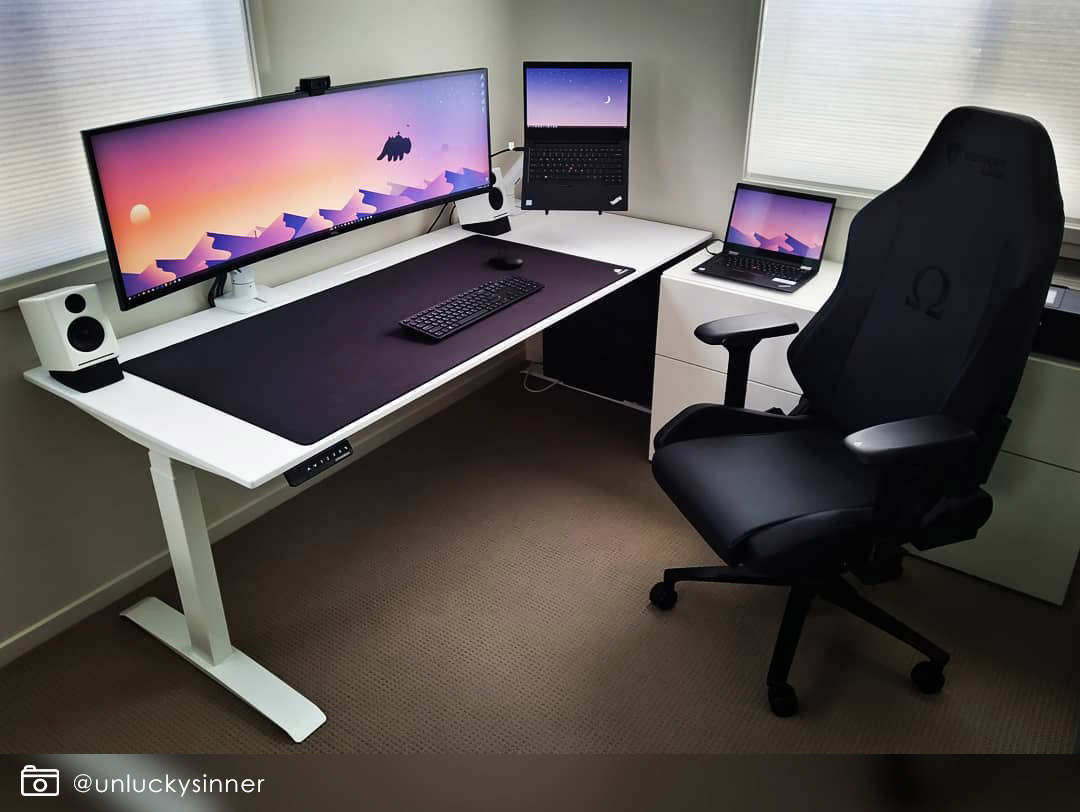 Omnidesk offers discounted desks for companies looking at bulk orders, so if your company does not have this perk unlocked, it's time to send them this handy link and let your benefits team take it from there.
If you're a company looking to help your employees be the most productive at home, Omnidesk offers bulk discounts to furnish not only the office but the home as well.
---
The Omnidesk Pro 2020 is currently priced from S$760. For more information, visit their official website.