Access all of our TGS 2018 coverage here!
12 years.
That's how long fans of the Kingdom Hearts series had to wait before news of its latest upcoming installment in the main storyline first dropped in 2017. Understandably, plenty of pulsing excitement and joyful cries broke out then, and the hype has since carried over to current times, buoyed by new reveals and informational bits along the way.
With Tokyo Game Show (TGS) 2018 just about to kick off, Square Enix has promised at an earlier date to deliver more Kingdom Hearts goodness, and its newly-unveiled trailer is set to live up to their word.
Chock-full of beautiful, gorgeous visuals and great cinematic flair, the reel features extended combat action, alongside the colourful cast of existing Kingdom Hearts characters and new crossover names from popular Disney franchises. Big Hero 6 happens to be one of them, and in fact, takes centrestage in this trailer; Sora is seen riding on Baymax's back as the dynamic duo fights against evil forces, with aid from the other members of the team…oh, and it appears the former now possesses the ability to transform.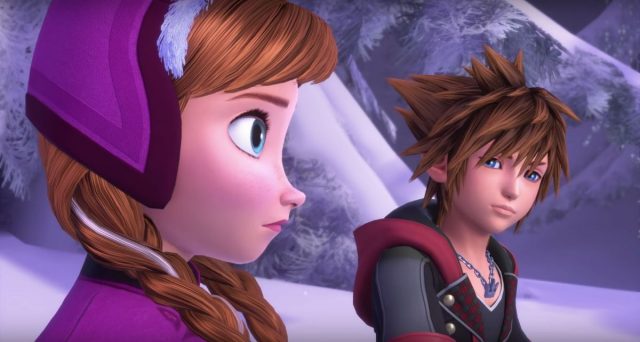 Outside of that, a more detailed look into some in-game worlds, such as Tangled, Frozen, and Pirates of the Carribean can be gleaned, where Rapunzel, the Jack-Sparrow-Davy-Jones pair, and Anna made their respective appearances at various points of the video.
It's not Kingdom Hearts without an emotional and nostalgic touch, however. Against the lovely tunes of Utada Hikaru's lyrical craft, the narrative is fuelled by an intense mix of heartwrenching, touching, sentimental, and cheerful undertones that still don't quite reveal much about story specifics, but continue to keep fans gripped.
As we draw closer to the launch of #KingdomHearts III we'd like to show you all the cover art for the game!

This stunning piece, featuring a number of iconic characters, was created by series director Tetsuya Nomura.#KH3sharethemagic

Pre-order now: https://t.co/7KLnoFbgoZ pic.twitter.com/qRwRgg9JBk

— KINGDOM HEARTS (@KINGDOMHEARTS) September 18, 2018
But perhaps the greatest feast for the eyes comes in the form of breathtaking box art. Ahead of its launch on January 25, 2019, the team has taken to Twitter to announce a new artwork for the title – and my, does it look majestic!
Designed by series director Tetsuya Nomura, it stars a handful of iconic characters which enthusiasts may recognise, such as Xion from 358/2. A more unfamiliar face to some would be Darkling, who appears in web browser title Kingdom Hearts X, and the move to include characters from their lesser-known counterpart has certainly garnered a very favourable response from the community.
It seems there's so much in store and way more to explore when Kingdom Hearts III finally arrives upon our shores, and should you still need more of that Kingdom Hearts fix, the Kingdom Hearts VR Experience is worth checking out at the cool, cool price of free.
Access all of our TGS 2018 coverage here!