Blockbuster! Alien autopsy! Young Nick Fury! Our heroine punching an old lady! Wait, what?
Earlier we were treated to the first look at Captain Marvel by Entertainment Weekly. We tried to look into these photos as much as we can and learn about the plot of the movie. The first official trailer for Captain Marvel has officially been released and oh boy, is there is much to unpack.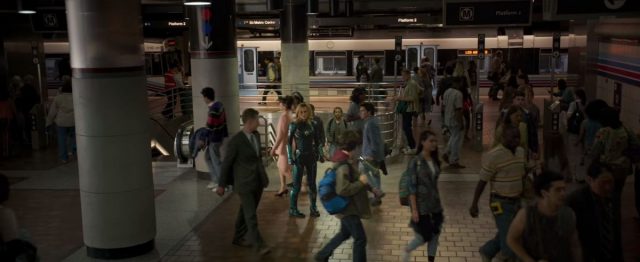 The trailer starts with a hurtling piece of something heading towards Earth and a body falling out of the sky, smashing into a Blockbuster, firmly setting this movie in the past. (For those who don't know, Blockbuster is a brick-and-mortar video rental chain store that has been made obsolete due to video on demand and streaming services.) We are then treated to flashes of action both on Earth and in space, while Nick Fury and Carol Danvers narrate.
There are so many things here to unpack, but the most important one being the storyline. Based on flashes of spaceships looming over Earth, Fury's monologue about "a renegade soldier… coming from above" and what we know about the movie so far, the Kree, for whatever reason, wants to attack Earth. For a reason that Carol doesn't completely comprehend, she decides to desert the Kree army to side with the people of Earth.
In lieu of a traditional origin story, it looks like Captain Marvel will be doing a lot of flashbacks for viewers to learn about her origins. Carol mentions how she sees flashes of memories, that she 'thinks' she had a life here on Earth. We then see glimpses of her past as a U.S Air Force pilot, her childhood playing baseball, and falling. Lots of falling.
Though superheroes like Spider-Man or Batman can get away with movies sans a traditional origin story because of how popular they are, a lot of people won't know who Carol Danvers is or what she is capable of. But, on the other hand, origin stories can be grating. Do we really need to see a whole hour of the hero trying to figure out their powers? This flashback method might be a good way of introducing Captain Marvel and Carol Danvers to the audience without skimping on the action. We'll see how it plays out when the movie is released.
We also got a glimpse of Carol fully suited up. We've yet to see her with her helmet on, and… it looks like the suit in the comics. Further judgments will be made once the suit can be seen in better lighting. Though this look is comic accurate, we're still questioning why the fauxhawk is still there. It never made sense in the comics, and we're not sure if it'll make sense here either.
With some questions answered, the trailer leads to new questions popping up as well. What gave Carol her powers, an accident or the weird contraption she was in? What kind of alien were they dissecting and how will that affect the impending war with the Kree? Why was Carol able to scan her thumb and access a S.H.I.E.L.D facility? And what is up with that hair, Coulson? The de-aging technology here is great, but maybe the wig department should be given more budget.
Along with the trailer, Brie Larson also shared the first official poster for the movie.
Look Mom, I'm a superhero. #CaptainMarvel pic.twitter.com/iUv0g1wlxs

— Brie Larson (@brielarson) September 18, 2018
Higher, further, faster. These words are often mentioned in the world of aviation, about how they are always trying to create machines that can go even higher, even further, even faster than any machines that currently exist. Words that are appropriate for a former US Air Force pilot who constantly will prove everyone who underestimates her wrong.
Captain Marvel will premiere on March 9, 2018.
Dea wishes she could play the latest Tomb Raider or Uncharted, but she can't, so instead she reads and watches other people play. On her down time, you can probably find her re-reading Captain Marvel. The Carol Danvers one.
---

Drop a Facebook comment below!