The Western animated world isn't just made up of Disney, Pixar and DreamWorks, and audiences are not forced to gawk at Moana's glittery waters, Coco's orange marigold fields, and Despicable Me 3's yellow Minions.
Instead, we see splashes of red, green and blue as garden gnomes take on the big screen. Sherlock Gnomes, a sequel to 2011's Gnomeo Juliet, is getting an early release in Singapore, to coincide with the week-long school holidays. Yes, there is apparently a substantial amount of money to be made from parents bringing their kids to cinemas, to kill time.
What have we done to deserve this British-American animation? When Kelly Asbury's Gnomeo & Juliet was released in seven years ago, it made an impressive $194 million on a $36 million budget. And there you have it: the reason to produce a sequel. Helmed by John Stevenson, who was one of the co-directors of Kung Fu Panda (2008), this movie may not have what it takes to become an animated classic – but it promises plenty of fun.
Do not expect too much originality from the plot. Gnomeo and Juliet, together with their friends and families move to a new garden in London. Just when the couple is going to settle down and start a new life, everyone goes missing. Enter the haughty Sherlock Gnomes and his trusted but overworked assistant Watson Gnomes. The motley crew travels across the city to prevent the gnomes from being crushed to a million pieces.
The first thing that strikes us is the number of A-listers involved in the movie. James McAvoy (X-Men, Atomic Blonde) is Gnomeo, Emily Blunt (My Little Pony: The Movie) is Juliet, Johnny Depp (Murder on the Orient Express) is Sherlock, while Chiwetel Ejiofor (Doctor Strange) is Watson. R&B star Mary J. Blige, an Oscar Best Supporting Actress and Best Original Song nominee for her performance in Mudbound, has a part as Sherlock's ex-lover Irene. No time is wasted in getting Irene to perform a song that showcases Blige's powerful vocals.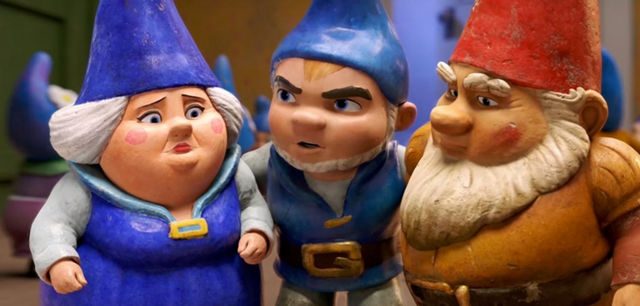 Like the first movie, this sequel is produced by Rocket Pictures, a British film company founded by Elton John, to make family-friendly and music-themed projects. That explains why there is so much love from celebrities to come on board this movie. With these big names, it will probably be a breeze to market this animation.
For 100 minutes, kids will be duly entertained by the comical characters and their antics. More importantly, they will also learn some important life lessons. Always be considerate to people who have been silently supportive, always be big-hearted to those who need help, and always know that good will triumph over evil. Fortunately, they aren't presented in a preachy manner.
While the animation by Mikros Image is not as sophisticated as the usual blockbusters we have grown used to, it is charming enough to leave a smile on your face. Colours are vibrantly crisp, and character designs are endearingly appealing. John's songs are also aptly featured in the movie.
Older viewers need not worry about being bored as there are plenty of self-referential gags. You will be tickled by puns on familiar lines like "No shit, Sherlock" and "Dance with the Devil", as well as witty takes on titles like "Game of Thrones" and "The Twilight Saga: Breaking Dawn". There is also an orange emoji-lookalike villain named – surprise – Moriarty, plus a mankini gnome who provides fart jokes. Our favourite? A diva fortune cat named Empress Pom-Pom voiced by the hilarious Ken Jeong (The Hangover).
Because this is a movie that is fun for both adults and young children, parents won't feel sore paying tickets for the whole family.
GEEK REVIEW SCORE
Summary
What the fertiliser? There is actually something in this family-friendly fare for everyone!
Story -

6.5/10

Direction -

7/10

Characterisation -

7/10

Geek Satisfaction -

7.5/10
---

Drop a Facebook comment below!