The limits of the Marvel Cinematic Universe (MCU) know no bounds, especially with a whopping 18 titles under its belt over a span of 10 years. Everything has been established, polished, and further crafted to lead up to the franchise's zenith in Avengers: Infinity War, where the ultimate fate of humanity is held hostage in the grandest showdown between Thanos and gang, and the ragtag team of heroes.
With much promise and hefty content in store, the expectation to deliver falls to directing duo Joe and Anthony Russo, who surely have a lot on their plates trying to juggle between and make connections to the many existing storylines. Throw a vast, wide cast of characters into the mix, and that's a whole acrobatic act by itself.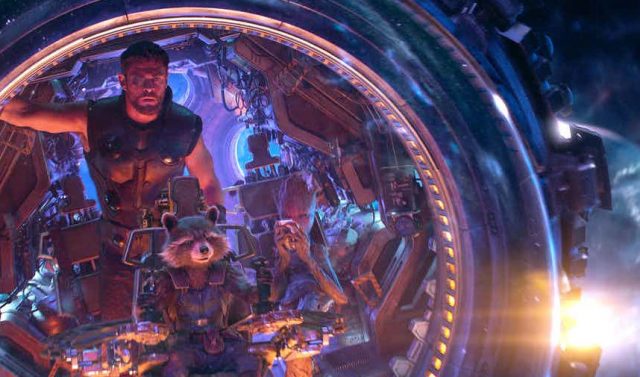 As the date of the film draws near, the exact number of character appearances still remains unconfirmed. But Chris Hemsworth has dropped an estimate in a recent interview with Postmedia Network, and the magic number (for now) seems to be 76, up from previous guesses of 67.
"This is one of the biggest things in film history and to be a part of it was just incredible. I think what these characters are about to face – with Thanos – there's been nothing quite like it. There are 76 cast members or something like that."
So yes, it's not a final exact number. It does, however, give fans a glimpse of what to expect from the Herculean superhero title, in addition to the 34-or-so confirmed hero features, and the usual cameo appearance by comic wondermind Stan Lee:
Ant-Man / Scott Lang (Paul Rudd)
Black Panther / T'Challa (Chadwick Boseman)
Black Widow / Natasha Romanoff (Scarlett Johansson)
Captain America / Steve Rogers (Chris Evans)
Drax the Destroyer (Dave Bautista)
Dr Strange / Stephen Strange (Benedict Cumberbatch)
Falcon / Sam Wilson (Anthony Mackie)
Gamora (Zoe Saldana)
Groot (Vin Diesel)
Hawkeye / Clint Barton (Jeremy Renner)
Hulk / Bruce Banner (Mark Ruffalo)
Iron Man / Tony Stark (Robert Downey Jr)
Loki (Tom Hiddleston)
M'Baku (Winston Duke)
Mantis (Pom Klementieff)
Maria Hill (Cobie Smulders)
Nebula (Karen Gillan)
Okoye (Danai Gurira)
Rocket (Bradley Cooper)
Scarlet Witch / Wanda Maximoff (Elizabeth Olsen)
Shuri (Letitia Wright)
Spider-Man / Peter Parker (Tom Holland)
Star-Lord / Peter Quill (Chris Pratt)
Thanos (Josh Brolin)
The Collector / Taneleer Tivan (Benicio del Toro)
Thor (Chris Hemsworth)
Vision (Paul Bettany)
War Machine / James Rhodes (Don Cheadle)
Winter Soldier / Bucky Barnes (Sebastian Stan)
Wong (Benedict Wong)
The last four on the list have yet-to-be-announced actors, but are set to appear for one main reason: Thanos. While the Mad Titan wrecks havoc upon the world, these henchmen are the ones creating more trouble, and making the job of the Avengers team even more difficult. They are as follows:
Cull Obsidian
Corvus Glaive
Proxima Midnight
Ebony Maw
That's about half the team down, so how about the others? As with every fandom, theories and speculations are always strife, and among the list lies two choices who may possibly be featured – Valkyrie (Tessa Thompson), and Ned Leeds (Jacob Batalon).
Here's a brief refresher: Valkyrie was last seen on the Asgardian ship in Thor: Ragnarok, where Loki and Thor were on board before Thanos launched his assault; meanwhile, Leeds debuted as the ever-trusty tech support to Holland's Peter Parker in Spider-Man: Homecoming.
https://www.instagram.com/p/BTpTVs1FHpV/?utm_source=ig_embed
An Instagram photo of Thompson and a fan outside the film set highlights the very high possibility of Valkyrie arriving to the superhero epic. While there's yet to be a hint of Leeds' recurring appearance, his inseparable relationship with Parker should warrant him a cameo at least, alongside some of the webslinger's classmates. Based on our earlier interview with Jacob Batalon, however, Leeds might not be making an appearance.
Remember Sally Avril in Homecoming? Yup, we neither. But actress Isabelle Amara has confirmed her onscreen persona's welcome back onto the silver screen in an earlier statement, saying, "Yes. I'm in Spider-Man: Homecoming and Avengers: Infinity War."
Given her very minor role in the former title, it seems a little strange that she would be getting a cameo, though that could easily be indicative of other member appearances by Parker's debate team, which may include:
Cindy Moon (Tiffany Espensen)
Tiny McKeever (Ethan Dizon)
Charles Murphy (Micheal Barbieri)
Fans should know of Marvel's penchant for bringing back supposedly dead characters, and existing theories about Infinity War is established upon this basis. For instance, Yondu from the Guardians of the Galaxy series is rumoured to stage a return – but wait, didn't he meet his demise in Vol.2?
As it turns out, he did. James Gunn has confirmed his deceased status in a statement, and bears no intention to re-introduce him back into the MCU again:
"Yondu is dead. I think it's very important that in these movies, there are stakes within the films. I am not into this old-school way of doing things, where you kill characters and you bring them back and then you kill them again and then you bring them back and their deaths mean nothing. Yondu is dead. It's sad. There could be a prequel Yondu film or flashback or something like that. Yondu could exist in the past, but he's not going to come back to life, so long as I am involved with Marvel. It's just not going to happen."
Here's the thing: Actor Michael Rooker was seen in Georgia near the film set, and claimed to be in a make-up trailer at one point in time. The popular guess is that time travel could be involved, or simply a passing joke on Rooker's part.
if you look behind steve in the trailer you can see someone walking behind him and the suit looks exactly like captain marvel pic.twitter.com/UPTrebftfS

— em (@spideyrogrs) February 5, 2018
With Captain Marvel in the pipeline for a 2019 cinematic release, some fans are holding onto the hope that the female hero would debut in Infinity War as a lead-up to her solo narrative. This view was strongly echoed after the screening of a new trailer during Super Bowl 2018, in which eagle-eyed individuals caught sight of the familiar red-and-gold costume behind Captain America.
It's a little far-fetched, so do take this with a pinch of salt. Besides, the figure could easily be Scarlet Witch instead, just taken from an obscured angle.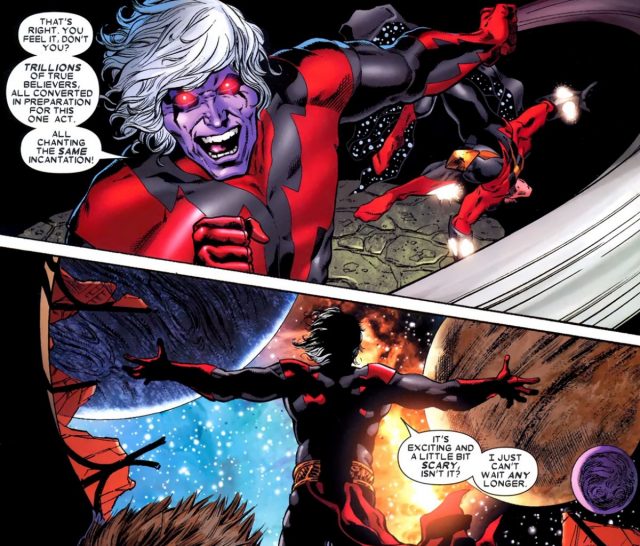 Another character rumoured to appear is one that's familiar to the comic enthusiasts, albeit a fairly obscure name. Following a vague hint in Guardians of the Galaxy Vol.2, it has been a long-standing belief that Magnus, the evil future version of Adam Warlock and greatest archenemy of Thanos, would play a role in the movie. There's no indication thus far that Warlock will be a real entity in the MCU yet, so a name drop seems more likely.
With that, the remaining number of characters left unaccounted for stands at an estimated 32, of which Michael Douglas' Hank Pym, Zandaya's Mary Jane, Gwyneth Paltrow's Pepper Potts, and Stellan Skarsgard's Dr Erik Slevig are among the contenders to run for an Infinity War appearance. The big boss himself, Nick Fury, won't be in the film, however, with Samuel L Jackson saying, "I'm not in Avengers 3 and 4. They're shooting them now – they haven't called me yet."
As the release date of Infinity War draws near, perhaps more information will be slowly announced over the days. Otherwise, the next best solution is to head on down and watch the superhero team-up when it hit cinemas internationally starting April 25, 2018 – but even then, how many of us can confidently and accurately point out each and every single character?
Now, that'd certainly be an interesting and exciting challenge for the Marvel community; blow us away with your observations!
All new Avengers: Infinity War images are credited to Entertainment Weekly.