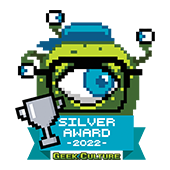 Razer's DeathAdder mouse is known for its ergonomic design that has defined the entire line of mice, and if it ain't broke, don't fix it. That's the intent of the DeathAdder V2 X Hyperspeed, which sports the familiar curves and shape of the DeathAdder, and adds the 'X', which indicates that this is a more affordable version of the original DeathAdder V2 model, while the Hyperspeed moniker refers to Razer's wireless technology.
Ergonomically, the DeathAdder V2 X Hyperspeed lends itself perfectly to both the palm grip and claw grip. The comfort level is high, to the point where the user wouldn't be conscious about the deliberate design of its form. After all, when something functional is well-designed, it doesn't call attention to itself. In the case of a mouse, as an intermediary linking the movement of the user's hand with the cursor on screen, it should ideally feel like the user is directly controlling the movement of the cursor with their hand, with the existence of the mouse itself being effaced in a way. This is why the design of the DeathAdder line of mice barely changed since the first model was released in 2006.
There are seven programmable buttons in all – a left and right mouse button, scroll wheel, two side buttons that rest along or above the thumb, and two buttons near the outer edge of the left mouse button. By default, the two side buttons go forward and backward in browsers, while the two outer edge buttons increase and decrease the mouse sensitivity (up to a maximum of 14,000 DPI). Like other Razer mice, the buttons can be configured and customised using the Razer Synapse software, and with the Hypershift feature which allows users to map a second function onto all the buttons, the DeathAdder V2 X Hyperspeed can carry a total of 14 functions at any one time.
One issue with many mice is that users can often accidentally click the side buttons, which can be a source of slight annoyance. With the DeathAdder V2 X Hyperspeed, that is unlikely to happen due to the position of those buttons. It is hard for the buttons to be clicked without intending to do so, and that is a tiny design touch that is likely to be an unsung hero. The outer edge buttons are similar, but it is possible that those with smaller hands may find that a bit of a stretch is required to reach those buttons. Seven programmable buttons isn't a lot, especially when compared to the Naga's 20, but it is definitely sufficient and standard as far as gaming mice go. Again, it is functional, and unless one has highly specific needs, the DeathAdder V2 X Hyperspeed should be a solid choice for a wireless mouse.
Functional really is the keyword here with the DeathAdder V2 X Hyperspeed, because unlike many other Razer products (Zephyr, Wolverine V2, Basilisk V3, their HQ), it doesn't feature RGB lights. Those who find the ocean of RGB lights gaudy will appreciate the subtle, understated elegance of this mouse. Instead of flashy lights, it is a workhorse with a stunning battery life. It has an AA/AAA hybrid battery slot, though only one type can be used at a time, and boasts a battery life of 235 hours when using 2.4GHz or 615 hours when using Bluetooth Low Energy (BLE). Even after two weeks of use with the included AA battery, the mouse is still going strong, with no sign of running out of juice. The impressive battery life also makes the lack of rechargeability something forgivable.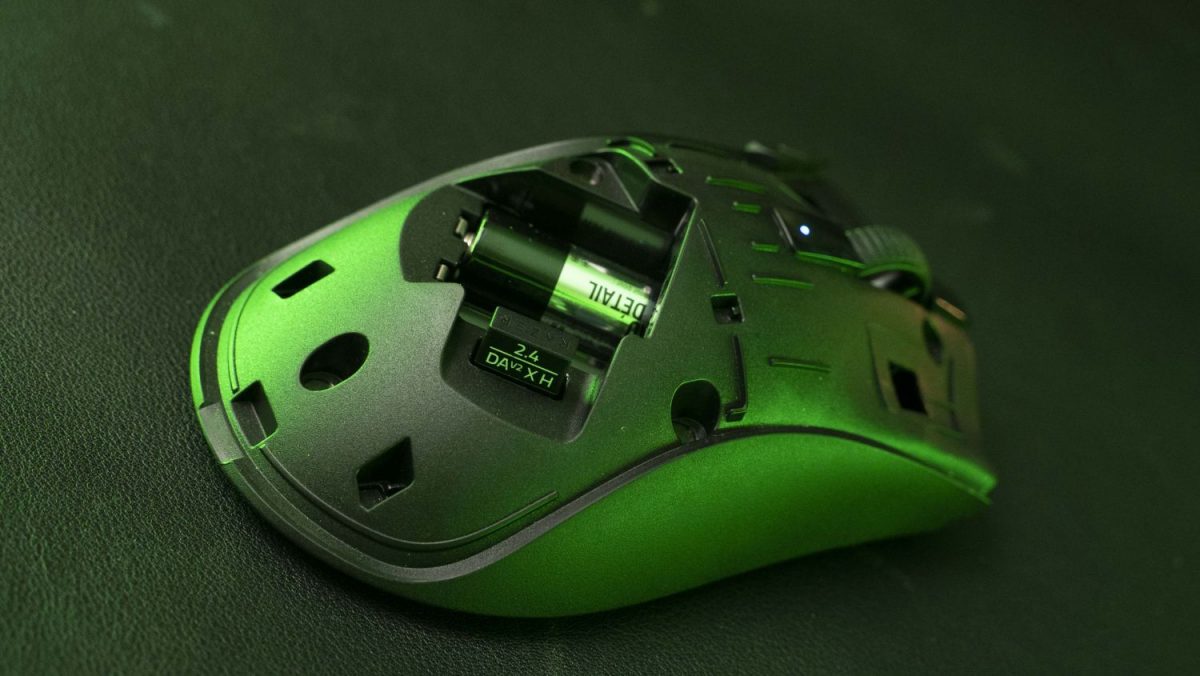 Coupled with its 127mm x 61.7mm x 42.7mm size and 86-103g weight, this is a great portable mouse that is ideal for on-the-go work and for those who find themselves out and about with their laptop often. While it is bigger than the Orochi V2, the DeathAdder V2 X Hyperspeed's size makes it more comfortable to use. Even though it's slightly clunkier to carry, the difference isn't big enough for it to become a noticeable and significant issue.
Connectivity-wise, naturally, the 2.4GHz is much more responsive than the use of Bluetooth low energy. The USB dongle for the 2.4GHz is elegantly kept under the cover plate, which is also where the battery slot is. The latency is also impressively low, and there isn't any palpable difference between the DeathAdder V2 X Hyperspeed and a wired gaming mouse. Combined with the battery life, it is hard to go back to using a wired mouse after getting used to this unassuming, reliable model.
The DeathAdder V2 X Hyperspeed is defined by its practicality, and while it is billed as a gaming mouse, it is a mouse that's a winner for workers, creatives, and students, especially those who find themselves travelling around frequently. Razer also manages to eke out room for customisation with its plans to release different designs for the cover plate.
For those looking to upgrade their mouse, or are considering whether a wireless mouse is worth it, the S$94.90 DeathAdder V2 X Hyperspeed is worthy of serious consideration.
GEEK REVIEW SCORE
Summary
Razer's DeathAdder V2 X Hyperspeed leaves almost nothing more to be desired as an unassuming, robust workhorse boasting low latency, strong battery life, and iconic ergonomic design. This is a mouse that makes it hard to go back to wired mice.
Overall
9.1/10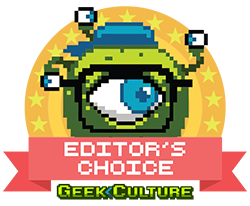 Aesthetics -

8.5/10

Build Quality -

9/10

Performance -

9.5/10

Value -

9/10

Geek Satisfaction -

9.5/10
---

Drop a Facebook comment below!