The Lenovo Yoga Slim 7i Pro is an unassuming machine that packs more punch than it lets on, with a name that seems more like an exercise machine, but is actually fitting because it's a flexible, versatile machine that's excellent for a variety of uses.
This is the laptop for someone looking for a lightweight, slim workhorse, with a 14-inch FHD (2880 x 1800) screen boasting a 90Hz refresh rate, and 16:10 aspect ratio that delivers on design, performance, and price.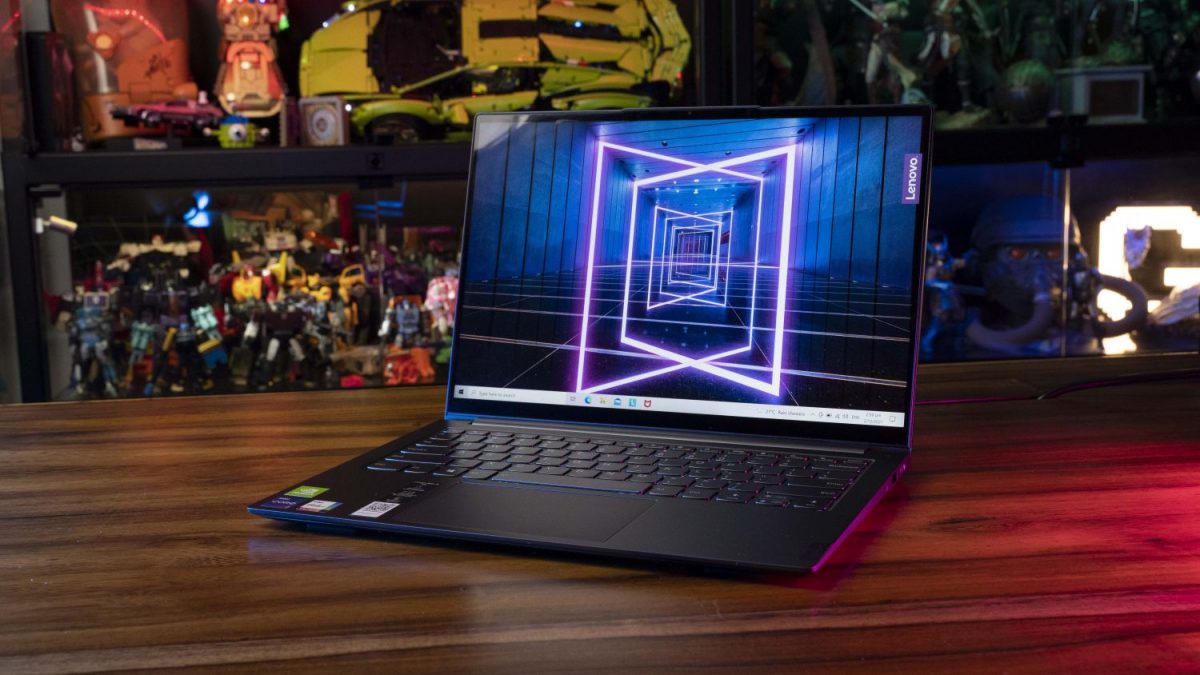 Powered by the 11th Gen Intel Core i7 processor, with either the Intel Iris Xe or NVIDIA GeForce MX450 GPU, and 16GB of RAM, the Yoga Slim 7i Pro is not a gaming laptop, but performs surprisingly well across a wide variety of games. Needless to say, general performance is buttery smooth and extremely responsive.
With up to 1TB M.2 PCIe SSD of storage that is ample for most users, the machine offers a variety of features typical for everyday use, designed to be versatile and able to meet the needs of most people, like a jack-of-all-trades, but better.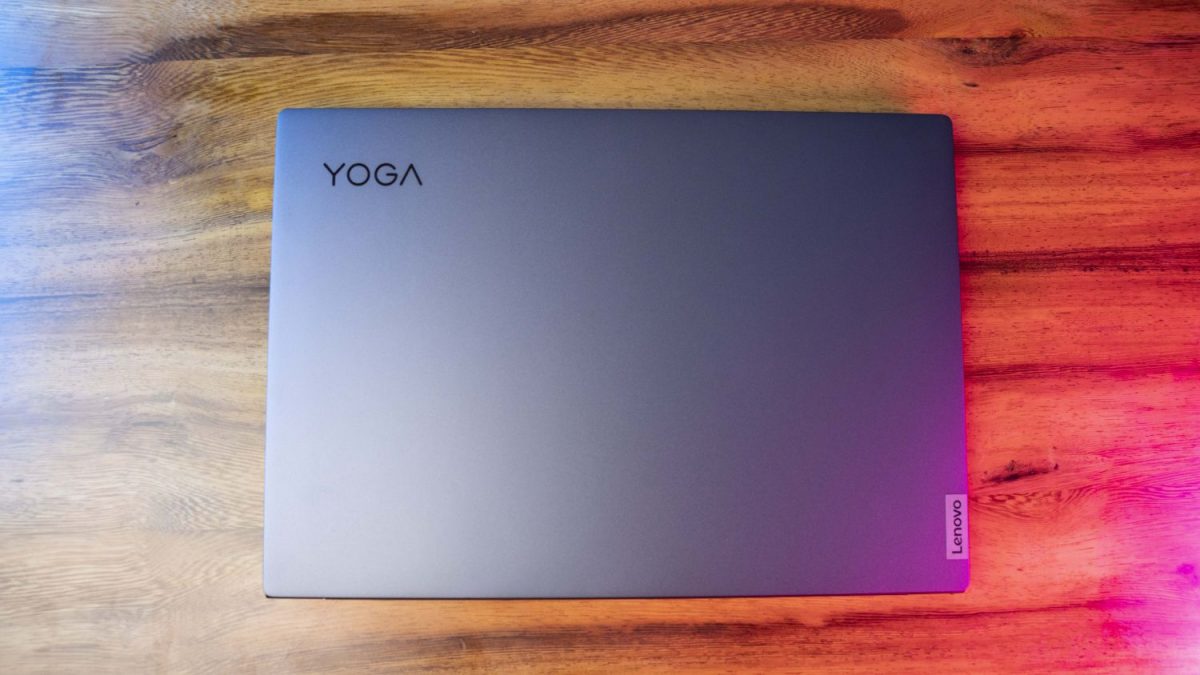 Out of the box, the Yoga Slim 7i Pro presents a sleek aluminium alloy chassis, and offers a hardy and robust piece of hardware while maintaining that clean, elegant design. The smooth matte exterior looks and feels premium, measuring in at 14.6-16.9mm x 312.4mm x 221.4mm, with a weight starting from 1.3kg. The attention to detail is obvious from the get-go, with a raised camera notch that makes it easy and fuss-free for one-hand use, as well as a Flip to Boot feature that automatically powers up the machine when you open the lid.
Facial recognition means that you can log in securely and instantly. Not only that, attention sensors will set off Privacy Alerts when someone's looking over your shoulder, and it automatically logs out when you leave. This added bit of security and convenience will be a tough habit to break because it does that extra bit of precious attention. This is one of those features that is easy to forget about, but its absence will be keenly felt if it's gone.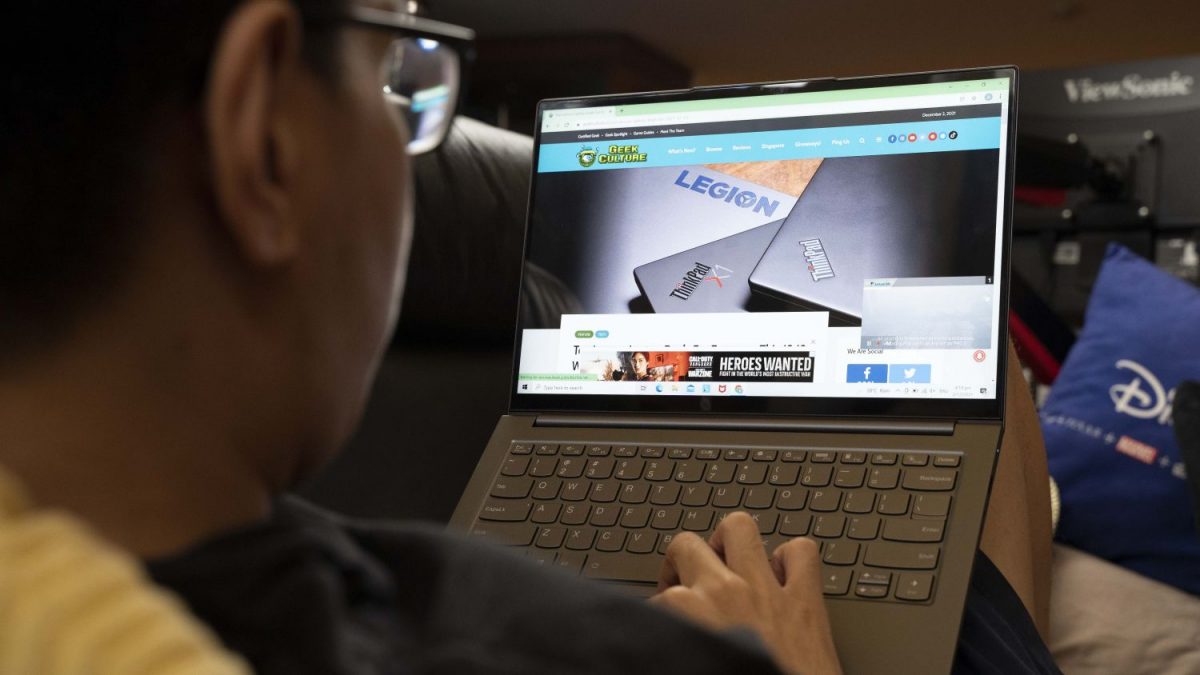 Also, the hinges can open all the way up to a flat 180-degree angle (and why it is part of the Yoga line of laptops), which, with the hybrid work environment being more commonplace now, means that users can use the laptop comfortably in a variety of positions and situations. On the bed, on the couch, standing up, there will be an ideal angle. Also, the hinges feel sturdy and robust, which means one can open it up confidently, unlike some laptops where the hinges feel like they could snap when used.
As is expected of laptops nowadays, for general work and use, performance is not an issue with the Yoga Slim 7i Pro. The question here is how it fares for games. While it lacks the capabilities to run games at the highest settings, it is able to run games including DOTA 2 and Ruined King: A League of Legends Story to a more than satisfactory degree, with no stutter or lag in performance. By extension, the device runs smoothly for on-the-go graphics design and light video editing needs, especially for creatives.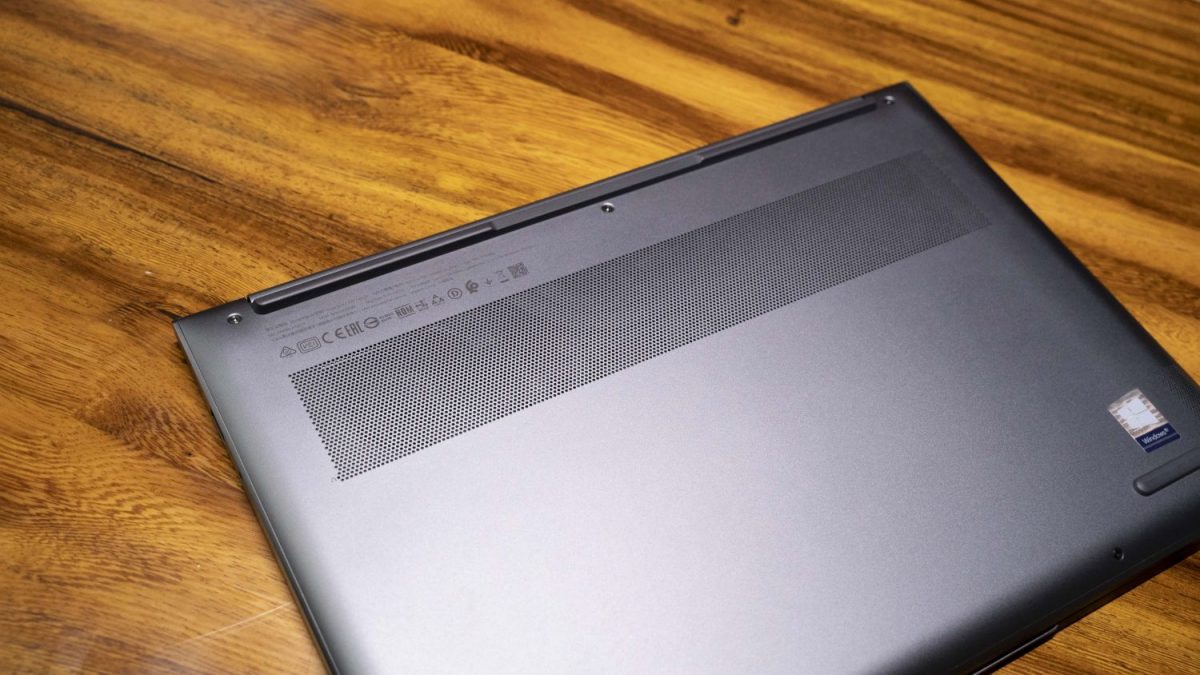 Audio-wise, the laptop comes with two 2W HARMAN-branded speakers with Dolby Atmos. As the speakers are along the bottom of the laptop, it works best when placed on a solid surface. However, even when it's simply placed on one's lap, the sound can go up to a more than sufficiently large volume. This ensures that no matter what one is listening to, it is bound to be audible with some simple adjustments needed at most. It naturally cannot be compared to a pair of good headphones and speakers, but the audio that the laptop is capable of is more powerful than one would expect given how slim it is.
Where the Yoga Slim 7i Pro excels most, is on battery life. On a full charge, it can last between four to five hours while gaming, and around seven to eight hours on light to moderate use, which is perfect for students.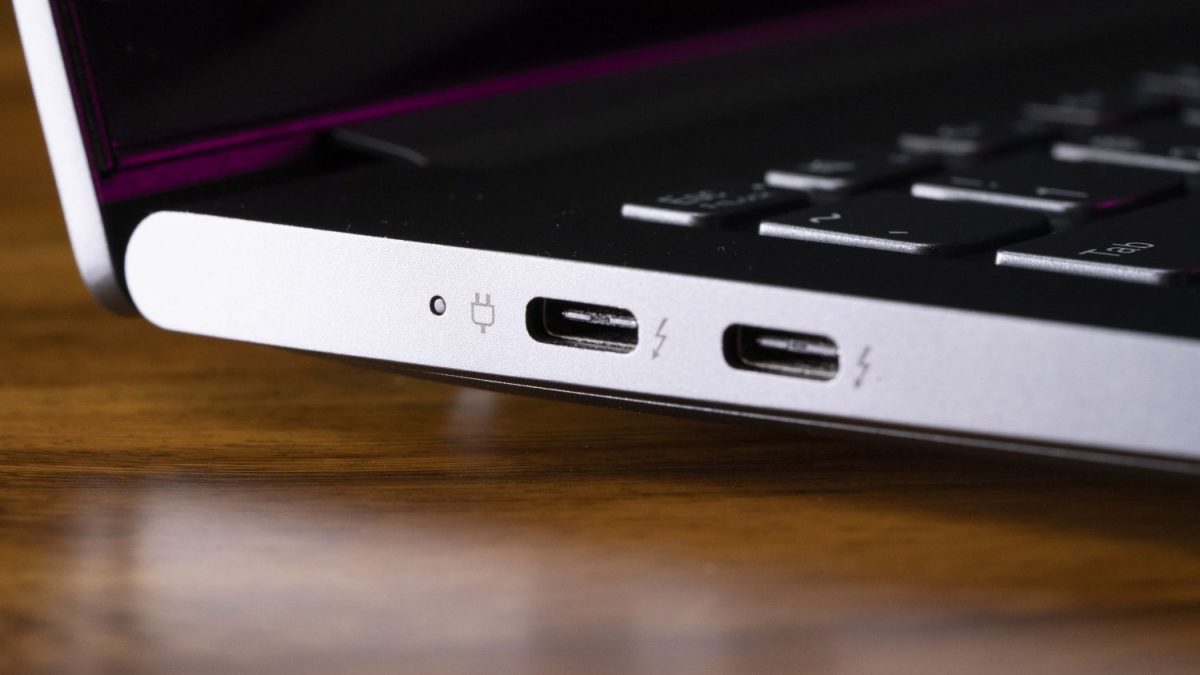 This laptop is a joy to use, given its responsiveness, lightweight, battery life, and ability to run games smoothly. Where it leaves a bit more to be desired, however, is its ports. It has one headphone jack, two USB-C (USB 4.0 + Thunderbolt 4 + DP + PD) ports, and one USB-A 3.2 Gen 1 port, and that's it.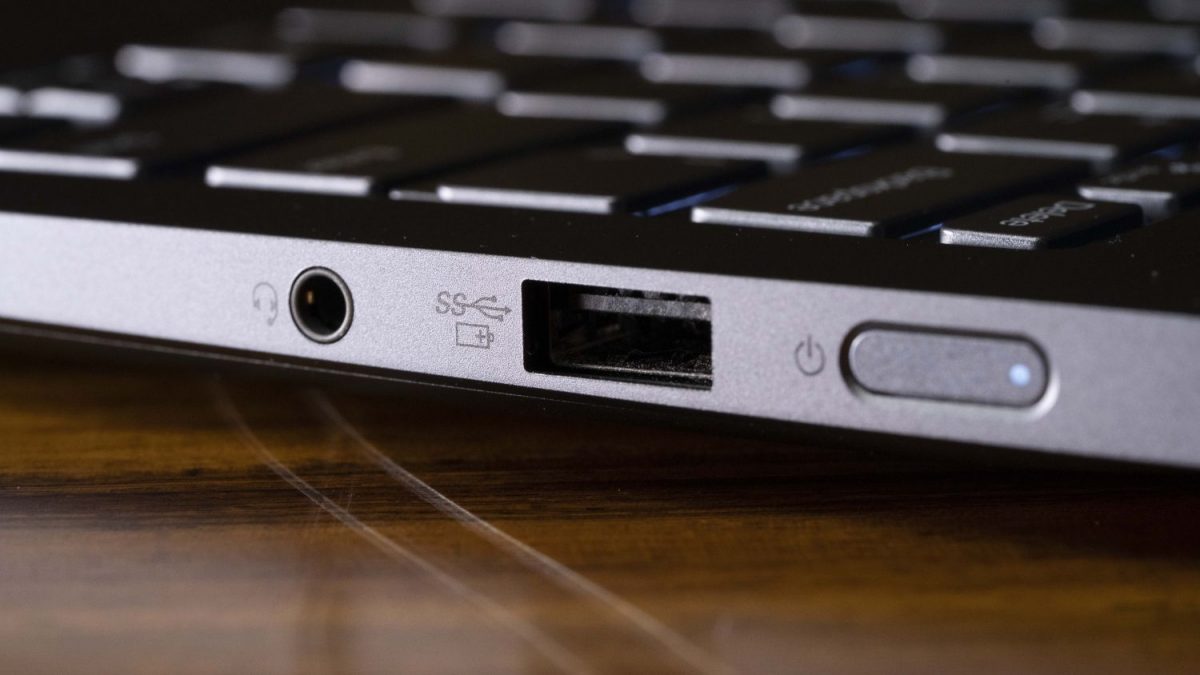 The single USB-A port means that for those if a mouse is taking up the port, it'll be troublesome to access a USB-A flash drive at the same time. It'll involve unplugging the mouse, activating the touchpad (if it's not already activated), plugging the flash drive in, getting the files needed, then plugging out the flash drive and plugging in the mouse again. While USB-C flash drives are becoming increasingly common, since it hasn't reached the point of ubiquity yet, the single USB-A port is still a source of tedium.
Another quality-of-life consideration is the lack of a built-in cover for the 720p HD IR/RGB Hybrid camera. The ability to cover the camera when not in use is a feature that the privacy sticklers will deem important. With the Privacy Alert feature already part of the Yoga Slim 7i Pro's package, it is clear that Lenovo does understand that privacy is a concern for many users. As such, having a camera cover would've made the laptop more appealing to those who are more privacy-conscious.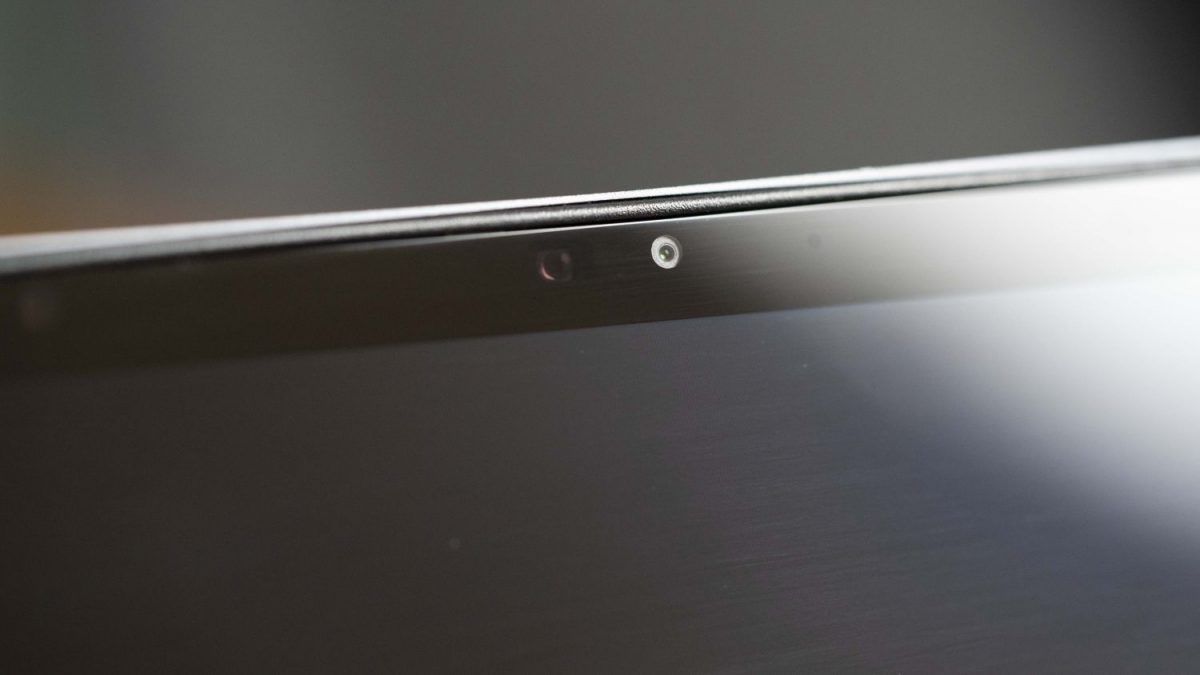 Other than these two points, however, the Yoga Slim 7i Pro is a wunderkind of a workhorse. For users who don't have niche and specific demands, instead requiring a laptop to excel at a variety of tasks, this is one strong contender. Starting at S$1,361.23, this is also a highly affordable machine that's a great choice for those looking for an upgrade to their old work laptop.
GEEK REVIEW SCORE
Summary
The Lenovo Yoga Slim 7i Pro boasts great responsiveness and battery life. Its lightweight nature makes it easily portable, and it is a reliable, robust workhorse. While it doesn't reach the most high-end in any specific aspect, it's not trying to be. Instead, it is a more powerful jack-of-all-trades laptop, able to meet a wide variety of needs and demands.
Aesthetics -

8/10

Build Quality -

9/10

Performance -

8/10

Value -

9.5/10

Geek Satisfaction -

9/10
---

Drop a Facebook comment below!