Razer is known for designing and building some of the most well known and well liked gaming peripherals in the market, but it also has had its share of vapourware, otherwise known as tech that has been announced but never released (Project Christine anyone?). And as insane as it looks, the Razer Zephyr is real, looking like something out of a techno rave party.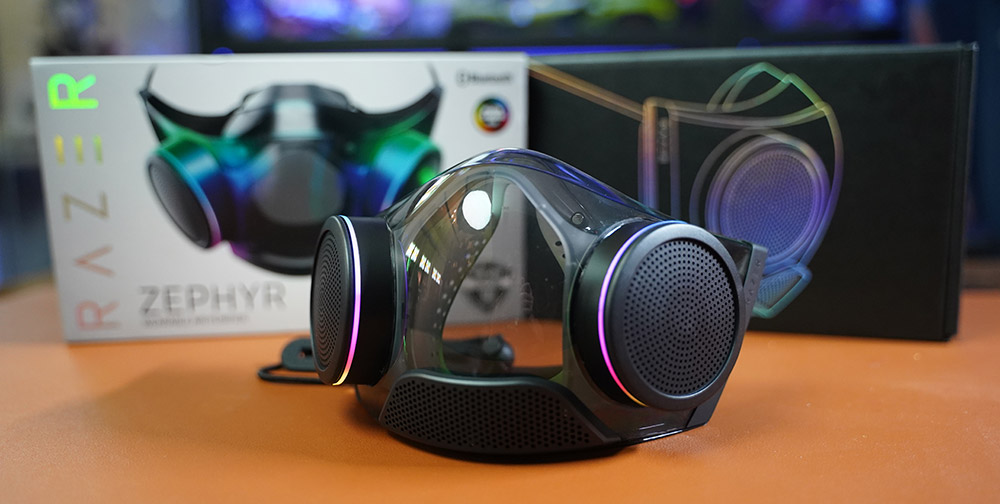 Announced at CES 2021 as "Project Hazel", Zephyr is a wearable air purifier with RGB lights, featuring a silicone face seal with an active air filtration system that is touted to be comparable to an N95 mask.
Looking like something Christopher Nolan's Bane would wear if he was a teen heavily involved in the rave scene, the Zephyr has two visible protruding air filters that makes it look like a gas mask that S.W.A.T would wear, except those masks are not as colourful.
Black all around, the portion covering your mouth is actually transparent, and RGB lights follow the circumference of both circular air filters, as well as on the inside of the mouthpiece, such that when its lit, the colours reflect off the clear plastic and off your mouth, making it seem as if your mouth was swimming in a liquid encasement.
Interestingly enough, the Zephyr is designed to be water-resistant from small splashes and light rain, but not for anything more than that. So no, it's not waterproof and you best not run it through a tap to rinse it off.
The Zephyr features a pair of dual intake fans on the left and right side of the mask that helps circulate the air within. The fan speed can be toggled between high, low, and off with the press of a button. At low speed, the fan runs at 4,200 RPM, which runs pretty silent. At high speed, the fan goes up to 6,200 RPM, which can be a little noisy when in a quiet place. The high fan speed setting is more suited during workouts, while the low fan speed is suited more for general use.
The Zephyr comes packed with 3 sets of N95 grade filters. Each set (two circle pads for the left and right filter, and a mouthpiece for the centre) can be used for 3 full days (72 hours) before you'll need to replace them. Filter packs, sold in sets of 10 are sold by Razer which should give you more than a month's supply of filters, depending how often you head out each day.
There is also an anti-fog spray included in the package, which you can use to spray on the inside of the mouth area of the mask so it doesn't fog up. Or, you can spray it on your glasses too, which also comes in handy.
The Zephyr is chargeable via the included USB-C cable and on a full charge, the mask can last up to 8 hours with the fan set on low speed and RGB lighting turned off. From what we tested, it can run at around 4 to 5 hours with the fan set to high speed and with all RGB lights turned on. Performance is decent and a single should be more than enough for an outing or two. Or simply bring along a USB-C power bank to charge up the mask while having a meal.
Coming in at only one size, the mask can be a tad big for most Asian faces, but the silicone face seal and adjustable dual head straps provide a nice snug fit over the mouth and nose. The mask is also rather lightweight, so it doesn't feel like it's weighing down on your face from long term use at all. Thank goodness Razer decided to drop the in-built voice amp which would have added more weight to the mask and probably shorten the battery life further.
If you want greater control over the RGB lights, the mask can connect via Bluetooth to a Razer Zephyr phone app (available on Google Play Store and Apple AppStore). Once connected, you can see the battery charge level, change the fan speed, and customize the RGB lighting for the circular filters and the mouth area separately. Choose from static, breathing, spectrum or wave modes.
So the question is, will the Razer Zephyr protect you from COVID-19? According to Razer, it hasn't been tested specifically against the virus but it offers the same functionality and protection as N95 masks due to its 99% BFE rating. If anything, it will help protect the user from air pollutants, and making a fashion statement while at it.
The Razer Zephyr is available at Razer.com for US$99.99 (S$159.90), while the Razer N95 Grade Filter Pack (10 sets of filters) costs US$29.99. There is also a Razer Zephyr Starter Pack (Zephyr and three N95 Grade Filter Packs) going at US$149.99.
GEEK REVIEW SCORE
Summary
A Chroma RGB-enabled air purifier mask. You know you want one, because, RGB.
Aesthetics -

8/10

Build Quality -

8/10

Performance -

8/10

Value -

7/10

Geek Satisfaction -

8/10