The Disney Princess franchise has evolved and taken many different forms over the years, from the first-ever Disney Princess film, Snow White and the Seven Dwarfs, where princesses waited for their happily after, to modern princesses from Brave and Tangled who crave adventure and want more than a happy marriage, and more recently from Frozen, where true love need not be about that prince in waiting, Disney's storytelling and narrative have progressed to not only suit modern values but also instil important valuable lessons into kids of today.
Disney's Raya and the Last Dragon takes viewers to the fantasy world of Kumandra where humans and dragons lived together long ago in harmony, but it is also bringing audiences to new worlds that were rarely seen, by also taking another leap and diversifying the way their princesses look too. It's not the first time, especially after 1992's Aladdin, the beloved 1998 Mulan and 2009's highly entertaining Princess and the Frog, where People of Colour started seeing more and more of themselves on screen. Since then, Disney has taken things to the next step, where it's not enough for the princesses to just look the way they look – they needed to be part of a world that is culturally close to its origins and inspirations. That's where 2016's Moana was born, and now, Raya and the Last Dragon.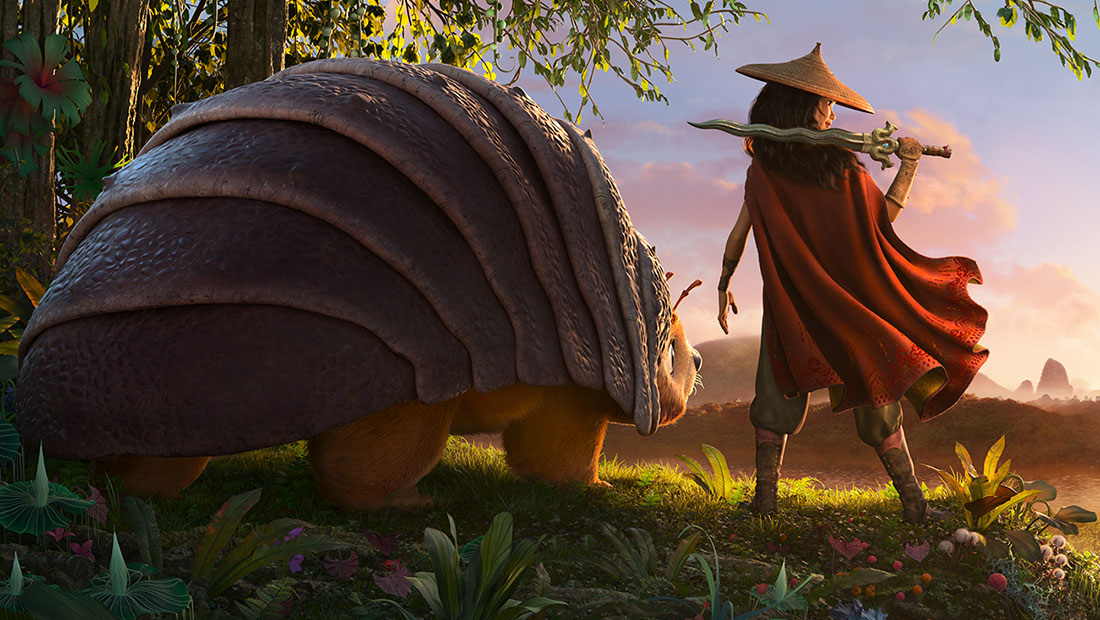 Touted as the first animated film led by a predominantly Asian cast, and infused with Southeast Asian cultural elements, Disney's latest draws plenty of inspiration from this part of the world and while a Princess tale at heart, it's the setting and background that will bring smiles to audiences.
When an evil force threatened the land, the dragons sacrificed themselves to save humanity but not without a cost. Dragons turned into stone aside, humanity finds themselves in a dark time with their guards against one another. The once united Kumandra is now divided, each fending for their own parts of the land named after parts of a dragon – Fang, Heart, Spine, Tail and Talon.
First and foremost, these are not the usual fat dragons with massive wings from Western folklore. No, these are the long Asian dragons, with the requisite designs (though not necessarily colour) as well. Each of the lands is also a reflection of an Asian culture and while it might seem like a superficial depiction, to see something like this presented on screen is just amazing. (More on this later.)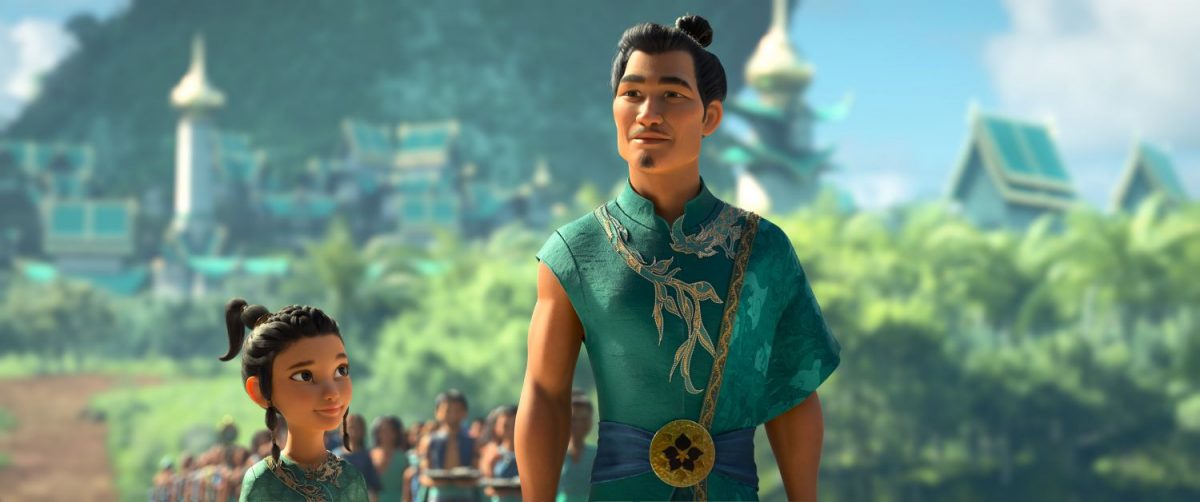 Our girl Raya (Kelly Marie Tran) comes from Heart and lives together with her father Chief Benja (Daniel Dae Kim) and their subjects. In Heart, Raya trains to be the Guardian of the Dragon Gem, the very last piece of dragon existence ever since their sacrifice 500 years ago. Stored in a temple in Heart, Chief Benja guards it with all his heart (pun intended) from outsiders, especially those coming from different lands.
After a strike of wisdom, Benja realises that a guarded and divided world isn't the world he wants his daughter to live in. He later opens his heart (pun not intended) and his home to people from Fang, Spine, Tail and Talon to get together. Serving what any Southeast Asian would know as the delicious and spicy Tom Yam soup from Thailand, things don't go as planned.
Trouble begins between Raya and the Princess from Fang, Namaari (Gemma Chan) and it escalates to a bigger danger. The land of Kumandra is not just more divided than ever before, but the evil force that once threatened the land is back. With many people, including her own father, turned into stone, Raya takes it upon herself to find the last dragon Sisu (Awkafina) and restore Kumandra back to what it was before.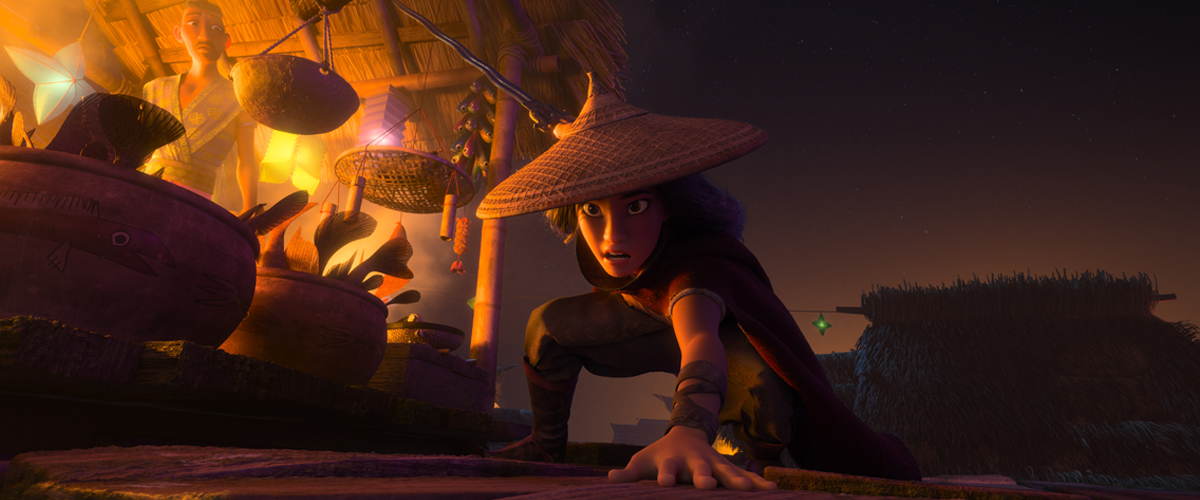 Inspired by Southeast Asian cultures, Raya and the Last Dragon features food, clothing, textiles, weapons, mannerisms, martial arts and beautiful landmarks that are unique to the region. Though not specifically mentioned, the ingredients used to make the soup served at Heart makes up to be Tom Yam and the princesses were seen snacking on longans. Kanji, a dish made by the young and talented chef slash restaurateur Boun, is a familiar bowl of congee – a staple breakfast porridge dish in many parts of the Southeast Asian region.
The characters were also draped in beautiful textiles and clothing that are reminiscent of traditional clothes like the Suea Phraratchatha from Thailand and the vests worn by Malaysia's greatest silat master, Hang Tuah. The hat that Raya wears on her head as she travels through the sunny and dry lands of Kumandra is also known as a salakot from the Philippines.
As an action-heavy film – perhaps even the most action-heavy film Walt Disney Animation Studios has ever produced – the action fight scenes are cinematic, unique and exciting. This is partly due to the fact that the fight scenes are a mix of different martial arts styles from across the region. Raya's dual stick weapons derives from Arnis, a Filipino martial art form and her wavy flame-looking sword that she fashions is a Keris, a weapon deeply rooted in the identity of the peoples of the Malay archipelago made up of Indonesia, Singapore, Malaysia and Brunei.
Of course, it isn't Southeast Asia without bustling markets (floating river markets to be exact), lush greeneries, majestic temples and big bodies of water that are safe to travel via boat. Southeast Asian audiences would definitely have a great time identifying parts of their cultures and homelands on screen. It's a warm feeling knowing that one's cultures are not only beautifully displayed, but is done so in an accurate manner and usage that makes one feel appreciated and seen. This is especially important in building self-esteem in young children, making Raya and the Last Dragon an empowering film for young Southeast Asian kids.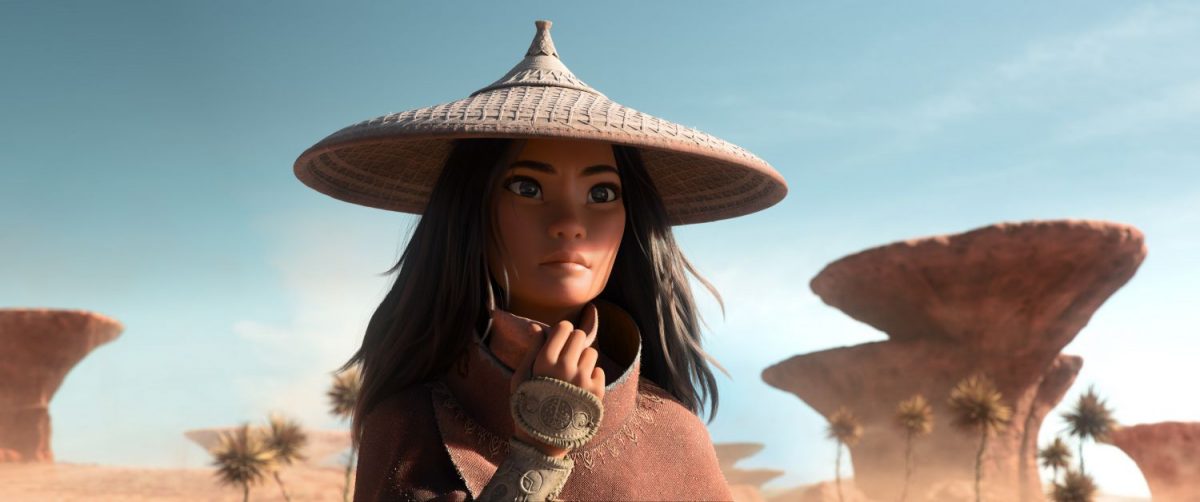 Southeast Asia is a broad and diverse region, with each of the countries part of it – Indonesia, Vietnam, Laos, Thailand, Singapore, Malaysia, Brunei, Myanmar and Timor-Leste – having its own unique identity and traditions. Hence, it's important to understand that Raya and the Last Dragon isn't an accurate representation of the rich region, but rather takes major influences that are popular across the region to build a foundation for the fictional world of Kumandra.
Departing away from the influences, Raya and the Last Dragon presents everything one loves about Disney. A moving and exciting story, as well as gorgeous animation.
The most well-received Disney movies follow 'the format' – dead parents, the protagonist grows whilst on an adventure and there's an overarching theme (think The Lion King, Bambi and Brother Bear). To make a Disney princess movie, you will need 'the format' with the addition of magic, friends from all walks of life, an animal best friend and a big musical number.
This is similarly applied to Raya who lost her father at a young age and goes on this extensive journey across Kumandra in search for Sisu. In the process, the witty young lady learns to independently navigate dangerous situations and make friends along the way.
Whilst Raya and the Last Dragon has a fast-paced soundtrack to compliment the action sequences, the movie unfortunately doesn't have Raya having a big singing scene. It doesn't make the film any less enjoyable, but it feels incomplete when compared to Disney classics.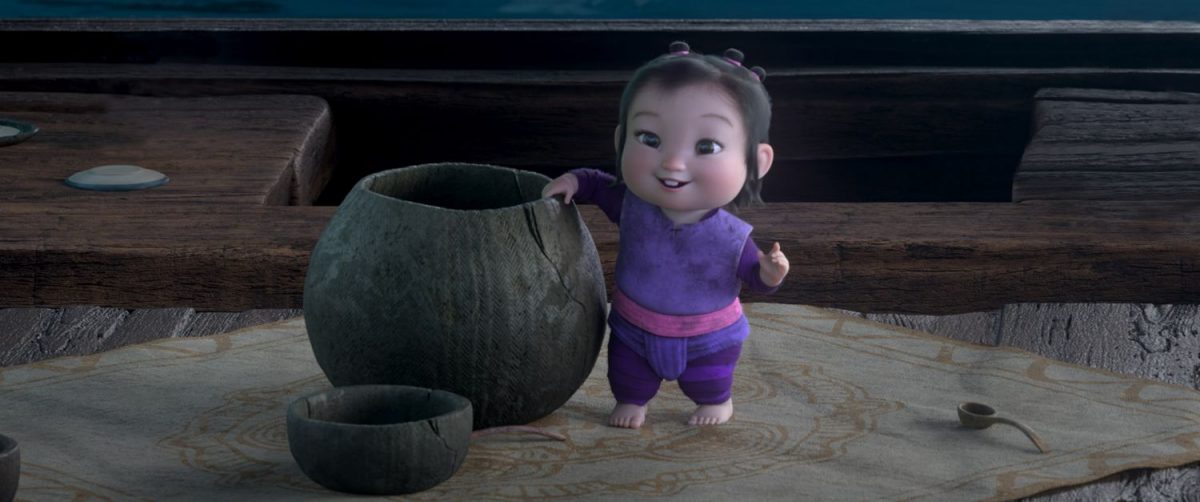 Raya's friends in particular happen to be Boun (Izaac Wang), Noi (Thalia Tran), Tong (Benedict Wong) and of course Sisu. Having found Sisu first, Raya keeps her on a close leash, distrustful of the people who come close to her. After a few adventures and pit stops, the gang becomes close and they later become an integral part in Raya's character growth.
Child actors Wang and Tran do an impressive job at standing out despite being surrounded by fellow cast members who have had their taste of Hollywood fame from the likes of Crazy Rich Asians, Star Wars and Marvel movies. Wang who voices Boun is energetic and full of life, whereas Tran, steals the hearts of viewers with her expressive baby noises throughout the movie.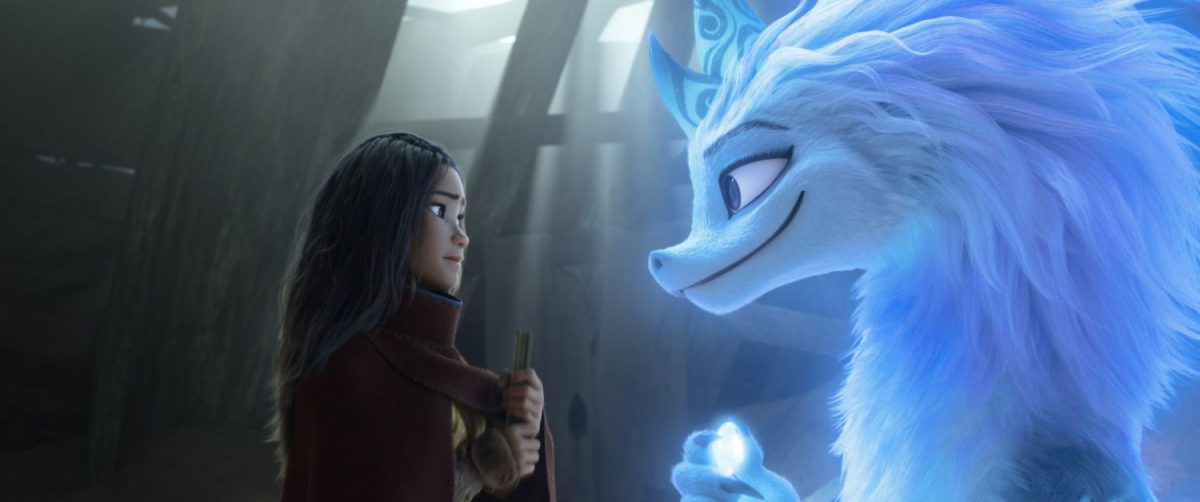 Kelly Marie Tran and Awkwafina share the spotlight with their funny banters and sisterly acts of love and care. Raya first introduces Sisu into the world and tries to keep her safe throughout the movie, guarding her like a precious gem. Sisu, on the other hand, teaches Raya life lessons of trust and friendship. The two learn meaningful lessons from one another and are inseparable. Their heartwarming relationship between Raya and Sisu drives a huge portion of the movie so having the two actresses flow so well together makes the movie an easy and enjoyable watch.
Saving the best for last, the animation in Raya and the Last Dragon proves that Disney still has it. After a two-year break since the release of Frozen II, the animation in Raya and the Last Dragon does not disappoint. The movie shows off beautiful set designs and detailed animated facial expressions right down to the movement of the character's eyebrows when they gasp, laugh, or make a comment. Rain in this movie looks all too realistic and it's hard to not be sucked into the world of Raya and the Last Dragon.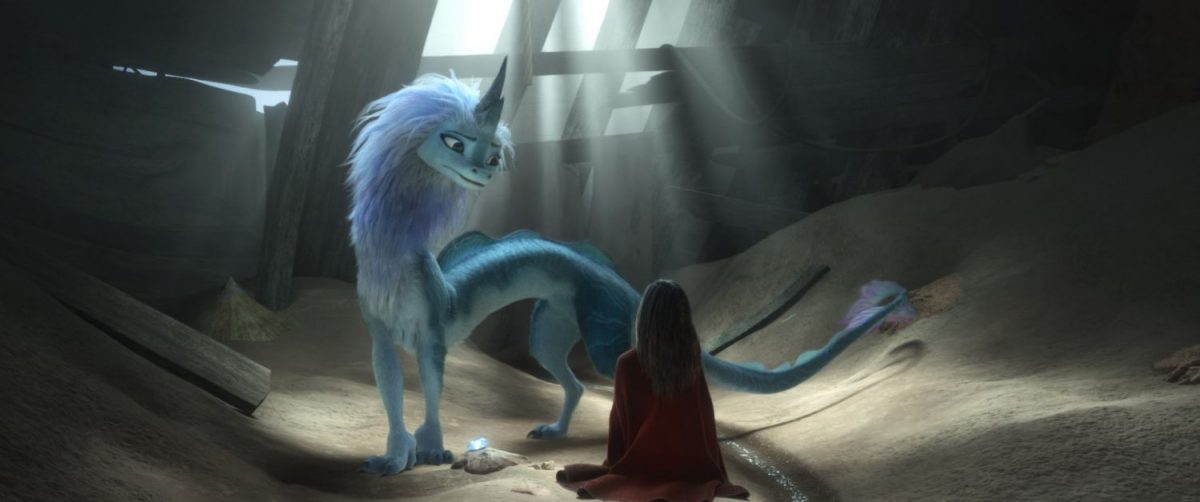 Whilst we're on the fence on Sisu being a furry blue dragon as she is a complete contrast from the mighty, powerful and fearsome dragons found in Asian folklore – Sisu is where Disney's animation shines through the most.
Sisu in dragon form has expressive eyes and mouth movements that are humanlike, thus familiar and relatable to the audience. When she leaps and moves about in the air, her skinny body bounces in slinky smooth movements that are just so pleasing to watch. Lastly, the way her fur moves is simply majestic to look at. Even in scenes where the gang are seated on a boat, or when Sisu is floating still, her fur moves as you would expect regular hair to move in the wind. Subtle, and not at all static.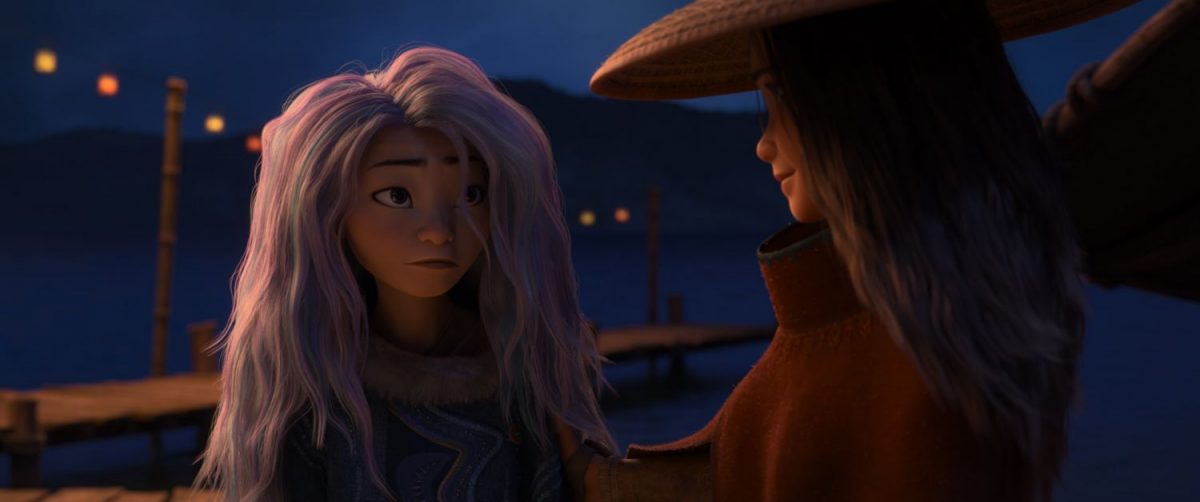 As a whole, Raya and the Last Dragon is a Disney movie worth of praise. For starters, the film's appreciation of Southeast Asian cultures is unparalleled to other Hollywood movies that have explored and portrayed the region in disrespectful ways. Its beautiful storytelling of a region so diverse paired with stunning animation will undoubtedly keep viewers of all ages engaged.
If that's not enough, the film is bound to create excitement with its action-sequences and martial arts influences, of which Raya and the Last Dragon deserves to be called the most action-packed Disney princess movie to have ever come out of the House of Mouse.
Disney's Raya and the Last Dragon releases on 5 March 2021 in cinemas and on Disney+ with Premier Access.
GEEK REVIEW SCORE
Summary
Raya and the Last Dragon is an action-packed Disney movie with stunning animation and beautiful visuals. This homegrown rebel takes viewers on a big adventure and is the Disney princess you never know you needed.
Story -

8.5/10

Direction -

9/10

Characterisation -

8/10

Geek Satisfaction -

9/10